So I reckon George Calombaris (and the Made Establishment Group) are doing some pretty clever things at the moment. Although it was sad to hear the closing of The Press Club, and have another fine dining giant close it's doors on us, it's definitely been interesting to hear how Gazi is doing, with it's fresher and much more approachable concept. Whilst I'm no industry expert, I can only imagine how much the industry has been changing, especially in these past couple of years and it seems that evolving to a younger and fresher approach, seems to be a fairly smart one.
Whilst I haven't been to Gazi yet, I would imagine Jimmy Grants is an extension of this new approach, offering tasty and affordable souvlakis, for eat in or takeaway, in a casual and relaxed environment (with a touch of hipster, let's all be honest here).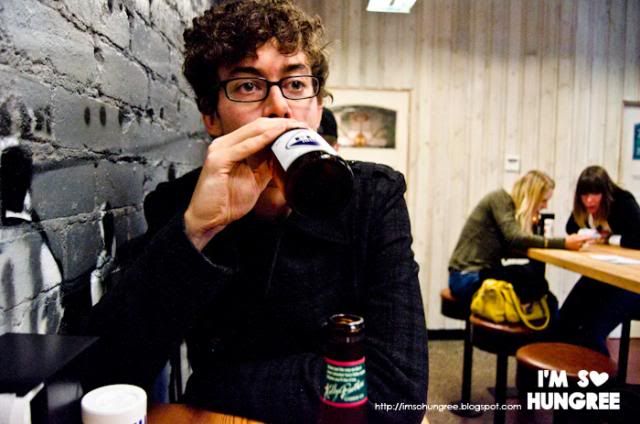 Brad and I visited Jimmy Grants very shortly after it opened, I don't normally chase after restaurant openings, but I happened to read about it, we happened to not have any plans and I also happen to not have much money on me after visiting America, so cheap and cheery sounded all good to me!
You can spot Jimmy Grants just off Smith Street, with it's neon blue light, beckoning you to grab a beer, and relax in it's slick, but playful fit out.
Basically, it's all about the souvlakis here, with a little less grease and a bit more delicious, with a selection of five for the adults, and a little something smaller for the kids. You can pair it up with some salads, dips and sides.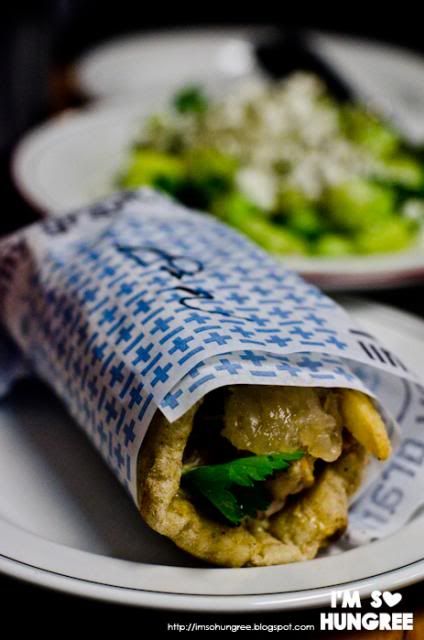 I opted for the Bonegilla, with a combo of chicken and lamb, mustard aioli, chips, onions and parsley. Brad got the Mr Papadopoulous, with lamb, mustard aioli, chips, onions and parsley.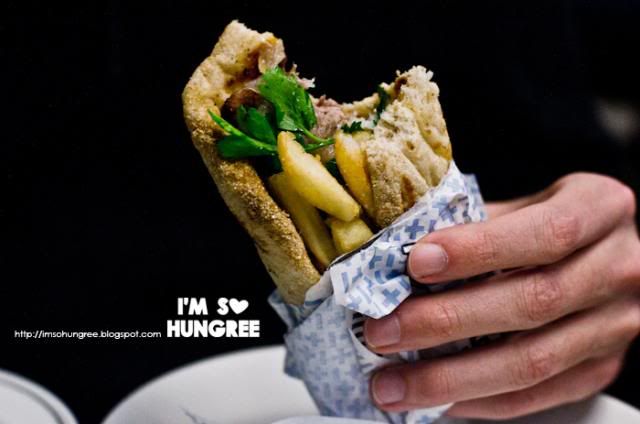 Both came wrapped in fluffy, fluffy pita bread that was just so light and so delightful (and felt quite wholesome) with the various fillings. The chips in both added a nice crunch (and a bit of naughtiness), and whilst I love how rich and succulent the lamb was in the Mr. Papadopoulous, it was surprisingly rich (even for me!), and I found that the Bonegilla had more complexity in flavours which i found more appealing. I could taste the mustard aioli punching through, which I felt wasn't as prominent in the Papadopoulous. It just had me licking my lips ravenously. I love mustard yo.
But really, picking between the two is like picking whether you want chocolate or caramel ice-cream (to me anyway) and both essentially showcased beautifully roasted meats which you really can't complain about!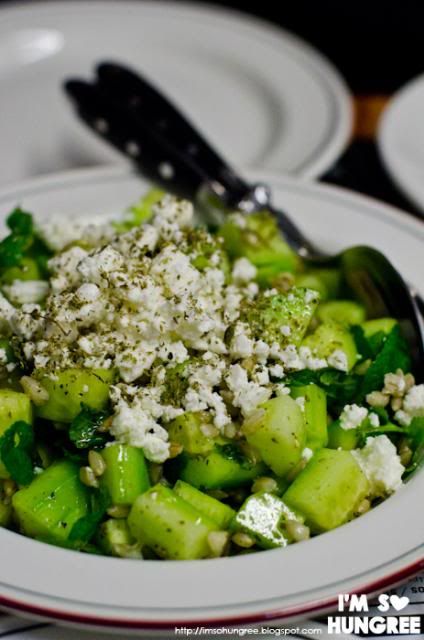 We got a 'Village Salad' on the side, which came with cucumber, pearl barley, feta, oregano, mint and coriander. It was a lovely cool salad, which would be brilliant in the summer weather, but was also great for lightening up our meal with something cleaner for the palate. Simple, but so good.
And although we tried to be good with the salad, I still couldn't resist ordering a side of the chips, that came with garlic oil, feta and oregano.
Oh mama. What a beauty. I would have never thought to put feta on my chips, but it's seriously such a delicious combo. Go try them. Go. Go. Go. And never regret it!
Although dessert tempted me, I happened to be in one of those peculiar moods where I just needed to have ice-cream. Even if it was totally freezing out.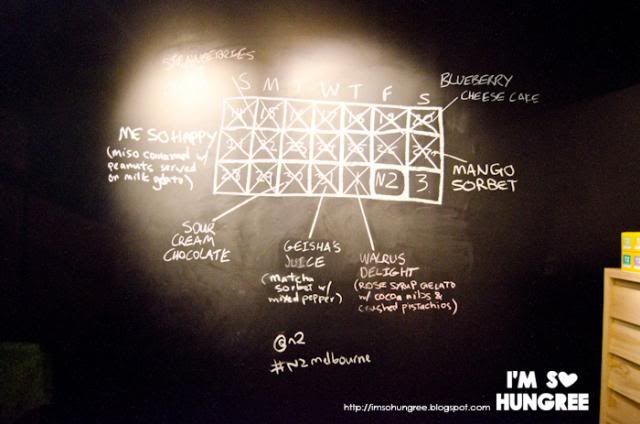 So whilst I originally had Trampoline on the brain, I was really more than happy to find out it had been turned into N2 Gelato. More than happy. Grabbing-Brad's-hand-and-dragging-him-across-the-road-and-nearly-getting-run-over happy.
N2 Gelato originates from Sydney and I kind of don't want to tell you guys about it because I don't want to be batting with people for this, but it'll happen anyway because this is the internet generation right?
All the gelato is made on the spot, with the joy that is liquid nitrogen, Heston style. It's a concept that's been hanging around in the States and in London (I think) but is still finding it's legs in Australia.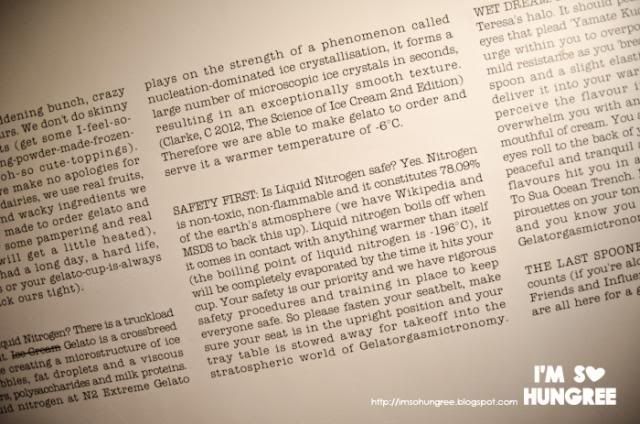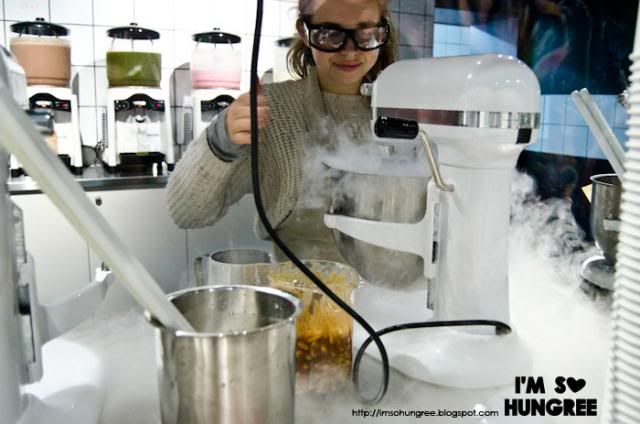 I'm so happy it's in Melbourne now though. There's always something so magical about watching that smoke just waft out of the kitchenaids and know that something beautiful is being crafted. Just for you.
Actually funnily enough, I just watched a show where Heston Blumenthal makes the biggest ice-cream cone, probably ever, and he explains that because liquid nitrogen freezes the ice-cream so fast, the ice crystals are very tiny, so you end up with a dessert that is very, very smooth.
And that's really what you get. I tried the 'Me-So-Happy' flavour, miso caramel with peanuts served on a milk gelato. The milk gelato is so, so, smooth and creamy, dense, without being heavy. If it didn't melt it would make an awesome spread. Like nutella, but smoother. I wish I could put it into words! I also loved the 'miso caramel', it was an intriguing flavour, as you definitely had the caramel, but subtle hints of the miso coming up from it. Bit of a surprising umami hit, that worked quite well.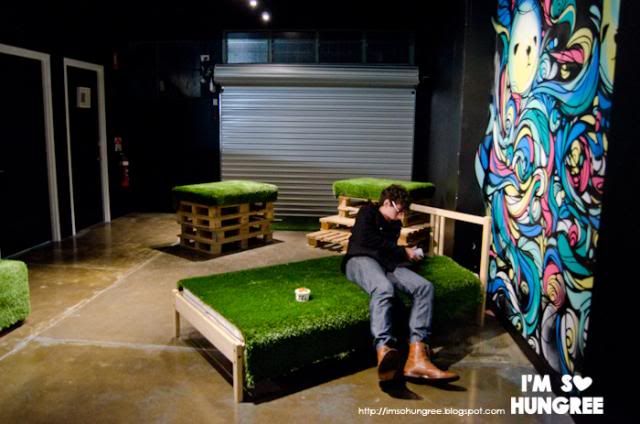 Also, N2 Gelato have a totally cute area to hang out back, dressing everything up with a bit of astroturf. How appropriate totally appropriate for Fitzroy.
Souvlakis, beer and liquid nitrogen gelato. A bit of a random food adventure night, but who's complaining here?