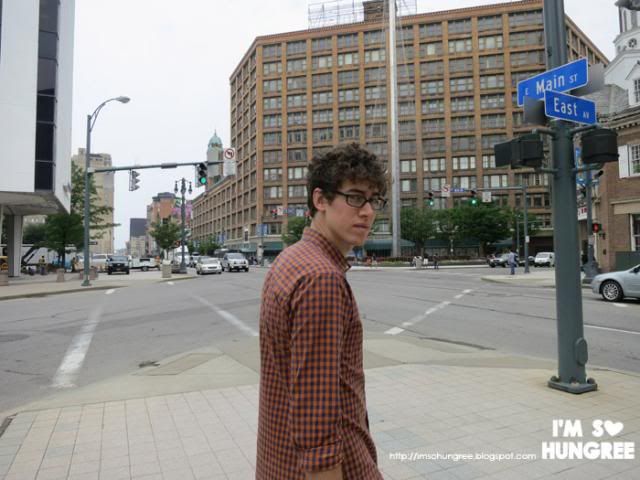 Our whole US trip that happened in June and July this year, was pretty much because Brad was presenting at a conference in Rochester, upstate New York. It was the first conference he's presented at! When I walked him to the conference centre in the middle of town and watched him pick up his pass for the conference, I just couldn't be prouder.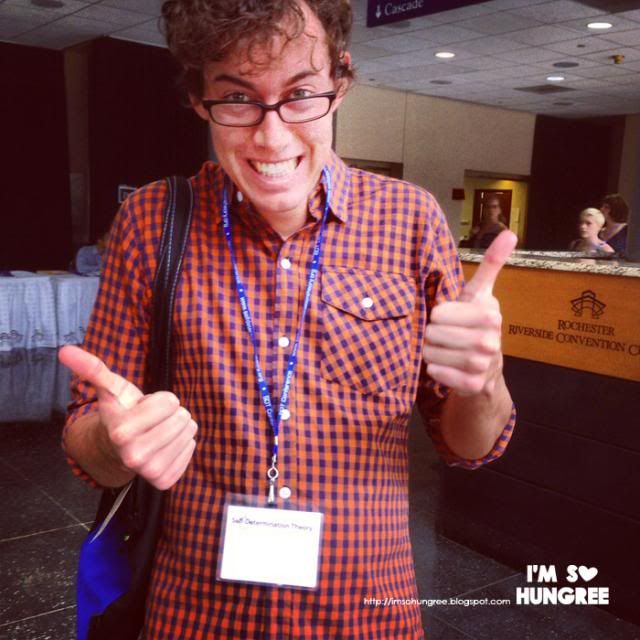 So I made him take a cheesy picture. Love, right?
Since he was occupied with the conference for the few days, I had some time to myself to explore the city.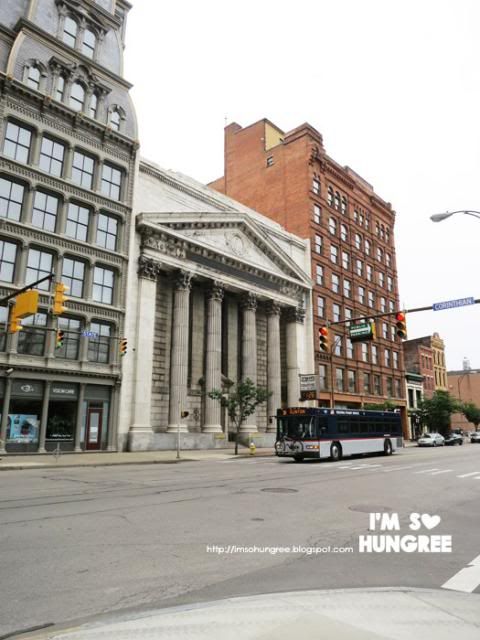 Rochester's a pretty small city, with a very intriguing dynamic. The birthplace of Kodak, the city used to be quite wealthy, with lots of industry, reflected in the beautiful old buildings and architecture that one may spot through the city. If you walk a bit further out to where the museums are, the whole stretch is lined with gorgeous mansions, surrounded with huge gardens.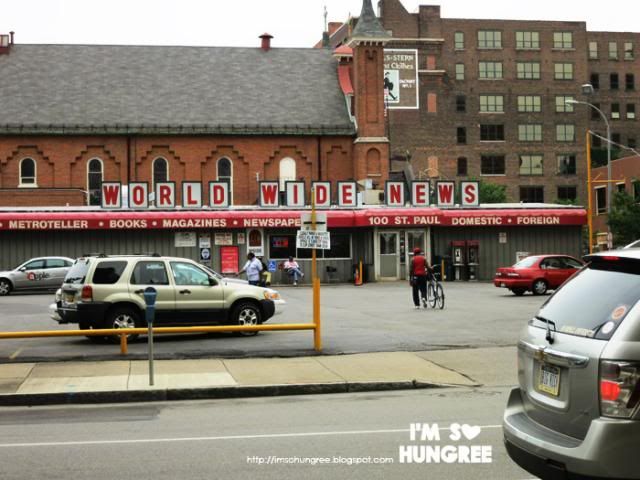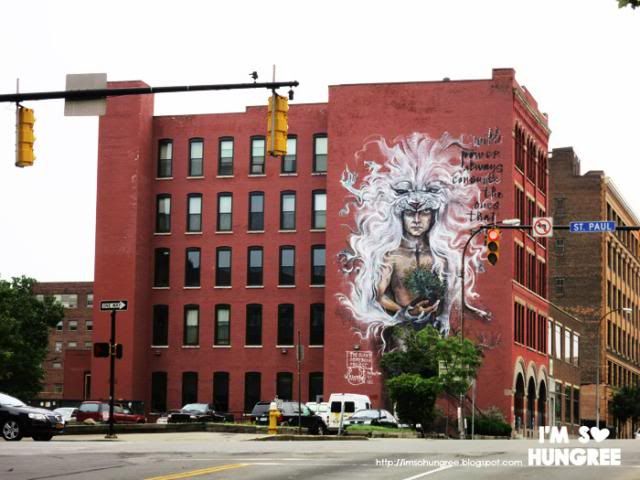 However, with the decline of Kodak and Xerox, two companies which really kept the economy going in Rochester, the city has developed a bit of an odd character. Still very nice, but a little bit odd at times.
And although the city is small, I still managed to fill in a couple of days quite nicely!
Brad and I stayed in the East Avenue Inn and Suites, which is a basic but very comfortable hotel. It's a short 15 minute walk from the heart of the city and a couple of minutes away from the stretch of museums. I walked everywhere while I was here, although I was pretty tired by the end of it!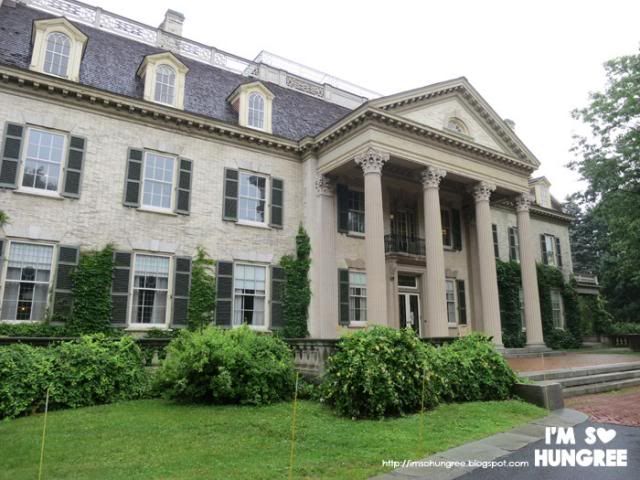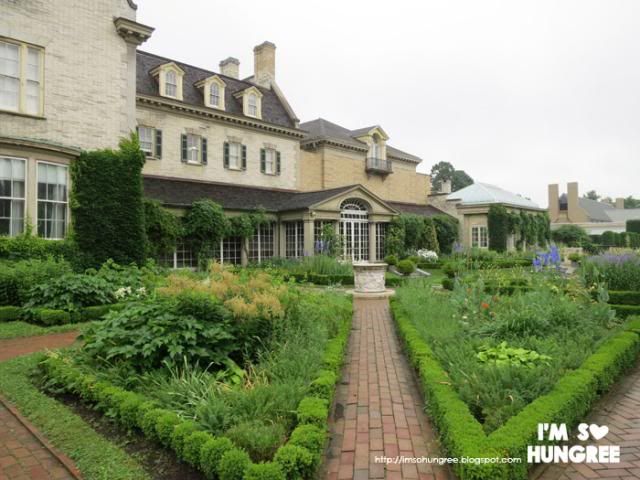 The main attraction for me in Rochester was the George Eastman House. This was the house (or actually mansion) that the founder of Kodak built for himself and his mother (and all their servants) and is now the world's oldest museum dedicated to photography.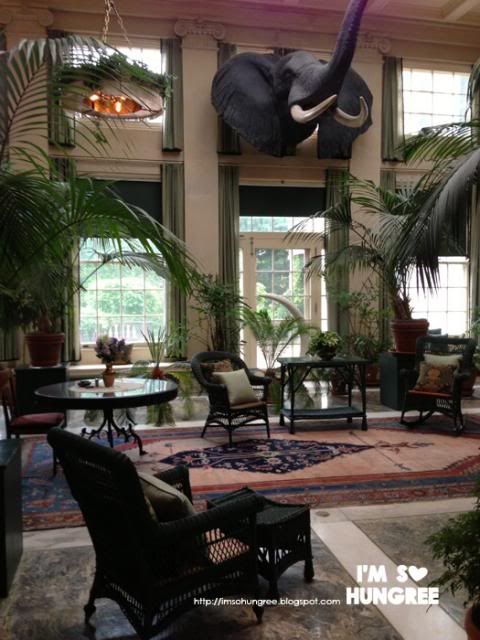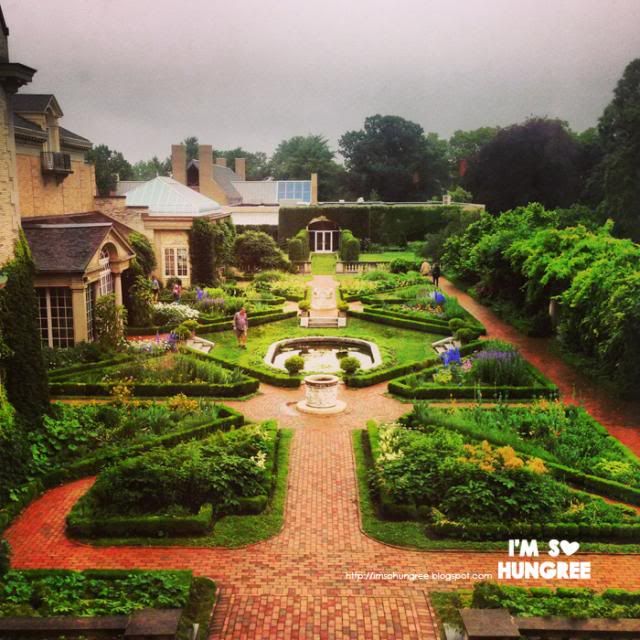 Although you have to pay to have entry, it's worth hanging around and waiting for one of the tours to take you around, as you end up learning so much about the history of how Kodak started, and hence the birth of the general consumer camera. Not to mention also the history of the man, George Eastman, who had a most fascinating life, but was also incredibly gracious and kind. Although he never married, he often gave very generous donations to the local universities (the most notable being a $625,00 donation (equivalent to $17.5 million in todays terms) to the Rochester Institute of Technology) and other philanthropic causes. He was also one of the first to implement health insurance and securities for his employees back in the 1880's.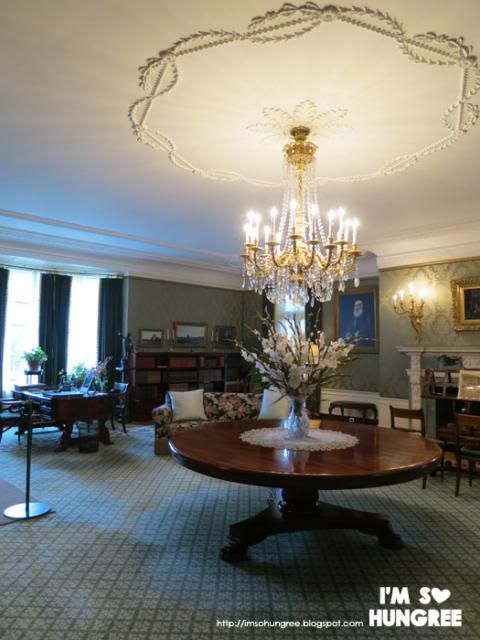 But other than that, the house is just heartbreakingly beautiful, and the love and care that has gone into restoring it is just amazing to keep all the details, from the inside to out. The gardens are also simply gorgeous, lush and green with gentle sprays of soft spring colours.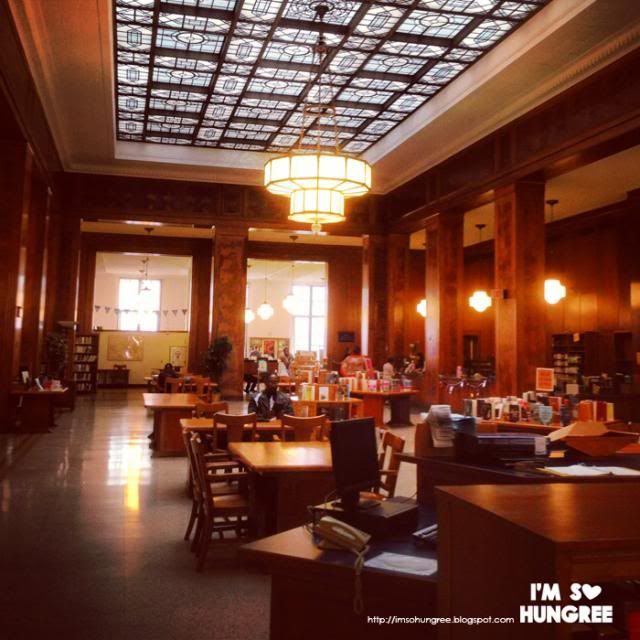 I also loved the public library, which felt so grand, and full of little details. The stained glass styled ceiling, art deco lights suspended from the ceilings, rich and shiny wood and the gold elevator doors with sculpted Grecian heads decorating it. I felt a bit silly taking pictures all over, but I couldn't help it!
I indulged in a bit of shopping, I found the cutest little store called Peppermint, a local designer in Rochester, who also stocks the store with other goodies from around the country. Colourful, affordable, and totally chic, it was hard not to buy everything.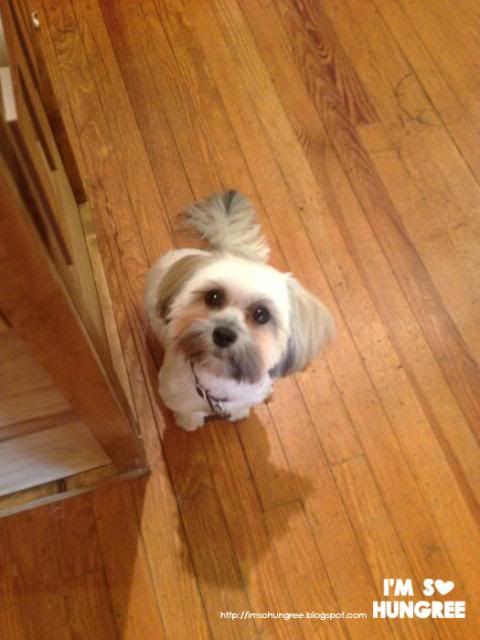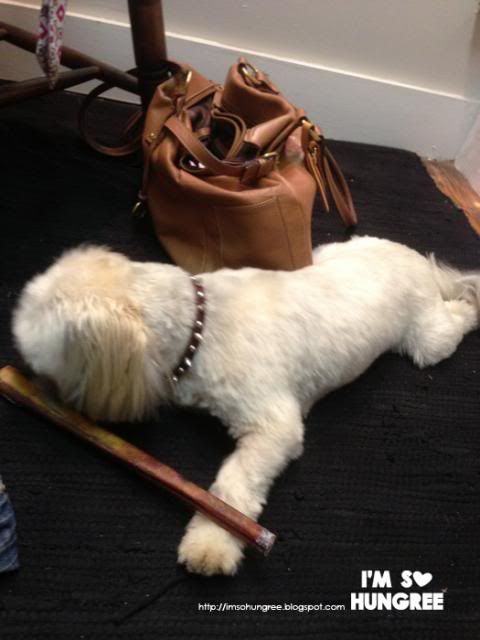 Also this cute little guy followed me around in the store, and even came into the changing room to chew on his treat as I tried things on. After not being with Chai for a couple of weeks, it was awful nice to have some animal company!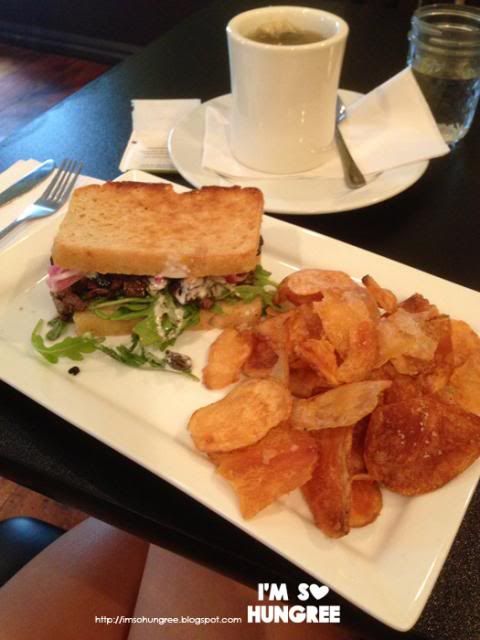 Food-wise, Rochester was pretty modest on options. I was pleased however to find the Owl House. Housed in what looks like a residential property, The Owl House offers up American food, with a focus on keeping it local and offering a healthy variety of options for vegetarians, vegans and gluten free.
I've forgotten what I had, but I did have gluten free bread and it did make me happy. Alongside with the housemade potato chips. Yum.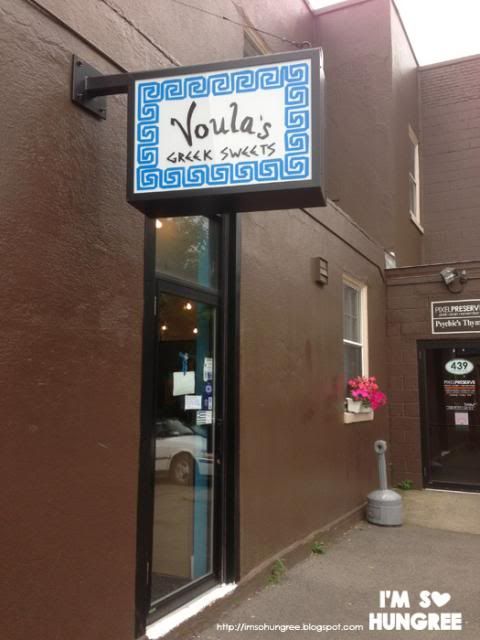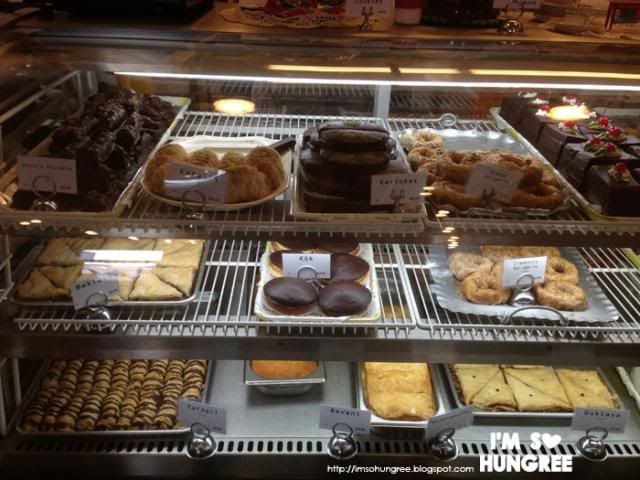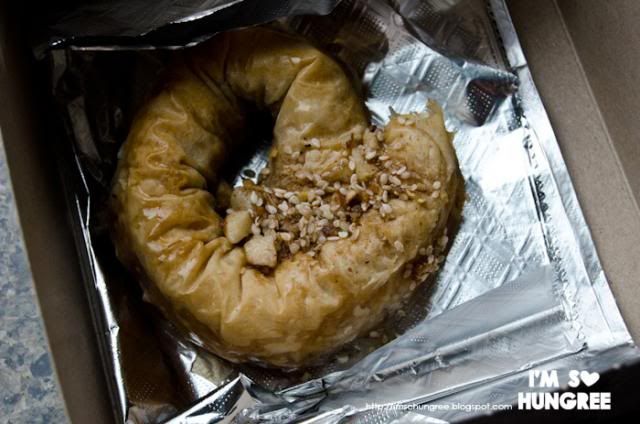 I made a bit of a trek out to Voula's Greek Sweets and picked up a sticky and sweet treat. (If you haven't guessed yet, I have indeed lost my notes) It was just gorgeous, and with a display window filled with tempting goodness, as well as changing brunch options, worth swinging by to check out!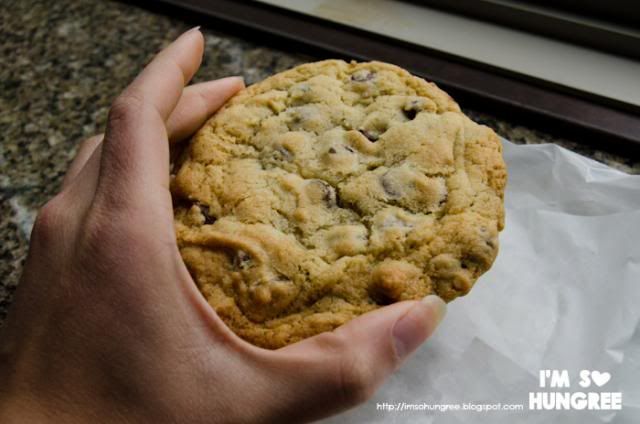 The Orange Glory Cafe is a tiny little space next to the cinema, doing hearty but homely food. I loved the eggplant and chickpea burger, which I had on a salad instead of having it with bread, with gooey moreish cheese. They also do rocking cookies, the delicious chewy American style choc chip sort, the size of your face, for only a couple bucks.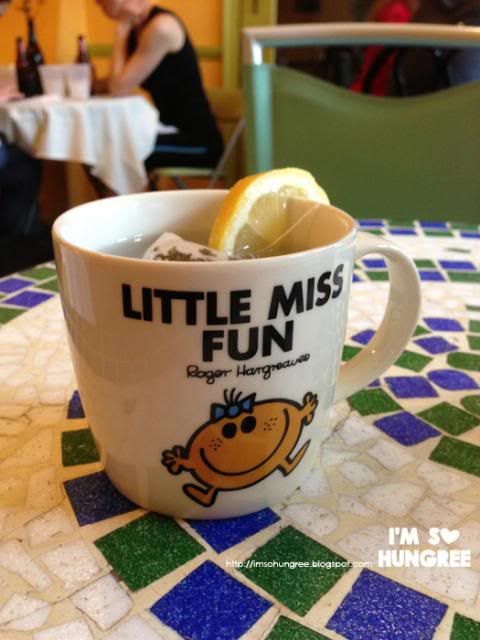 Their mugs also totally made my day awesome.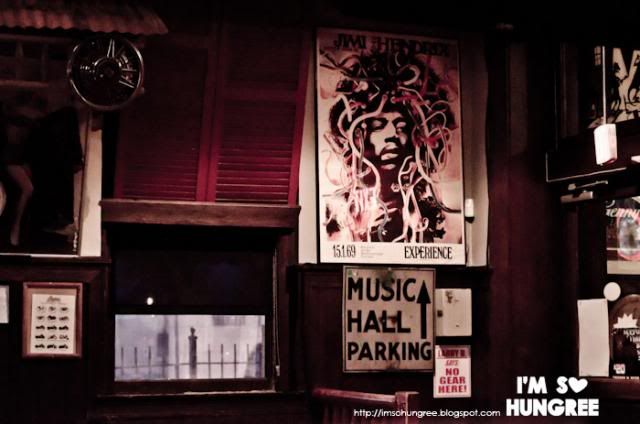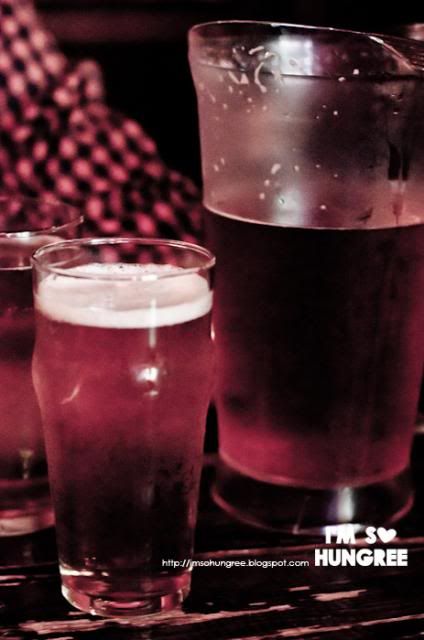 Most importantly though, for dinner on our first night, we went to Dinosaur Barbecue and got our 'AMERICA' on with some big ass ribs. With the biggest jug of beer I'd ever seen. And mac n' cheese. And chips. And a rock band with 40 year old men, who got couples wearing ballroom dancing shoes rocking it out on the dance floor. Although initially intimidating, it ended up being a really fun night.
And the ribs were finger-licking good!
Would I be back to Rochester? Probably not, I don't think there's anything more there that I would want to see to make a separate trip for. However, it was what I needed at that point of the trip, to have a couple of days to just breathe after the crazy schedules we made for ourselves travelling up the west coast. To just be able to sit at our hotel window, that just over looked green, and more green, and had bunnies hopping past and sip on some tea (I'm still baffled that hotels in America give you coffee machines, not kettles).