It's always amusing when talking to people who might not be from Australia, about the fact that we seem to be quite comfortable with eating the animals on our coat of arms. Are we really one of the only countries to do that?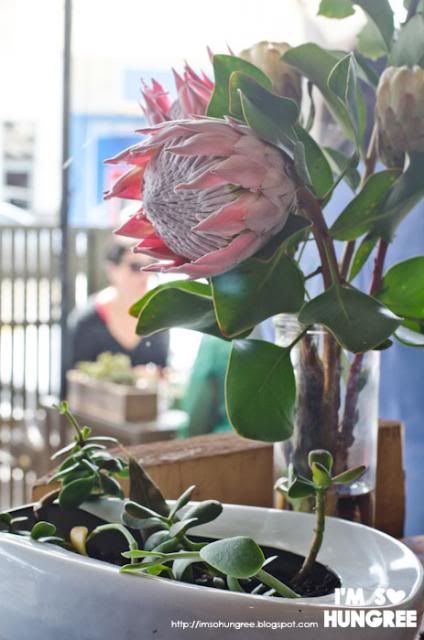 Honestly I think it's all cool really, since kangaroo is pretty tasty and especially if it is a more sustainable source of protein than some of the other livestock that we keep currently. I've read some conflicting research, so I'm not making a solid statement on that one, but I'd like to believe it's more on the positive side!
But having said all of that, you don't really see it much in our vibrant dining out scene do you? Or maybe I'm just not going to all the right places!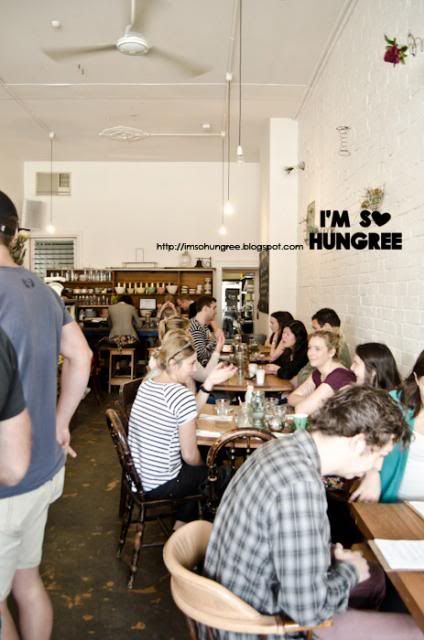 Regardless, I was quite excited to see some native produce on the menu when Brad and I visited Gypsey and Musquito (after giving up on the hour long wait for Touchwood), even if we could only get a tiny table squeezed in by the window because the place was so busy!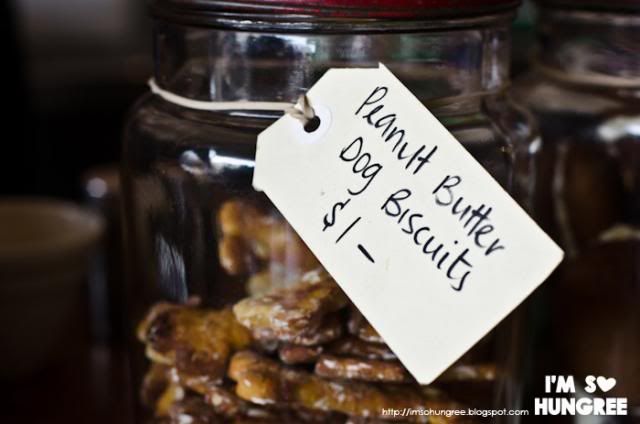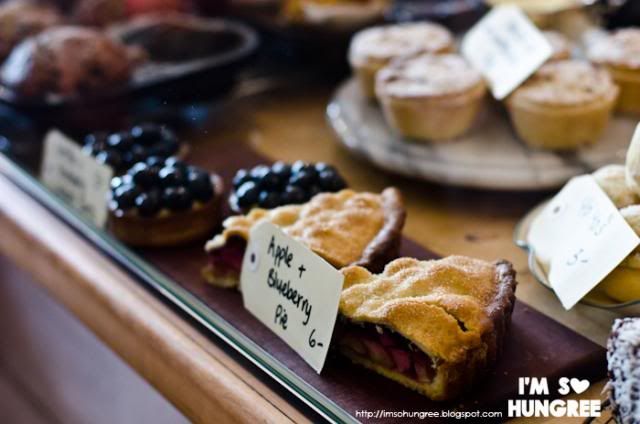 I loved how cosy and homely the space was, there were even dog biscuits to buy home for the beloved canines, amongst all the sweet treats for the more humanoid sort.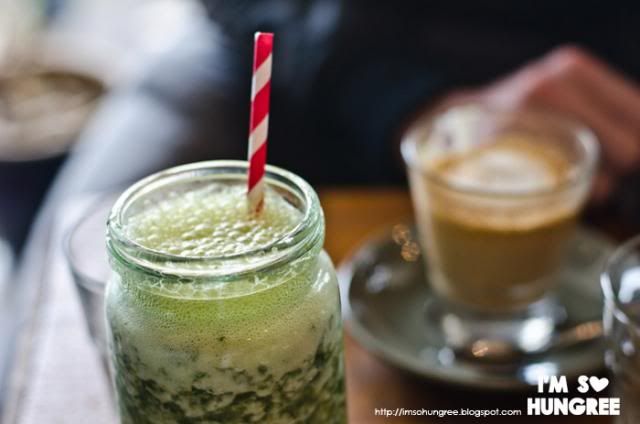 Brad's coffee was graced with a swan, and I swapped out my usual chai for something a little greener. Whilst I do love my chai, I've been enjoying switching up my drinks a bit more lately!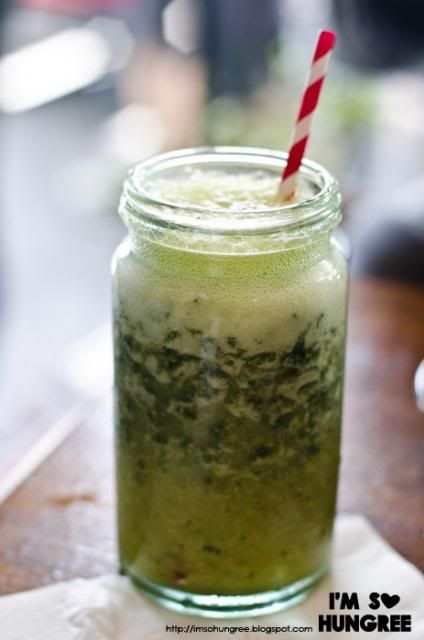 I got a green concoction of warrigul greens, kale, banana and desert lime which is also made with coconut water. I totally sucked all this up so quickly! So cool and so refreshing, I absolutely loved the coconut water in this, just the thing to pick you up at the start of your day!
The dish I wanted was originally supposed to be served with camel sausage, but since they ran out, they were happy to replace it with an emu sausage! It was neatly served with organic sourdough (which I had replaced with gluten free bread), beetroot and wild raspberry jam, sauteed warrigul greens, jacks reserve cheddar, crispy happy bacon and a free range poached egg.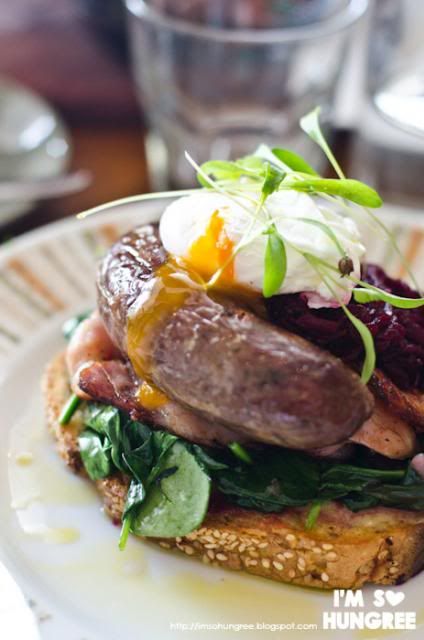 I hadn't really had much emu before, and really enjoyed this sausage. It reminded me a bit of lamb, with a nice dense texture that was relatively lean for a sausage. I naturally died over the beetroot and raspberry jam and very much enjoyed all the flavours going on here in general. Not too big of a breakfast, but just big enough.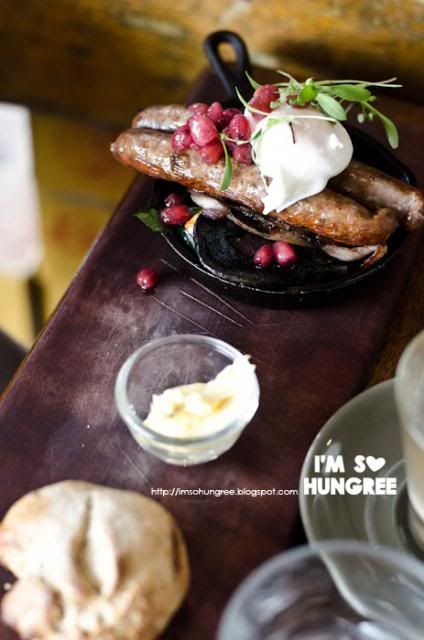 Brad got the Tasmanian farmed wallaby sausages with slow roasted Adelaide tomatoes, mushrooms, wilted spinach, crispy free range bacon with a poached egg, riberry confit and stone ground wheat wattleseed damper.
His dish was much prettier to look at, and I cooed over the pretty pink colours. The wallaby sausages were a little oilier than the emu sausage, but still very tasty, very well seasoned, the sweetness balancing out the savoury nicely. I was surprised how much I liked the damper, which had a lovely light texture and definitely reminded me of camping during one of my high school camps…although it was much better than whatever we made!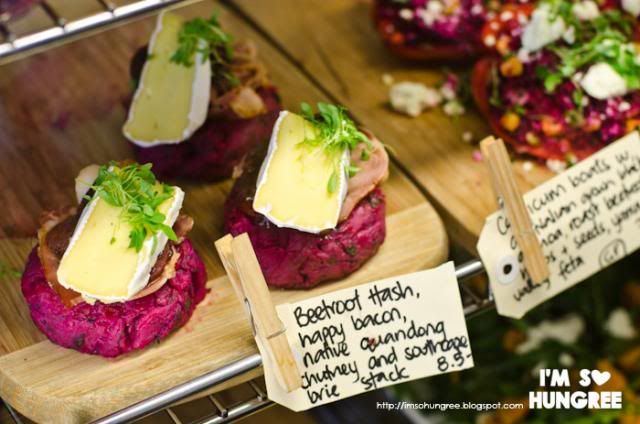 It's actually quite amazing how many options were available in Gypsey and Musquito, with the two pages of breakfast and a wide assortment in the fridge, so whatever you're craving for, you're likely to find here! The native produce options are also a very unobtrusive and easy introduction to the various proteins, for those who haven't tried them and are keen to.
Although the weekends are packed out, I'd be quite happy to pop by again, and maybe actually get those camel sausages on my plate next time!