It's rare that Brad and I ever actually go out for what you would categorise as 'lunch' over 'brunch' on a weekend. We always end up just heading for eggs and coffee because Melbourne's got so many cafes going on anyway, it's always reliably affordable and…what's not to like about our fantabulous brunch scene?
But when Brad had a morning class to tutor online (from the comfort of my study (which is actually a shoebox of a room)), to cover for someone else on a Saturday…all sorts of options opened for a 1pm lunch. Ooh exciting!
With a game of lawn bowls happening later in the afternoon that day in Windsor, I decided we should pop down to Ichi Ichi Ku in South Yarra for a Japanese feasting. I had heard so much about it from other friends who were in love the place (possibly married to it from the sounds of it), that I was only too happy to tick it off my list.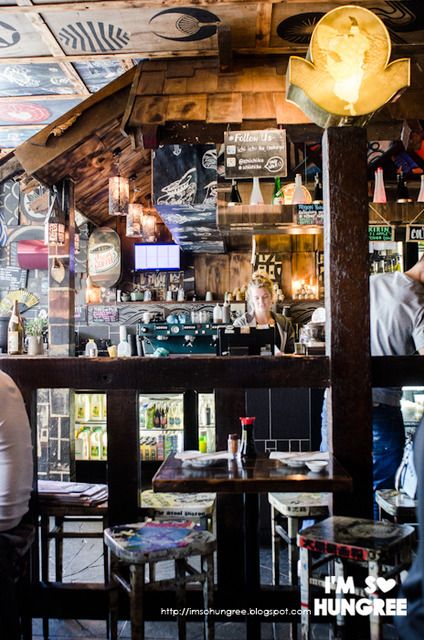 I was surprised to find how small and cosy Ichi Ichi Ku was, with far more limited seating than I expected. I loved though how much it reminded me of the little bars and izakayas in Japan, with traditional looking woods mashed up with posters, graphics and all forms of Japanese style illustrations. The exterior style structures also put inside was also pretty cool.
I'm not sure what I was expecting at Ichi Ichi Ku, although my friends had told me how much they loved it, I was somehow still skeptical. It looked too cool, too western…but man. The food was awesome.
Brad got the Kitsune udon, in a hot udon soup (obviously) with flavour fried tofu, soft tofu and shiitake mushroom. Oh man; I could not stop reaching over to help myself to the broth. So flavoursome, with plenty of delicious umami kick.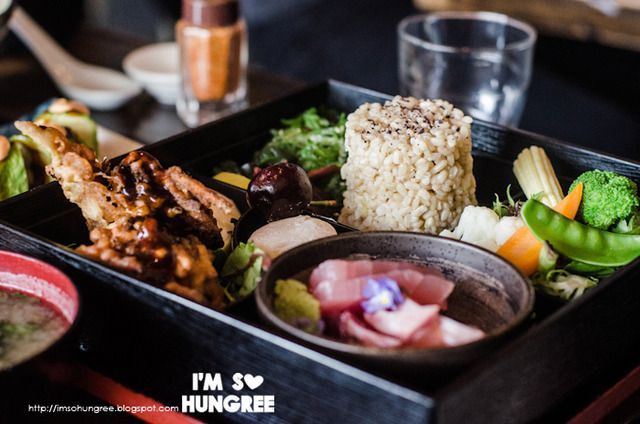 I decided to get the bento, which came with some sashimi, a seaweed salad, miso soup, hot veggies, brown rice, a fried item, and a little dessert (strawberry daifuku and a cherry on this occasion). My photos do no justice as to how big this thing was. It took up like half the table and everything tasted so good. The veggies were fresh, the sashimi was cool, and generous thick cuts. I loved the fried veggies/prawns (I think), which was so, so crunchy and liberally covered in this delicious barbecue style sauce. It's a lot of food, but for the most part it all tastes delicious, but also quite fresh and healthy (apart from the one deep fried thing)!
Great value if you're hungry as well…it's a hunger buster!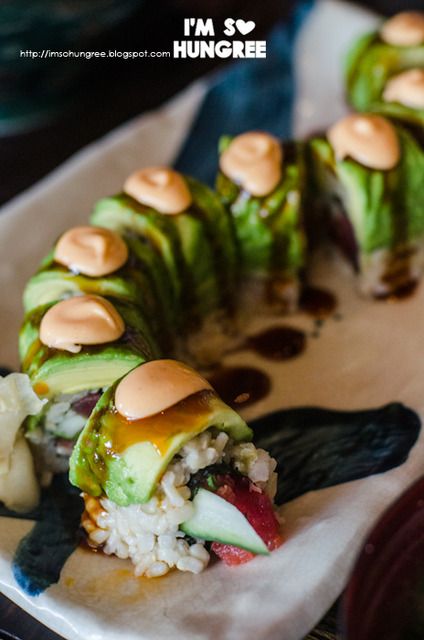 We also got a spicy tuna roll to share (had no idea the food was going to be all so big), which also proved to be a very big serve! I had thought initially $20 was a bit on the rich end, but when you see what you're getting…it's actually pretty alright. Again, beautiful fresh produce, the avocado topping the rolls is generously thick, and the spicy tuna got some serious kick. I could've just eaten this on it's own as my meal!
So now, having been myself, I'm part of the group who'll totally harp on about how good Ichi Ichi Ku is. Although I thought the prices initially looked to be a bit on the high side, when you see what you're actually getting, it's awesome value and super delicious. I'm not in this part of town very often, but seeing as the same group has recently opened Ichi Ichi Nana…you might see me stuffing my face with sushi again very soon…