Before I met Brad, I never really went out to watch live music nor spend that much time around Collingwood and Fitzroy.

That has changed drastically and since he is in a band (Premodernists), on the nights when he is playing and is busy with sound checks and setting up, I like to find a friend and go scuttle down Brunswick St and try something new.

Little Creatures Dining Hall has been on my agenda for ages and ages. Even though it was on the other side of Johnston St from where Brad's band was playing, I decided after a few beers and some gourmet pub grub I could probably use a walk in my 5 inch wedges. Hey, a girl likes dressing up when she goes out!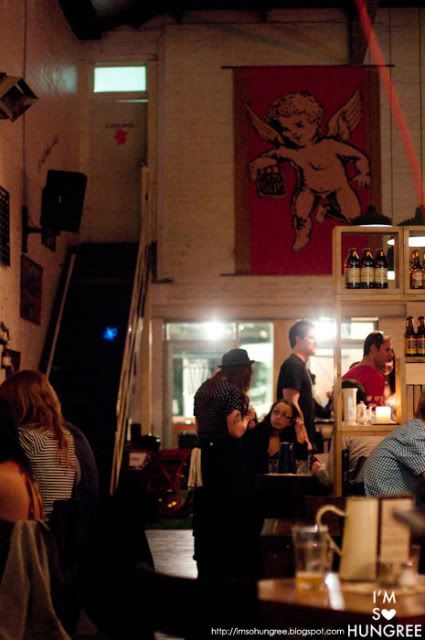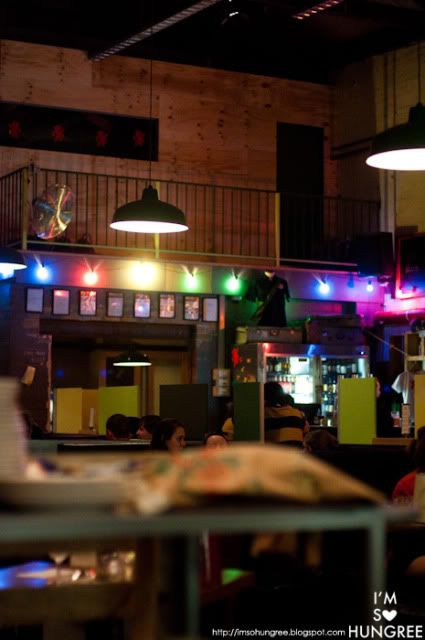 Evan and I find ourselves very comfortable settling into the spacious, albeit grungy, warehouse type space. I find out on my second trip 2 days later (yes, went back that quick), that it was actually used as a stable back in the day when Fitzroy was one of the first suburbs outside of the city. It is so spacious with it's ridiculously high walls because it used to be a two storied building and well, when Little Creatures came a-calling some serious destruction took place.

And although it is so spacious, the place is very warming and cosy, a mix of well worn and loved booths, wooden tables and chairs that might have come from your grandma's place. I mean, doilies on the table? How cute! It mixes what could come off as old and makes it hip. All this juxtaposed against the rather open, bright and sleek kitchen stretching across the back of the place.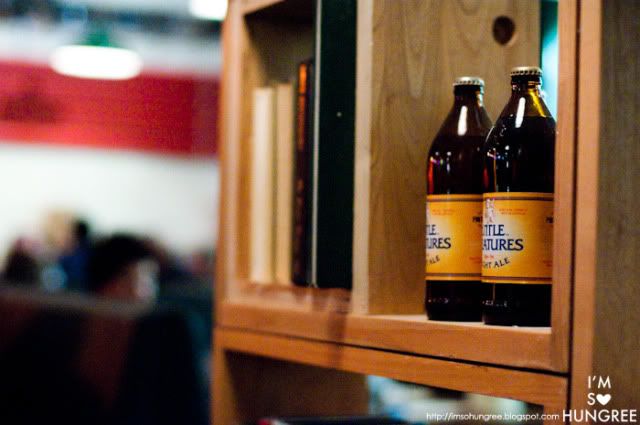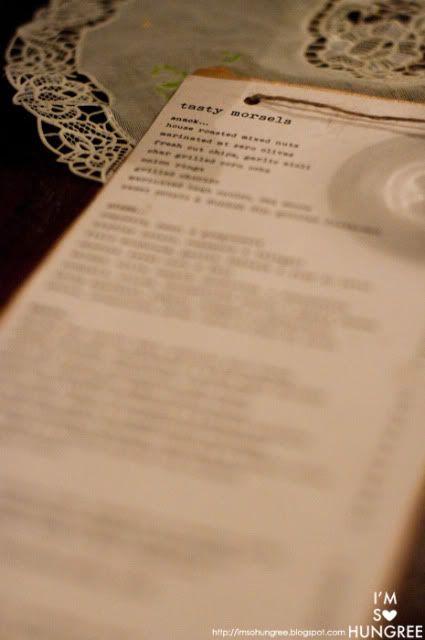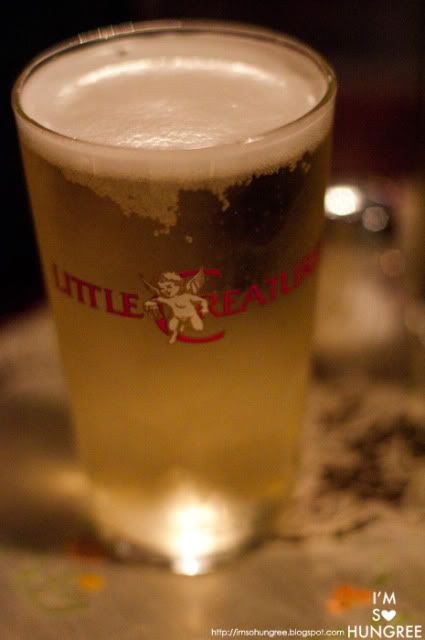 Naturally being at Little Creatures Dining Hall, drink from the tap was on the agenda and I can never go past a good ol' cider.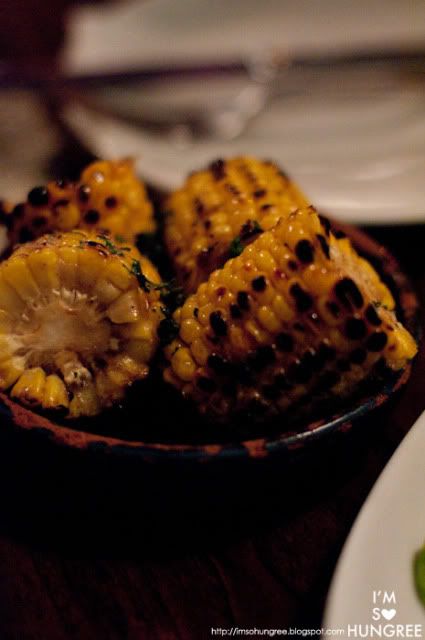 We started with the char grilled corn cobs, which were very generously drizzled with either butter or oil. Whatever it was, delicious. There's something I find very comforting about eating sizzling hot corn on the cob, especially when it has a bit of char on it like this, it was a fairly cool evening and it was the perfect way to warm up the stomach. Makes you feel a bit like a kid. But a slick kid. Who drinks apple cider.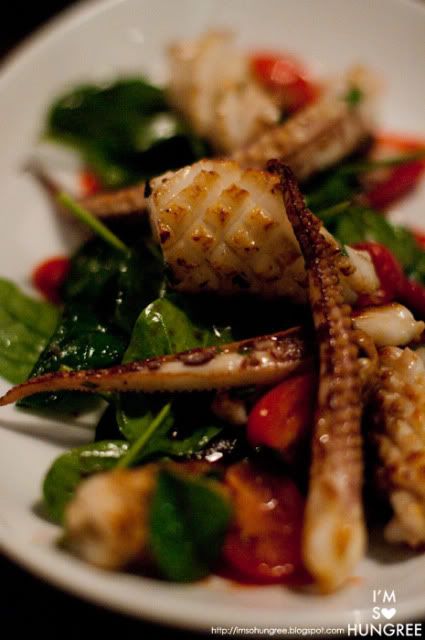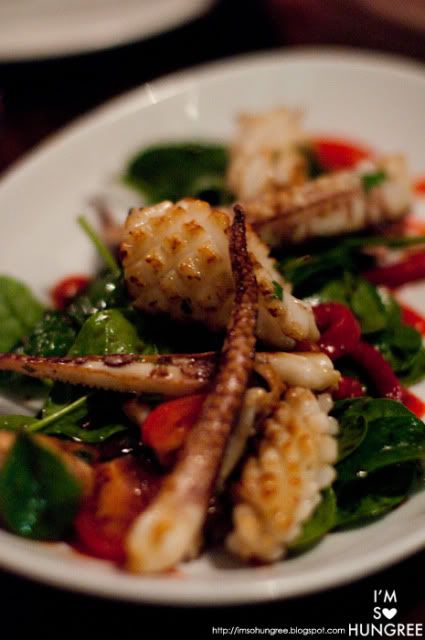 Next up was a beautiful plate of pan fried calamari on a very colourful bed of spinach, capsicum and tomato salad. The calamari was nice and springy and so well seasoned, and the vegetables were all lovely and fresh. A visual and edible delight.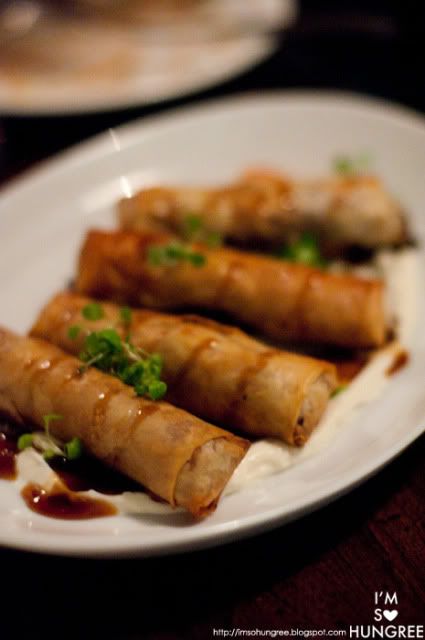 Lamb parcels with labna and pomegranate molasses. So these surprised me a bit when they were presented to us. Springrolls? Not quite what I had in mind when I read parcels. All the same I figured I should eat at least one. Oh man. What a treat. The pastry around the lamb lightly crisped away in the mouth to reveal succulent and tantalizingly rich lamb. The richness was accentuated with the pomegranate molasses which really came through and was even further enhanced with the tart labna. Every single element was an amazing personality, and all three had a wonderful party in my mouth. Could not get enough. The richness was incredibly filling though and that combined with the beer left me quite happily full.

Two days later, my mother asked how I liked Little Creatures Dining Hall, I told her about and she promptly decided for her birthday we would have dinner there. "I like a good glass of beer every now again!" she claimed, well it's the birthday girl, who am I to argue with her?

With the whole family, we definitely had a lot more, since my brother is an absolute endless vacuum.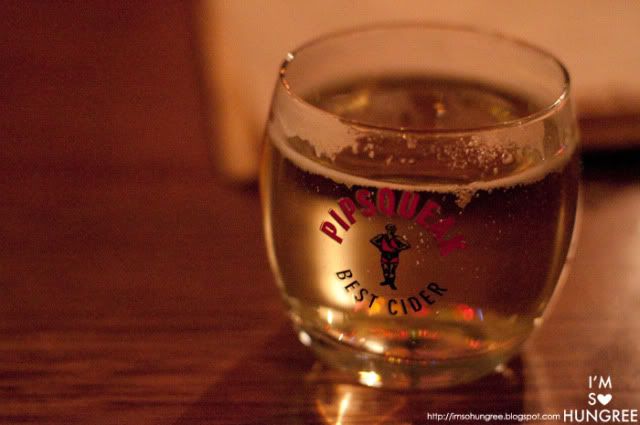 More Pipsqueak cider for me...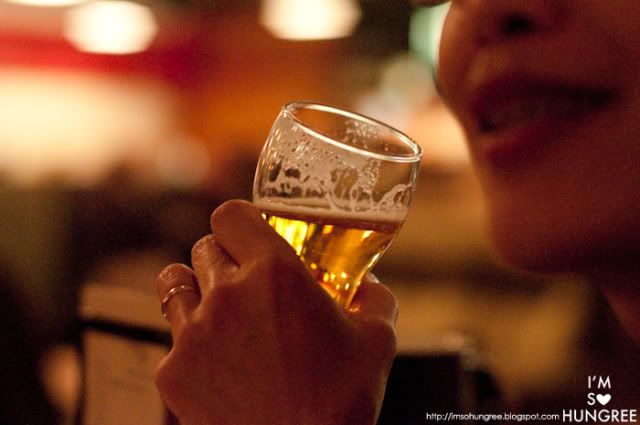 And my parents went through all the tap beers, 200mL glasses are adorable! The favourites of the night were the Little Creatures pale ale and rogers beers.

A few of the things we had...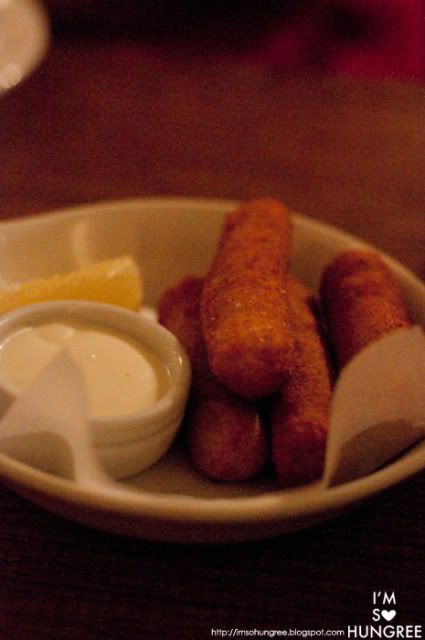 Potato and crab croquettes. More potato than crab, but definitely what the tummy craves for on a cold night.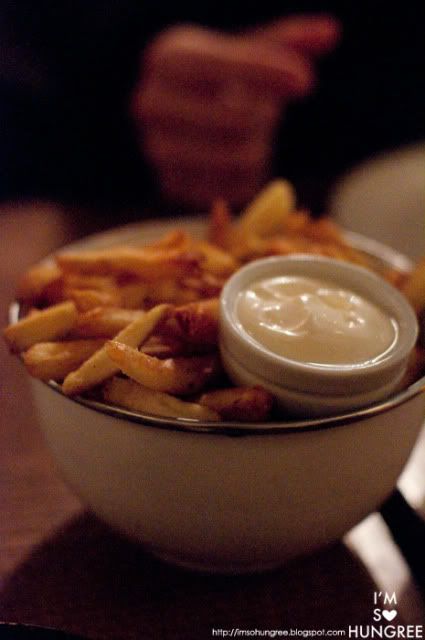 Who can turn down a bowl of fresh cut chips? Whilst not the typical way I like my chips which are usually thicker, golden and crisp, these weren't quite as firm, but were absolutely full of flavour. My parents figured that they were probably fried with duck fat or something, which gave them the moreish flavour. One of those things I long kept picking at even when I was well and truly full....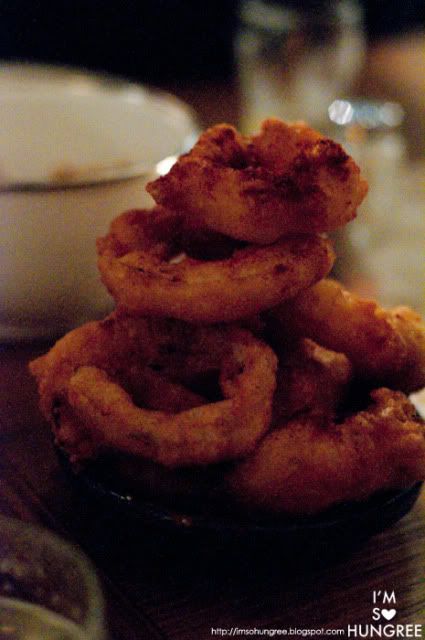 Onion rings! Talk about doughnut sized ones though! Each of these was like the size of my palm! Bit too much batter for me though with only a thin strip of onion going through each of them.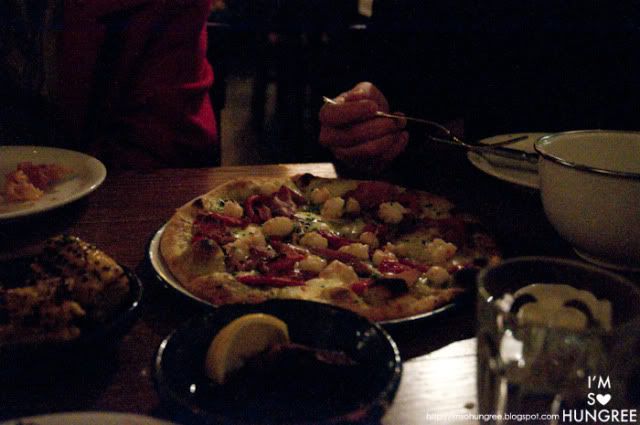 Parents decided to try one of the pizzas and I naturally couldn't resist a bite either. Prawn, prosciutto, salsa verde and fior de latte. Whilst my parents both commented they like their pizzas a little more doughy, this was quite indulgent, again full of rich and meaty flavours. The prosciutto was really nice and salty. Mmmmm.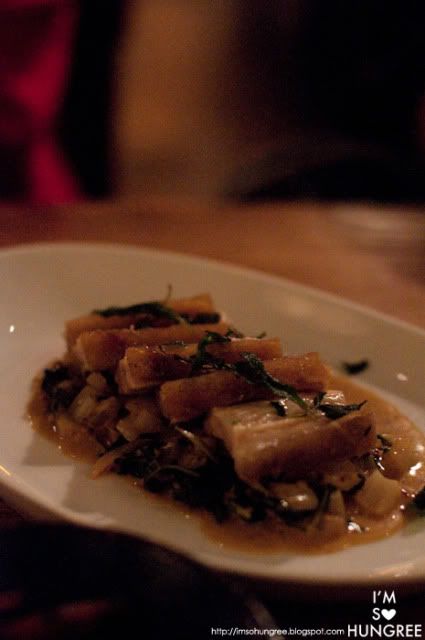 Confit pork belly, silverbeet and grilled mustard. You know, even though the waitress talked up this dish quite a bit, telling us how rich and beautiful it was, I couldn't help but be a little bit disappointed. Maybe the slices of pork were slightly too thin for me and it wasn't as fatty and decadent as I usually expect pork belly to be. However, the skin was so fine and so crunchy.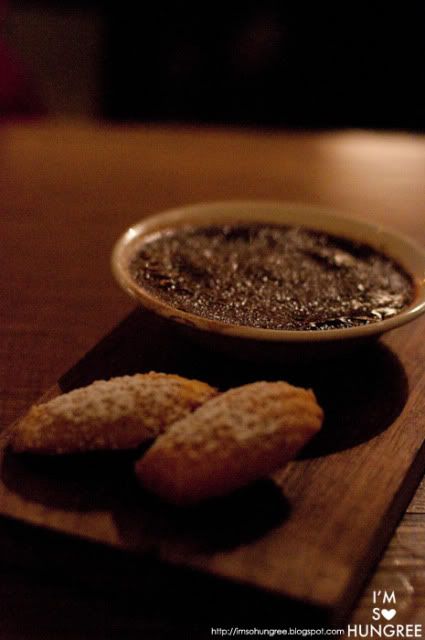 After my chocolate creme brulee experience at Estivo, I just had to try it at Little Creatures. This variation served with some orange madaleines on the side. Now I have to think, if I hadn't had it at Estivo, I would have absolutely adored and loved this to death, however, it wasn't quite as smooth and velvety as Estivo's. There was some rougher texture in it, although the flavour was definitely still all there.

Frankly in two visits, I've fallen in love with the place. I almost wish winter wasn't leaving us so that I could bundle up in my boots and thick sweaters (cause they're so much cuter than thongs and singlets), occupy a booth with a couple of friends and cosy up with a pint of cider in my hands. Add some friendly, relaxed service, incredibly speedy food service (everything came out in a flash!) and I think we have a winner here. Sure wouldn't mind if Brad had a few more gigs around the area....


Little Creatures Dining Hall
222 Brunswick St
Fitzroy

, 3065