Spuds. Potatoes. In the mind of an ex-serial-dieter, these are quite devilish, with their carbohydrates and habit of being dunked in oil and salt. Or even if they are a beloved jacket potato, they tend to be coated in cheese and oil. And more salt.

But lo and behold, if there's one thing developed countries like doing, is taking a guilty pleasure and making it, not so guilty. Meet Grill'd, Crust and Mad Mex. They've taken what is generally looked at being 'bad for you' food and made them the way they should have always been, with fresh ingredients and only enough oil to cook the stuff in. Not drown it! Along the way, these franchises have marketed themselves to appear hip and trendy, drawing in crowd bigger than just the health conscious and be the place to be at.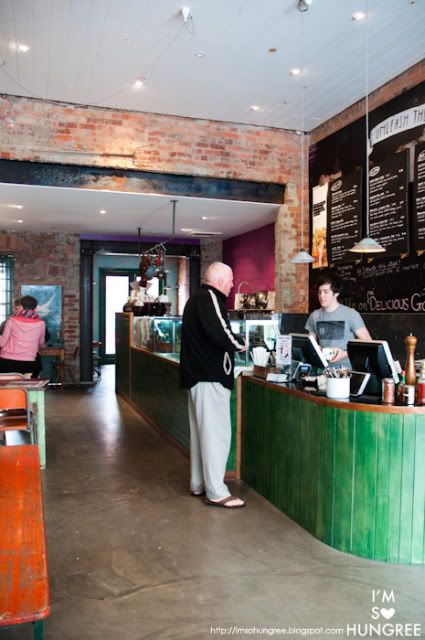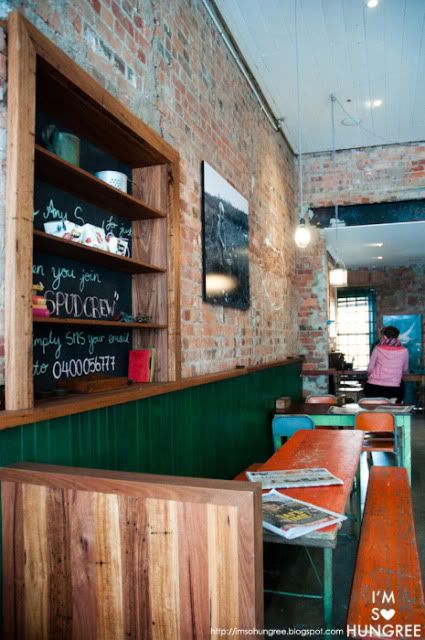 Meet Spudbar. Yes, I've heard of several 'Spud Bar' places in the past. I hear there was one on the end of Glenferrie Road, I recall seeing something similar in the Prahran area, but on Glenferrie Road (they're located in a couple of other places around Melbourne) this is a new tenant. Located not too far across the road from Grill'd on Glenferrie Road.

It's stripped back, grungy bare brick walls with a touch of smart green paint on new wooden boards and a chalkboard here and there.

Spudbar's philosophy is similar to what you've seen at Grill'd and Crust and the others, healthy living, never taking shortcuts on quality, freshness and nutritional value and are providing an honest approach to healthy, but convenient food.

As per the name, Spudbar delivers spuds, steamed (I assume after having it) with a variety of toppings. Although, rather than wrapped in foil like a jacket potato (as I also was somewhat expecting) it's served in a bowl and filled to the brim with fresh goodness.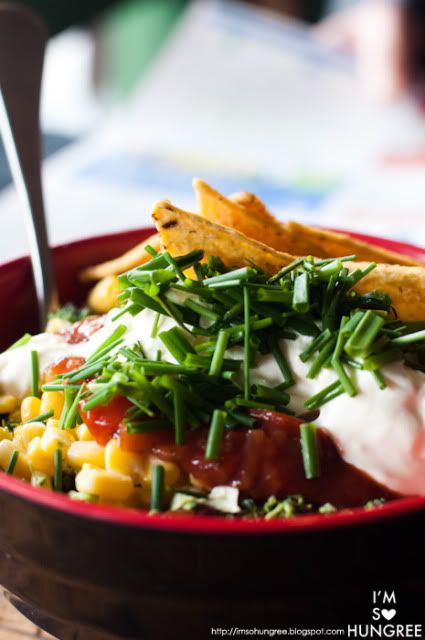 I went with the Chilli bean and salsa spud, although I paid a little extra to have a sweet potato instead of your usual 'spud'. Mild chilli bean, tomato salsa, chilli flakes, corn, chese, broccoli, light sour cream, chives and topped with corn chips, it was really quite a lot! There were so many toppings, it really took me a while to dig in and find my sweet potato, although when I did find it, was really soft and oh so sweet. Just gorgeous! There wasn't quite as much kick to this from the chilli bean and chilli flakes as I would've liked, but I still really enjoyed it. Was actually too much for me to finish that day, had to leave some behind!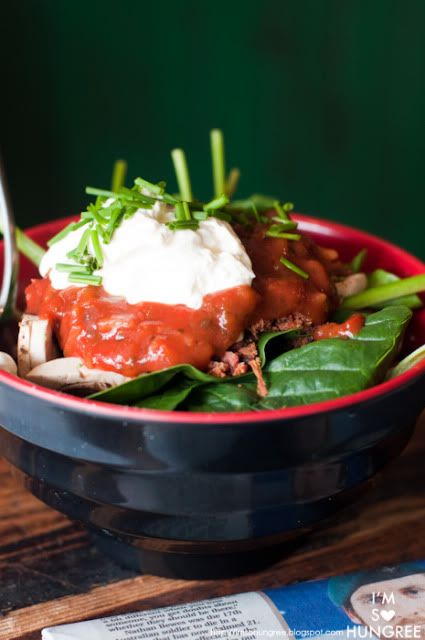 Brad got the classic and best selling, Crispy Bacon Spud. This naturally comes with bacon and cheese as well as mushroom, shredded cabbage, baby spinach, tomato salsa, light sour cream and chives. Also good and he finished all his before helping himself to mine.

I like that there's another option on Glenferrie Road other than Grill'd for something quick and reasonably priced. And I find that this doesn't weigh you down as much afterwards, as there's obviously not as much meat in these as a burger!


Spudbar
717 Glenferrie Rd,
Hawthorn VIC