Two of my favourite verbs.
So it makes sense that the name, Eat Drink Man Woman, appeals to me. Simple and straight to the point huh?
I'm not often in the Fitzroy area for breakfast, with Collingwood being a faithfully reliable option most of the time. However, I got a recommendation from Michelle that I should pop by and after a quick squiz over her blog about it, it sounded like a pretty relaxed, easy going place to bring my grandma and brother for lunch.
After managing to find a park, which many know is a bit of a pain around the area, we plopped ourselves on a table right next to the floor to ceiling window. This equals awesome light. Win!
Although Eat Drink Man Woman is a huge space, I didn't find it too daunting. With a stylish, yet nostalgic feel (the chairs for some reason take me back to Hong Kong), it was a pretty chilled spot to be. Also a little bit surprising, for Brunswick Street especially, I don't find EDMW particularly hipster at all…quite fresh for a change if you ask me.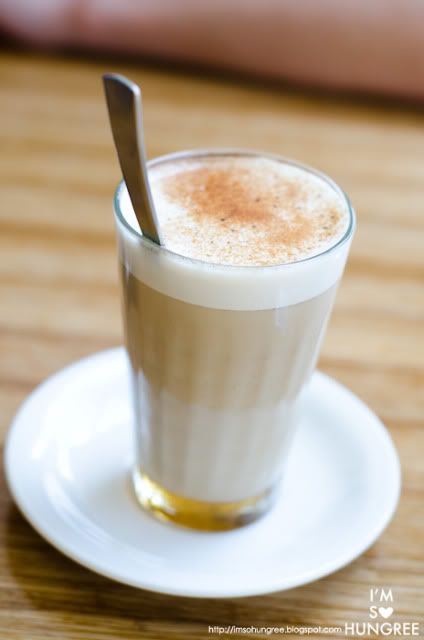 The chai lattes come in big glasses. Hoorah! Especially since I tend to smash through my drinks faster than Road Runner from Looney Tunes! The chai is quite delightful, lots of cinnamon, lots of flavour and definitely a healthly dollop of honey, so lovely and sweet!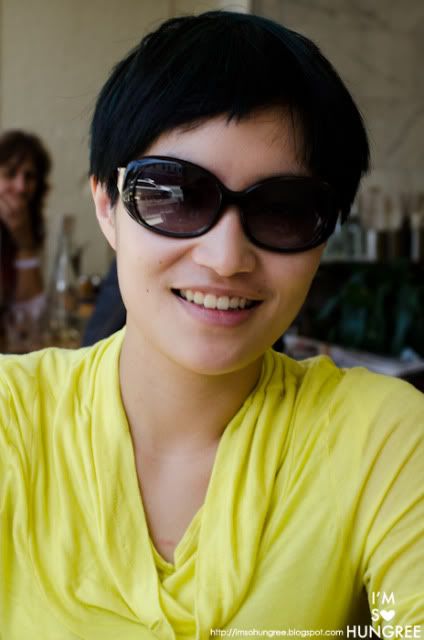 Decked out in my favourite colour...!
So for brunch, this woman ate the baked eggs with…of course, black pudding. Oh and that chorizo stuff. No I kid, it was all awesome. Body builders, take note, this little bowl is bursting with protein. I could feel my biceps swelling as I ate it (may or may not be serious).
I really liked how the black pudding was just chopped into chunks and thrown in, rather than being sliced finely which seems to be the trend these days (not that I'm complaining, it's just something different). This seem to make the black pudding really tender and mushy and meaty. It was surprisingly quite sweet and not too metallic to me at all. The eggs are lot more baked than I'm generally used to, as the yolks were actually fully cooked through. There's also just a lovely layer of cheese gently melted over the top, which provided a lovely flavour.
My brother had the kaiser bacon with eggs. I find the idea of having fries with eggs for breakfast quite peculiar, but I suppose it would be pretty awesome if you were hungover. I love how cheery the dish looked, and although I didn't try any, my brother did wipe it up pretty quickly. Although he is a bit of a vacuum cleaner when it comes to food.
When I saw that there were spelt pancakes on the menu, I freaked out. I've been wanting to find somewhere that had good gluten free pancakes for ages! Ask Brad! Spelt is not entirely gluten free, but it does have very low levels of gluten, so gluten intolerant people (like me), can often handle it.
So inspired by previous brunches with Allan, I decided that we could all share the pancakes as 'dessert'. As a pancake, it defeintly had the 'cake' bit down alright! Look how big those things are! The consistency and texture was far more reminiscent of a cake to me. Though they were lovely and fluffy. I loved the slight tanginess from the yoghurt (I think), mixed with the sweetness from the rhubarb. I wouldn't have minded a little more maple syrup to add a little more moisture to the pancakes, as on their own without all the toppings they were a wee bit dry.
My grandma tends to eat a bit smaller these days and just opted for a few slices of toast with jam although she did tuck into the pancakes a little bit.
All in all, I would easily be back, the food's of fairly generous portions, filling, hearty and tasty. May have to pop by to try dinner sometime!
Eat Drink Man Woman
413 Brunswick Street
Fitzroy, VIC 3065

View I'm So Hungree in a larger map