Hey everyone!
MERRY CHRISTMAS!
I hope you all have a wonderful day, whether you're a big celebrator of the holiday and love that big man in the red suit, or prefer just to have a quiet one in with close friends and family.
Today I'm going to be busy shuttling between Brad's family celebrations and my family's celebrations which means...lots of food for all! I hope all your tummies will be as well fed as mine!
Overtime I've personally grown to enjoy the holiday more as a time to have an excuse to get together with friends and family and share lots of food and laughs. Sure when I was young, I was crazy about the presents and ripped them open with fervour and enthusiasm. It's not so much about that now, but I do love to give and if I can think of something that someone would really like, but maybe not go out of the way to buy themselves, I'm happy to add something under the tree (or 'Christmas Corner' in our case).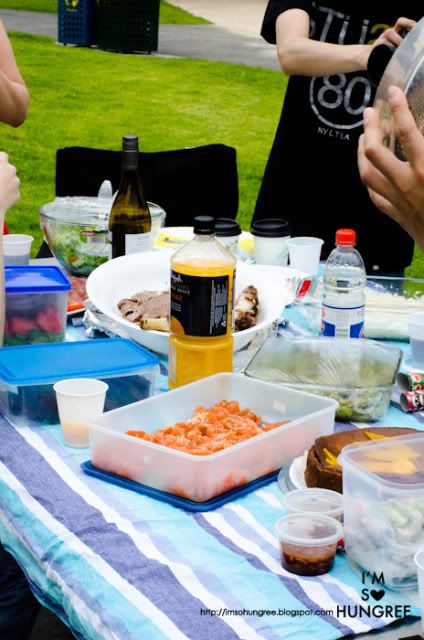 In a way, I was a little bit fortunate not to have too many Christmas parties to attend this season, after all there's only so much food one can eat and drink! It sounded like some people were having some very boozy weeks! But I was quite pleased to be invited along to a christmas picnic, with some of my favourite bloggers.
After all, I have now learnt there are two types of picnics that are always worth going to. Picnics with food bloggers…or picnics with gay friends. Dead serious. I went to an Australia day picnic two years ago, and was the only girl in a sea of gay men. Was one of the most delicious picnic's I had ever been on as beautiful cultural dishes, absolutely divine nibbles from the deli and even sweets were brought out!
This Christmas picnic though, was also outstanding, with content 'mmm's' and 'ooh' and 'yuuuum's', going around the table. What was also so nice was as a group, everyone was so intrigued by everyone else's dishes, asking how they were prepared, if recipes were going to be shared and a whole array of other tips and tricks!
So much sharing!
Although the weather threatened to blow all our cups and plates away and potentially pour down on us, it fortunately held out till we actually all finished eating!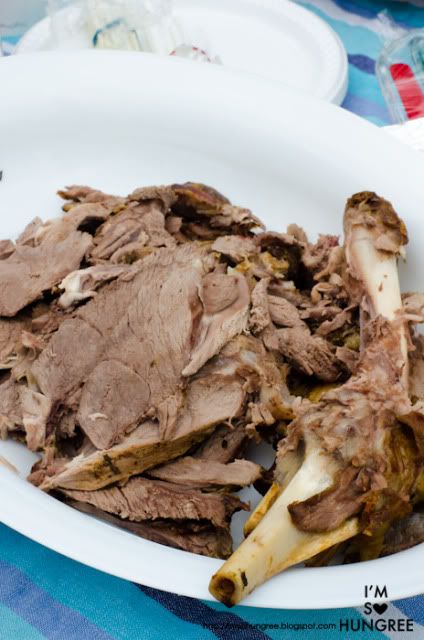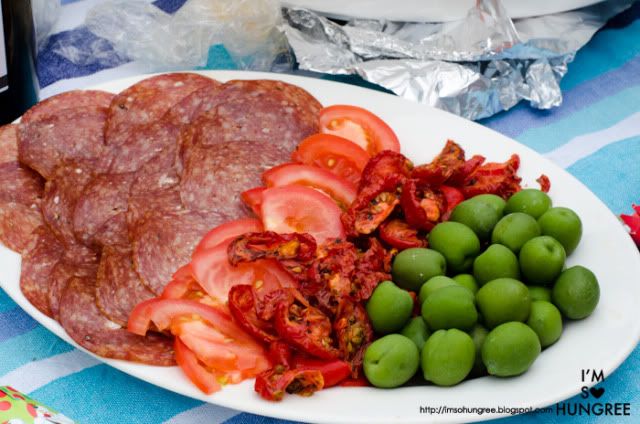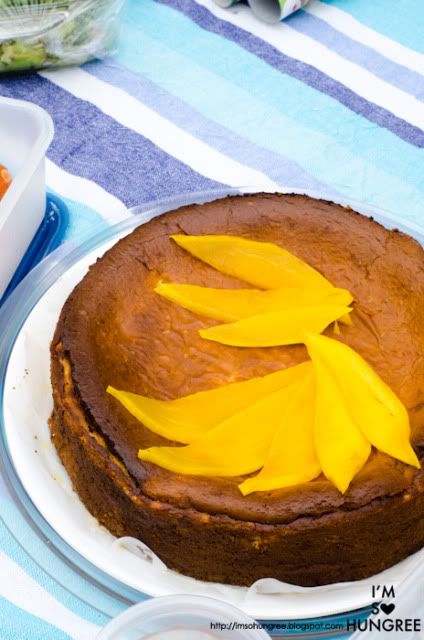 We had roast lamb from Agnes, an antipasti plate (with some absolutely delicious sundered tomatoes) and rice paper rolls from Kat, an array of paleo inspired salads and cauliflower rice (which was deceptively simple and totally awesome) from I-Hua, a lovingly garlicky hummus and cheesy potatoes from Bianca, beautifully refreshing fruit jellies from Bryan, and a passionfruit and mango cheesecake from Thanh. Amongst other things. Too much food, too little time to take pictures. Must eat. All of it.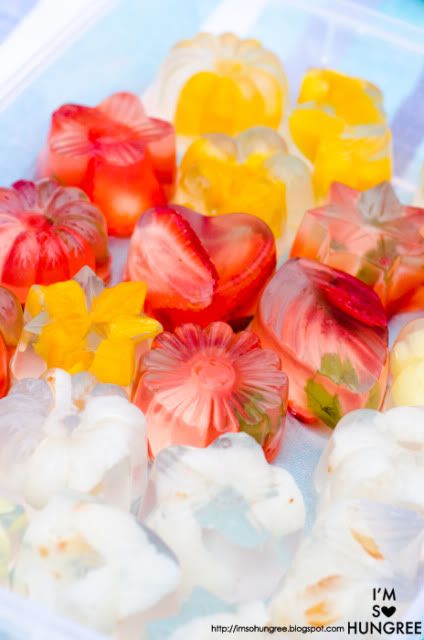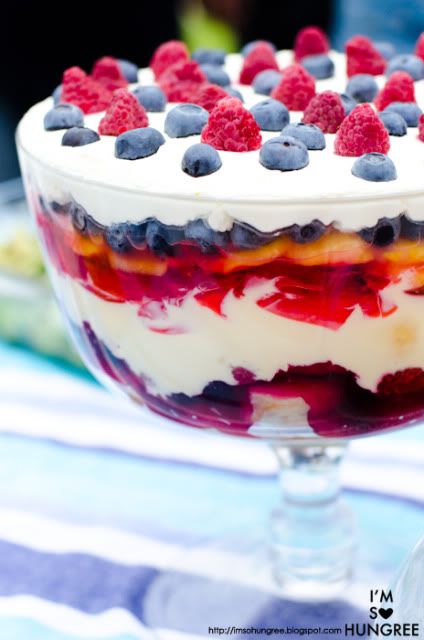 Oh and a trifle from Adrian. Not just a trifle though. A TRIFLE.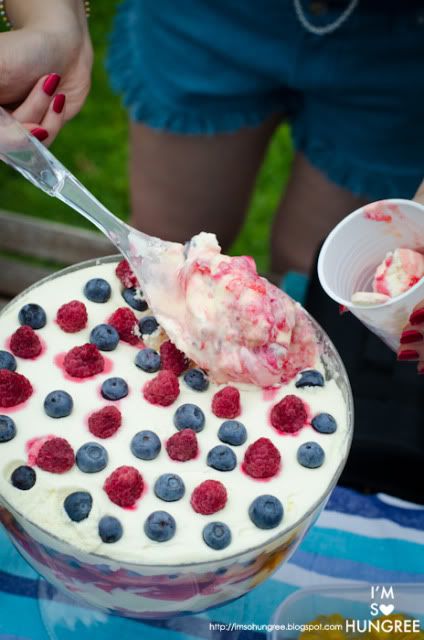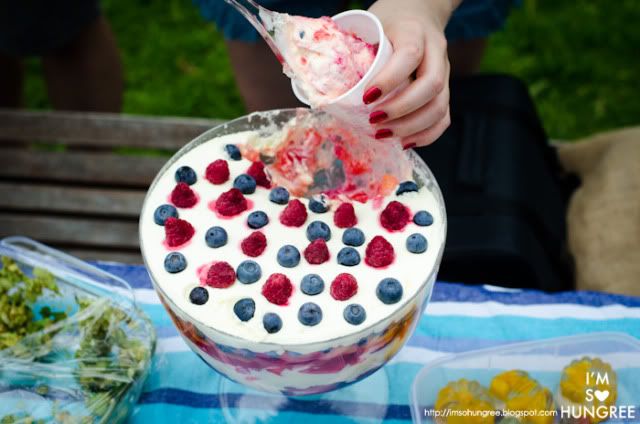 I-Hua and I kept buzzing over the trifle until everyone had finished their mains. She kept trying to fool me into thinking I was full so she could have my share! Aghast!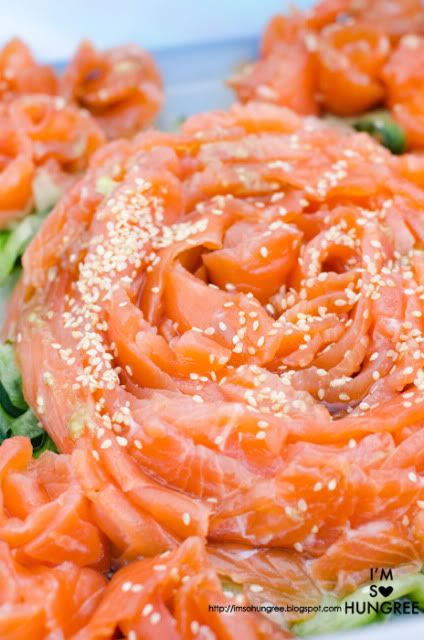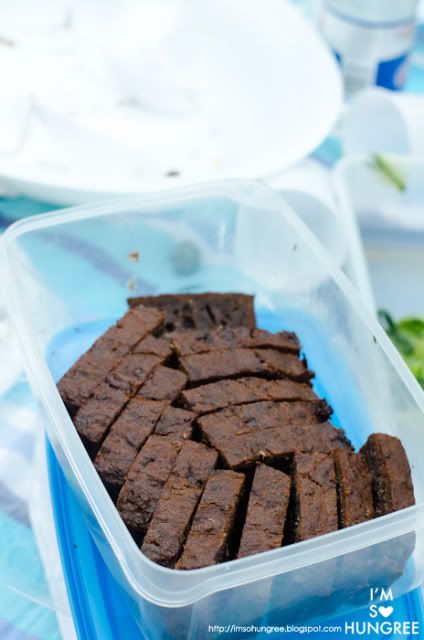 My contribution was one kilo of cured salmon, which to my surprise was completely eaten up and some chocolate banana bread, which I was quite pleased with, considering I haven't baked anything in ages!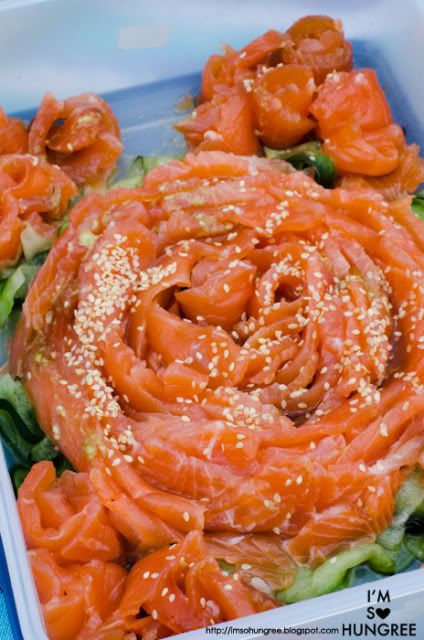 And in the spirit of sharing, here's my 'instructions' (I don't know if I can really call it a recipe!) on how to make cured salmon. Which is surprisingly easier than you think. You just need to make sure you start preparing the fish a few days in advance, before you plan to eat it! It really is a great little appetiser to a dinner party, being a family favourite, or as I have shown, for taking out to a picnic!
And because I didn't take pictures of the process, I've decided to draw some crappy pictures for you guys, hope you guys get to try it out sometime! Next time maybe I'll do the recipe for the chocolate banana bread…with actual photos!
INGREDIENTS
Fillet of salmon, no skin, no bones etc. etc.
I bought mine from Tassals salmon shop in Kew (just down the road from me!), without the skin. My parents sometimes like to buy the fillet with the skin (which is cheaper) and use the skin to make crispy salmon skin to have on top or rice…or as a snack later. My piece was 1.1kgs, which fed about 15 people fairly comfortably, my parents often get a 1.4kg fillet though.
Salt
Sugar
Cucumber (for making pretty later)
For dressing:
Soy sauce
Sesame oil
Wasabi
METHOD
Day 1.
Get a big container that can preferably fit your whole fillet inside. If not you can cut your fish in two and layer them on top of each other.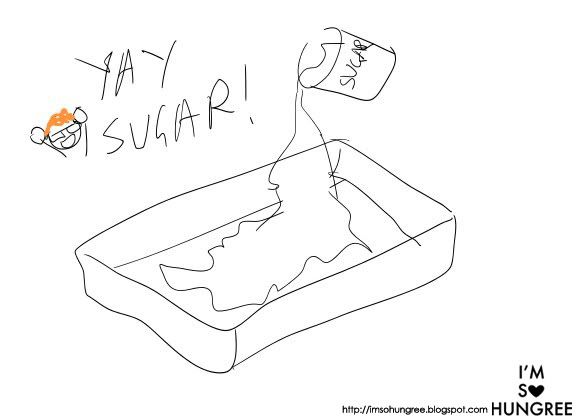 Roughly cover the base of the container in sugar. Sweet sweet sugar. I reckon I probably used about a 3/4 cup? Maybe close to a cup even. Depends how sweet you like it I guess!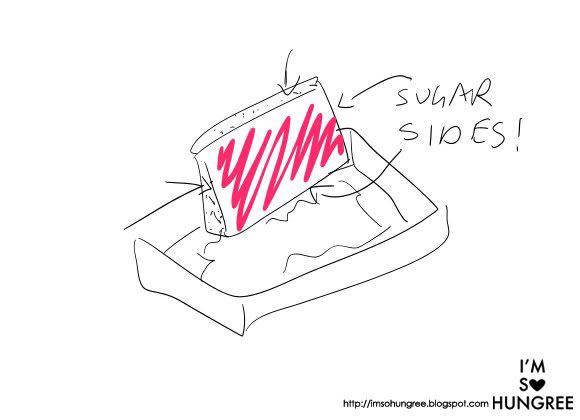 Pick up your fillet and dip the sides of it into the sugar so that they are lightly coated.
Rub the rest of the fish with the sugar, all over, and then cover and leave it for around 24 hours in the fridge.
Day 2.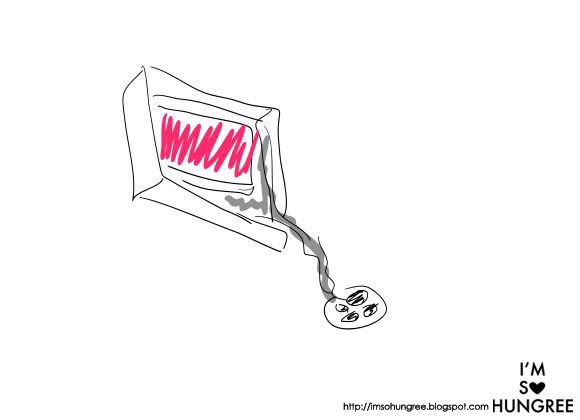 You should find liquid in the bottom of the container now. Drain this out. No need to clean the container.
Salt your fish the same way you did with the sugar. Dip the sides, then rub the rest.
Leave in your fridge again for 24 hours or so.
Day 3 or 4.
Prepare your cucumber!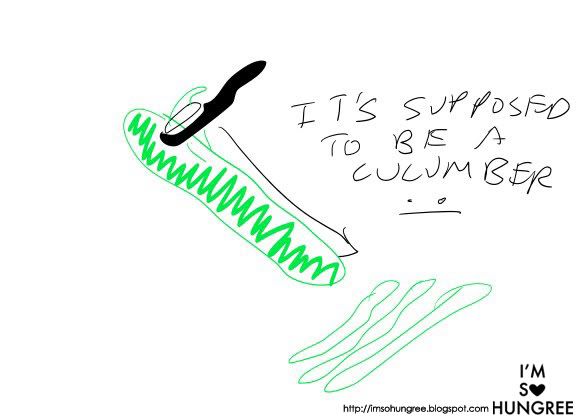 Mum likes to make thin ribbons by taking a peeler and just running it down the length of the cucumber.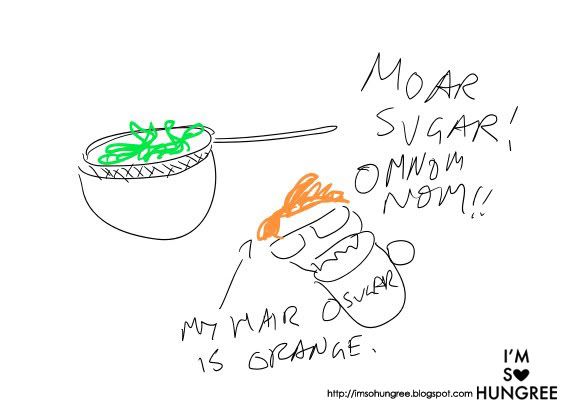 Once ribboned, put in a sieve over a bowl with a few pinches of sugar lightly mixed through and let it drip for about half an hour.
In the mean time, take your fish out of the container and rub it down with a kitchen towel to get rid of as much salt as you can. If you have trouble getting rid of all the salt as I did, or you're finding your fish tastes too salty, get a clean kitchen cloth, wet it and then use that to rub it.
Get a super sharp knife and cut into thin slices. My parents like it super thin, I like it with a little more width. Personal preferences!
To serve, squeeze the cucumber so all the juices are out then put on a plate. Then it's up to you to decorate really, some personal suggestions would be to use the cucumber as a 'bed' and put the salmon on top as I have in the pictures. The salmon can be rolled up to look like little rosettes which are quite cute. I have also put the cucumber in the middle of a plate and put all the salmon around it.
To dress, mix a bit of sesame oil, a bit of soy sauce and some wasabi in a small bowl, then drizzle over salmon.
Shower with sesame seeds as you see fit.
Proceed to omnomnoms.
Thanks again to everyone at the picnic for a wonderful meal and for being such awesome company. Looking forward to the next one!
And again
MERRY CHRISTMAS!