You know when you're really looking forward to dinner somewhere, but then on the day you're really annoyed with yourself because you're full even before dinner begins? That totally happened for me at Bar Tartine. It's impossible on the way from the BART station to the restaurant not to pop into everywhere else along the way and sample the goodies abound.
Damn you Mission district for being so delicious!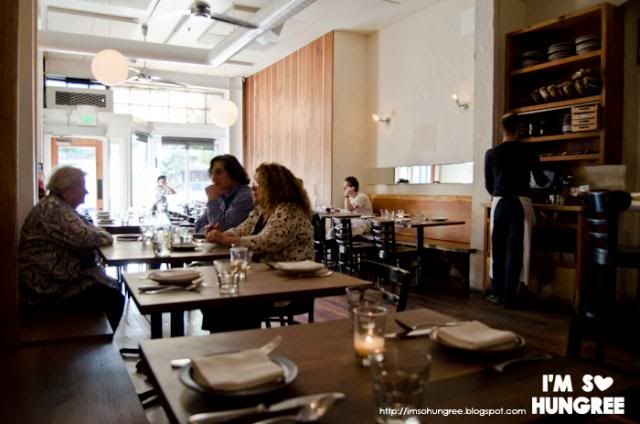 When I visited San Francisco (back in June now, eep!) Bar Tartine was highly recommended to me by many food lovers, so it was one of the few places that I booked way in advance, once we had our dates.
So it was with high expectations that we arrived a little earlier than our booking time at the lovely Bar Tartine.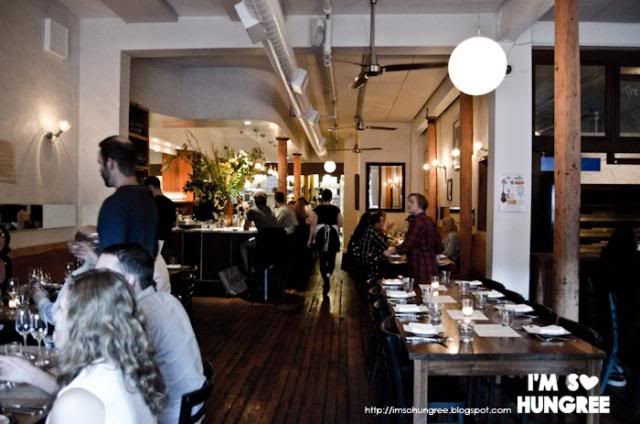 The lingering sunlight made for gentle and lovely lighting, emphasising the wooden decor, from the woodgrain in the table to the wooden pillars by the bar, giving an earthy appeal and a rather soothing atmosphere. It was all quite elegant, without being snobby.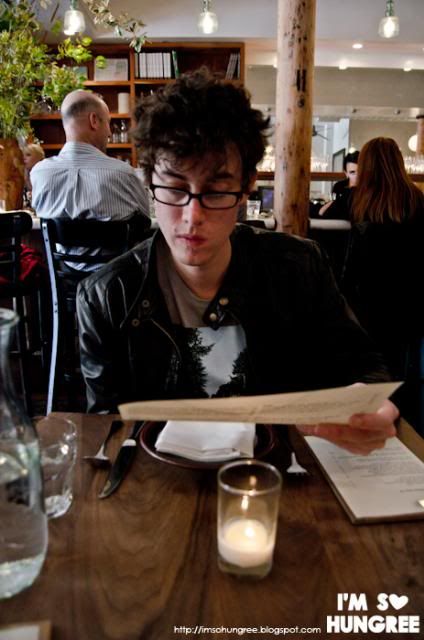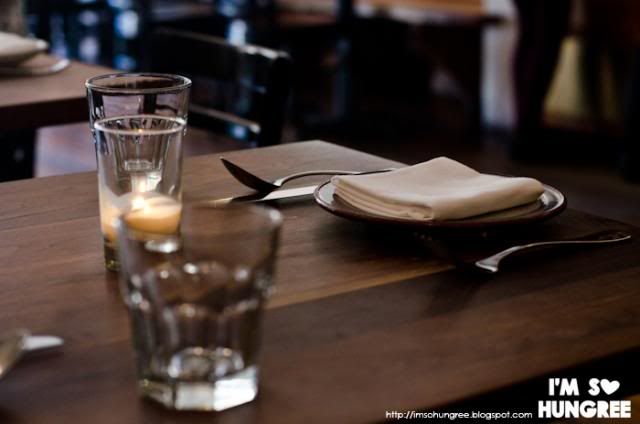 Brad and I couldn't help but be bemused when we discovered our waiter had a hipster beard, as it just seemed so fitting, but he was also very polite and quite friendly and was quick to make sure we had menus and water.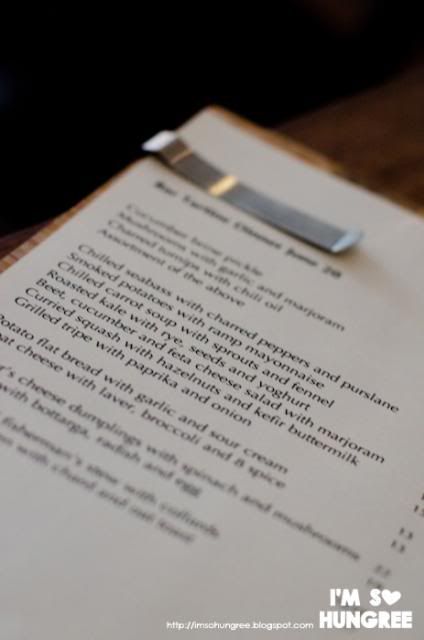 The menu is short, and sweet and oh so delicious sounding. It's painful to not order everything.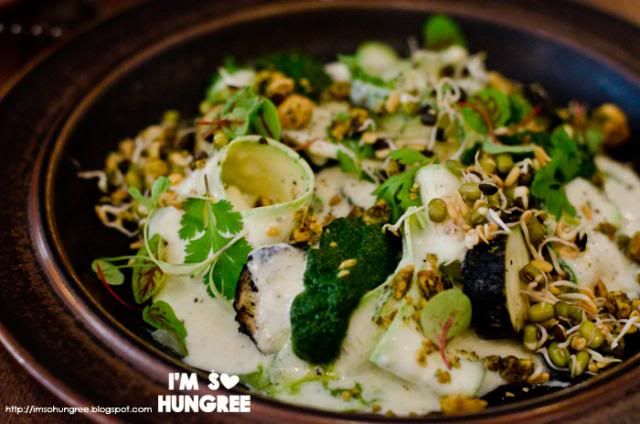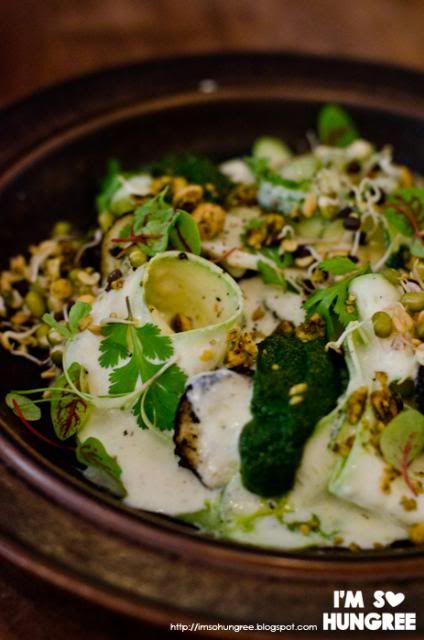 I think this dish is the curried squash with hazelnuts and kefir buttermilk (I could be wrong, but I'm pretty sure it is), a rather artistic vision of green and white. I'm surprised that this is actually served cold, with the heat of the curry coming up through the back as a late surprise. Quite interesting, and delicious.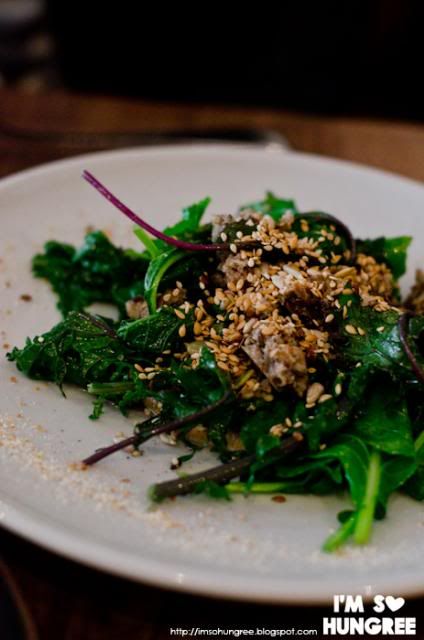 I don't think our trip to San Francisco would have been complete without kale popping up somewhere, so we tried it Bar Tartine, where it's roasted and served with rye, seeds and yoghurt. I just adore the simplicity of this dish, but the rich layers of flavour that it contains as well. In contrast to the curried squash, this was served piping hot, and was so warming and comforting, the yoghurt acting as a nice contrast to the seeds, which can I say, is just perfect with the earthy kale.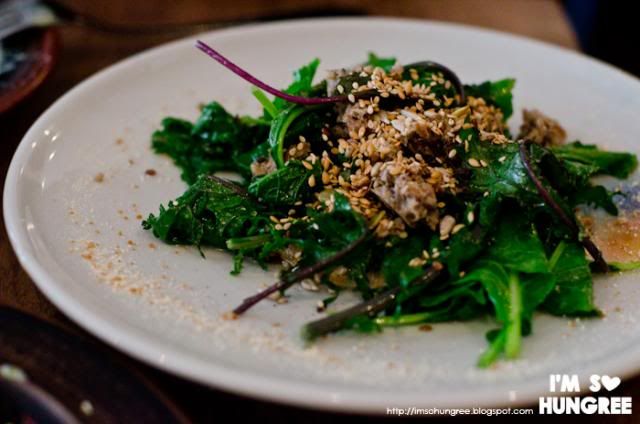 I also believe there were chunks of crunchy rye bread in there, which added more beautiful textural goodness.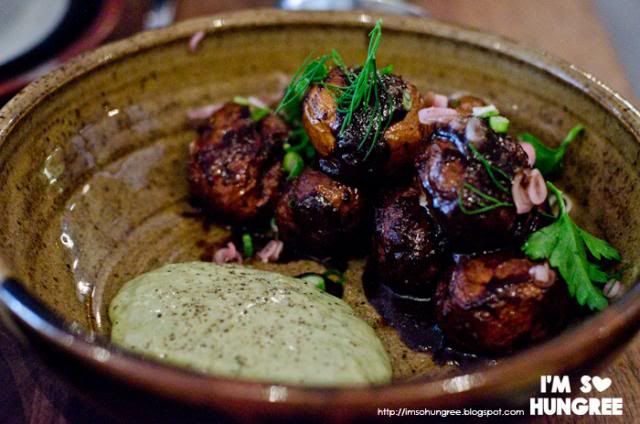 The smoked potatoes with ramp mayonnaise is a friendly nod to American's love for bacon and barbecue, without either being included. How fun! I was surprised the potatoes came out looking so black, but they were just so sinfully delicious with a strong smokey flavour, making them taste like bacon. Bacon potatoes. What more in life do you want?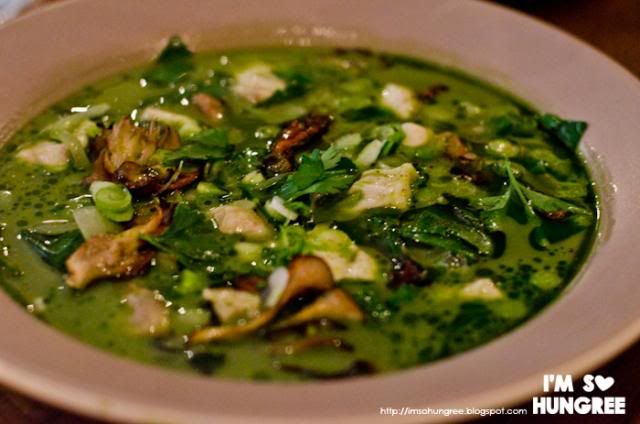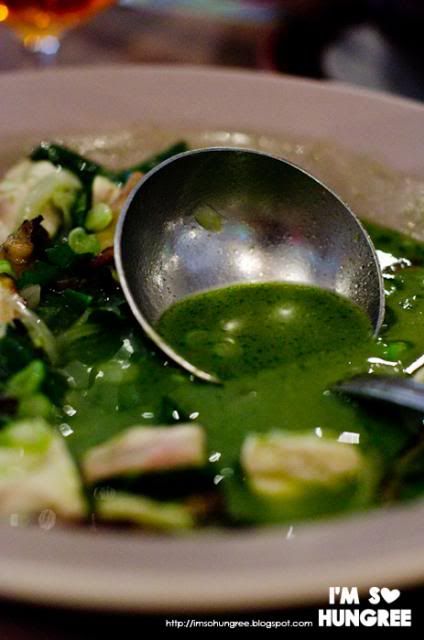 Our last savoury was a green chili fisherman's stew with collards, which I just loved. From the vibrancy of the colour, to the wholeness and richness of the stew. The consistency was so light, like that of a broth, but it was so rich with a bit of spicy and a lot of ocean flavour in the mouth, making it so comforting to sip on. Out of all the dishes, I would very easily order this just on it's own again. Although bacon potatoes come in at a close second.
Although I was bursting at the seams, having eaten ice-cream and a croissant before dinner even started (I did say the Mission district was delicious), I still had to make a little space for dessert.
Brad never chooses the desserts, as he really could go without (gasp) and only really eats the desserts to help me out. Taking one for the team here isn't he?
So after a bout of fickleness, I settled on the rose geranium custard with strawberry and flowering herbs. It's just so pretty on the eyes, without looking overdone. I was quite surprised with how much the flowering herbs added to the flavour, taking this from a very light and fruity dessert to something with a little more substance, giving it a hint of freshness and savoury (from what I can recall now).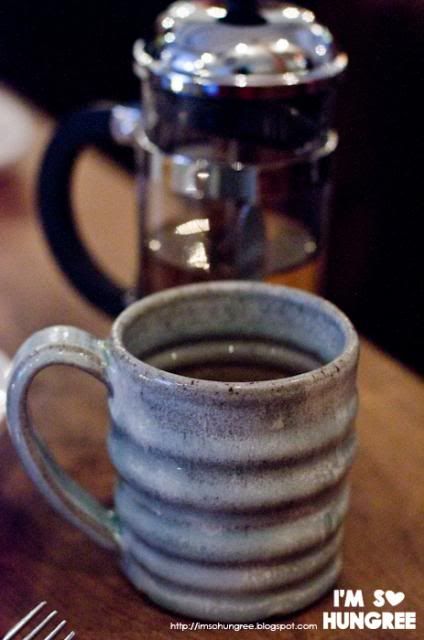 I finished with a ginger and roasted buckwheat tea, to aid the digestion, with a happy smile on my face.
In all honesty, whilst I don't think Bar Tartine totally blew me away (as I thought it might from what I heard), I still left very impressed with the creativity of the food and the generous play on flavours. I also loved how fresh everything tasted, obviously stemming from quality produce. For me, I think it was missing the 'more-ish' factor, but that might stem from me not being very familiar with some of the ingredients (kale, ramp, squash, etc), so instead my palate got a good education in some new flavours!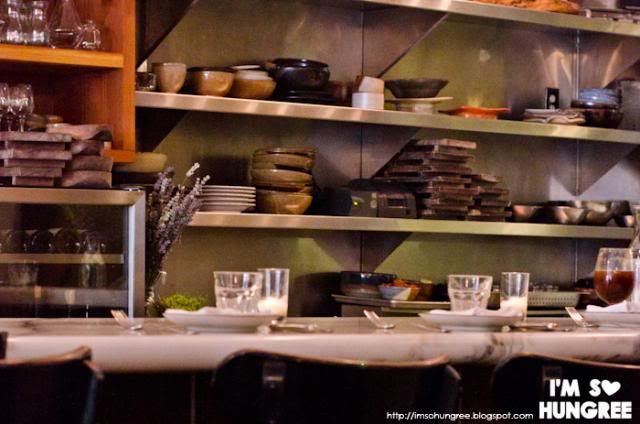 Despite my nitpicking (you can't help it when there's hype), I would definitely recommend a visit to Bar Tartine, should anyone be in the area, as I can't think of anywhere back in Melbourne that's doing food like this at all, and it's an amazingly priced meal for what you're getting. I also consider it a very good sign when a restaurant has single diners, and there were multiple at Bar Tartine.
Also, really guys: Bacon potatoes (and chili fish stew)!