Caryn's my girl for Italian. I'm not exactly sure why, but whenever I see a deal for an Italian restaurant, or get invited to check out somewhere Italian, who's the person who goes with me? Caryn.
Not that I'm complaining! The girl appreciates a good glass of wine, a well cooked piece of meat and a plate full of pasta and mussels.
The latest deal I came across had my heels clicking against the glossy stone floors of 101 Collins, as I tried to figure out where The Italian was, to indulge in a 50% off the food menu deal I found on Dimmi. After tottering previously around the lifts a couple of times, I finally found the restaurant on the Flinders Lane side of the building.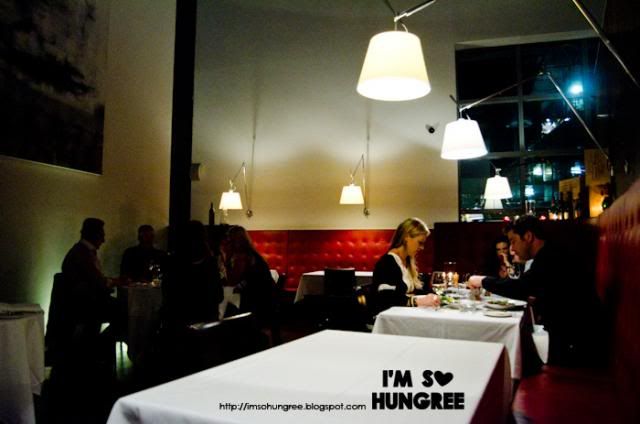 The Italian is hushed tones, white table cloth and luxurious details like scarlet leather seating and an individual light for each table. I felt a tiny bit intimidated when I first arrived, as I got in before Caryn did, and it had been a while since I had been into a restaurant that gave of the feel of being 'fine-dining', with the more casual feel to restaurants really taking hold at the moment.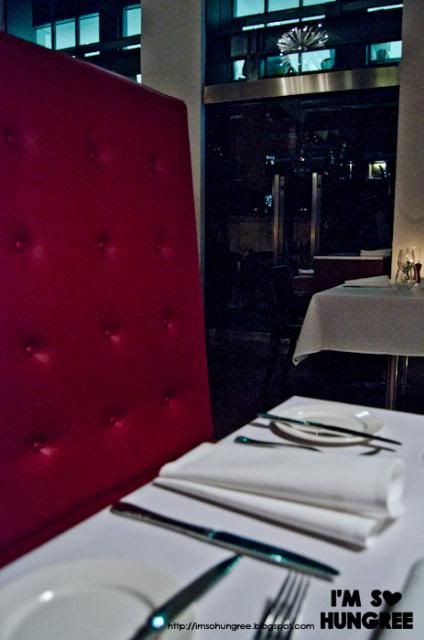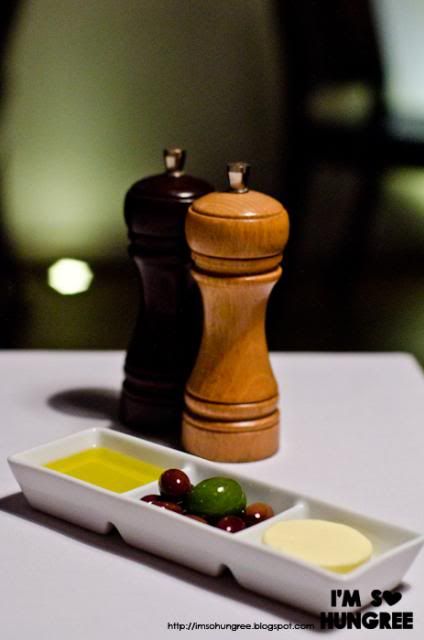 However, a twinkle in the eye, a white toothed grin and a sexy Italian accent made me feel at ease, bringing the menus and striking up a little small talk as I waited for Caryn to arrive.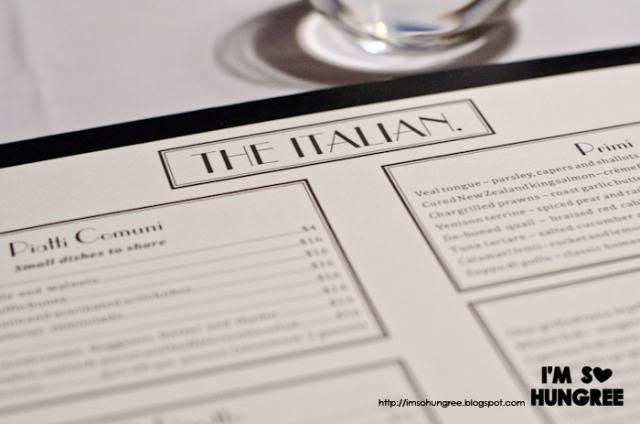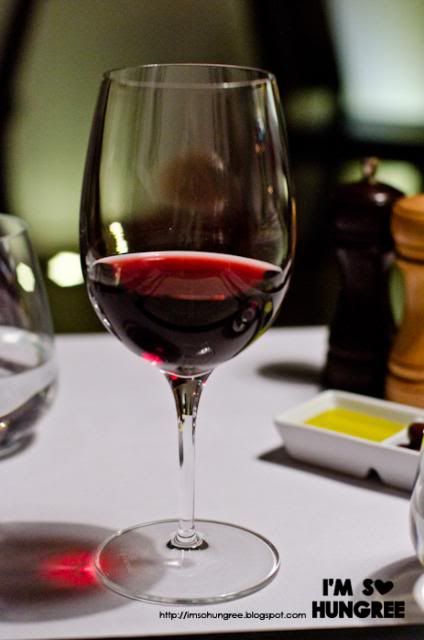 The menu at The Italian is very classic, and not too long, keeping it simple and focussed. We sip on a glass of pinot noir each as we deliberate menu options. I've really been enjoying my red wines as of late, a lot more than I used to, as I've really been appreciating the fact you have to sip on a red wine, and you can't just knock them back like a white wine, as it's a bit intense and it'll also be a bit of a waste!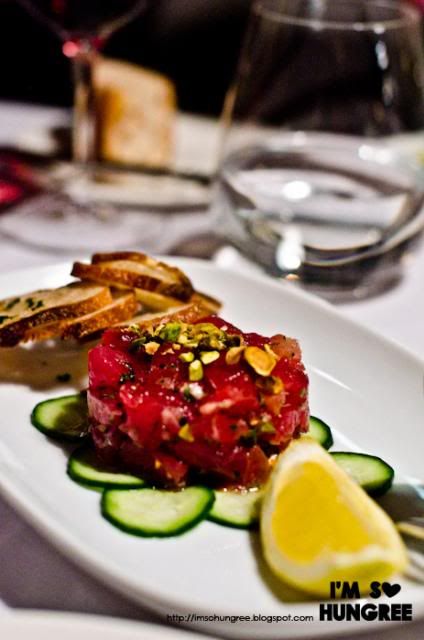 The tuna tartare with salted cucumber and toasted pistachio's was a real treat to start the night with. I couldn't help but coo over the intensely rich colour of the tuna, which translated to beautifully textured flesh. I also adored the addition of toasted pistachios, not something I would typically put with tuna, but it worked so well!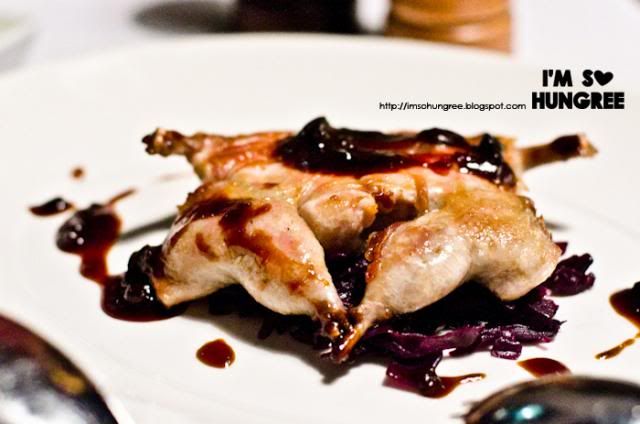 These deboned quails served on a bed of braised red cabbage and prunes were just lush and finger licking good, despite the setting we were in. I loved the rich and comforting flavours that the cabbage and prune gave to the quail, without being too heavy.
The saffron risotto with mussels and thyme was just a stunner, with a vibrant and rich yellowy orange colour. I was quickly seduced by the oceanic aroma that intertwined with the thyme, and smitten with the perfectly cooked al dente rice. The only thing I was a bit sad about is that we didn't have more!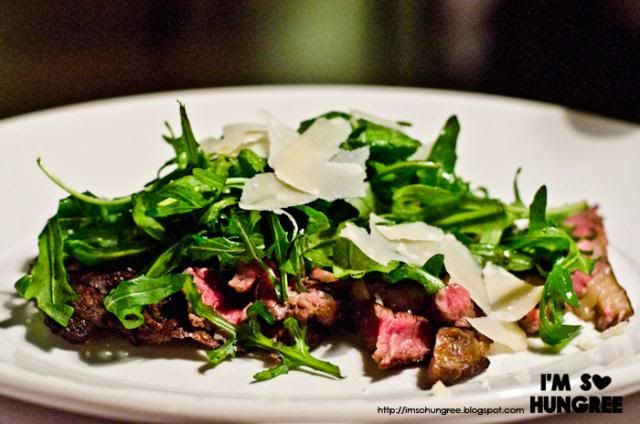 We opted to go for a lovely piece of meat for dinner, a char grilled scotch fillet tagliata, with rocket, balsamic and big grated flakes of reggiano. Now, I've always said I don't often go out and have red meat, as I usually think it tends to be a bit overpriced, but this lovely demure thing, hiding under the rocket and blushing, reminded me why I should go out for red meat more often.
Cooked just perfectly, with just enough fat left on it to be delicious, but not make one feel guilty, the meat was amazingly tender and so full in flavour. I also loved the addition of the reggiano, which is something I would certainly not usually do. The dish as a whole felt remarkably light and indeed felt very Italian.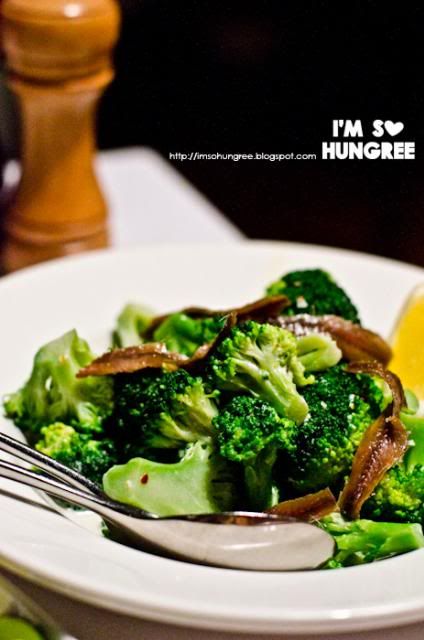 Although we said we wouldn't do sides, when the prospect of a cool broccoli salad with anchovies and something else (I've forgotten), I think the Asian came out of us and we had to say yes. It was just the thing we needed, a little more green, with a touch (or a little more than) of salt and all slightly chilled to be cool and refreshing.
Caryn and I did the usual thing of saying yes to the dessert menu, just to look, but what then actually happened is that we ordered two desserts. Go figure.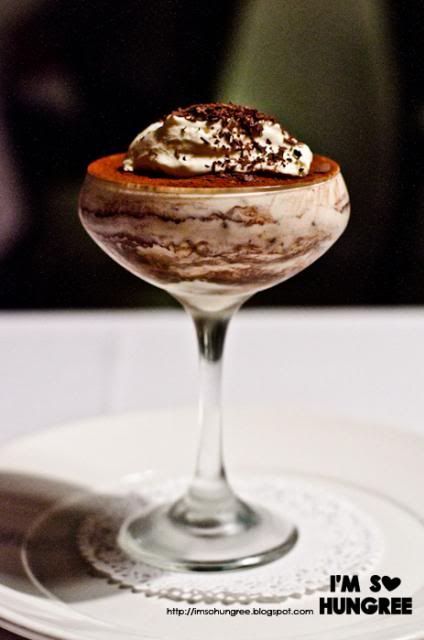 We had been eagerly eyeing 'The Italian' tiramisu that had been floating around to other tables, in a tall stemmed glass and looking oh so elegant. We had to have it. After accidentally inhaling the cocoa powder on top and going into a coughing fit (as one does), I found that whilst the tiramisu was beautifully creamy, the coffee flavour was quite muted and subtle. I can't decide whether that's a good or bad thing, as most of you know, I'm not a big coffee drinker, so coffee isn't my most favoured flavour, however, I feel that coffee is such an important aspect of a tiramisu at the same time. What do you guys reckon?
Still I couldn't really complain, creamy and chocolatey, we quite promptly devoured the whole thing.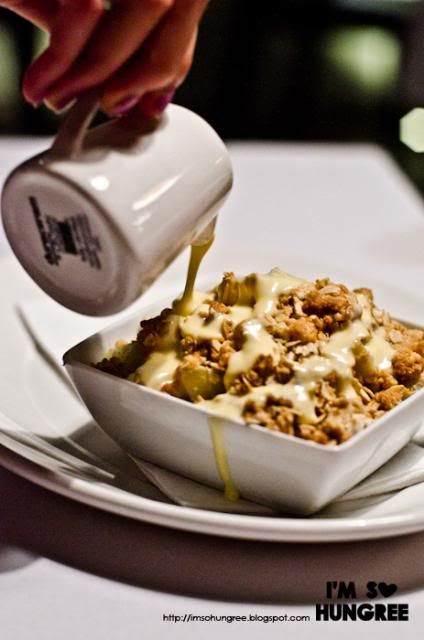 We also ordered the pear crumble with homemade ginger custard, to offset the chocolate in the tiramisu…or something (yeah right). I absolutely loved the combination of pear and ginger, which gave it a nice hearty kick, but found the crumble aspect itself a bit lacking for my taste. I tend to like it really toasted over and nice and crunchy, and this was almost there, but not all the way there yet. The pears were also cut into cubes, whereas I tend to prefer them sliced, but again, a personal nitpick.
Although I had initially felt that The Italian was a bit stiff when I first arrived, by the end of our meal Caryn and I were jovially chit chatting and quite relaxed in our plush seats, which to me, is a sign of a pretty good night. Whilst it was a bit sad to finish on a so-so note with the desserts, I was immensely impressed with the savouries that came out of the kitchen and would be back for the tuna tartare or the risotto in a heartbeat. And also just to perve on Italian accents.