I love tea. But maybe not as much as the guys from Storm in a Teacup, who I've been watching on social media, who seem to be keeping themselves very busy with a variety of workshops and collaborations, which I think is totally awesome.
One collaboration I made sure to jump on, was their collaboration with Ladro, where for $65, you got 10 courses…which all involved tea. Um, bargain deliciousness, um, yes I'm there!
Stupid me though, assumed that because Storm in a Teacup was based in Collingwood, that the event would be at the Ladro in Collingwood.
Did you see a BMW with a screaming lady in it, tearing down Punt Road about a month ago?
Fortunately the Ladro's are not too far from each other, so I only missed some of the introduction and none of the food. Phew!
As this was a once off dinner, I'll try to be light on the words, but no promises!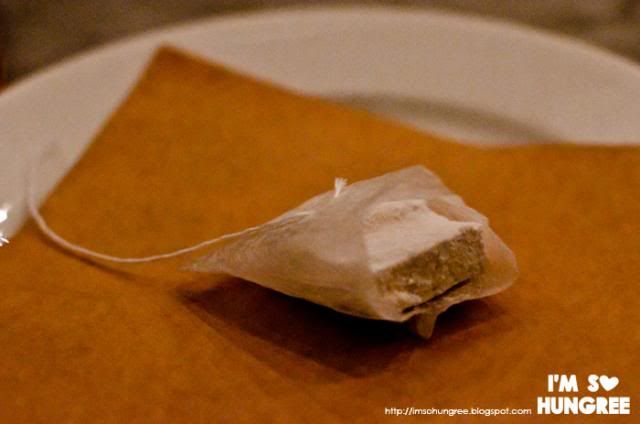 We started with a tea marshmallow bag, the marshmallow infused with earl grey tea. I used to sort of look down on marshmallows, as those overly sweet things that we would get at school camp, but having recently actually had good marshmallows, I've totally changed my view. This was such a fun way to start our meal.
A houjicha and gorgonzola jelly was an interesting combination, and also a fun plate to poke at. Wobble, wobble, wobble! I was surprised that the gorgonzola layer on top wasn't as overwhelming as I thought it would be, with the houjicha jelly still very gently coming through.
Ocean trout is cured with Gyokuro 35, coming out a gorgeously vibrant red. I can't say I really noticed the tea flavour in this, but maybe I needed to try the tea first before looking for it in the food, but this was so cool, refreshing and enjoyable, with a bit of crunch from radishes (I think?) on top.
62 degree poached egg with a radicchio and Lapsang Souchong reduction is also bright in colour and another fun dish to poke at. Also, yolk porn.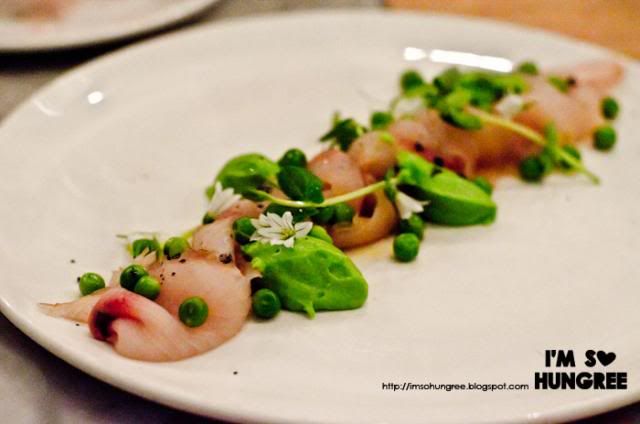 The cold smoked kingfish, also with Lapsang Souchong, is probably my favourite out of the entrees, with beautifully smooth, cool and tender fish, which was given a bit of fresh liveliness in flavour and aesthetic with gorgeously green peas. I could have eaten this for days!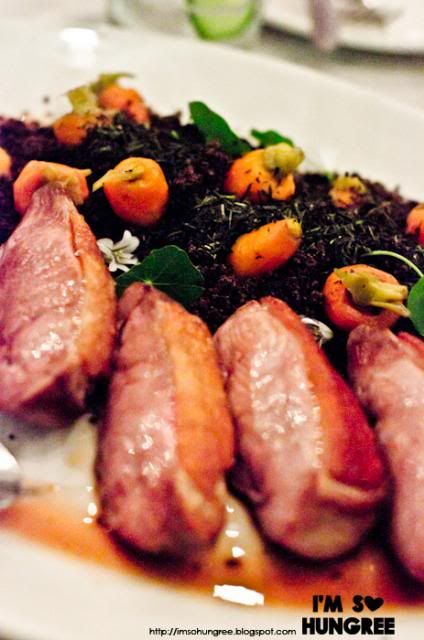 The duck breast was smoked with Lapsang Souchang as well, and had a beautifully firm but juicy texture. We all loved the salad that came with it, with edible dirt and carrots sticking out of them. So cute, playful and delicious! Whilst the duck really was quite outstanding, my friends and I were going back for the edible dirt, I can't quite recall what was in it, but there was a moreish saltiness to it, just like olives.
Wagyu flank was served with an UVA Dry Season tea and onion puree, blushing fiercely pink and decorated with greens. Love it when meat is done just right, so tender but with a gorgeous char on the outside.
My friend had also gotten the matching drinks to go with the meal, and out of all the cocktails, I was definitely in love with the 'Too Drunk to Drive'. Port, vodka and a spherical ice cube with frozen Russian caravan tea. Stunning to look at, stunning to smell and luscious in flavour, which changed through the night as the tea ice cube slowly melted in.
Just as we were starting to get full, we were then put into place with not just one, two, but three desserts. Bring it on!
An earl grey 'tea-a-misu' came out as a generous serve. I personally loved this, because I do enjoy tiramisu, but I'm not huge into coffee, so having tea instead was a nice alternative. The sponge was so fluffy and the cream so light. Just lovely.
The sencha green tea chocolate mousse and smoked olive oil foam had a slightly more savoury feel to it with the green tea which was interesting and also a much heavier feel in the mouth compared to the other dishes. Definitely more of a comforting dessert than the others we had!
But easily our favourite, which also came in the smallest serve, was the liquorice and lavender panna cotta with a meringue. I think the earl grey in this dish was in the meringue, but I could be mistaken. Oh what a little beauty this was, floral, light and just singing of the spring time, we all wished we had more and my friend and I were definitely eyeing off people's unfinished cups. We're civil, totally…
All in all, although I found the tea flavours were very subtle, there's no doubting the meal was delicious and a lot of fun. It's always great to see chefs experiment with ingredients they're not very familiar with, it seems the chef at Ladro did really struggle to get the tea flavours in the way he wanted, and being the good guests we are, we all laughed with him (not at) as we vented his mild frustrations with us.
I'm looking forward to pop by Storm in a Teacup and actually try out some of the teas in the food we had, and also sample more of their tea based cocktails, the meal has also reminded me what solid food Ladro is doing and that I'm probably due for a pizza night soon...surely...