Disclosure: I was invited to tea with Stephen Twining by AC Agency
As a rather enthusiastic tea drinker, I've often told friends I'll be a crazy tea lady with crockery and tealeaves galore, when one is invited to have morning tea with an English gentleman, one can't very well say no!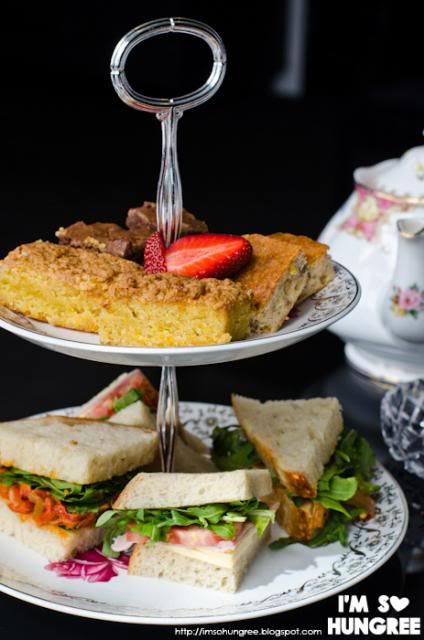 And so it is with great joy I find myself in a penthouse in The Cullen hotel, with a gorgeously lavish spread of nibbles and the most delicately decorated teapots and cups, being greeted by Stephen Twining, who had flown down from the UK to promote Twinings new range in Australia, their Pyramid Infusers collection.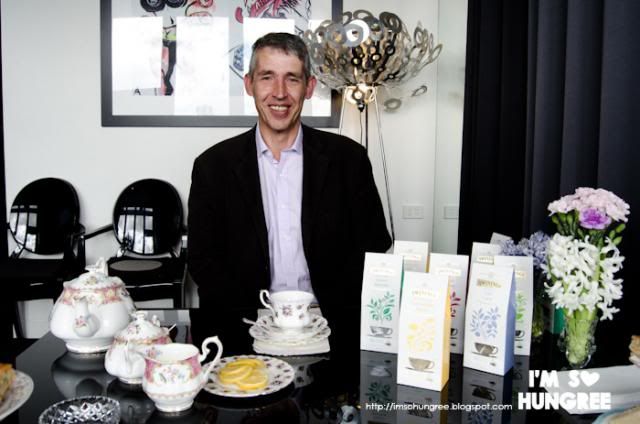 Stephen was a gentleman, and came with plenty of credentials to talk about tea, having decided he wanted to promote and teach the world about tea at the tender age of 8, when he held a tea tasting in class when they were studying India in geography, delighting in the reactions of his classmates as they learnt about teas they had never heard of before. So for an hour he happily allowed me to quiz him on all things tea and explain the history and philosophy's behind Twinings. The Pyramid Infusers collection takes Twinings generations of experience (300 years actually) and dedication to bring boutique style tea home to the consumer.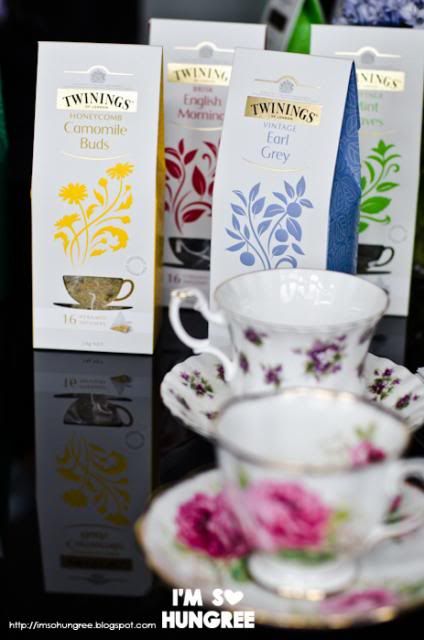 The new range comes in five blends, Fragrant Green Jasmine, Brisk English Morning, Vintage Earl Grey, Honeycomb Camomile Buds and Cottage Mint Leaves, which makes it very hard for me to decide which tea to try!
We settle on the Brisk English Morning, which is Twinings modern uptake of the classic English Breakfast, with a more bold and robust flavour, just the perfect thing to perk me up in the morning, as a non-coffee drinker! I liked Stephen's comment that it was a bit more indulgent that a typical English Breakfast, making it a really lovely tea to drink on the weekend.
I'm impressed to learn that the generous and silky tea bags are actually made of cornstarch and are therefore biodegradable, something that mattered greatly to Stephen, who was initially worried that they weren't because he couldn't believe that it was cornstarch!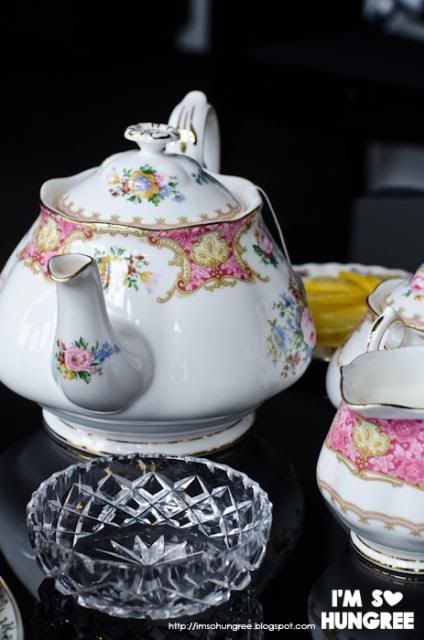 We also tried the Honeycomb Camomile Buds, Stephen making sure to put a timer on to ensure that the tea is brewed as optimally as possible. All teas have a brewing time that suits them best, to get the best flavour out of them, so always be sure to check before pouring in that hot water!
For the Honeycomb Camomile Bud tea, Twinings use the centre part of the camomile, which apparently gives the smoothest flavour out of all of the flower, which is incredibly noticeable. I also make the comment to Stephen that although camomile teas tend to have a bit of an edge to them, that bite the edges of the tongue, this camomile has a softness instead, and a very subtle sweetness, which comes from the honeycomb. I'm seriously impressed with this one. I'm not usually a fan of 'fusion' teas, but I'll make an exception, as the honeycomb in this is so subtle, it doesn't get in the way, but is absolutely necessary at the same time.
I'm honestly amazed when we're told it's almost been an hour, talking to someone with so much knowledge about tea (having represented Twinings for a good 13 years) is really such a pleasure and I can only hope for another opportunity to learn more again soon! Whilst I haven't tried the other teas yet (to make sure I don't deplete my stocks too quickly) I look forward to trying the Vintage Earl Grey, with apparently has scatterings of lavender and the Fragrant Green Jasmine with it's hand rolled jasmine pearls. In the meantime, here are a couple of my favourite pieces of tea trivia that I learnt from Stephen:
Drink your tea out of nice teacups, you'll enjoy it more
When I commented that nicer teacups make for a nicer tea drinking experience (in a half joke way), Stephen supported this by pointing out that on our body, our bottom lip and thumbs are two areas that have the highest sensitivity levels. So, when you get a beautiful teacup, like the one I had, with a thin rim that flutes out a little bit, you engage your bottom lip and thumb first, giving it a signal that something nice is coming and switching on all the other senses...or something to that extent. On top of that, a teacup with a fluted edge allows you to get more of your nose in, to inhale the aromas going out…a bit like a wine glass I guess!
Jiggling your teabag does nothing to 'speed' up the brewing process
Stephen felt teabags often get a bad rap, because people don't usually follow the brewing instructions, which often mean that instead of getting the 3 to 5 minutes black teas needed to brew, they'd often just be popped in for a minute, jiggled and then consumed. When one 'jiggles' the teabag early, it's actually just the colour that washes off, but none of the flavour gets infused, so you just end up with coloured hot water!
Being an expert in tea is a lifelong dedication
To become a tea tester, you need 5 years of training. Senior tea master? 20 years. Twinings has 5 tea masters. That's 100 years of tea experience between them all! Stephen spent two years working with the tea testers and tea masters and has nothing but admiration for their work. Even though we see the same teas on the shelves, year after year, each year their made from different batches of tea leaves, so have to be carefully blended so that it still tastes the same as the year before. Can only imagine how precise their palates must be!
Milk was introduced to tea as a barrier to 'protect' the teacup
So why do people drink their tea with milk? When china from China first made it's way to England with batches of tea, the ladies fawned over how pretty and delicate it was. They also believed that because it looked so delicate, you needed to protect it from the very hot tea, otherwise it might crack and break. How did they do this? By putting cold milk into the cup first so that it would 'absorb' some of the heat from the tea.
Their rationale was realised when early English imitators could copy the look of the china, but not the formula for the porcelain itself…so the imitation china would actually crack if you didn't put the additional milk 'barrier' before your hot tea!
Tea was an expensive commodity
800 years ago tea was $260 to $300 (in today's dollars) for 100 grams…yike!
Black tea became popular with the English, because it was cheaper
I was surprised to learn that Thomas Twining, when he started his business 300 years ago, was selling both black and green tea. So why did black tea take off and become synonymous with English culture, and not green? Because in the 1820's the English broke the Chinese monopoly and started planting teas in India, of the assam variety. In 1838, when the teas started to ship back to England, since India was part of the British Empire, there was no import tax…and as such, assam became the favoured tea of the English, because it was more accessible.
Reusing your teabag loses a lot of flavour
Well, I already knew this, but apparently you only get 25% to 30% of the original flavour…didn't realise it was that little!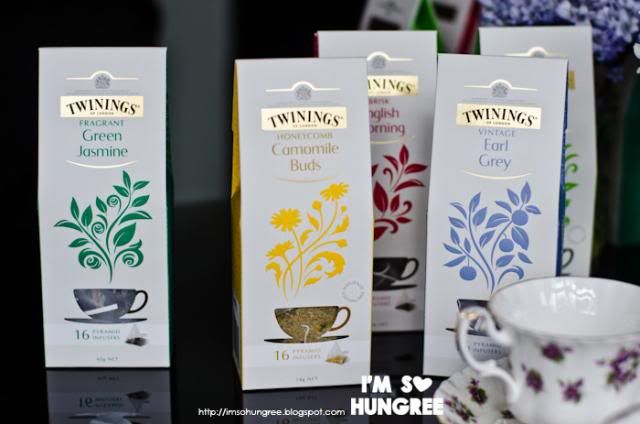 Twinings Pyramid Infusers are only available in the UK and Australia
It was launched in the UK last year, then the Australian Twinings team saw it, and jumped on it. Unfortunately they don't have enough of the tea to share with the rest of the world, so better hotfoot it to your local supermarket and give the range a go!