Poor Brad's been a bit under the weather the past week or so, with the crazy fluctuating weather we've been having around here. Hope it hasn't been getting you guys as well!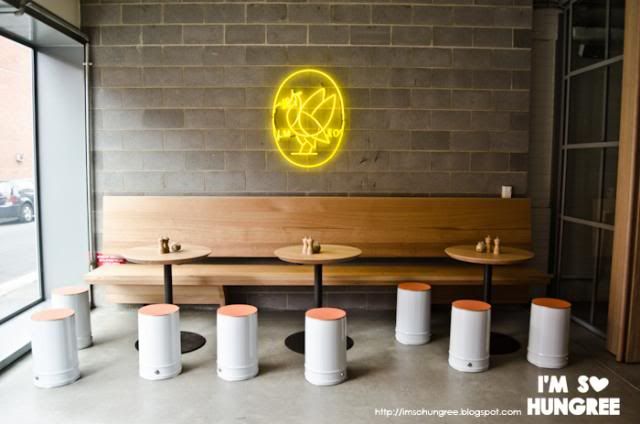 Although Brad's been struggling to wake up lately, he's always a little perkier after a coffee and a solid breakfast, and last weekend we got our fix at the gorgeous little Lemon, Middle and Orange in Collingwood.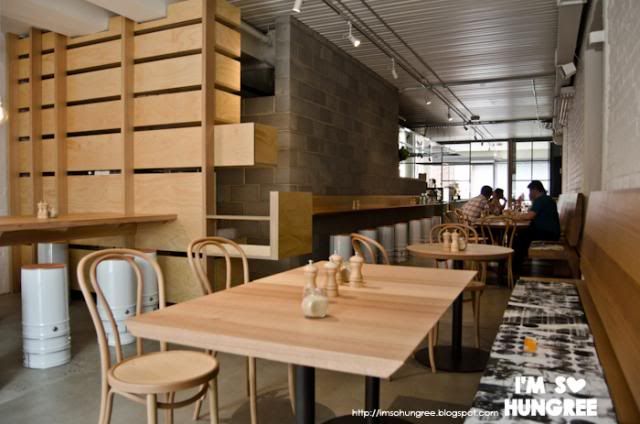 Lemon, Middle and Orange is located on Rokeby Street, one street down from Wellington and just a stone's throw away from Victoria Parade, bringing some good food and a coffee fix to a quieter area in Collingwood.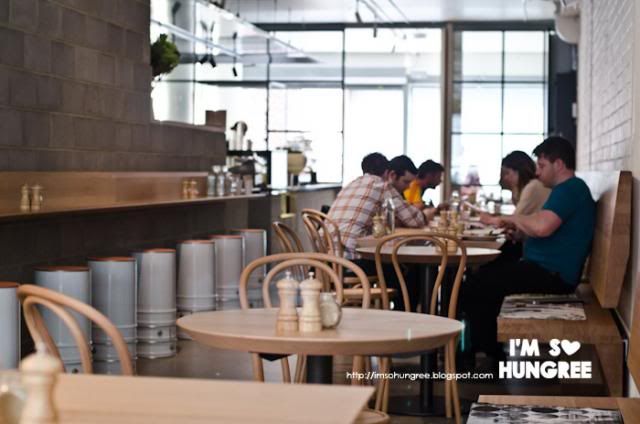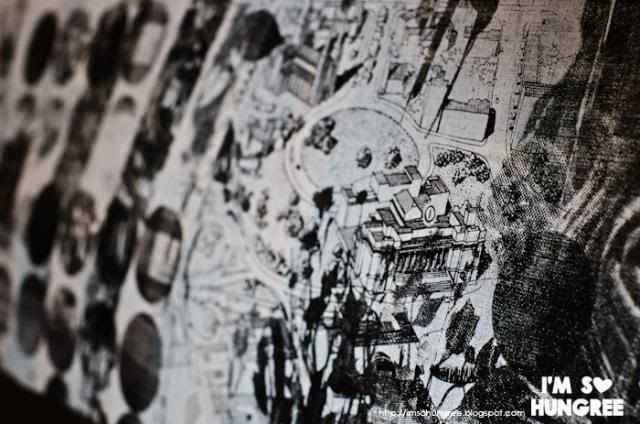 The space is narrow, but long, with plenty of seating and a tidy, uncluttered decor making it feel spacious. A neutral palate, with a soft pastel pop there and a graphically busy bench cushion over here, make the cafe easy on the eye, but still interesting to look at as well. I fell in love with the naked globes hanging over a communal table out the back, yes all the cafes are getting into it, but it is a very pretty look.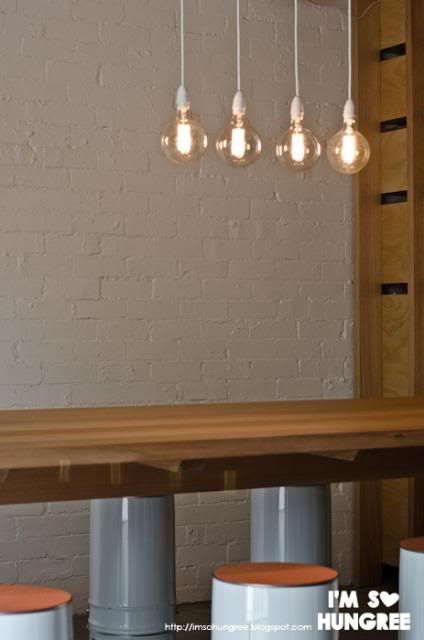 The only issue with the space is that being quite long, it doesn't receive light very well through the middle, so for those trigger happy types like me, either sit outside in the light-rich foyer, which will be even lovelier when the weather is a bit warmer, or make a beeline to the tables at the back.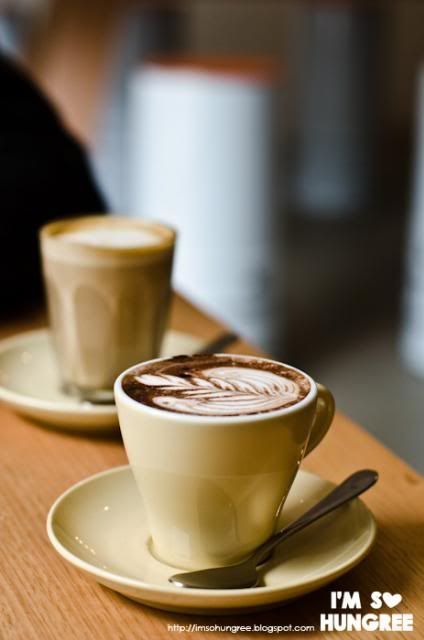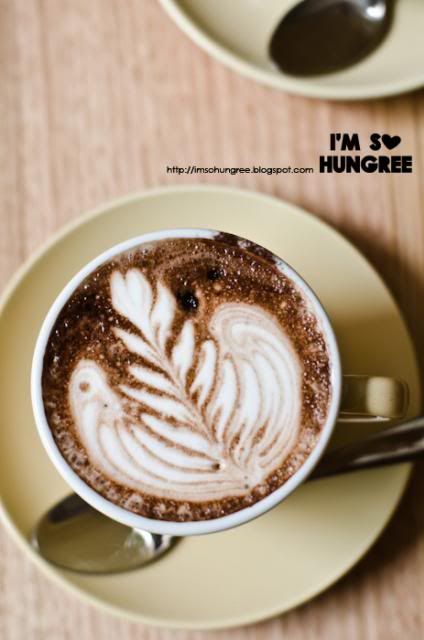 Hot drinks are served in barely-lemon yellow cups, making me wish I immediately had them at home. Brad comments his latte is good, and I love my smooth, chocolatey hot chocolate, that's not too sweet, but just right.
The menu makes me happy. Oh so very happy. I want to order everything on it, and my usual tactic of ordering whatever comes out of my mouth first doesn't work as well here, as I almost immediately want to change my order once I make it…and then change it back!
With options like smoked sweetcorn and quinoa porridge with confit mushrooms, soft egg and croutons, or coconut vanilla rice puddings, or perhaps even the croquettes of the day (which happened to be peas and bacon this particular Sunday) with poached eggs, can you blame me?
There is an Irish slant to the menu, one of the owners is an Irish expat, with freshly baked soda bread (which Brad and I watched the history of Britain's Great Bake Off!), black pudding and plenty of bubble and squeak for everyone on the menu.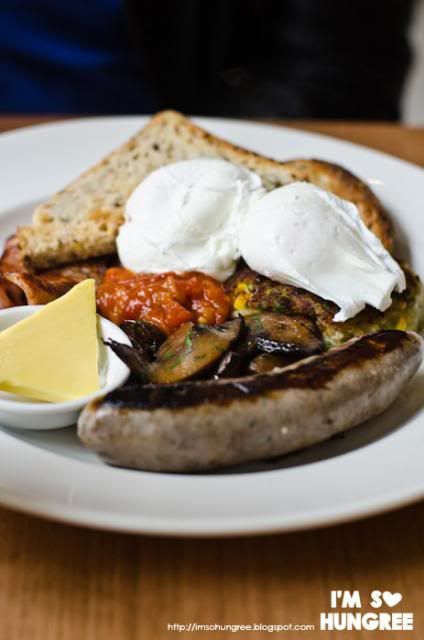 Brad's choice was pretty straight forward, sustenance was needed to heal the body, a full breakfast it was! With poached eggs, bacon, cumberland sausage, confit mushrooms, bubble and squeak, tomato fondue and a spot of sourdough. He commented that he liked the size of the serving, not so big that you'd burst, but perfectly comfortable.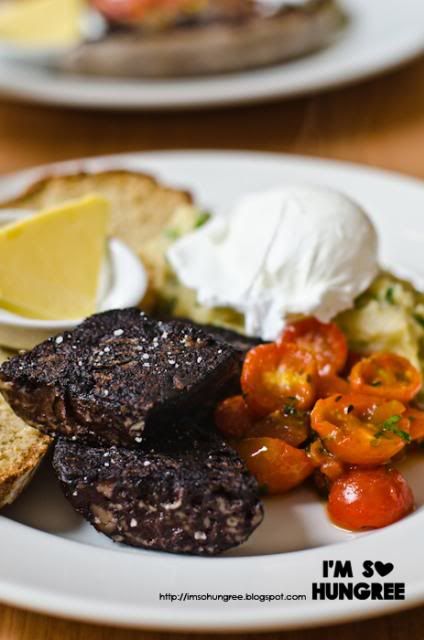 Although waffles with caramelised banana puree and Jock's vanilla ice-cream did sorely tempt me, I just could not stray from an old favourite. Pacdon Park black pudding with colcannon, poached egg, roasted cherry tomatoes and freshly baked soda bread. Lots of win, all on a plate.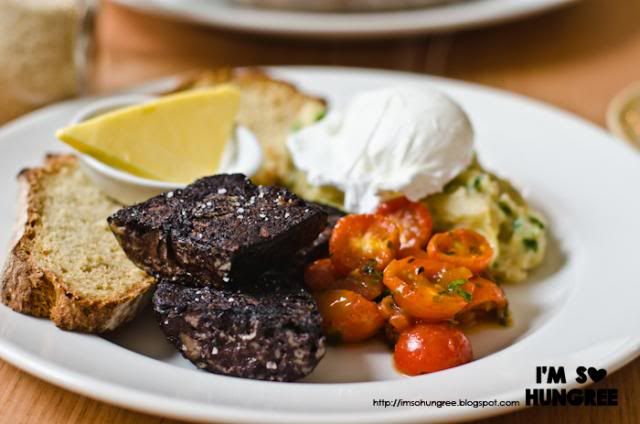 The black pudding was quite mild, with not a very strong metallic taste and not as much spice as I've had previously as well, but this makes it so easy to eat. It's grilled lovingly, giving it a bit of a crust and it wasn't too fatty at all. Love. But then again, I haven't met a black pudding I haven't loved yet.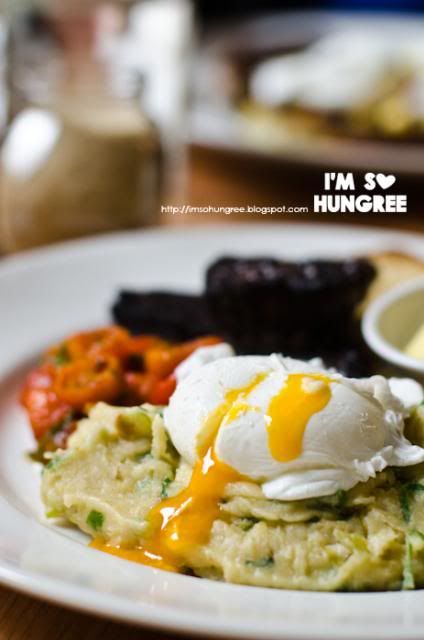 If you are wondering like I was, colcannon is a traditional irish dish, consisting of potatoes mixed with kale or cabbage, and here it was the perfect pairing for the black pudding. The additional veggie mixed in keeping it from being too heavy.
After a nibble on the soda bread, Brad made the observation that the soda bread tasted a bit like scones, maybe from the sodium bicarb, that replaces the yeast in the soda bread. I personally really enjoyed it, and it's something a little bit different for sure!
Even though the place was so new the walls still smelt a tiny bit of fresh paint, I totally loved breakfast at Lemon, Middle and Orange. There's plenty of good happening already, and I can only hope they can keep it up once cover numbers start going up. Easy-going and smiley staff, a clientele (on the day we happened to be there anyway) with Irish accents and a totally gorgeous fit out, what's not to like?