Disclosure: I was invited as a guest to attend the Haigh's Chocolate Masterclass and also invited to Luxbite's Christmas Party
In the past couple of the years, I'm totally the worst when it comes to presents. I'm not very good at coming up with gift ideas, unless I happen to stumble onto a brilliant light bulb moment, where I think of something personal, thoughtful and totally right for one person.
…unfortunately that doesn't happen enough.
One thing I do like to do though, where possible, is get a meal with the person, or just buy a little sweet treat, because really, who would say no to more chocolate? Especially if it's really nice stuff?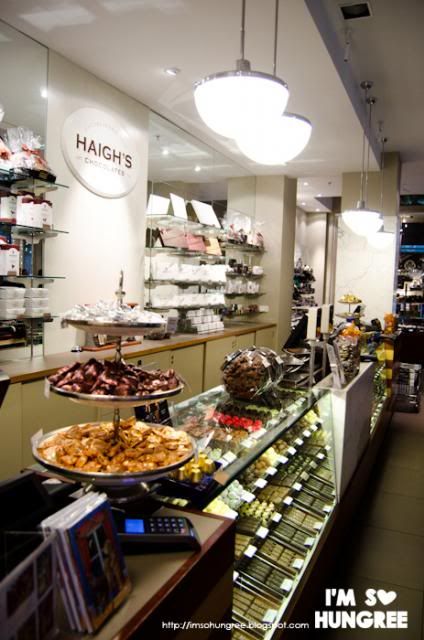 For years, for Christmas, I've always bought Haigh's chocolate for my aunt in Melbourne, as I don't see much of her during the year so I figure if I'm going to get her something sweet, I may as well splurge a little (or a lot).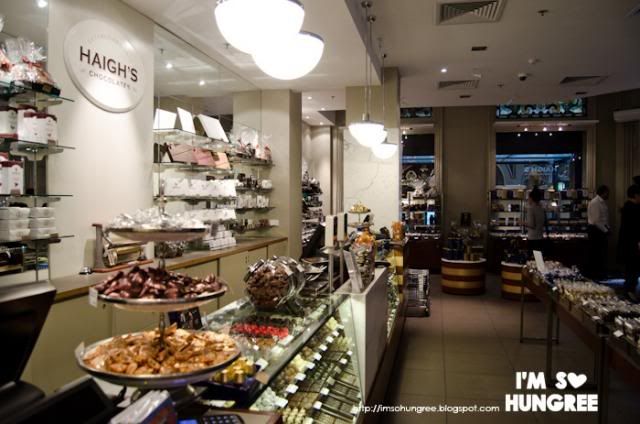 So I was very excited when Haigh's invited me to a little chocolate masterclass, to see some of the creations they had come up with at the factory, and try some of the Christmas release chocolates. Who can turn down running around a closed chocolate shop with bubbles in hand? Really now?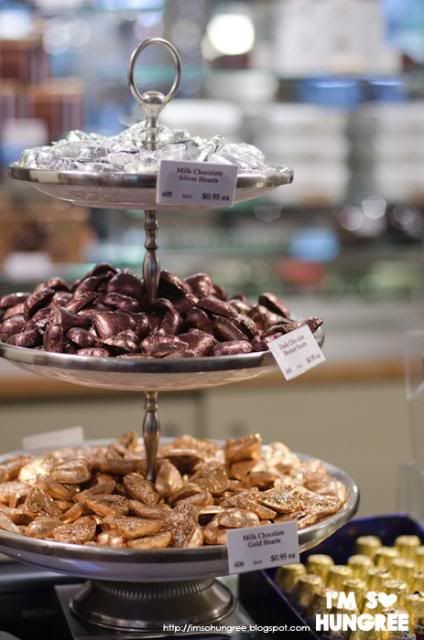 Haigh's really has an amazing heritage, turning 100 in 2015, and a very dedicated following of chocolate lovers. Some of the people I met at the event had been loyal customers of over 20 years, and knew the ranges and varieties as well as most of the people who work there!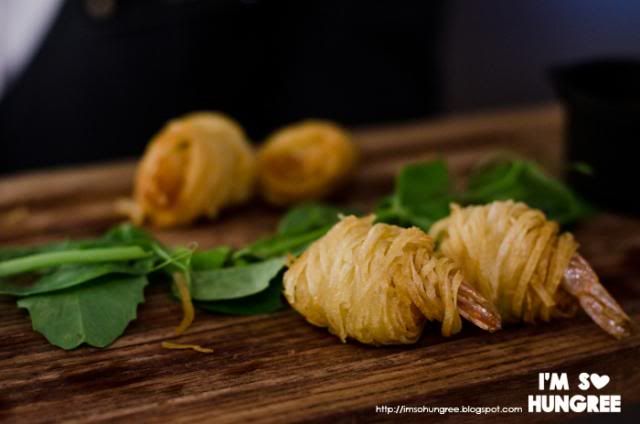 After nibbling on some delicious canapes, the little goat cheese tartlets were an absolute delight, we headed down into a kitchen in the Intercontinental Hotel where we met Ben, the chief chocolatier, who hails from Switzerland and talked passionately about chocolate with his lovely French accent.
We went through the process of how chocolate is made, I was surprised to learn that Haigh's actually import and roast their own beans in Adelaide. This means their chocolate blends are unique and special to them, since they can source the beans that they want to use and combine them in the way they want to.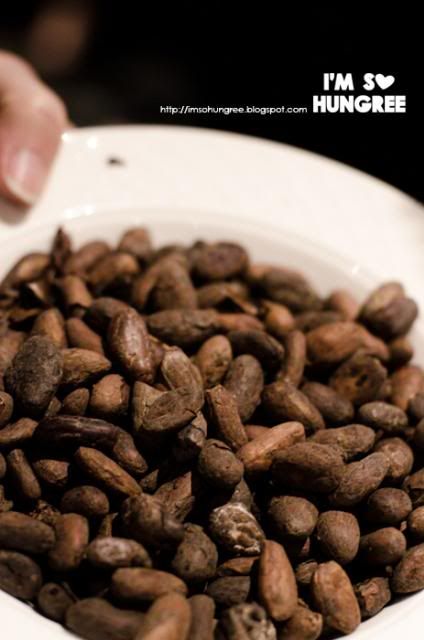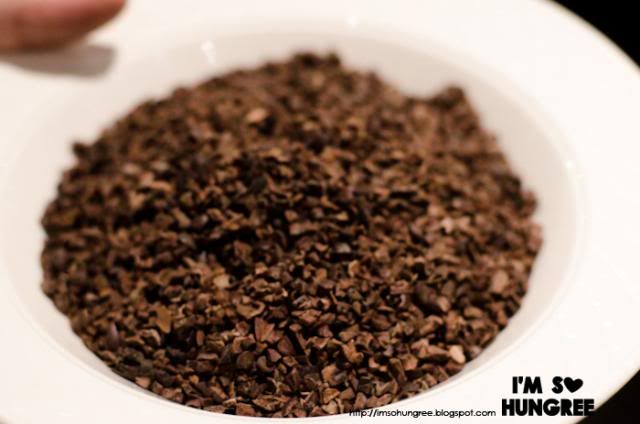 The cocoa beans, even in their outer husks, are so aromatic, and even more so after they've been cracked open and turned into cocoa 'nibs. We nibbled on the raw coacoa nibs, were had a lovely nuttiness to them, but then went into crazy choca-holic mode, when they gave us the cocoa nibs coated in chocolate. Oh. Em. Gee.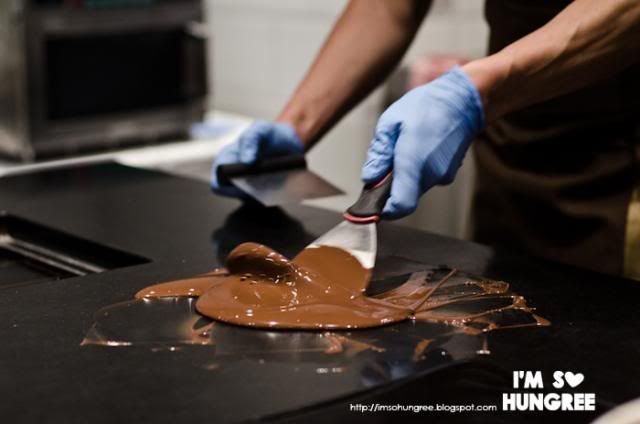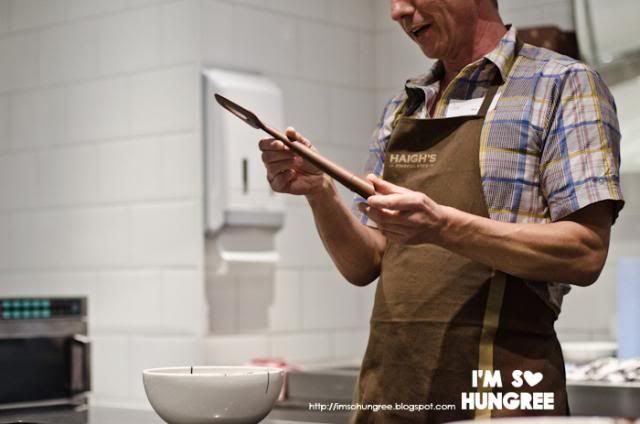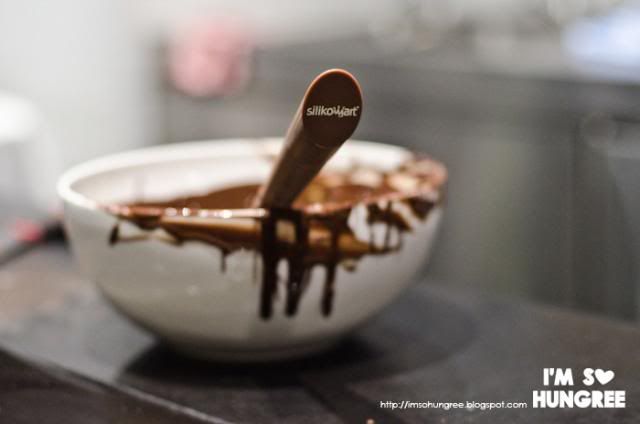 Ben proceeded to show us how to temper and prepare chocolate, although many chefs use sugar thermometers, he had this rather cool spatula which could measure the temperature for you…so will have to have a little google of that later!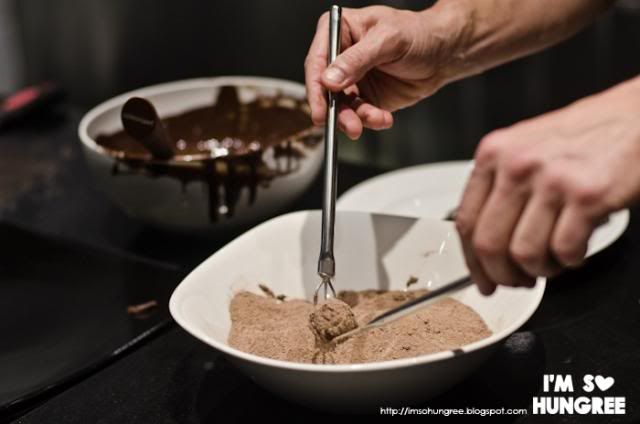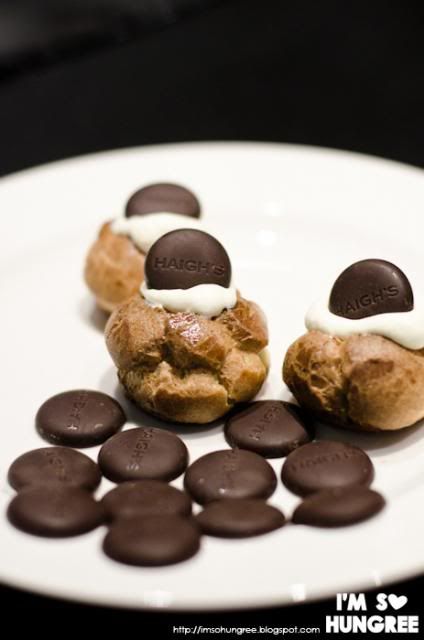 A few spiced chocolate balls and profiteroles later, and we finished the night sampling the chocolate from the Christmas range, an egg nog cream and blueberry mousse.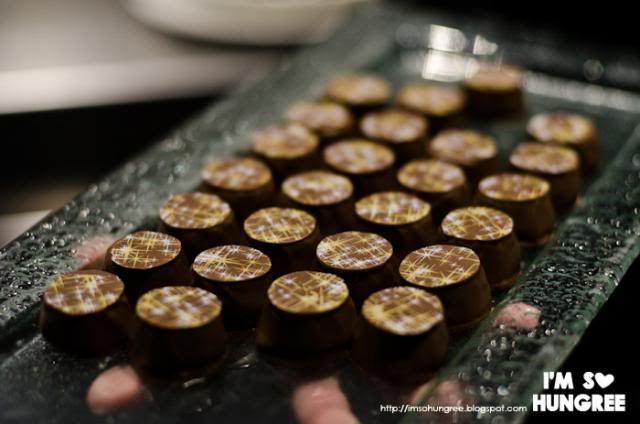 For me, the egg nog cream is very rich and decadent, as I've never been the type of person who's into chocolates with cream fillings, it was honestly a bit too intense for me, being quite sticky and sweet with a good drop of rum in there.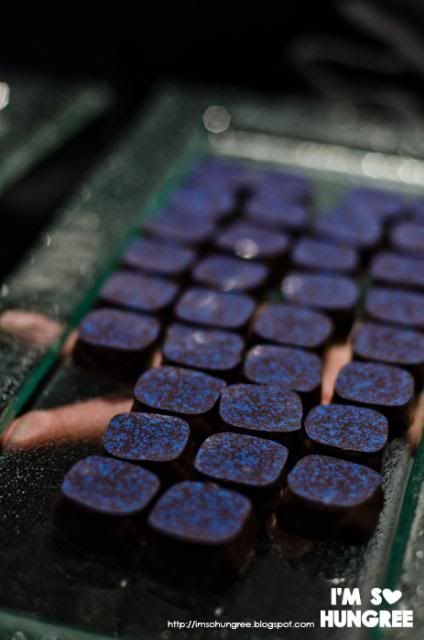 However, I totally fell head over heels in love with the blueberry mousse, almost glittering with the blue pattern on the top. It's so smooth, with a very elegant and fresh, fruity flavour. Not too sweet and very natural. Going completely crazy. I've already bought heaps for presents for friends.
This Christmas, I'm also loving what Haigh's is doing with their packaging, steering away from the typical red and white and instead wrapping everything up in a gentle star studded blue with a golden tie to finish it off. Hint hint Brad, I hope my stocking looks like the Haigh's Christmas catalogue this year…. ;)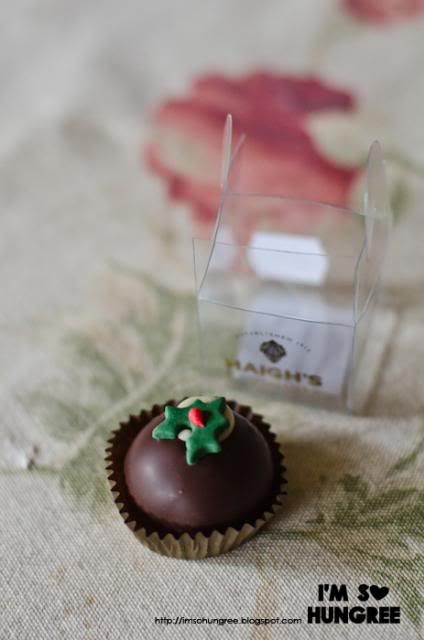 Although I am loving the new blueberry mousse, for me, I still can't help getting excited over Haigh's Christmas Pudding Brandy Truffles, which to me, is Christmas encapsulated in two bites. I always buy these every year, so was very pleased to have one in our goodie bags to take home!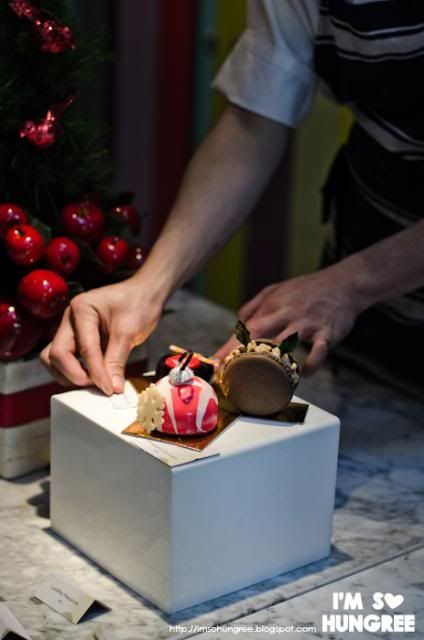 Whilst Haigh's is all heritage and heart, for those who want a different kind of chocolate treat to give away this year, Luxbite is expanding their repertoire and damn, they're doing it well.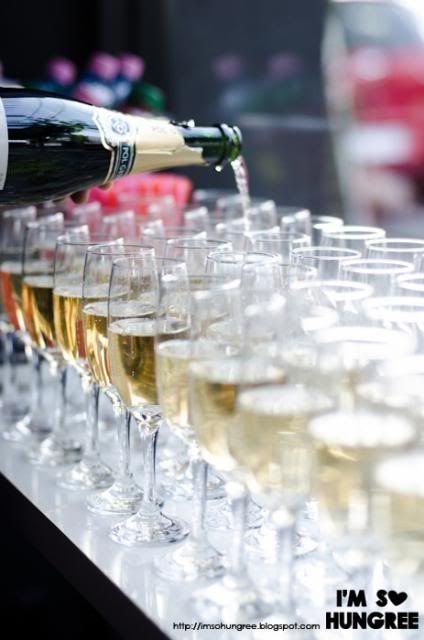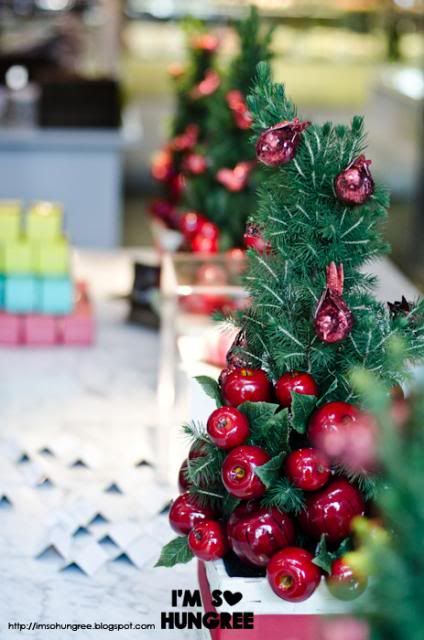 When I popped by for their Christmas party a few weeks back, which was all smiles, and old school R&B tracks (which made me very happy), alongside their adorable candy cane macarons and beautiful Christmas themed log cakes (I thought the pink ones were super cute), and a new range of chocolates!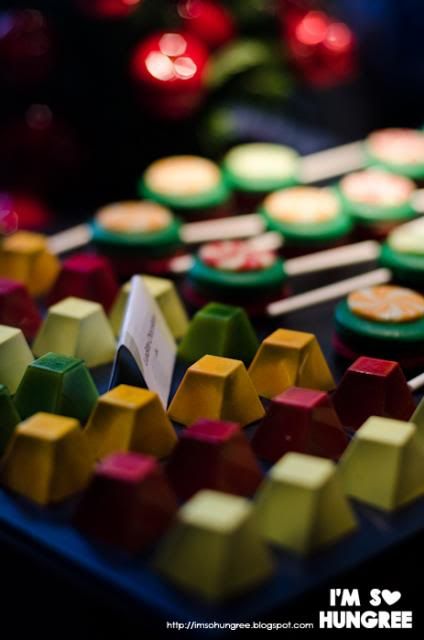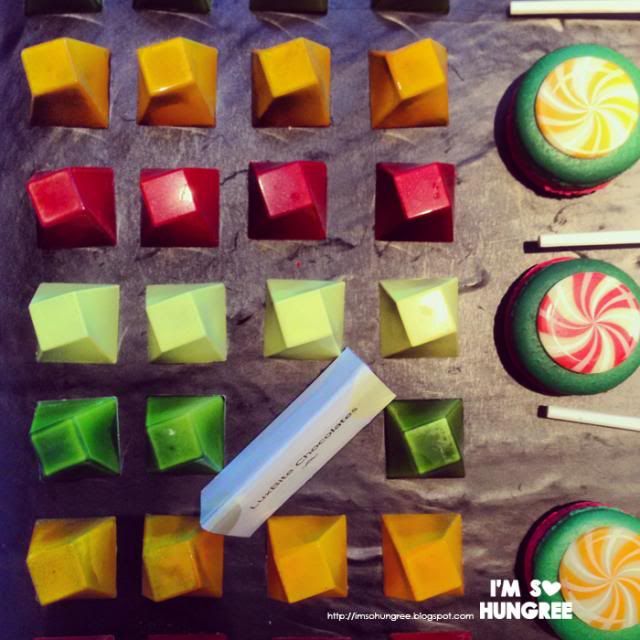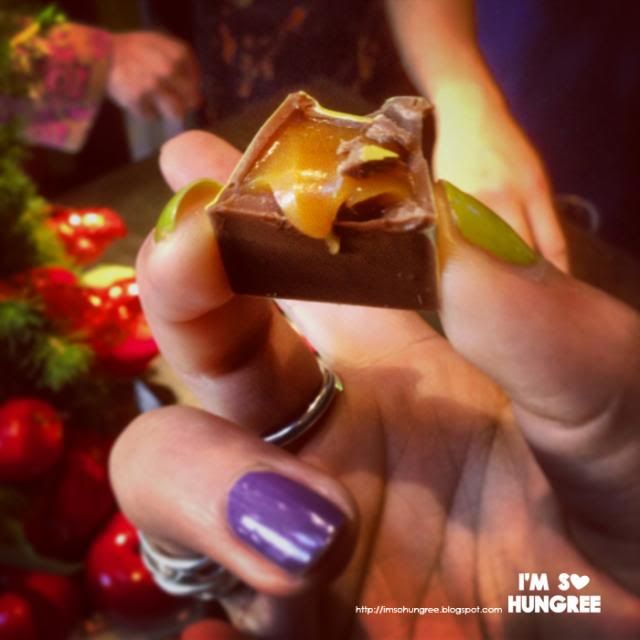 Gorgeously colourful asymmetrical shapes, beyond looks, they were also just sublime in flavour and texture. On the outside, the chocolate may look quite hard and rigid, but they were actually surprisingly soft, giving way to reveal an array of delicious fillings. I went ape for the salted caramel filling, soft and smooth, and also loved the green tea and pistachio, equally smooth and just bursting with flavour.
Also on offer is passionfruit and kaffir lime and a mandarin jaffa flavour. Oh decisions, decisions.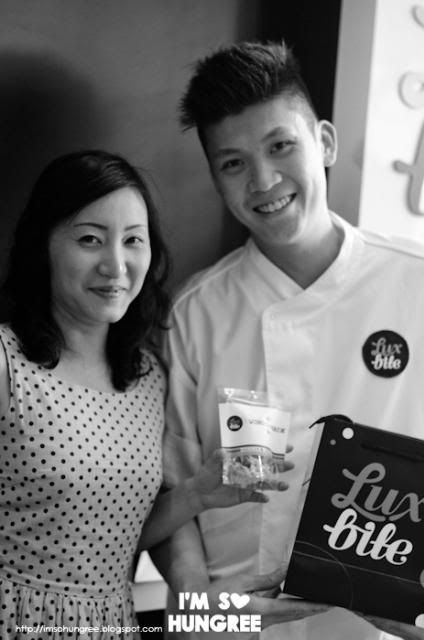 Other highlights from Luxbite's Christmas collection include the collaboration they are doing with The WonderSnack Company. 'Summer in a Bag' is a bag of bright and summery flavours, inspired by a pavlova, strawberry marshmallows, pineapple jellies and sugar frosted almonds and cashews…very moreish and such a delight.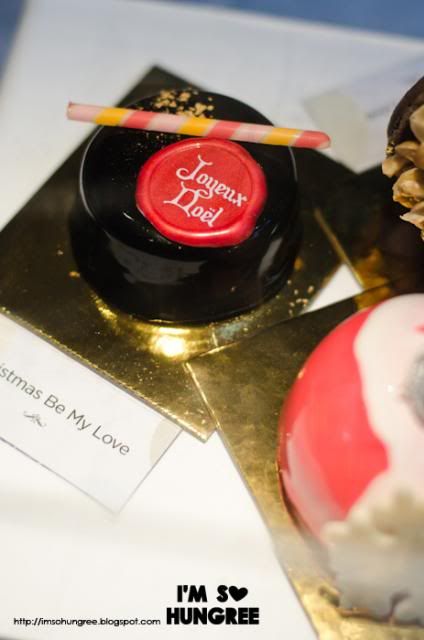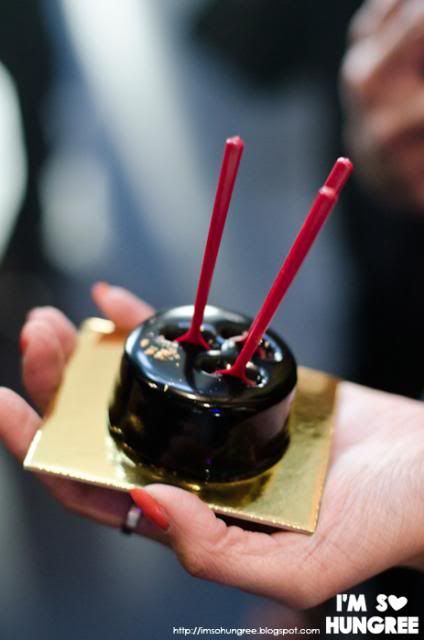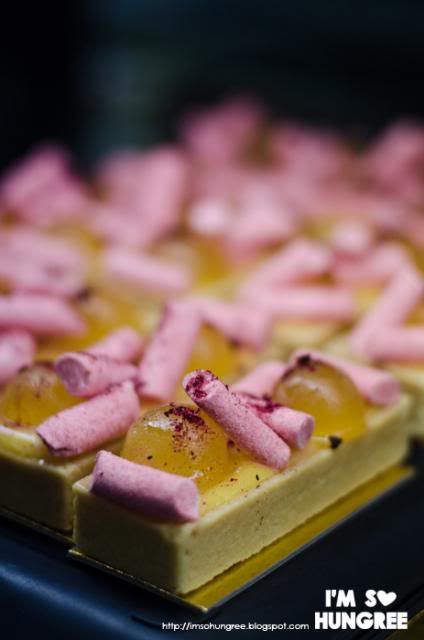 The 'Christmas Be My Love' is a creamy and lush chocolate mousse with raspberry cream and a shining chocolate glaze, and I'm always pleased to see the lemon tart make an appearance in all it's zestiness, this time topped with the strawberry marshmallows and pineapple jubes for a little extra flavour.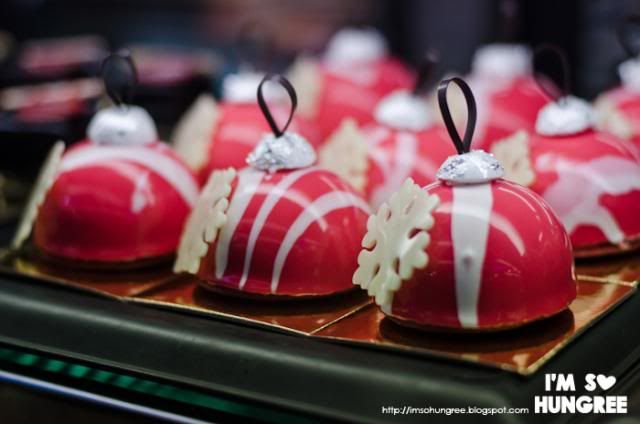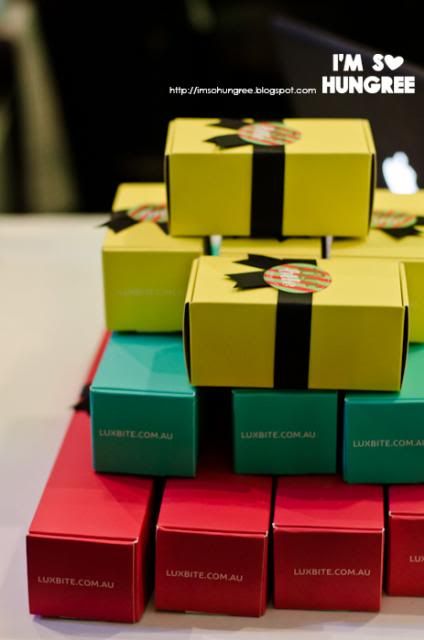 Luxbite really know how to throw a party in the house (and in the mouth (see what I did there?!)) and I'm definitely looking forward to checking in throughout summer for my sweet sugary fix...oh and I guess pick up some Christmas treats for others as well…may as well share…I guess….