I've always been a city type of girl. Sure, I could spend my holiday lazing on a beach somewhere, but really, I'd rather be in the throngs of a city with a constant heartbeat. Probably why I love being in the cities in Asia and other cities like New York, where the city doesn't shut down.
Anything you want, you can get.
And sure, I totally love Melbourne, I adore this city, we're spoilt rotten with all that we have access to and the vast variety too.
However, I've always said to friends it would be great to have a place that you could visit for dessert after dinner, a dessert bar of sorts, but I always came to terms that it would be unlikely to ever happen as we're not really a 24 hour city, where people might want dessert at odd hours and also just don't have the sheer numbers to make such an endeavour sustainable.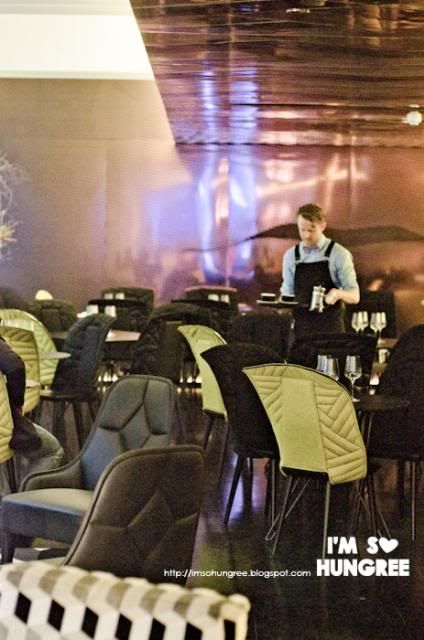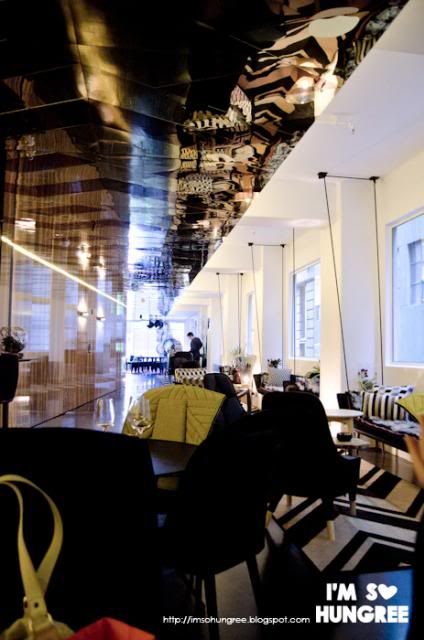 So I was pleasantly surprised to hear of the opening of Om Nom, a dessert bar in the iconic Adelphi Hotel.
And of course, I had to visit! …even if the name is a tiny bit cringeworthy, but it's the 21st century, it's only a matter of time before memes take over the world (despite our best efforts for it not to).
So I quickly organised a visit with Tegan, on a Monday night, after work…have to make a Monday sweet somehow right? Where upon seeing me she immediately asked where my pants were. Hey, I like short shorts…what can I say?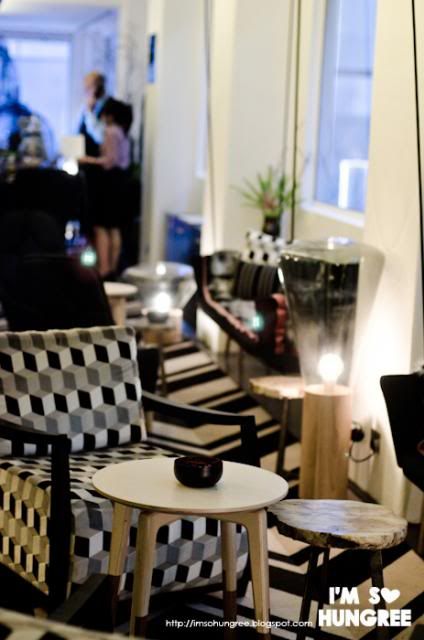 I realised I had never been into the Adelphi before this visit, and was entranced by the shiny and textural interior, a mix of mirrors and geometric patterns with an eclectic mix of colours and incredibly tactile materials. I was quickly smitten with with the chairs at Om Nom, which seemed to be made of a felt-like material.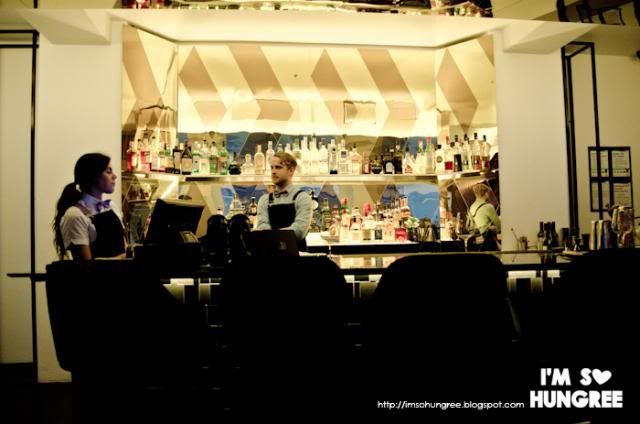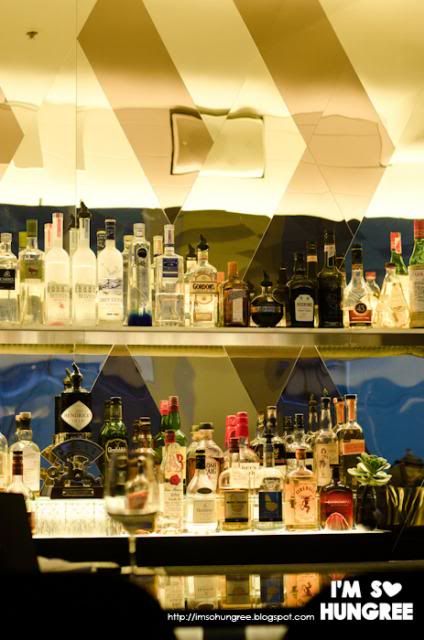 Although Om Nom sells itself on it's delectable selection of desserts, there is also a healthy selection of savoury dishes, cocktails (both classic and dessert-centric) and even some breakfast options if you happen to be around in the morning. The cocktail selection is supported by a well stocked bar; I couldn't help noticing the Hendricks bottle which sat it it's own golden scale, which apparently helps gauge roughly how full the bottle is. So cute!
Despite being rather tempted to go all out and try everything, Tegan and I restrained ourselves to some tea and a few sweets…somehow!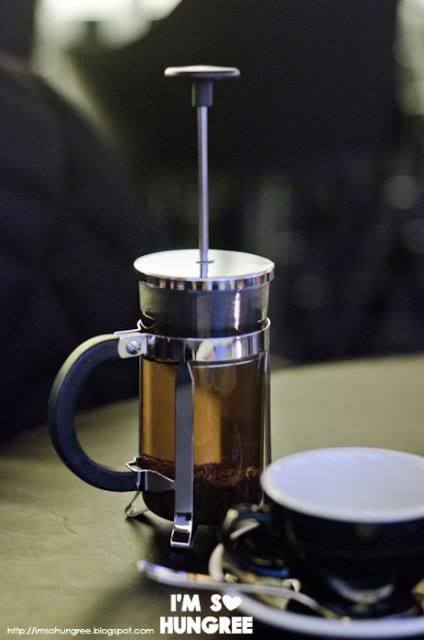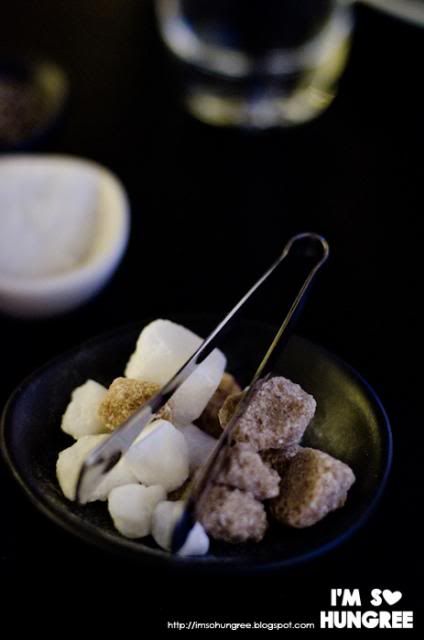 We both loved the rough cut sugar cubes that came with our tea in a variety of sizes (although neither of us had any), with our tea itself served in plungers. It was nice to see that the staff also happily topped up our plungers with hot water on request…I can never tell if somewhere might charge for a top up or not!
Excuse the quality, although it looks all HD and pretty on my computer, my video program kills it...something to work on!
For our sweets, we decided to get one of the Signature Desserts by Christy Tania, and also one of the gateaux's by Pierrick Boyer, who many would know from Le Petit Gateau (although they no longer seem to be on the menu).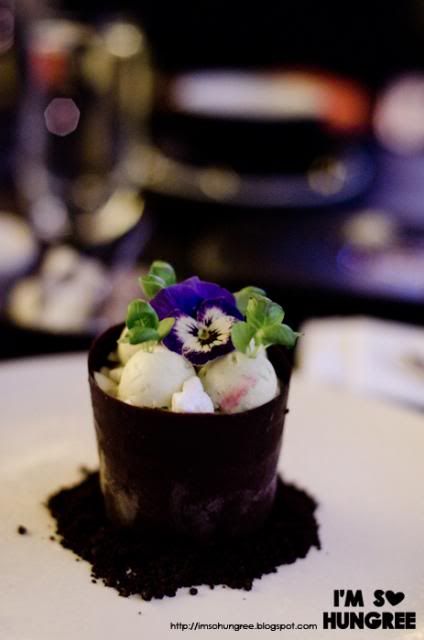 Our first pick was the Basil Garden, for something a little on the lighter side. Vanilla, olive oil and honey ice-cream, lime, basil and white chocolate cremeux with white chocolate sauce and chocolate soil.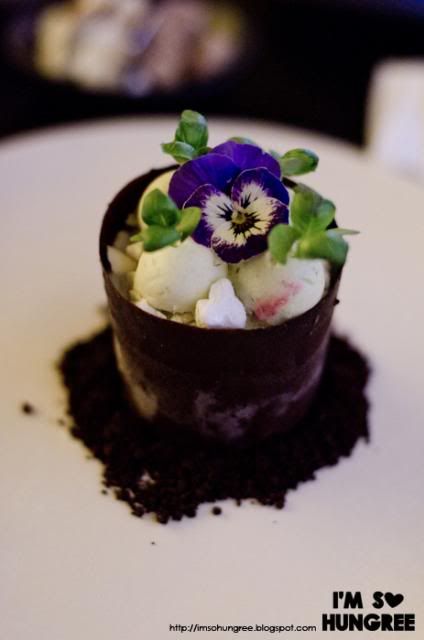 Neatly wrapped in cylinder of chocolate, this was presented like a beautiful little garden. Too pretty to eat really! As we imagined, it was quite light and didn't feel heavy on the palate, although the basil wasn't as noticeable as I thought it might be, the white chocolate was quite prominent and dominated in flavour. The ice-cream on the top did add a nice bit of extra oomph to the flavour though, and chocolate soil is always a bit of fun, adding a bit of texture.
Whilst maybe not something I would order again, as I tend to not gravitate towards white chocolate, I still did enjoy this.
The gateaux we chose from Pierrick Boyer was definitely the richer of the two…which was a completely intentional choice! A peanut butter and chocolate gateaux with raspberry sauce, and hazelnuts through the base.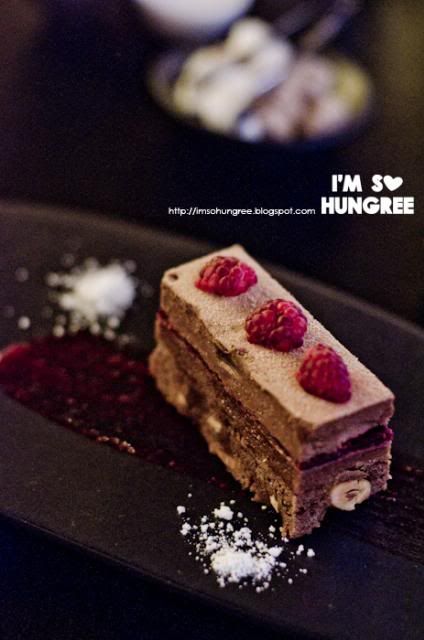 Ah. This spoke to me and my love of rich and richer. Beautifully dense, and smooth, the peanut butter was particularly fragrant with quite a bit of texture to it. Pierrick Boyer commented on instagram that his 'peanut butter' is actually made with fresh peanuts, explaining the lovely texture and richness in flavour.
The strip of raspberry jam separating the peanut and chocolate was perfect. I appreciated the contrast the tartness in the jam brought, stopping the dessert from being too intense! Just beautiful.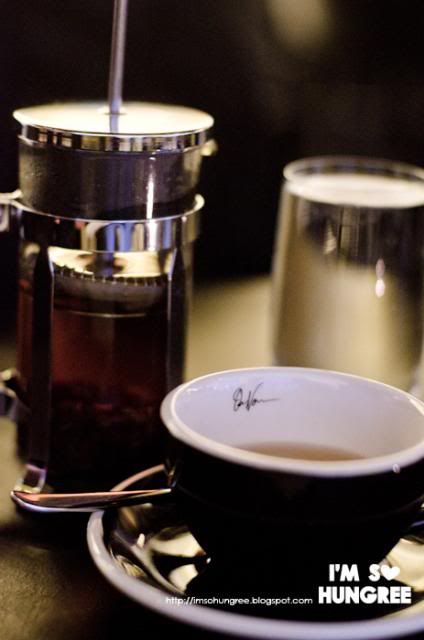 Tegan and I spent a very very lazy hour plus just slowly nibbling on the desserts and sipping our tea. Although I do have a tendency to scoff down my food, the refined environment certainly had me taking a breather and taking a bit longer to just appreciate the moment.
The only thing that was a downer for me, is that the desserts are a little bit on the pricey side, with most of the signatures pushing $25 and dessert cocktails at around the $22 mark. Worth it, as they are beautifully done, but hard to justify as frequent a visit as I would like!
I still think it's an interesting and rather ambitious move by a hotel to do a dessert bar like this in the lobby, rather than providing a typical cafe or full fledged restaurant. A chat with the waitress did bring up a few anecdotes where guests would come down asking for a steak, and they couldn't do anything else but point them in the directions of some of the eateries in town.
I'll be keeping an eye on Om Nom to see if they can keep up what they're doing, looking at the menu online it looks like they've also started dessert degustations and a full fledged degustation, half savoury and half sweet (my kind of balance)…so I'll definitely be back!