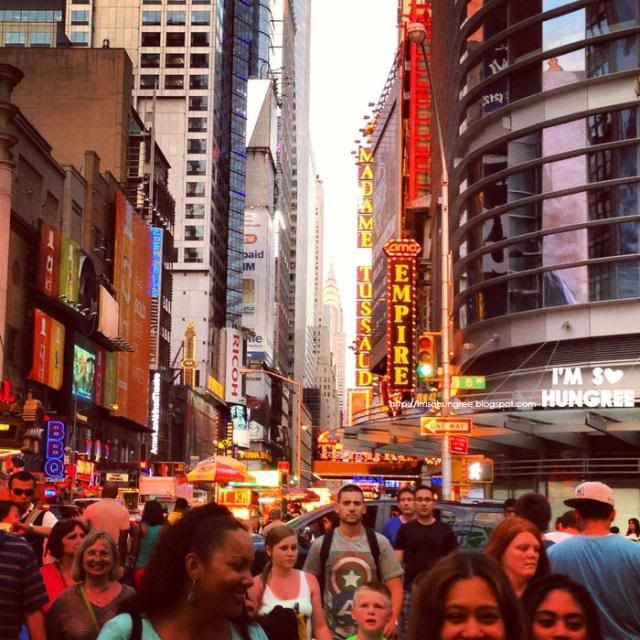 It feels quite bizarre to still be writing about America, even though it was more than 4 months ago since Brad and I were there! But it's also such a nice opportunity to reflect and look back on the fond memories. Especially when it comes to New York. Ah. New York. There's just something about her isn't there?
As much as I do love spending time with Brad, and have no issue being in his company all the time, I was quite excited on our third night in Rochester to be picked up by my cousins from Canada and go on a little drive with them to New York City, with a pit stop along the way.
The pitstop is absolutely necessary, as it's actually a solid 8 hour drive or so to New York City…and also because we planned to stop by the Woodbury Common Premium Outlets…total must do!
So after kissing Brad goodbye for a few days, we drove a couple more hours into the night and spent the night in a random hotel, in which my cousin nearly kicked me out of the bed we were sharing. Kids these days…
My cousin Brandon is the same age as me, whilst Serena is 3 years younger, and even though we don't always see each other, we're always in sync when we catch up. Especially Serena and I, she tells me that I pretty much taught her to embrace her own fashion style when I introduced her to two of her now favourite brands, which makes me pretty proud!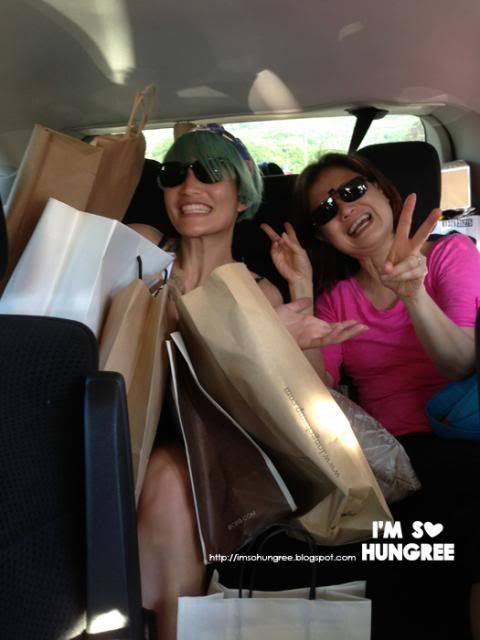 So it's only natural we'd have a total ball at the Woodbury Common's, where 220 different outlets reside. From high end to high street, it's pretty much heaven for any fashion lover.
We were very lucky with the glorious weather we had, as it is an open air mall, so we got to work on our tan as we flitted from shop to shop. From Dior, Tom Ford, to James Perse, Ralph Lauren and so many more, I don't think I even got to visit every single shop I wanted to go to in 4 or 5 hours.
One of my favourite buys was my Furla bag that I got at about 50% off! Been using it almost everyday now and still totally in love.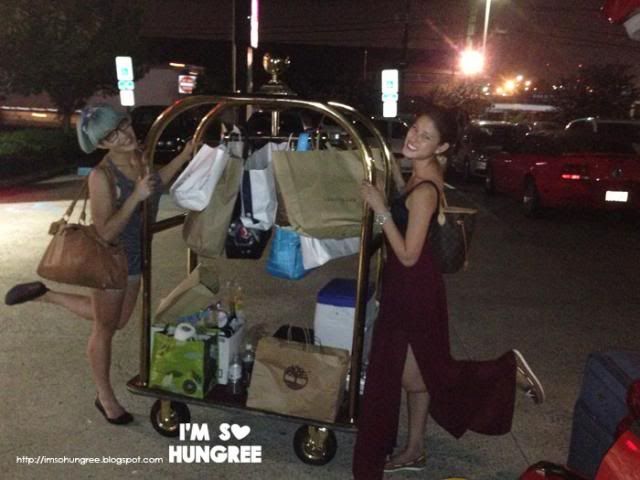 So yeah, we did pretty well I think…
For the couple of nights we stayed with my cousins, we actually stayed in New Jersey…in a room that somehow fit the seven of us. With two doubles, a sofa bed and a rollaway as well (which Brad crashed on once he arrived). It was cosy, but we were hardly there anyway!
From New Jersey, we would drive over to the Park and Ride, just a couple of minutes away, park the car (as the name suggests) and then ride a bus through the Lincoln tunnel to New York City. The bus tickets were $12 return (if I remember correctly) and conveniently dropped us off into Port Authority, which is pretty much the heart of Manhattan, just a stones throw away from Times Square. Although this worked for a couple of days, I was honestly quite pleased to move into Manhattan with Brad once they left, as it is a bit tiring and means you do have to keep to a curfew to catch the last bus, but it's certainly an option if you're very tight on the cash, as accommodation in New Jersey is much more reasonably priced!
After settling into our hotel, we definitely needed a bit of grub, and Serena and I hadn't quite kicked our shopping bug yet, so on the bus it was over to New York City.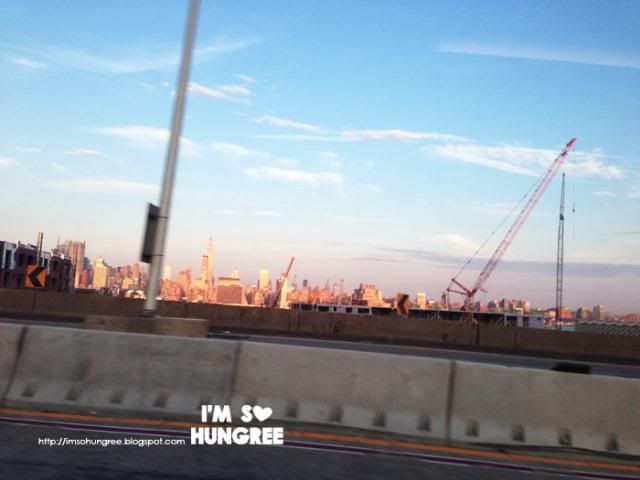 There's really something so exciting going over the bridge to Manhanttan. To see the city off in the distance, twinkling in the evening sunset, is just magic. Even if you've been before, you can't help but feel the excitement build. Stepping off the bus in Port Authority, and descending the steps down into the terminal, I could already smell doughnuts, and it was glorious.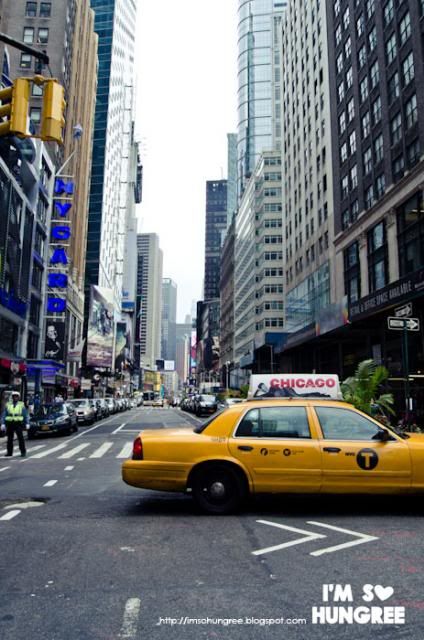 Sure the bustle of people can be a headache, but it's so exciting too, especially if you're more of a city girl (or guy) like me. The bright lights, the yellow cabs whizzing by, it's a sensory overload but one you could easily trip on for ages.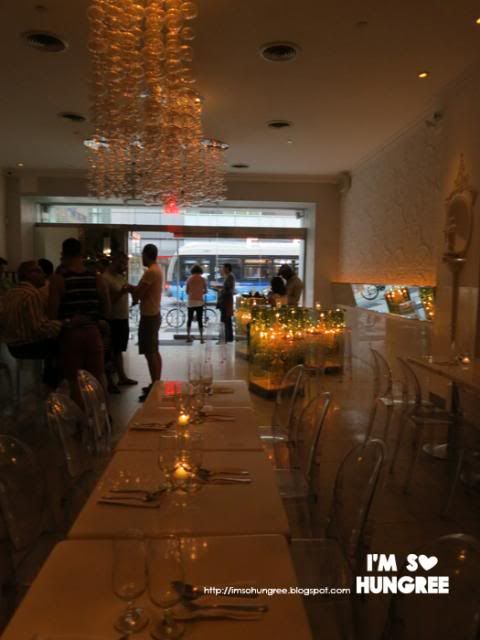 My aunt had already booked us a table at Qi in Times Square, as they had randomly stumbled upon it last time and really enjoyed it. I instantly felt a touch underdressed in my shorts and tee in the palatial cream fit-out, with glowing chandeliers encased in perspex. It was an odd mix of incredibly flash, with the diversity of Times Square, so you had the dressed up crowd, but you also hat the tourists like us walking in straight off the street. It made for an interesting dynamic.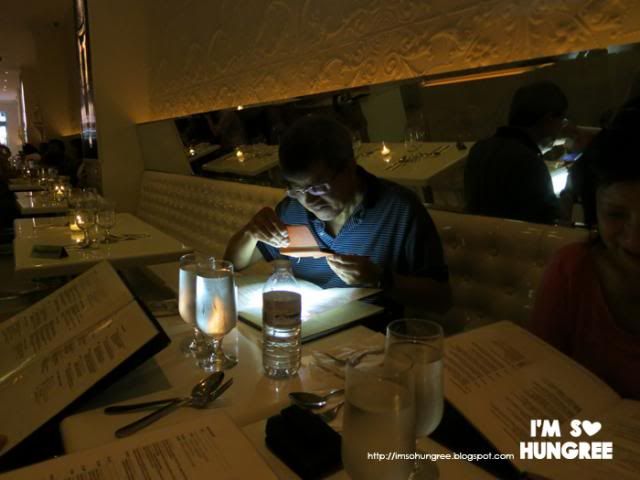 Although a little more light wouldn't have killed anyone!
I didn't bring my camera out with me (for whatever reason) and since it was so dark, didn't really bother with pictures, but the food was alright. The noodles in the pad thai were too thick, the curries were creamy and quite pleasant and Brandon's sesame crusted salmon may not have been authentically Thai, but it did have some nice flavour going on.
I was amazed when we left the restaurant and wandered over to Times Square, at close to 10pm, that the shops were still open and that the crowds were still crazy! I didn't remember New York being this busy, but maybe I just wasn't around Times Square as much last time?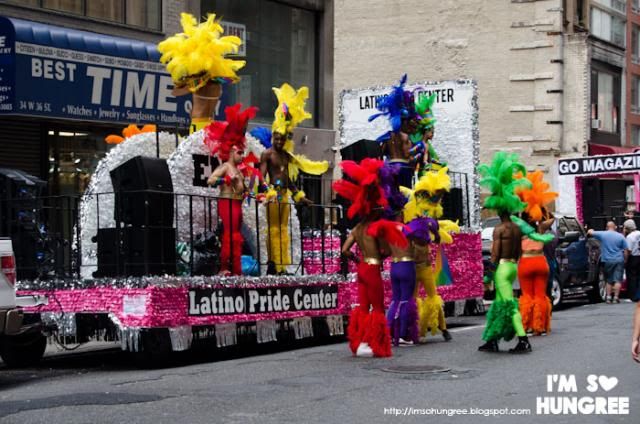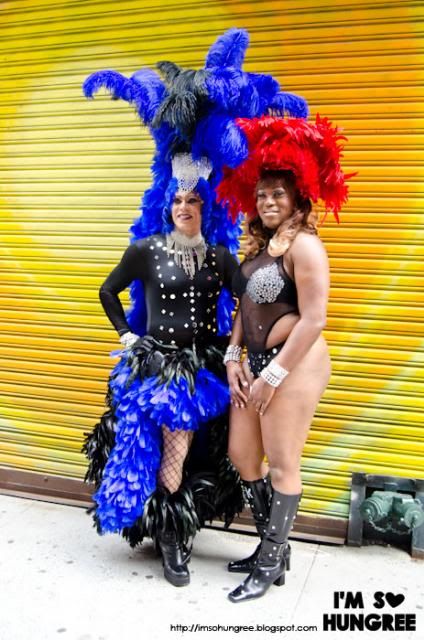 The next day was the Gay Pride Parade, which I had watched and cheered and taken a lot of pictures at on my last visit. Although my cousin and I had all intents on watching it…we ended up completely missing it since we felt it would be appropriate for me to introduce her to Buffalo Exchange. Hey, I found her a pair of gorgeous Miu Miu heels for $50, and we picked up some Alexander Wang dresses for $70 a pop (RRP $600)…so it was worth it! We did pass by some rainbow fabulousness on the way over though!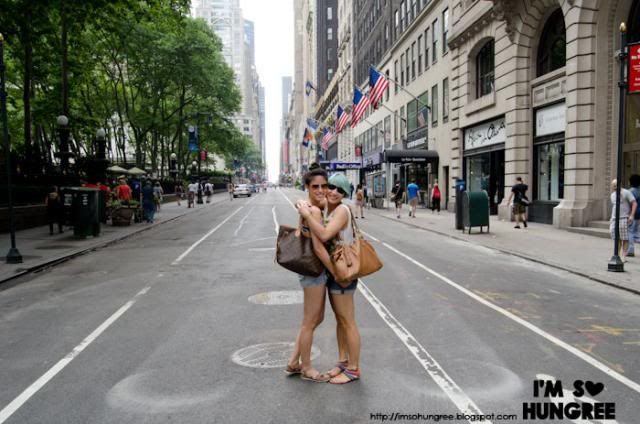 By the time my aunt, uncle and Brandon found us, we had seriously stocked up on our wardrobes, without crushing our credit cards too harshly. God I miss Buffalo Exchange! Since it was nearing 2pm though, we took the recommendation of some of the girls in the shop, and made our way down to Mexicue for some cheap and easy Mexican.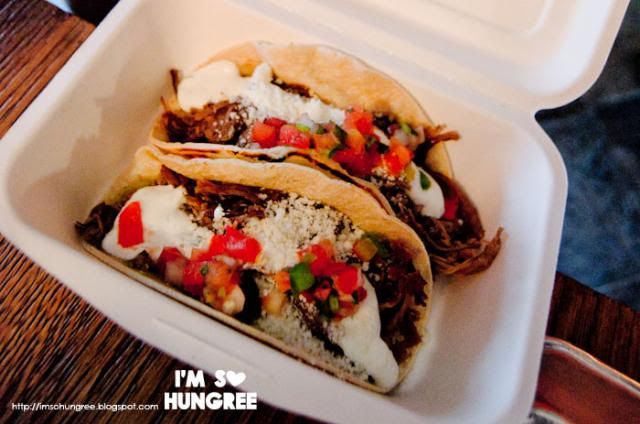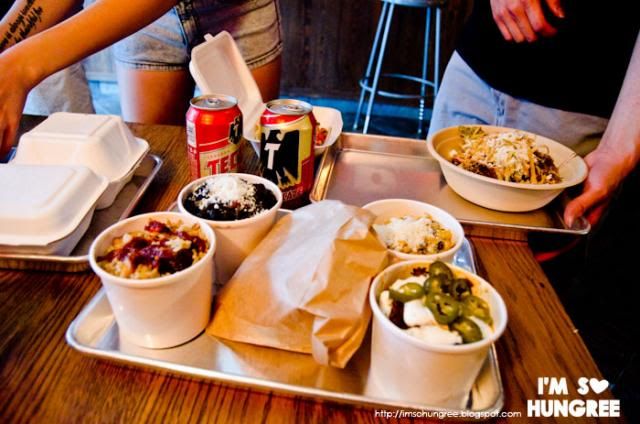 Maybe not as cheap as LA, but still a heck of a lot cheaper than back home in Melbourne! The small shopfront had seats upstairs, in comfortable air-con conditions, which was just right for tucking into green chilli brisket tacos. Not as good as LA, and a touch on the dry side, but it'll do. Aww yeah.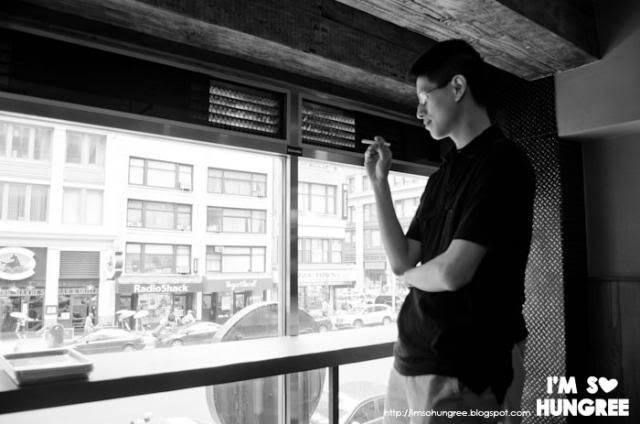 Brandon also briefly thought he was back in the 1960's in the Madmen era, overlooking the streets of New York. Might have helped if he held his electronic cigarette properly!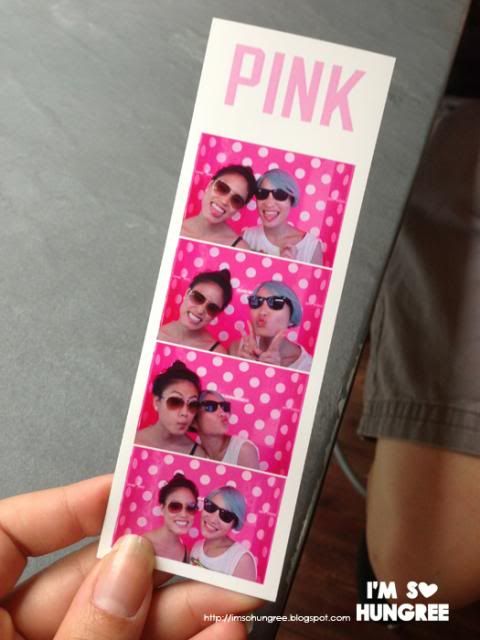 Victoria's Secret had a free photobooth. Hell yeahs!
We had driven into Manhattan this particular day, as we were planing to pick up Brad from the La Guardia airport in Queens in the evening. Although the prices are pure daylight robbery, it's actually not too bad if you're a big group like we were (6 in all), as a day of parking averages from $35 to $40, and it would have cost us $12 each anyway if we had bussed in.
We did nearly have a dilemma though, when we learnt that Brad's flight was delayed, and my uncle had already taken the car out of the parking garage…thank god though that it was Sunday and therefore we managed to find a free street park! Phew!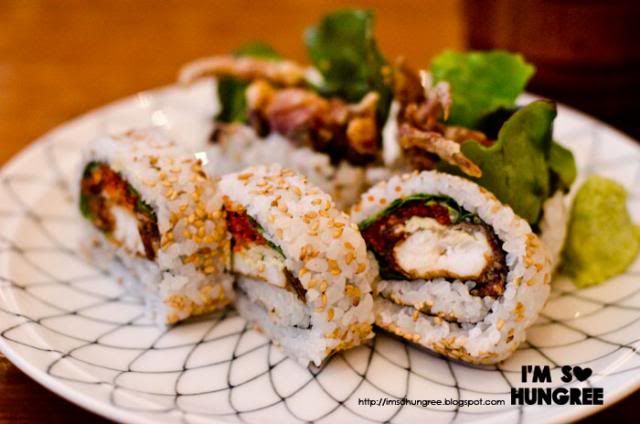 Whilst Brandon and my uncle wandered off to do a bit more shopping, Serena, my aunt and I decided dinner was in order and popped across the road to Inakaya for some light Japanese.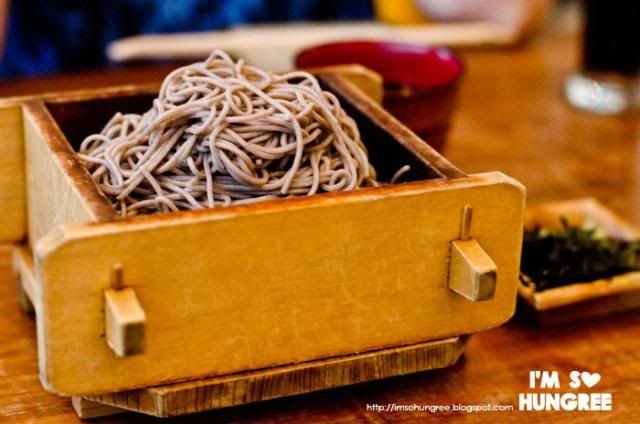 It's a pretty big space, with high ceilings, and a huge sushi bar. The chefs greet you with a cheery 'Irashaimase', and use big wooden paddles to deliver sushi to customers sitting at the bar, as there's a bit of a moat of fresh fish between them.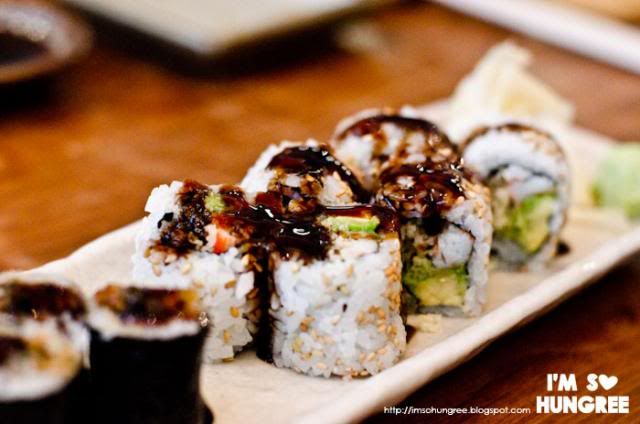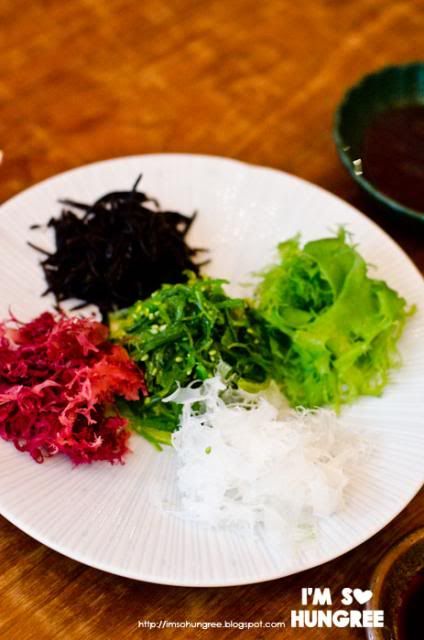 We opted to just get a regular table and ordered a bit of sushi and soba to cool us down in the warm New York weather. The sushi was alright, perhaps a bit too much sauce for me, but I loved the cool soba and was smitten with the colourful seaweed. Being so accustomed to the one type of seaweed that most Japanese restaurants serve up, I loved trying the different textures and flavours, which were subtle but lovely and clean.
Later that night we drive over to pick up Brad, give him a peek of Manhattan as we drove through it to get back to New Jersey, and had a late night run to the Wendy's down the road from us. A successful first few days I think…now that Brad was with us, it was time to squeeze in a bit of sight seeing...
675 8th Avenue. (Between 42nd and 43rd Street)