Edit: Public Bar Comedy continues in 2014! Don't miss out, Wednesday nights at 8:30pm, great value for $5 :)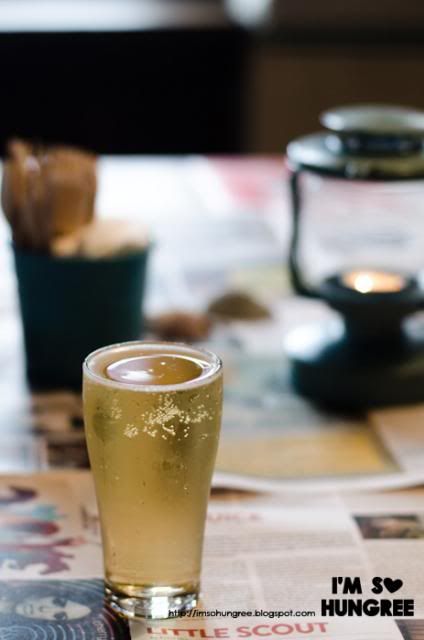 Sometimes when Brad tells me about what he got up to when he was 18, I think that I probably wouldn't have dated him, and am glad that we crossed paths at a time in our lives when we were after the same things (even if we didn't really know it at the time)!
He would tell me of his nights out at Public Bar with his friends, on Monday nights, when they used to do $1 or $2 pots of the house brew (which apparently tasted like cat piss, but it had alcohol so they didn't really care), where he would get ridiculously wasted. For those of you who've met him, I know. Weird.
Since those days, Public Bar's had a couple of closing and openings, and I believe at one stage was up for sale, but don't quote me on that.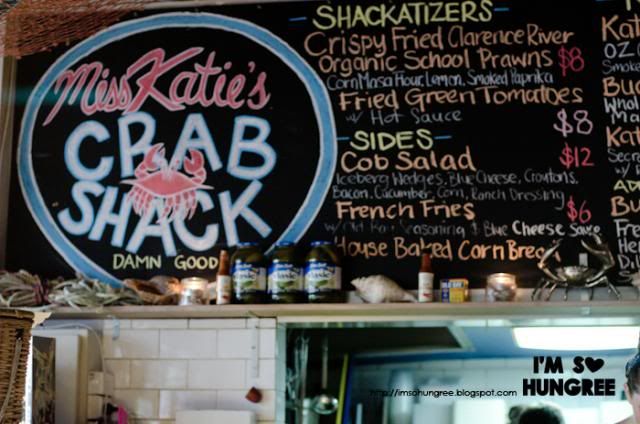 Nowadays, the front of Public Bar has been converted to Miss Katie's Crab Shack, with Chef Katie turning out some family style southern comfort.
The first time I visited was when I was long overdue for a meal with Bruce, and he suggested the spot, which was a nice change from being in the Fitzroy area (where we always unintentionally met previously!)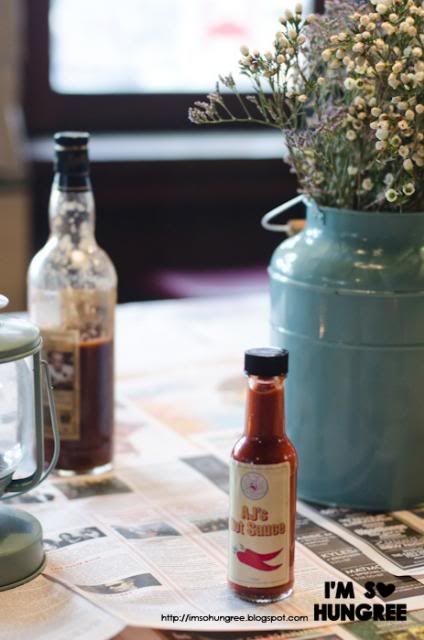 With a blackboard menu, bright nautical colours and newspaper on the tables, the dark pub is instantly hit with a bit of personality and a friendly, relaxed character. We learn that all the sauces on the table are made by Chef Katie herself, from the hot sauce to the Jerry's spiced rum barbecue sauce (awww yeah), and are all also for sale if you find yourself needing a bit of Chef Katie's touch at home.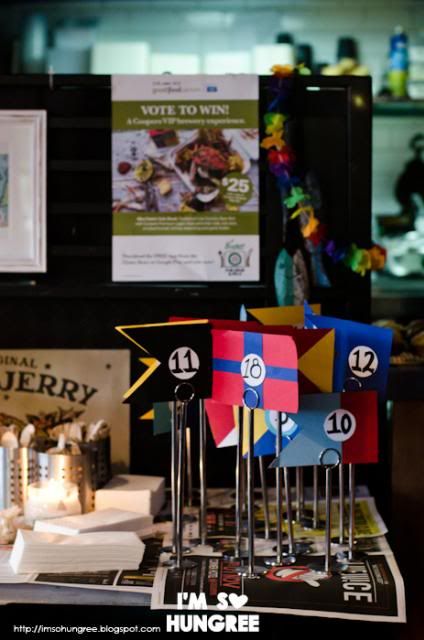 It took a second for Bruce and I to figure out the arrangement, menus are brought to you, but you have to order and pay at the counter where you also select your table number flag (ours definitely needed yellow on it), and alcoholic beverages need to be bought from Public Bar at the other counter. Straight forward enough still!
The menus itself proved a struggle for Bruce and I, as they are relatively short, meaning it's relatively tempting to order everything. Being located across the road from Queen Victoria Market, the produce is purchased daily, so you know it's lovely and fresh, and the specials are always mixed up to reflect on this (I've returned a few times already!)
Although we thought we were reasonable with our offering…like in America, at Miss Katie's Crab Shack, it's very easy to over order!
I mean, just look at the size of the fries! I keep telling everyone that they're served in a small boat, and I don't think that's an inaccurate description! Seasoned with Old Bay seasoning, whatever it is it's delicious, and served with a blue cheese sauce, these are some of the best fries ever. Perfectly crisp and oh so moreish.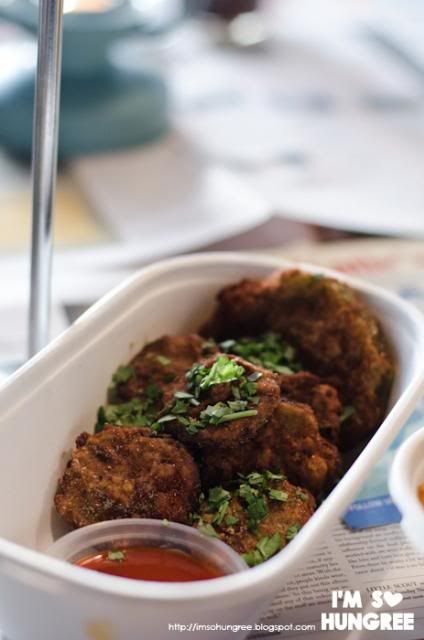 The fried tomatoes were an interesting side, but because we spent so long talking, they were a bit soft by the time we got to them. I liked the sauce they were served with though, a chilli sauce with a real big of kick.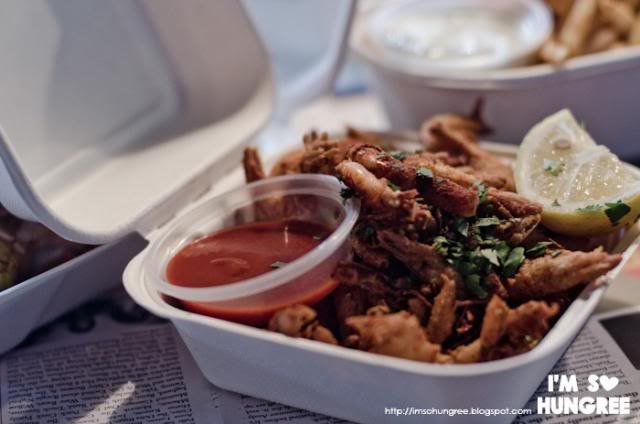 Whatever Chef Katie's done with these school prawns, I'm in love with. I feel like Melbourne went through a phase where school prawns with aioli were all the deal, but it seems to have phased out. Chef Katie brings them back for me, but crispier than anything I remember having previously, and in a very generous serve with more of that chilli sauce that kicks you in the face. We were picking on these like chips all night!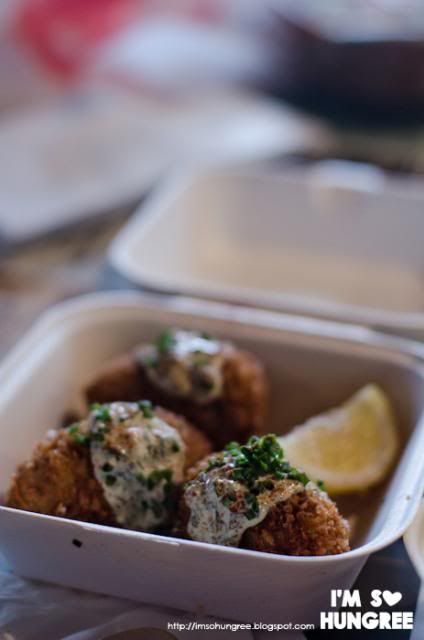 I've forgotten what was in these, but the croquettes of the day were quite unlike the typical Spanish style croquette we typically see. I've had two different croquettes of the day, on different visits, and each time the croquette is a bit bigger and wetter, with a slightly more coarse batter. Nothing wrong with that, just different, especially when it's a mac n' cheese filling…mmm….
The main affair is of course Katie's Low Country Boil, with a local organic blue swimmer crab, corn cobs, kransky and old bay and garlic butter.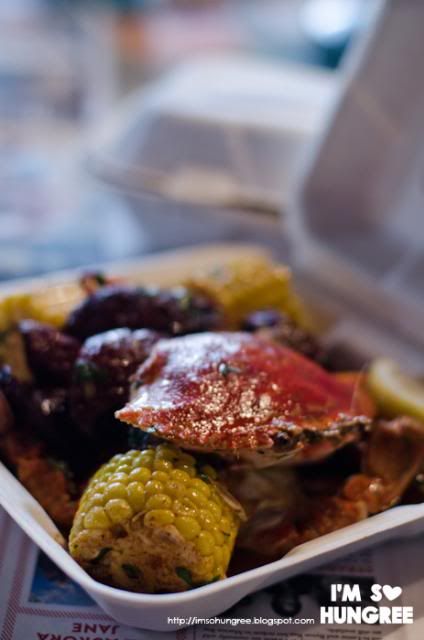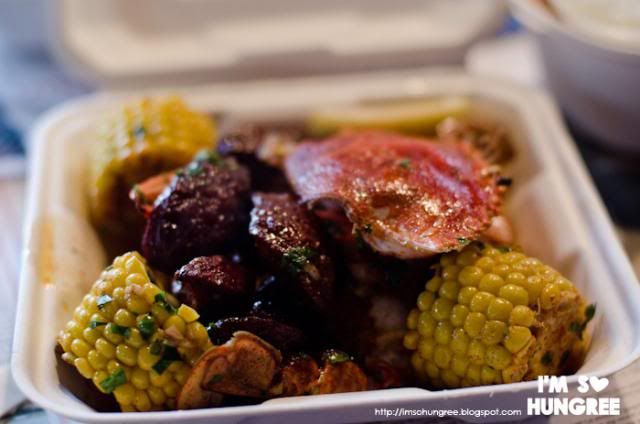 Um. Yum? Although there's not a whole lot of crab, what we do get is succulent and sweet. The best part of this though? That sauce that sits at the bottom when you're done with the crab, the firm kransky with a bit of spice to it and the sweet corn cobs. They should just call it crack sauce as you're likely to want to just lick it up right out of the bowl. We instead chose to mop it up with our fries, whilst we saw other tables order additional servings of the house baked cornbread for mopping purposes.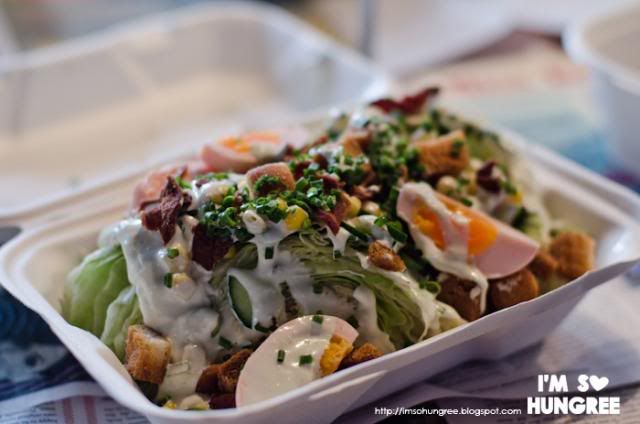 We also ordered a Cobb salad, fresh and crunchy iceberg wedges with blue cheese pickled egg, croutons, bacon, cucumber, corn and ranch dressing, to save us (a little) from the sea of brown and fried. Although I thought it sounded a bit boring, it was actually just lovely, with the really cool and crunchy iceberg, it was very, very refreshing.
Bruce and I ended up taking a lot of our dinner home, as there was just so much leftover, but we were pretty pleased with the amount of food we had, that was also quite delicious. Although there was a lot of fried stuff, none of it was particularly oily (although the body definitely needed a breather for a day or two afterwards!)
Brad and I ended up back there the week after (and a few more thereafter too), as we discovered they were doing $5 comedy nights, with some rather reputable acts.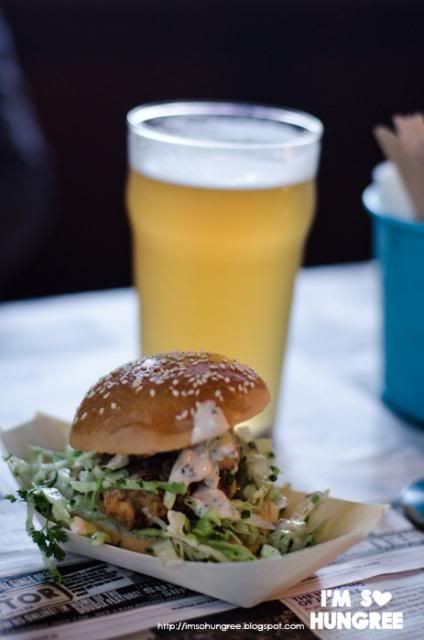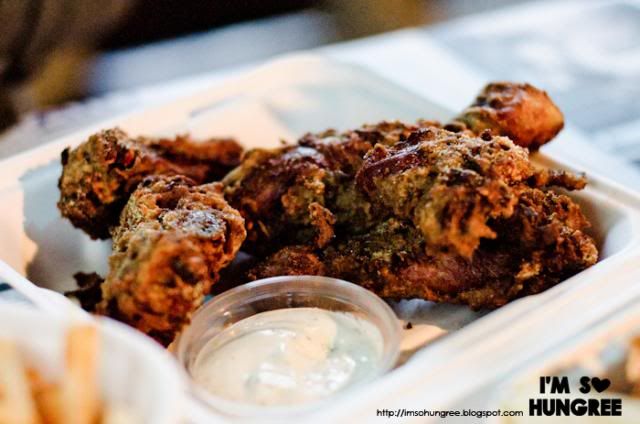 The soft shell crab slider special we had one night, was just lovely, with a fluffy and buttery brioche bun, with the crunchy crab wedged between and the Katie's fried chicken is also a very solid feed for $16. We loved how moist the chicken was, although I'm still dreaming about Rockwell and Son's fried chicken from Pinot Palooza for the ultimate batter.
Unfortunately this week is the last of the Public Bar Wednesday night comedy, in the previous weeks we've had Dave Thornton, Greg Fleet and Lawrence Mooney, but Miss Katie's Crab Shack will still be around through summer, providing tasty and easy going meals, for just about any night of the week. Seriously guys, those fries….