Chimmy's on Bridge Road, when Brad and I walked by, I didn't really expect to like it, as the door you entered through looked a bit like those old bakery windows from the 1960s with those huge ass cookies and lamingtons. I concluded I'm just getting too used to slick, pretty places and that I really shouldn't judge from initial impressions!

The place honestly reminds me a bit of Abbotsford Convent, and well, I think the Convent does supply them with bread, so that makes a bit of sense. It's all on display when you walk in, with a bevy of sweet goodies to tempt you as well. I nearly caved in on those macarons...

As I walked through the first room to the second room, with tables and seating and all that important stuff, I was pleased to see how much it brightened up, with larger windows and with brick walls and well loved wooden chairs and tables, it had a rather rustic character.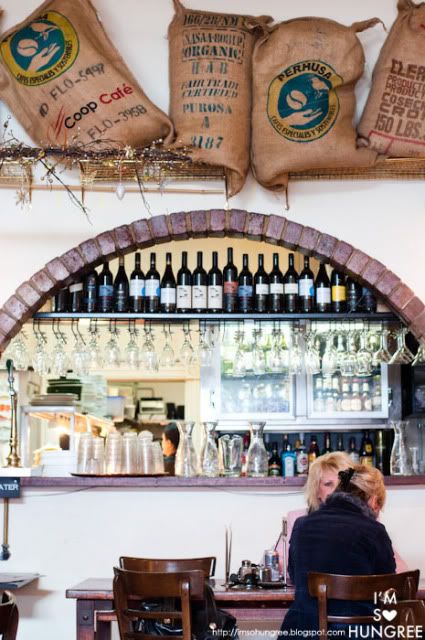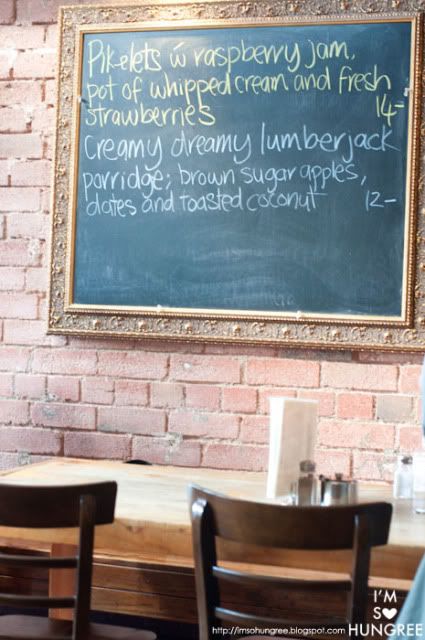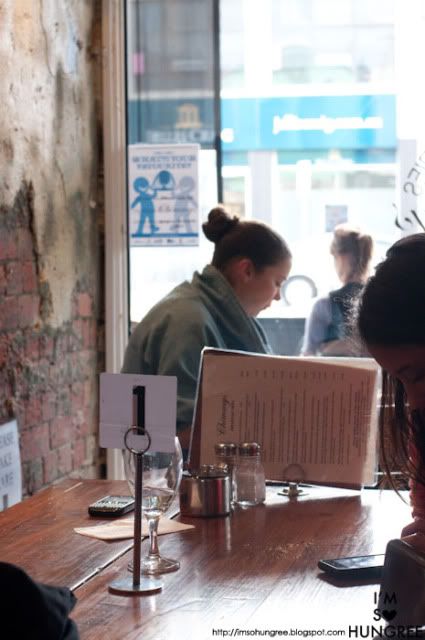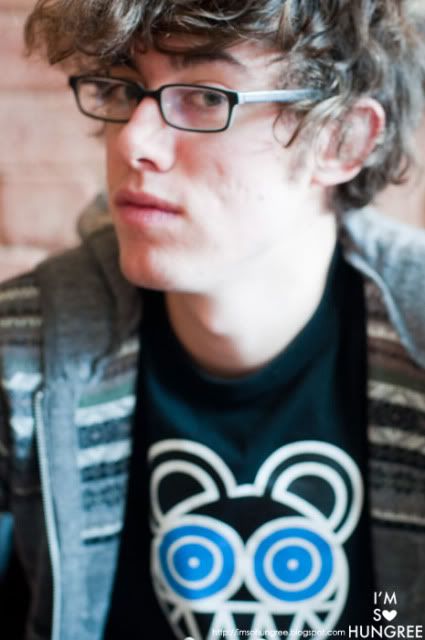 Oop. He caught me taking photos of him this time. Teehee.

Again, we had had a rather lazy morning with breakfast at home, and even though it was nearly two by the time we got to Chimmy's, we were both feeling something from the breakfast menu.

Whilst food and drinks get served to your table, you have to go make your order at the counter in the other room and bring back a number to your table. Oh my goodness. When I initially went up, there were only one or two people in front of me, by the time I had placed my order, paid and turned to head back, the queue (or crowd) to order had built up to easily 10 people. Very busy and obviously a family loved place, we found a baby or two around us!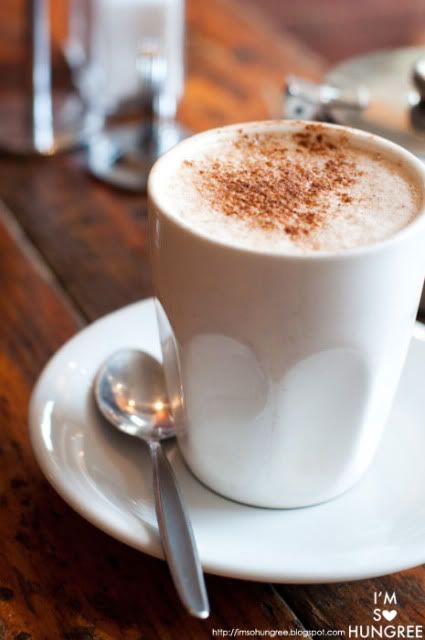 My chai was extremely underwhelming, it had this oddly smoky flavour, which I didn't really enjoy. I actually only drank half of it, then after finishing my breakfast realised I hadn't finished drinking it! Suppose it's a sign if I completely forget that I even ordered a drink...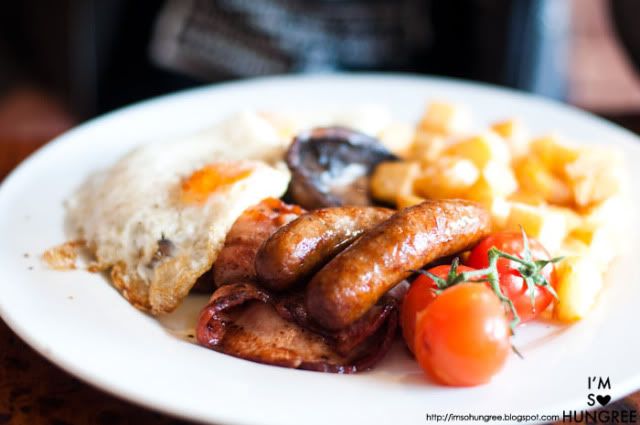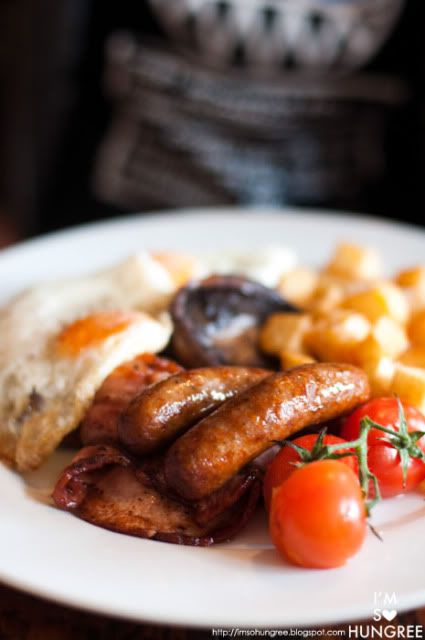 Brad ordered 'The Big Fry Up', which came with fried eggs (obviously), sausages, field mushrooms, grilled cherry tomatoes, bacon and an extremely generous serve of 'brekkie' potatoes. I personally felt like the serve of potatoes was a little too generous, the plate looked a bit unbalanced visually (graphic designer-douche coming through), they were also rather uninteresting in texture, I had hoped when stealing a few that they would be crisp and slightly crunchy, but alas it was not. Although to be fair, everything else on the plate looked quite delicious and Brad did completely clean his plate, I really don't know how he keeps managing to do all these huge breakfasts...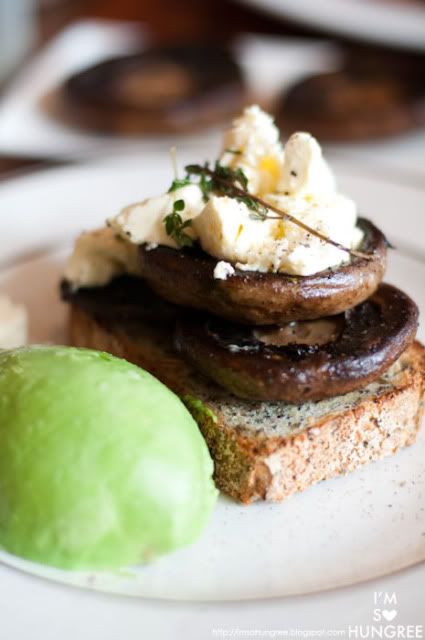 For once, I decided I would get something other than eggs. As delectable as they are. I opted instead to get the field mushrooms with thyme, truffle oil, crumbed fetta and avocado. I've had a dish similar to this at Snow Pony, which came to me all chopped up and looking like a delectable blob of vegetable spread, so I found it quite interesting to have it served to me as such. My avocado wasn't even cut up?! So while it lost a few points on aesthetics, the flavour was definitely still there, the truffle oil really adding that touch of luxury to the mushrooms and with the thyme (which they seasoned generously with) and fetta, it really came out rich and seductive. I also opted to get gluten free bread, a nice thick slice of it, which was deliciously nutty and wholesome, which balanced the richness of the mushrooms.

I had thought I had the lighter dish, but I'm pretty sure I was still waddling out with a very full tummy....into the gelato shop next door.

Breakfast and creamy gelato goodness, what could be better?!

I certainly have intentions to come back and try the 'morning meringue', with cherries, shaved dark chocolate and mascarpone, which I wasn't quite game enough to have for lunch. Maybe afternoon tea sometime?


Chimmy's Bridge Road
344 Bridge Rd
Richmond

, 3121