I kinda noticed Brad and I have mostly been eating at cafes and whilst I do love that, I did notice we haven't had a nice dinner in a while and hey, I love having a little dinner date every now and again. A chance to dress up, sip a little too much alcohol and really try something different, what's not to complain about? So when the option came up one Friday evening, I pretty much decided straight away we were eating at Izakaya Den.

Finally! I must have been one of the only food bloggers to not have made their way to this intimate little haven of slicked up Japanese izakaya goodness. And it is indeed, very slick and quite sexy. (At least to me)

It's very matrix like, as you descend down through the glass entrance, glowing a soft neon green, through a black curtain and into what looks like, an extremely long and bustling bar. Very underground, very hip.

We couldn't get a seat right away but were politely told it would be about a 30 minute wait. Figuring we had nowhere to go, we hung around by the entrance with the other couples, marvelling at how much space was hidden underneath the streets of Melbourne. Only to discover when we were seated later that there was just a huge square mirror at the other end of the room deceiving us! Neat little trick there.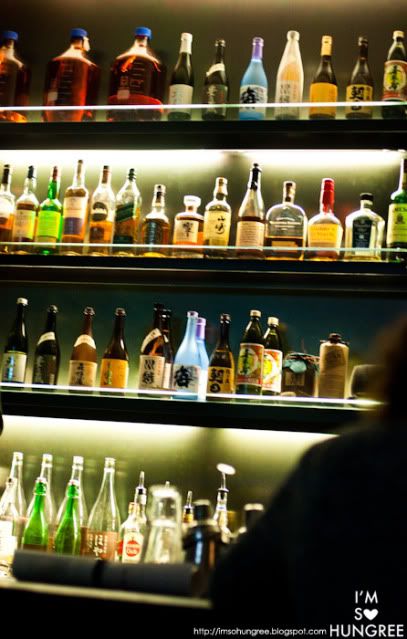 So within 15 minutes we were seated on the lounge to have a drink first and were encouraged to order first, so that when we were seated we'd have our food served to us much sooner.

The drink selection is very extensive, and what got me most excited? They actually had a selection of umeshu and not just the standard Choya (which is really not that great)! Oh the choices, some marked with a red stamp, indicating that they had been specifically shipped from Japan for Izakaya Den.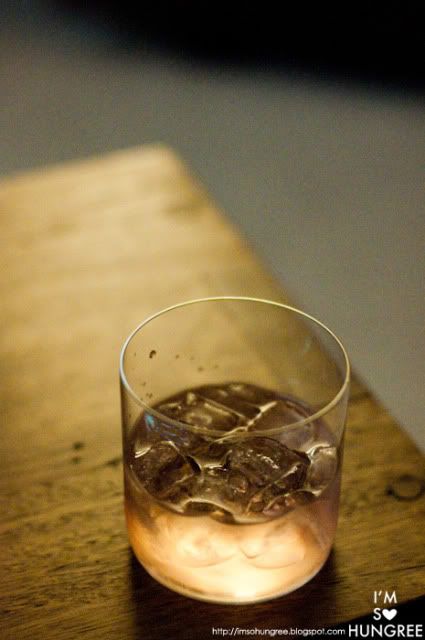 I decided on the 'Nanbu Bijin', described as 'True' ume flavour, with no sugar, delicate and fine. This was an absolute treat, I've never been fond of Choya because it is so sugary sweet, but you can really taste the plum in this and it's very crisp instead of being very sugary. Very, very freshing and very, very, very easy to drink. Almost like drinking a fruit juice. Almost.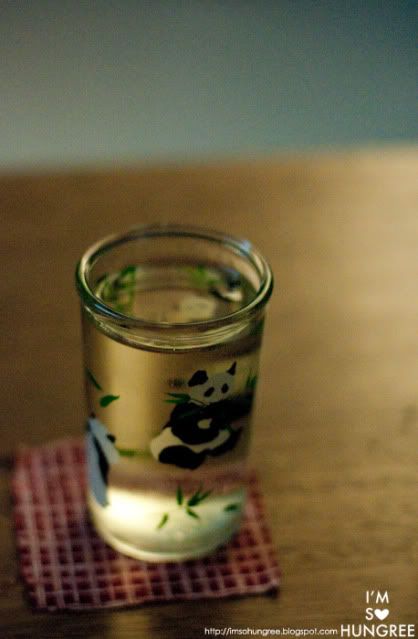 Since I was all over the umeshu, we (I) decided that Brad should try the 'Cup Sake - your own all-in-one sake glass'. Huh? Essentially, sake in a sealed, totally adorable cup. Which are then reused as water glasses. Fantastic idea. I was tickled that when our waiter brought over the drinks that he gave me the panda glass and Brad my plain umeshu glass. Over the night, I got Brad to get the other sake glasses so that we had the full collection.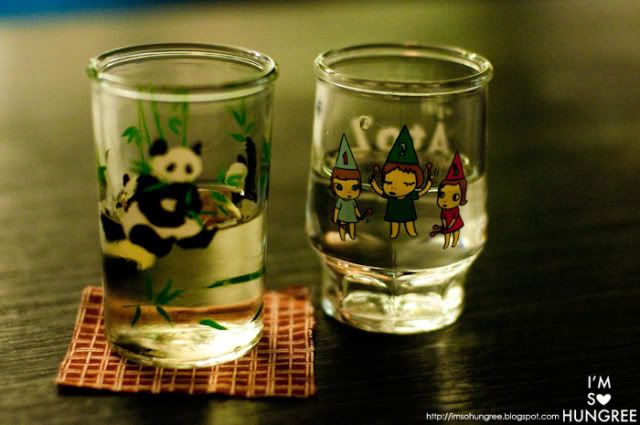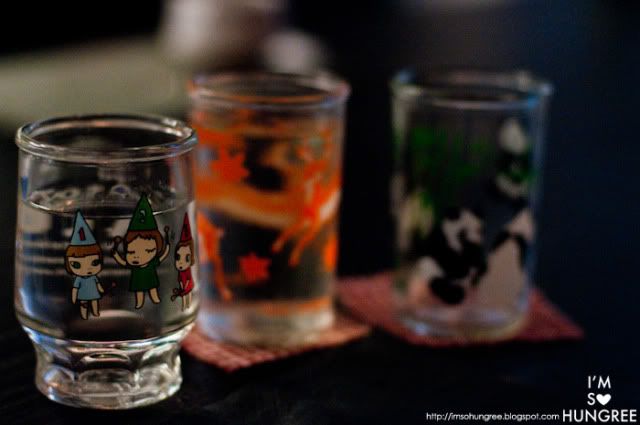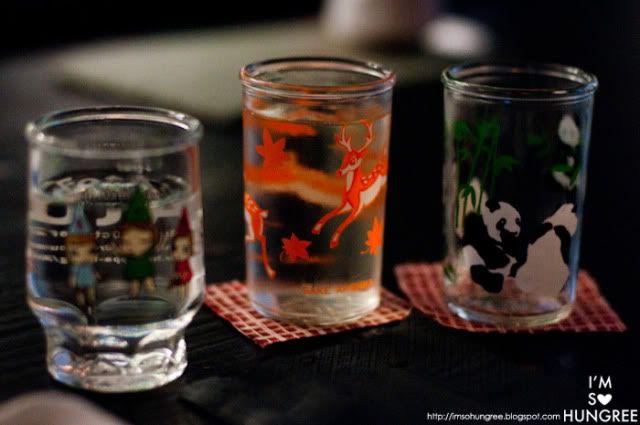 And I just continued drinking the same umeshu. Aren't they just darling?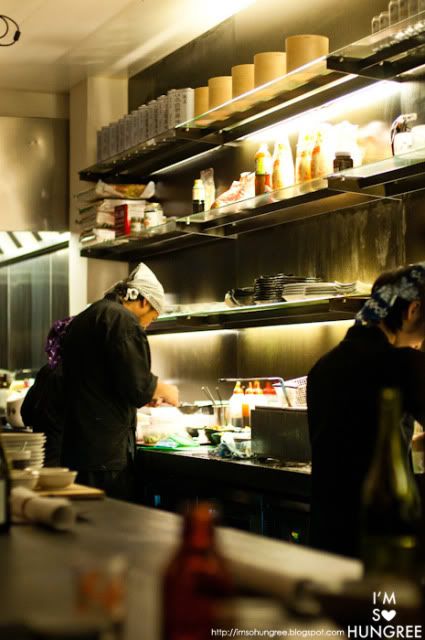 We were soon seated, by the bar as I was hoping for, the benches are wide, comfortable and well designed. Hollow underneath so you can swing your legs underneath you and with plenty of space on the side to put your bag down next to you and cuddle up with your significant other. Pre-ordering our food earlier meant that within a couple minutes our food was upon us. Which was great. You kinda get hungry after waiting. The food is designed to be small and tapas style, made for sharing and for tasting. And gosh. So beautifully presented.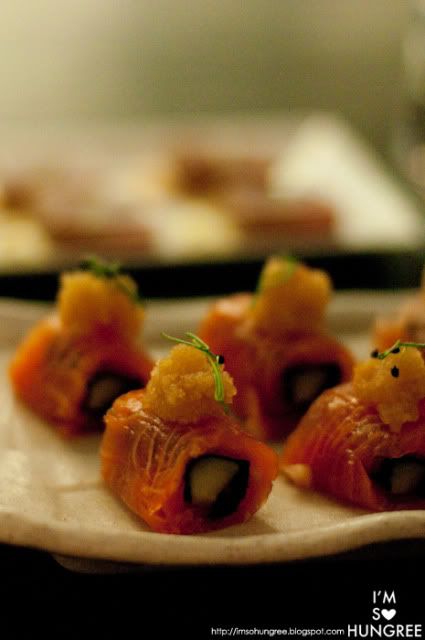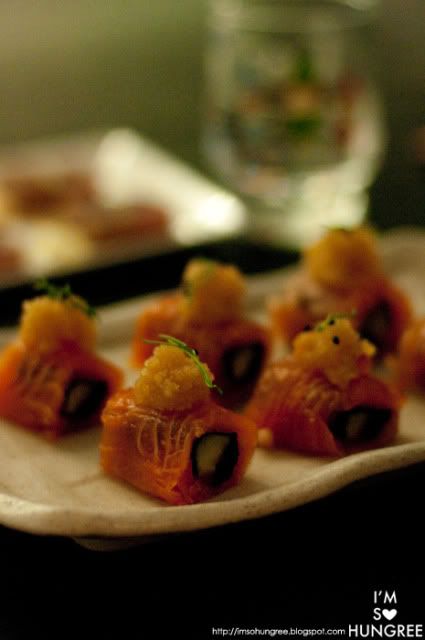 We started with the fresh salmon roll, with pickled konbu and ponzu. Oh, what a way to start, such a beautiful, tender and velvety texture, the perfect cool temperature on the tongue and I just loved the pickled konbu, great flavours. Possibly my favourite dish of the night.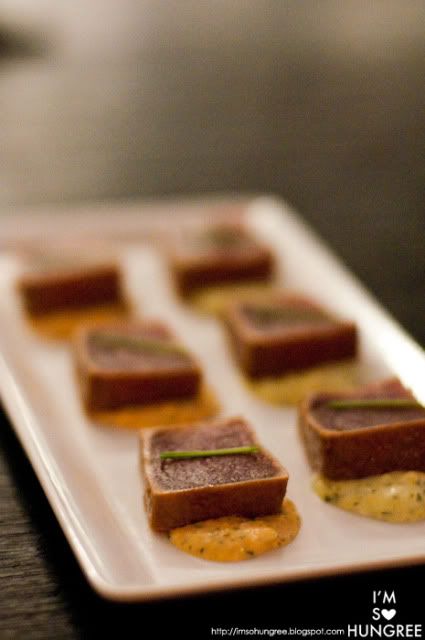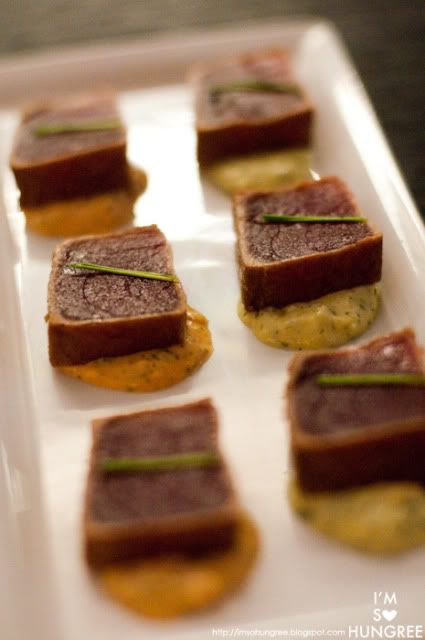 After reading it on many a food blog, I insisted we had to try the tuna tataki. This time 3 of the 6 portions came with a spicy mayo dressing and the other half with a garlic soy. The spicy definitely had my vote, it really had bite to it, but the garlic soy was still a treat as well. I loved how the tuna was cut, lovely chunky pieces, great for sinking your teeth into, a little bit harder to scrape all the dressing on to! Even once all the tuna was gone, Brad was literally wiping the plate with his finger to make sure every last bit was had!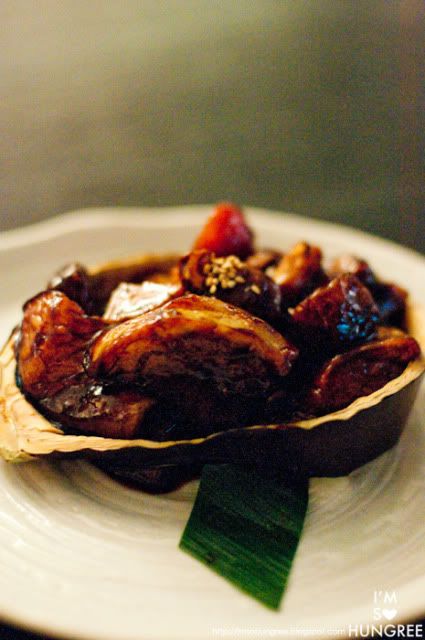 I can never, ever, go past eggplant. And this was no exception, being one of the first things I knew I wanted to order from the menu. Eggplant and konnyaku 'dengaku'. Sitting in a ring of dried eggplant skin, were big, beautifully cooked chunks of eggplant, quite different to what I expected. There were also chunks of sweet potato and....something we couldn't quite get our head around, mixed in with the eggplant. Although saucy, it didn't feel too heavy and was just plain delicious.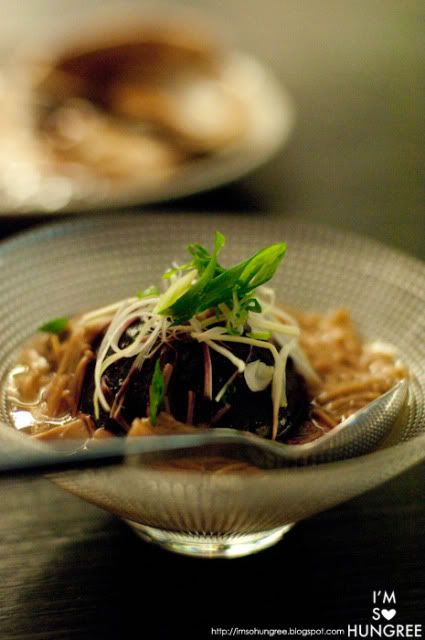 It's described as 'beetroot, button mushroom 'an-kake'' but...they don't really look like button mushrooms to me. All the same, coming from an Asian family, we don't often have beetroot, so I do enjoy it now and again. Especially when it's cooked through to be so sweet and soft. Probably one of the less exciting dishes, but the calibur of food presented was so high, I suppose it's not entirely it's fault!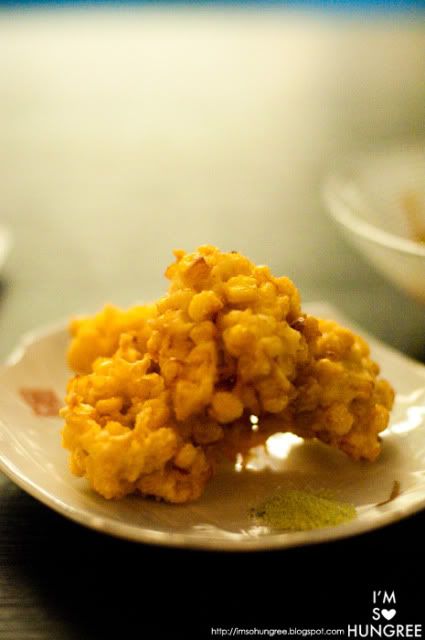 These were accidentally brought over to us when we first sat down, but since we weren't quite full after four dishes, I decided on ordering these for us. Sweet corn kariage. Oh my goodness, so savoury and just delicious, they were slightly firm and slightly charred on the outside, but just still so sweet and juicy on the inside. Fun to eat. I kind of wish they were the size of popcorn chicken from KFC so you could just pop them in your mouth.....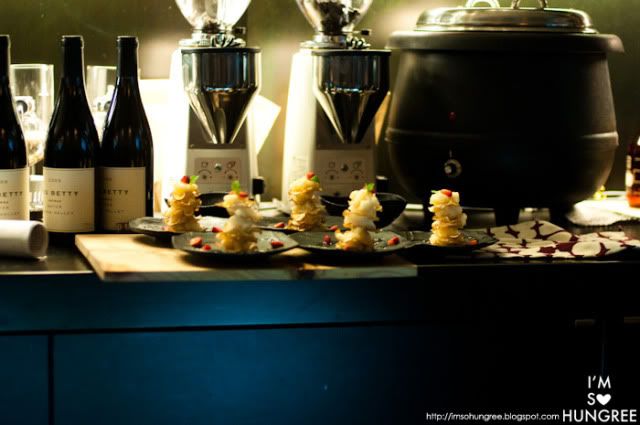 Whilst I would have loved to try some dessert, we both decided that we needed a break from eating and I was kind of craving something simpler....like ice-cream. So satisfied with our meals, we called it a night. I've read reviews that have complained that the food is a bit pricey at Izakaya Den. For 5 dishes and 4 drinks, our meal came to exactly $120 (I love a good round number!). Now yes, sushi rolls are $2.50 a pop these days, but if you want to go out for really quality Japanese food, particularly seafood, it will always still be a pretty penny and I think for the amount of variety we got to have and the quality of the food and the experience (we both enjoyed ourselves so much), I'm very satisfied. The service we got the entire night was impeccable, wet towels while standing in line, polite and informative answers when quizzed on if we were going to get moved to a table from the lounge and efficiently delivered food.

I would come back.


Izakaya Den
114 Russell St
Melbourne

, 3000