Disclaimer: I was invited to have a complimentary meal with GRAM Magazine
You know that the Mexican wave must be over, when one of the co-owners of Mamasita has decided he's had one too many tacos and needs something new to play with.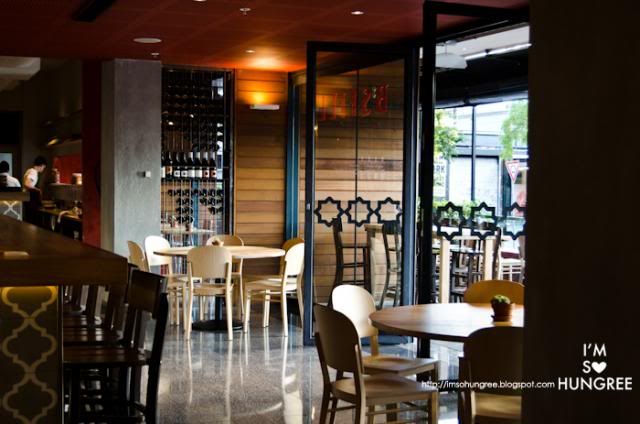 And so Jason Jones, along with Scott Cunliffe and Martin Finnigan, very quietly, opens a new Moroccan restaurant called B'stilla on Bray Street in South Yarra, just a stone throw away from Chapel Street, hidden behind the Jam Factory.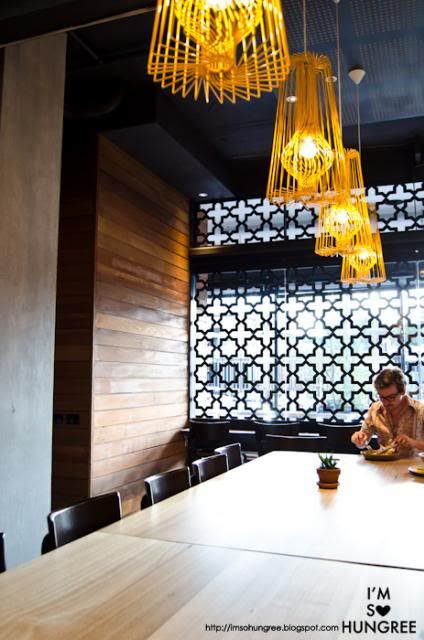 Strolling on through the large glass doors, it dawns on me that I don't really know too much about Moroccan food and probably wouldn't be able to point you in the direction of a good Moroccan restaurant if you asked me. I'm quite impressed that somehow Jones has managed to find a cuisine, in the very diverse food culture in Melbourne, that does not have an upmarket version. Or at least in the inner suburbs and CBD.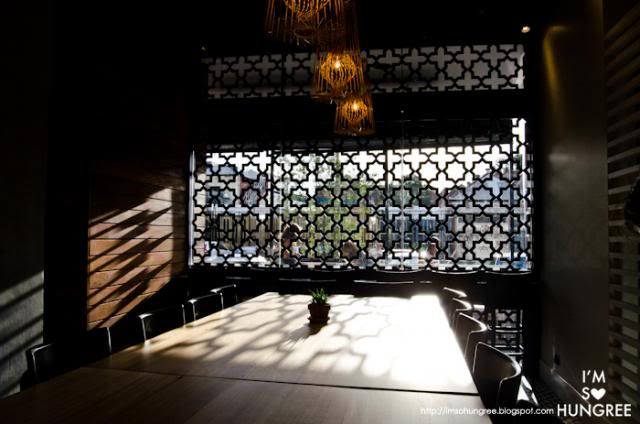 B'stilla has quite a welcome dining space, with warm woods and colours, gentle ambient light, a focus on communal and group tables and subtle, but appropriate Moroccan inspired details. I particularly loved one window with patterns on it, the shadows it cast in the later afternoon were just beautiful!
The idea behind the menu is simply affordable sharing food and it certainly looks this way, with many items at around the $10 to $15 mark, with the most expensive dishes peaking at $28.
We were a group of 5, the editors from GRAM and Bean Scene, Kenny (Consider the Sauce), Sofia (Poppet's Window) and myself. Rather than navigate through a menu, with lots of food and terminology we weren't familiar with, we left the menu decision in the hands of the chef, who fed us incredibly well!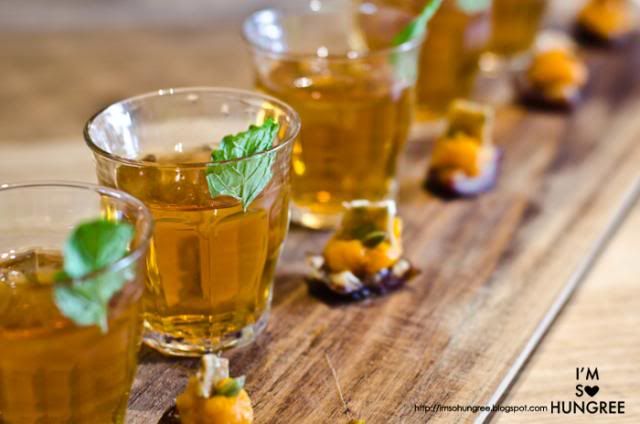 To whet our palates, we started with an iced mint tea, sweet and refreshing, and a little amuse bouche (I suppose) of fresh dates, pumpkin puree and pumpkin seed cracker. Apparently presenting guests with dates is very traditional, and the general sweetness of this single bite certainly was an appetite stimulator!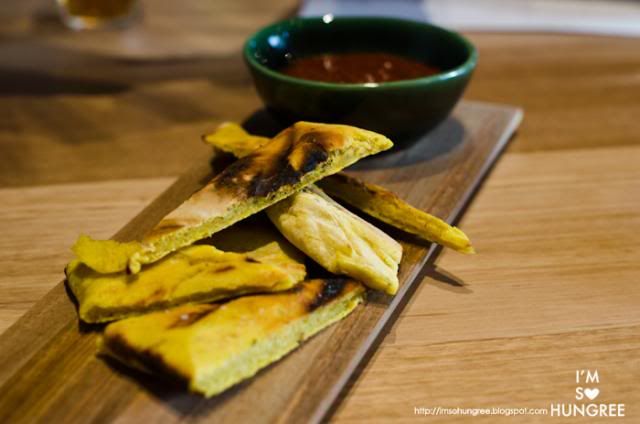 Warm grilled batbout (turmeric and oregano flat bread) was fluffy, and tangy, when spread with the lemon tomato jam. Was nice to have a bread that didn't threaten to be too filling before the rest of the meal arrived!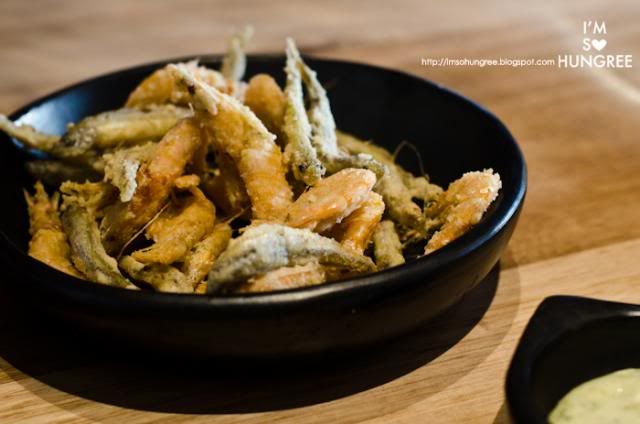 It was nice to also see the whitebait and school prawns mingling, both lightly battered and delightfully crunchy with a nice bit of meat as well. If we had had a bigger serve it would have been way too easy to just been picking on, and filling up on these all night!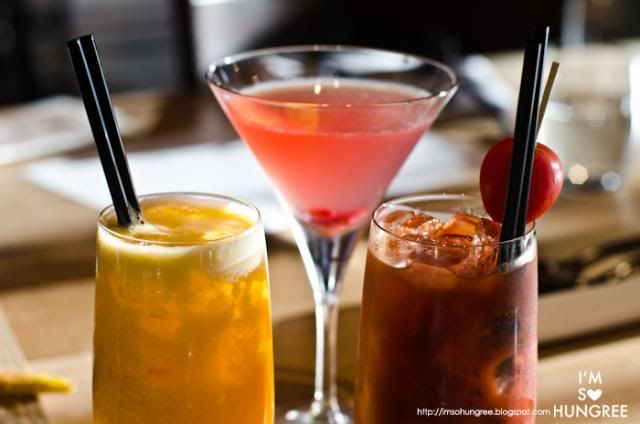 The cocktail menu is fairly impressive, with some atypical combinations and ingredients, such as pomegranate. I loved that a lot of the spirits used were local, such as the 666 Vodka and West Winds gin. The pomegranate martini I had was particularly punchy and rather alcoholic, whilst Kenny's Bloody Marrakesh, a twist on the Bloody Mary with harissa and red wine, was surprisingly refreshing and quite delicious!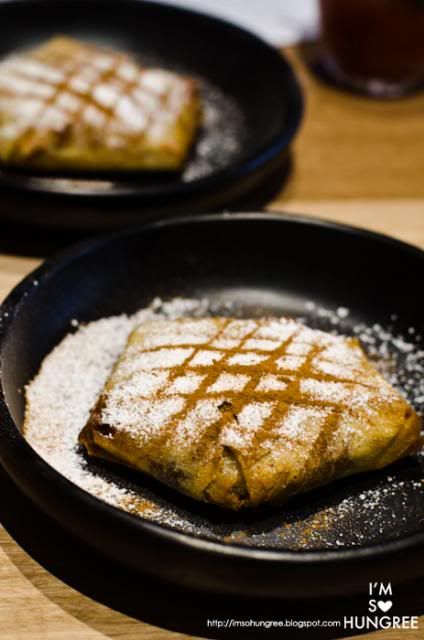 We naturally, had to eat the namesake of the restaurant, the B'stilla, which is a traditional moroccan meat pie made with squab. This version in Melbourne is made with pigeon, duck, almond, cinnamon, saffron and egg.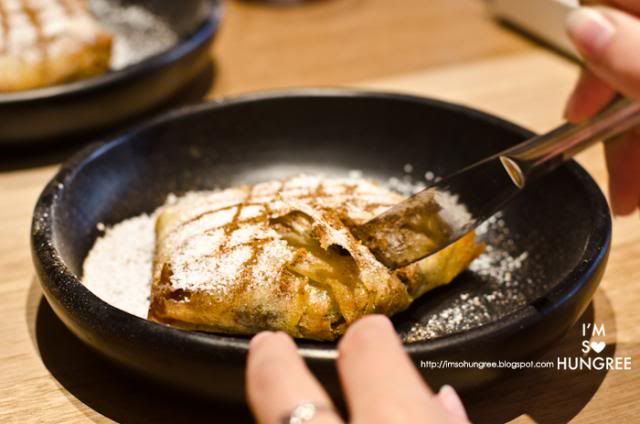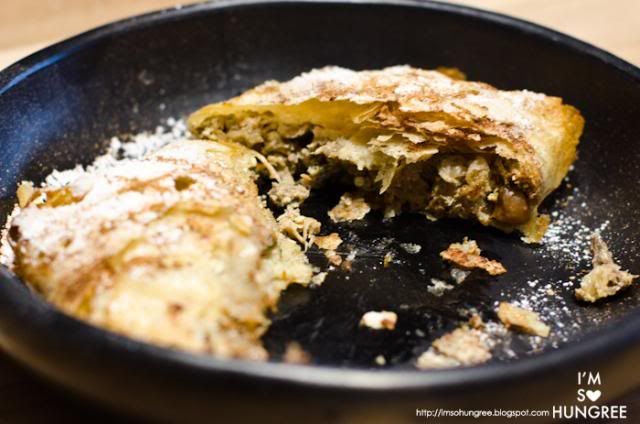 Ah, just beautiful. Cute little pentagon packages, dusted with icing sugar and cinnamon, with ever thin brick pastry that just crunched and flaked away under a knife. Such a satisfying sound. The pastry itself kind of made me think of baklava, as it tasted a little honey-ish. Overall, a dish that combined sweet and salty beautifully, there were just so many interesting flavour components here, the cinnamon, the rich and tender birds and some nuttiness, amongst others. One of the favourites of the night.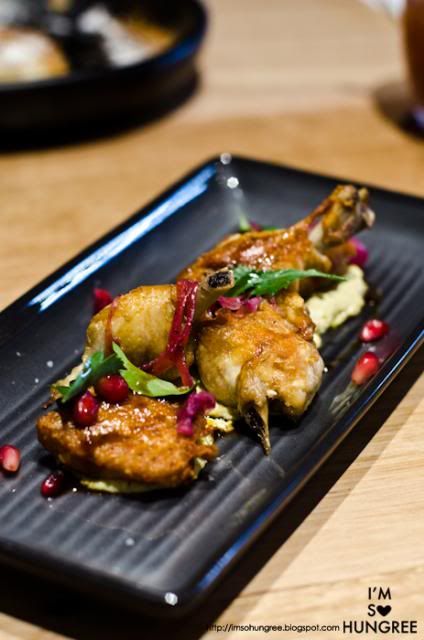 The confit chicken wings with pistachio yoghurt and pomegranate, was another sweet and savoury dish. It has an interesting effect on you, as it certainly satiates, but also whets the palate for something with more salt in it. Which comes later, don't worry! The chicken was just beautiful here as well.
The avocado, beetroot, soft egg, radish and beet molasses salad was another sweet and playful dish. Loved the bright colours, the smoothness of the avocado and the crunch of the nuts. The beetroot pretty intense here.
I found it quite interesting that the chef served us the dishes that he did. The couple of dishes above this paragraph all erred to the sweet side, which, as I mentioned, were satisfying but also made you want something more solid, more savoury and hearty. The next lot of dishes were all served at the same time, to satisfy that need!
The freekah salad with apple, celeriac, chard, green chilli and almond, whilst refreshing, also packed a bit of punch with that chilli! If you don't like spicy, maybe refrain from ordering this, but if you are partial to it, by all means!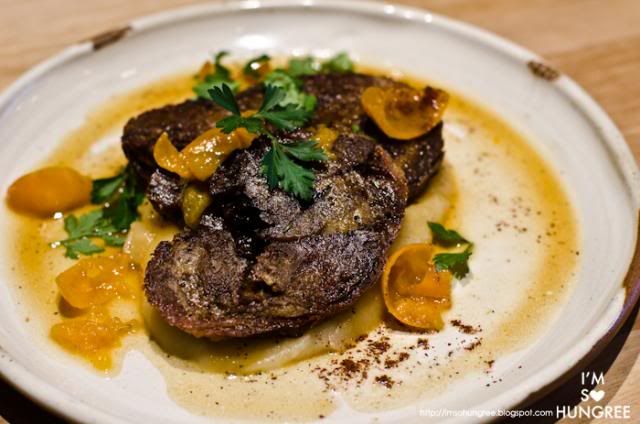 The lamb shoulder with ginger, cumquat, parsnip and sumac filled our immediate airspace with intense and addicting aromas. The lamb, with a slightly crunchy sear around the outside, fell apart just beautifully upon being forked and the sweetness of the cumquats was a nice balance to the earthiness of the parsnip, which both complimented the lamb very nicely.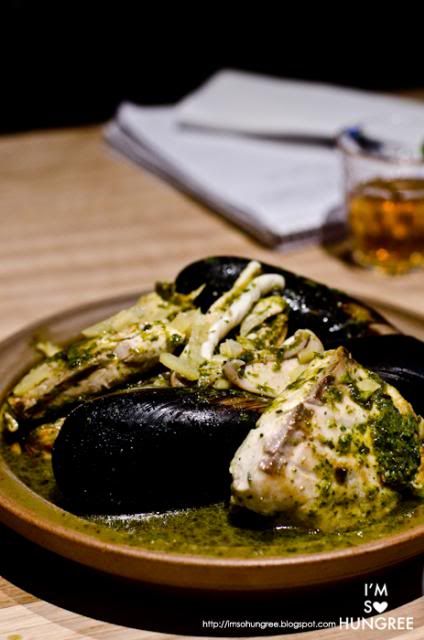 We were served two tangines, which are cooked in special conical earthenware pots, you'll know them if you saw them! The first was a mussels, fish, squid, spinach and charmoula tangine, which was quite herbaceous and a little more toned down compared to some of the bigger flavours in the other dishes.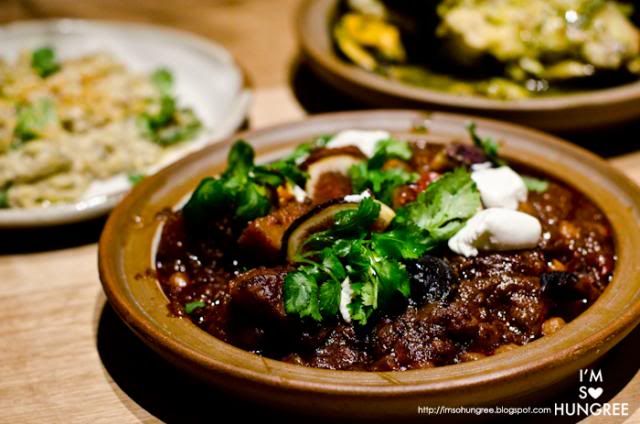 The second tangine was a fig, goat's cheese, chickpea and root vegetable one, it's deep and dark brown colour reminding me of curry, but it was much lighter, with an emphasis on spices rather than heat. I absolutely loved the addition of the fresh figs, which added just a touch of sweetness to lift the dish.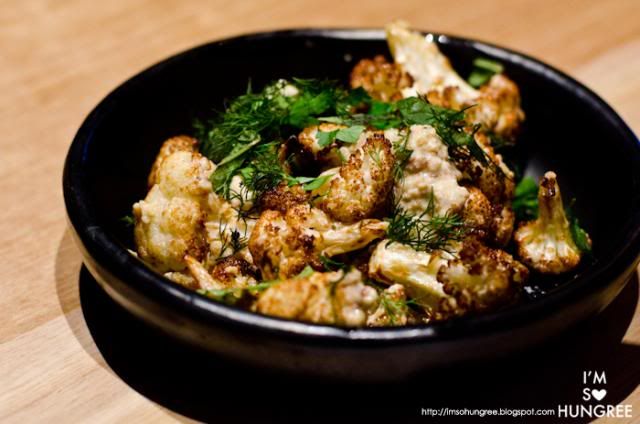 We also had cauliflower with pine nut paste, ras el hanout and herbs, which was probably my favourite side. The charred cauliflower and the paste just married together. Married! Need to do this combination in a pasta sometime I think…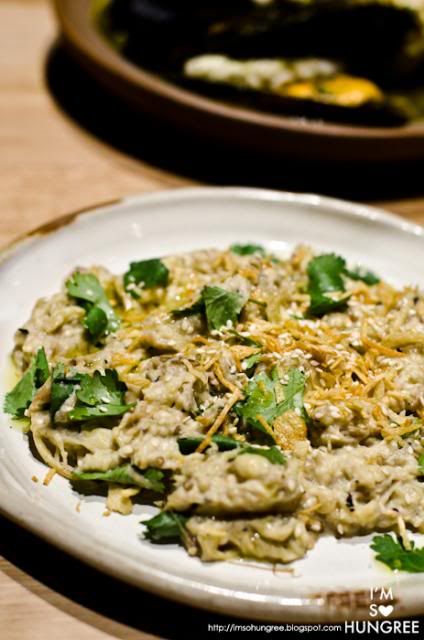 The smokey eggplant with crispy garlic, sesame and coriander was also well received all around, smooth, sweet and smokey (obviously), with a flavour that lingered in the roof of your mouth for quite a while afterwards.
We kept dessert a simple sharing affair, trialling out all 4 options.
Whilst initially excited by the ice-cream and sorbet selection, which were pumpkin seed, fig leaf (both ice-creams) and lemon verbena sorbet, I was a little disappointed in the flavour department. Whilst perfectly pleasant, it was not particularly exciting.
Fortunately though, all the other desserts were!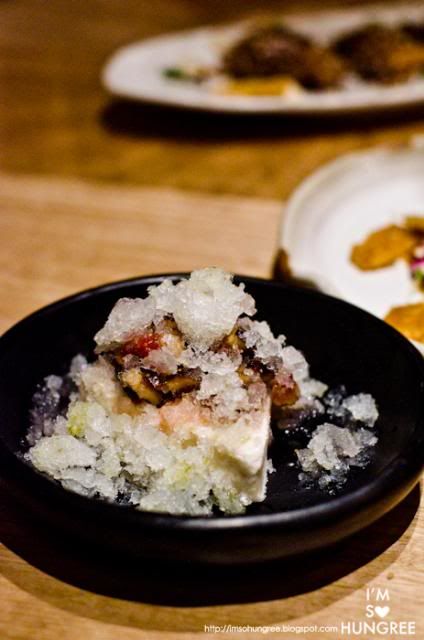 The fig, yoghurt and lime splice was playful and refreshing, with zingy and bright flavours. I loved the flavoured granita!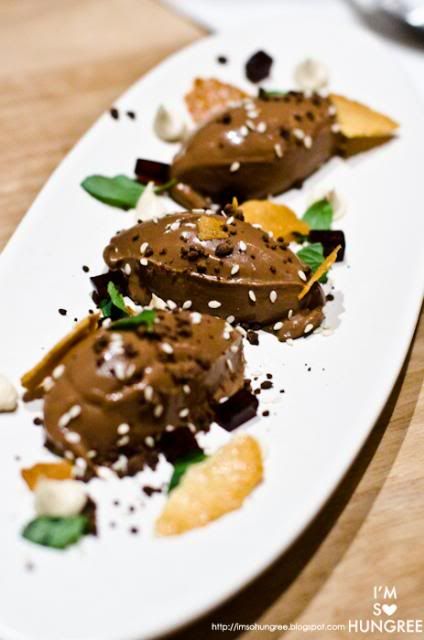 There's always got to be one chocolate dessert, and B'stilla's did not fail to impress with star anise, creme fraiche and sesame. The dollops of chocolate were smooth and creamy, without being overly rich, just quietly curling up into the spoon when scooped up and refusing to move, which meant it just had to go straight into one's mouth. Anti-double-dippers stay away! I loved the addition of star anise, not overwhelming, but just adding a brightness of flavour that didn't overwhelm. With a little coffee jelly and a bit of crunch, there was a lot going on, but it was simple enough to enjoy.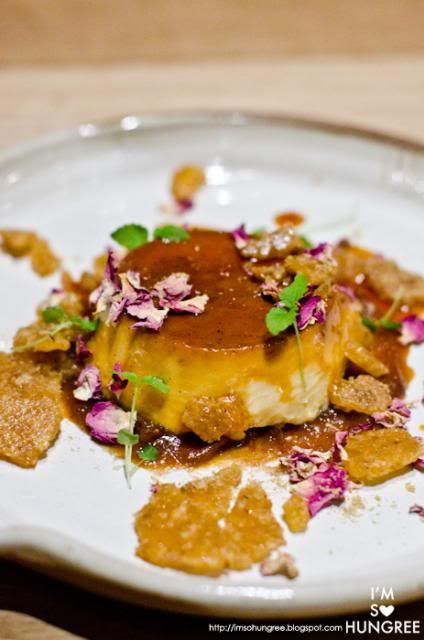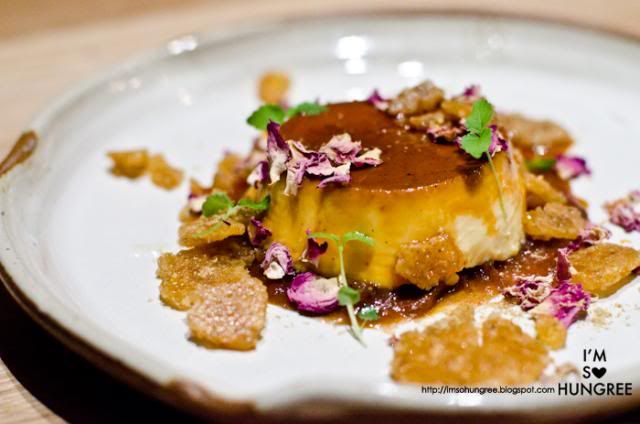 And finally, but of course not least, the rosewater flan with dates and walnut nougatine was an easy favourite around the table. Normally I tend to run away from desserts with rosewater, as it can be pretty overpowering and sometimes just taste like grandma, to be frank. However, none of that here, with a wobbly but dense caramel flan, sitting on top of something sticky, and also caramel to give it that extra punch of sweetness. The walnut nougatine is ingenious, as the occasional crunch is so addictive, you just want more!
Naughty, but so elegant, just a beautifully executed dessert.
All in all, we had an absolutely amazing night, where we were well looked after by charming staff, who took us through all the dishes and were more than happy to answer all our questions, since none of us were particularly familiar with the food.
The flavours in the food were generally all on point and very distinctive, with a heavy emphasis on the sweet and savoury mix and ensuring that it's well balanced. At B'stilla there is also a big focus on using local produce, beers and wines, as well as being as green as possible in general, with the interior of the restaurant being carbon-offset.
So, new cuisine, vibrant flavours, a good conscience, charming and cheery service, at a price point that shouldn't hurt the wallet too much, what are you waiting for?