Melbourne Food and WIne Festival has come and gone. I stupidly booked flights to KL for work during the whole of the second week of the MFWF, which meant that I could only make it to one Express lunch.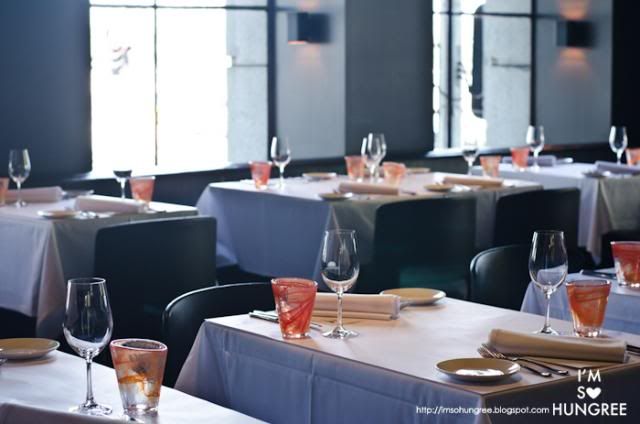 But if it was only going to be one, it might as well be a good one!
And as such, Caryn and I were lucky enough to get a spot at The Press Club when I called up only a few days before we went! Even better, we got to have a seat at the chef's table where we could perve on all the food as it was being prepared…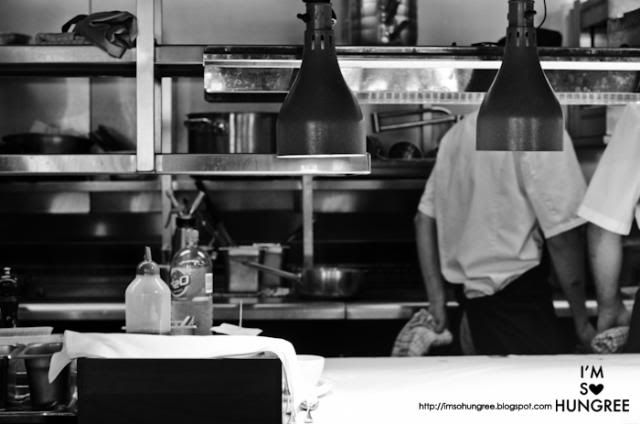 It was an absolute privilege to be able to watch the kitchen work, when still under the name of 'The Press Club'. As many probably already know, soon the current Press Club will close and be replaced by 'Gazi' and a 'new' Press Club will be opened as a different destination and concept.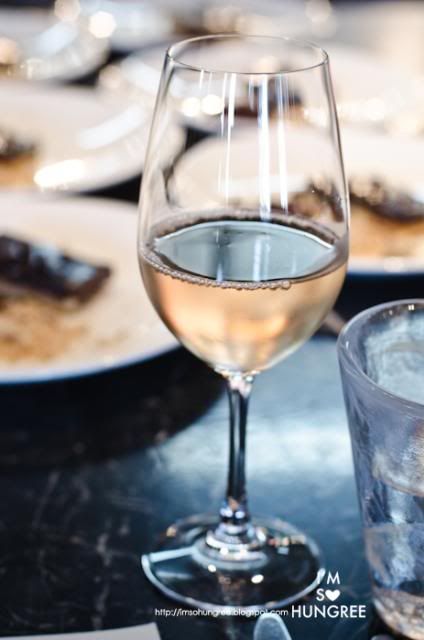 Express lunches are a simple concept during the MFWF. $40 for two courses, with a glass of wine and a cup of tea, with most restaurants offering two options for entree, main and dessert.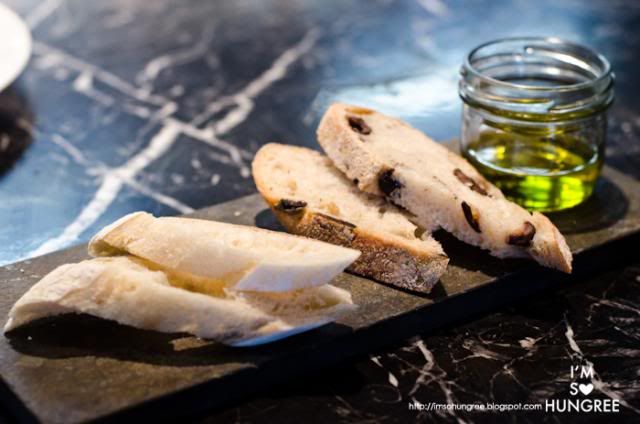 While deciding on which options to choose, we started with beautiful warm bread, the olive bread in particular was just gorgeous!
In the end, Caryn and I decided to share an entree, pick a main each and then pay an extra $10 so that we could have both desserts. I mean, it would be a shame to not get to try them both after all!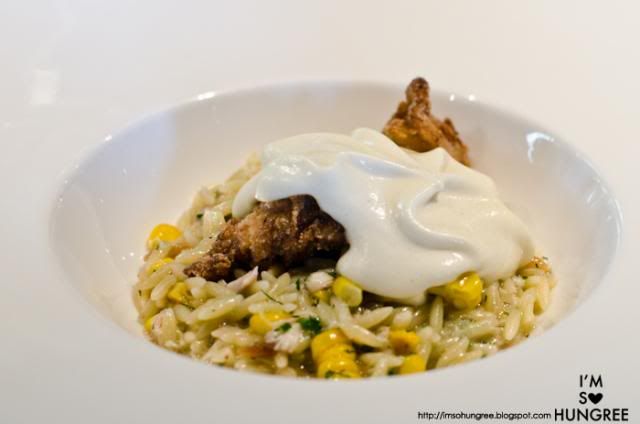 And so to start, a chicken kritharaki with corn foam. Kirtharaki is deceptive. It looked to be such a small portion, but it was incredibly filling! It kind of made me think of a richer chicken and corn soup, with comforting and homely flavours. The texture of the kritharaki was just beautiful, just the tiniest bit al dente. When the corn foam, which was just so sweet and abundant in flavour, but light, was mixed all in, it was just heaven. The only thing we were mildly sad to see was that there were only two bits of fried chicken sitting on top, but I suppose this dish was actually designed for one…
…as strange as it may seem, I think the starter definitely had my favourite flavours of the meal. If it was colder, I would comfortably eat bowls of the kritharaki, curling up in a quiet corner on the couch and a blanket.
But it was hot this particular Friday and I was out in the public…so no kritharaki canoodling. Ah well. Next time!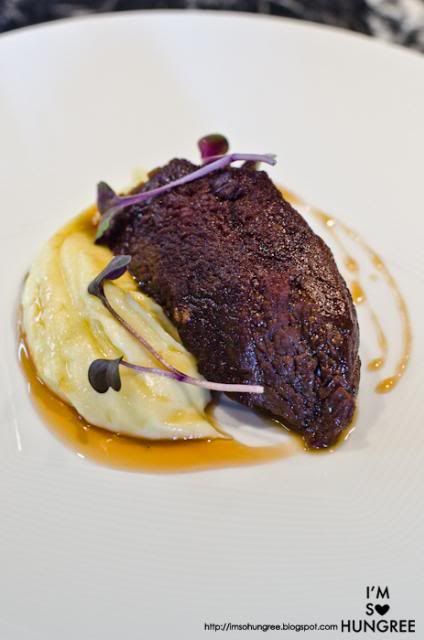 For her main Caryn had the mastic braised beef with olive oil pomme puree. Mastic is a type of greek liquor, made with resin gathered from the mastic tree. It's usually quite strong, but fortunately for Caryn who had to go back to work upstairs, all the alcohol had burnt away by the time it reached the plate!
The beef just fell apart beautiful, and had deep and rich flavours. Paired with a potato puree that was so smooth and so creamy, it was an incredibly well executed plate.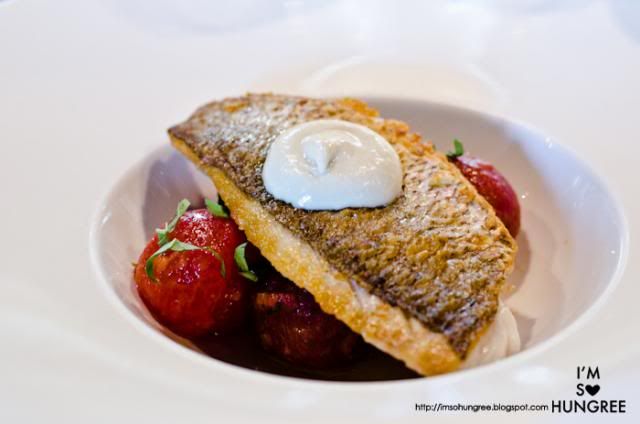 I opted for the seared snapper with taramasalata and a heirloom tomato salad. Gosh, well cooked fish is just lovely. So buttery, yet golden and crisp on the exterior, with a healthy dollop of that fish roe spread all over the top just made for a well rounded flavour. The skinless tomatoes made for a nice change to the typical heirloom salad, and therefore didn't distract from the fish, which just soaked up their juiciness!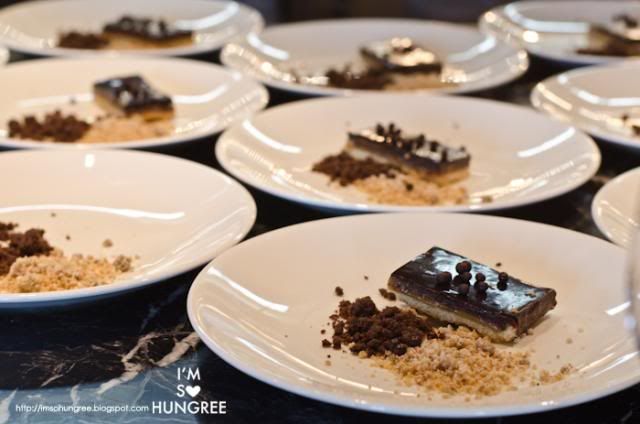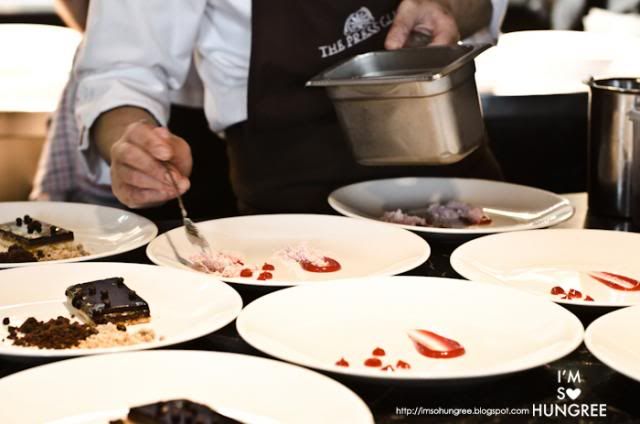 Dessert had been tantalisingly waiting in front of us on the chef's table throughout the whole service and it was quite fun to watch the young apprentice put the final scoop of ice-cream on to each of the chocolate and salty caramel tarts.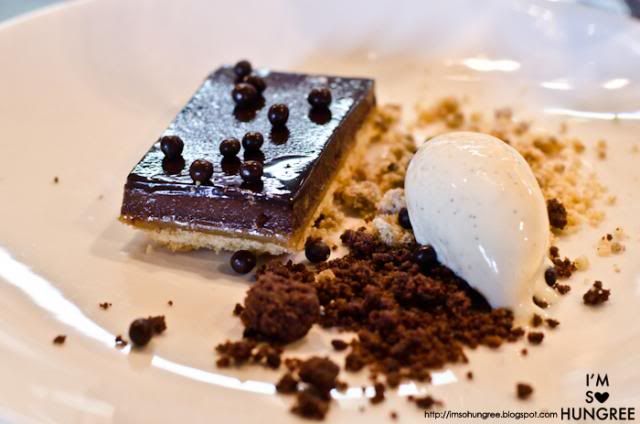 Aww yeah, you heard me. Chocolate and salty caramel tart with vanilla ice-cream. Here was a glossy little bit of sexy, with the ice-cream neatly perched on effortlessly scattered chocolate and biscuit crumbs. What a temptress of a dessert. It did not fail to satisfy, with a rich cocoa flavour and a salty caramel that just took you somewhere else completely. Not too sweet, just thick and dense enough to be sexy, and a nice mix of textures with the soft tart and the crumble on the side.
Love seeing vanilla bean dotted through the vanilla ice-cream too, really gives it that extra punch.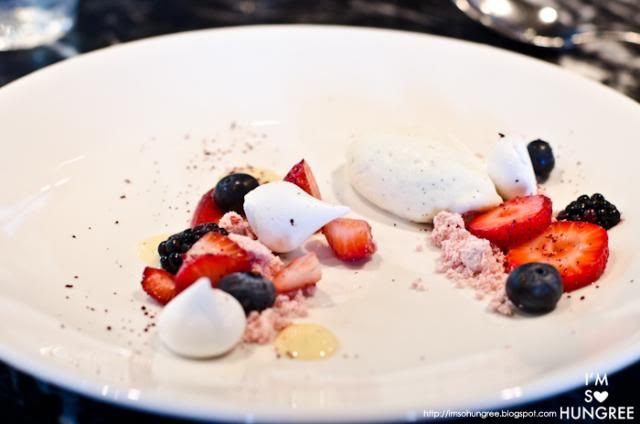 We also tried The Press Club Greek mess, with ouzo, strawberry and sumac. It was beautiful, with elegant colours and a tweezer precision layout, but it just felt a little bit small. It was a little difficult to appreciate all the flavours in one bite as there was so little of everything, and quite a lot of components! The little meringues were just gorgeous in particular though.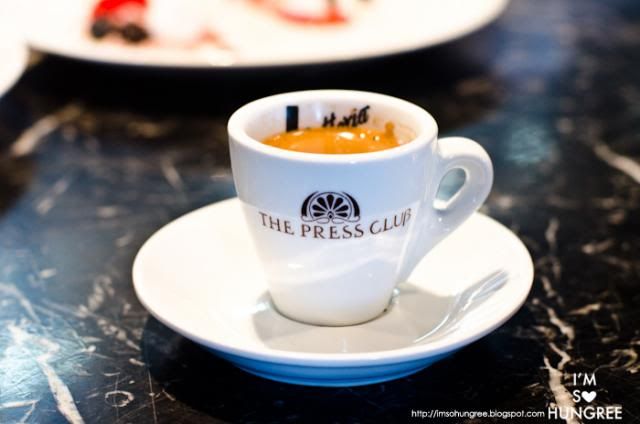 Caryn and I left The Press Club, reluctantly, with smiles and content bellies. I was surprised at how generous the main portions were and after this meal, only wish I had the opportunity (and the money) to visit for the full experience. Suppose will just have to hang out and see what happens to the space in the near future…