With the number of restaurants that pop up in Melbourne, it's easy to hear or pass by a new place, mentally put it on the list of places to go to…and then just mentally check out and forget about it. Until after you've had dinner elsewhere and that blanked out mental list suddenly comes back to the forefront of your mind.
So inconvenient brain. So inconvenient.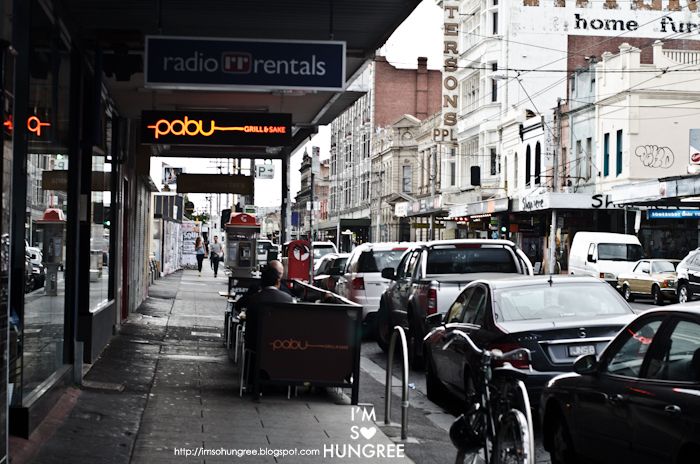 Fortunately, with plenty of food bloggers around, someone's bound to remember what you forgot, which is exactly what got a bunch of us to Pabu Grill & Sake in Collingwood when Christina (The Hungry Australian) was visiting Melbourne!
There are seriously not many more joyful occasions, I think anyway, than when a bunch of enthusiastic bloggers (in this instance Bryan, Winston, Adrian, Christina and myself) get together. There is always so much laughter, smiles, gasping and vibrant story-telling. Even conversation about snakes who plan to eat their owners. Seriously. It's pretty creepy.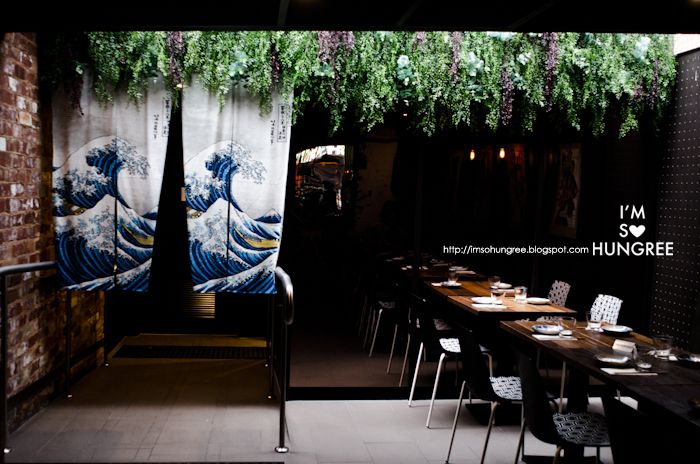 When Winston organised our booking at Pabu, they very cleverly put us in the covered courtyard area, which was just perfect as it was separated from the main seating area…as we proved louder than we thought we were. A group were seated next to us after we got in, but left shortly after we all started laughing quite loudly…oops!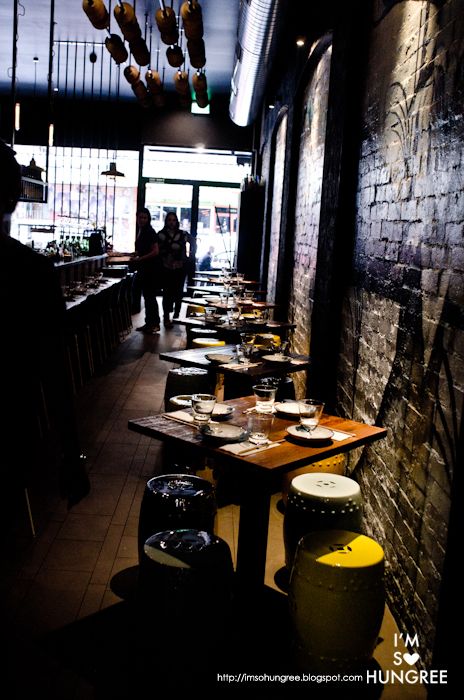 Pabu is dark, broody, relaxed and simply cool. It's much bigger than it seems from the outside, and as mentioned, I love the little courtyard area, particularly on the cool and comfortable night it happened to be.
With a rather hearty sized menu, that really had a huge variety, the 5 of us did not hold back in ordering!
Edamame is always hard to fault and we loved the crunchy reckon, sliced lotus root chips. These were quite a bit thicker than the ones I had had at Izakaya Jiro, but these were enjoyable in their own right, with a satisfying crunch.
Since we were all driving, we didn't go crazy on the drinks, but we all did very much enjoy an early cocktail. The cocktail list is whimsical, with distinctive Asian twists, incorporating sake, umeshu and sochu into many of the offerings.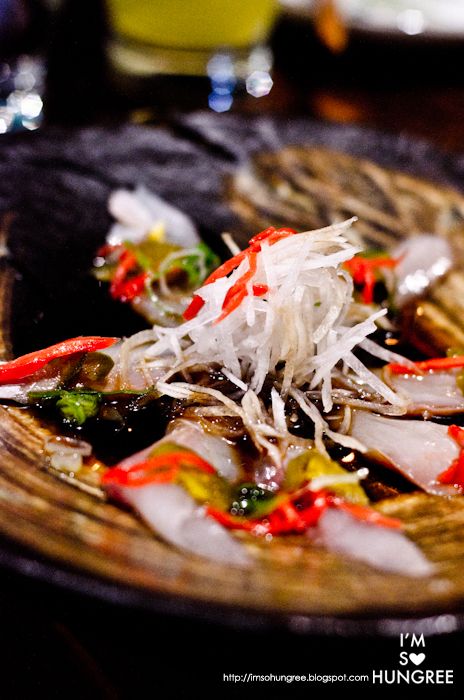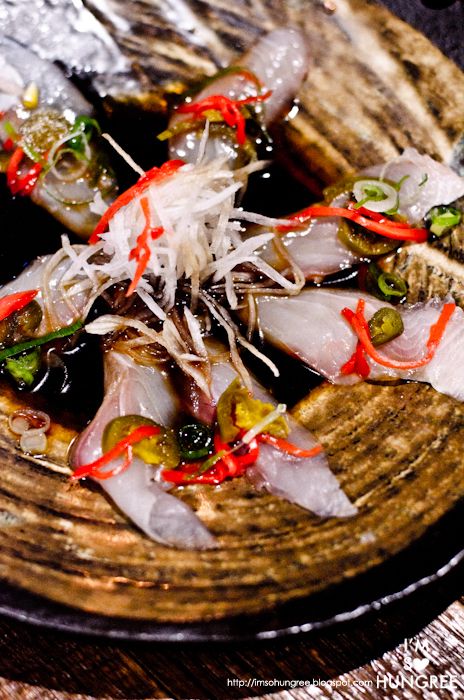 The Hamachi sashimi, kingfish served with yuzu soy and thin slices of jalapeno chilli, came highly recommended by Winston…so we naturally had to have it. And definitely a recommendation I would be only happy to pass on. Beautifully presented, it was cool, fresh, smooth on the tongue, full of zest and a nice hit of heat. Perfect palate cleanser and a great way to start the meal!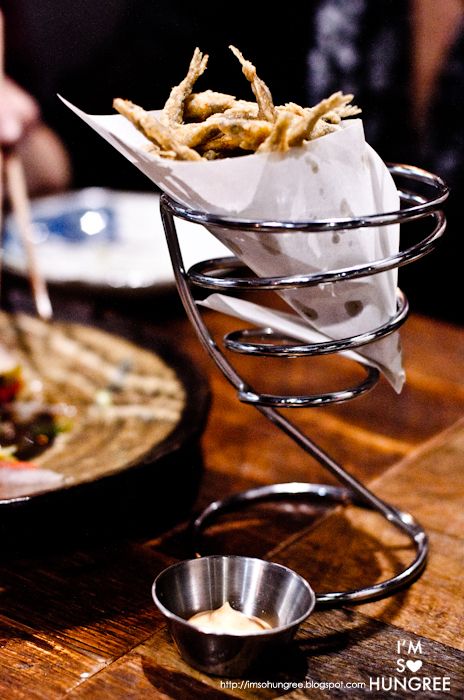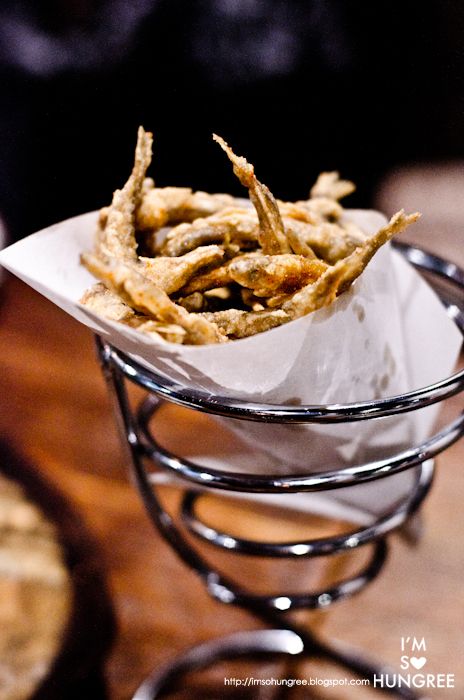 Because we all love white bait, we then ordered the Wakasagi Karaage, fried white bait with spicy mayo. Served in the ever popular paper cone, I adored how these weren't just crunchy, but actually had quite a bit of meat to them as well when you bit into them and a distinct 'flavour of the ocean', without being too fishy!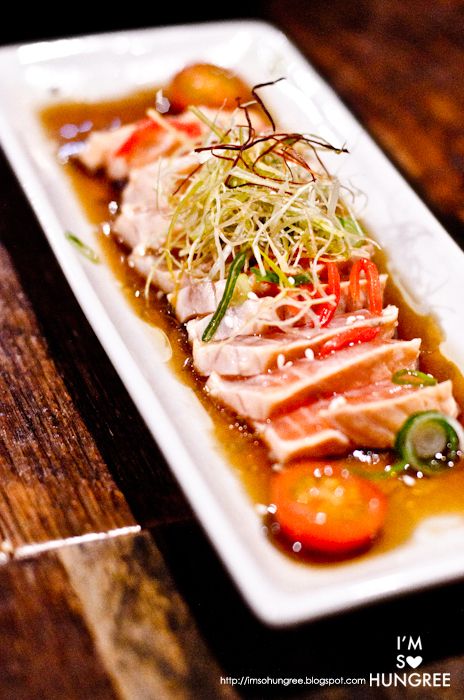 Sake Aburi sashimi consisted of slices of salmon, lightly seared with hot sesame oil, ponzu soy, ginger, spring onion and roasted sesame, which meant they were just small divine squares of buttery smooth goodness. There's just something about searing salmon sashimi which gives it such a beautiful texture, maybe the slightly firmer exterior emphasises just how smooth the inside is? Ponzu is also too good. Too good.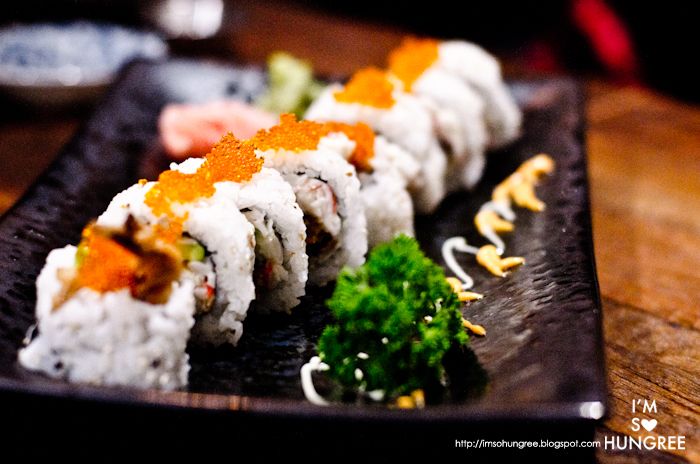 For me, the Pabu famous Watari Kani Maki, or basically, their version of the soft shell crab roll, wasn't a stand out in my books. Sure soft shell crab is delicious, but after all the excitement of the textures and flavours in the other dishes, this was a bit of a flat note for me.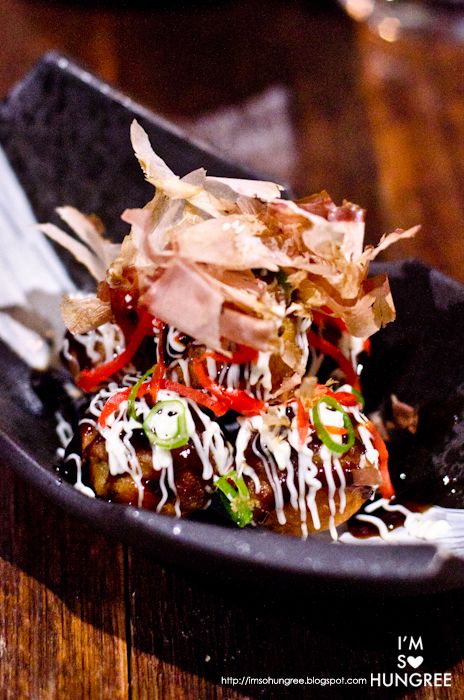 But that's okay because there was takoyaki. Which always wins. Especially when it's covered in mayo.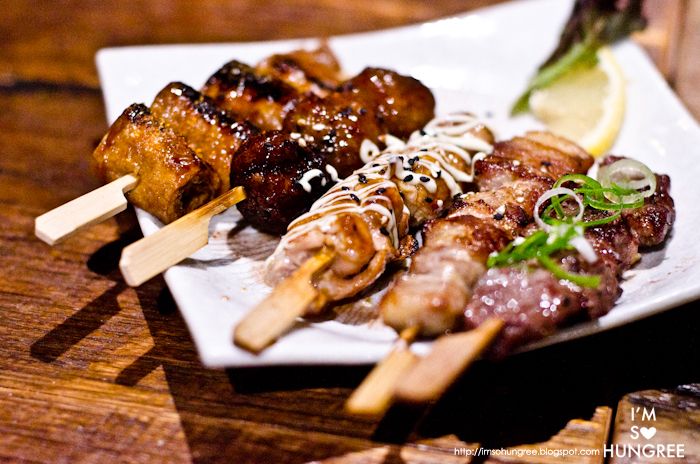 And also because we then actually tried out the 'grill' part of the restaurant when the Pabu sukiyaki set was popped down in front of us. The set consisted of chicken meatballs, chicken thigh, bean curd, beef and pork belly. Each stick was a juicy, meaty bite of goodness (except for the bean curd, which was still very good in it's own right), with just the right amount of black charred bits to make you salivate that little bit more.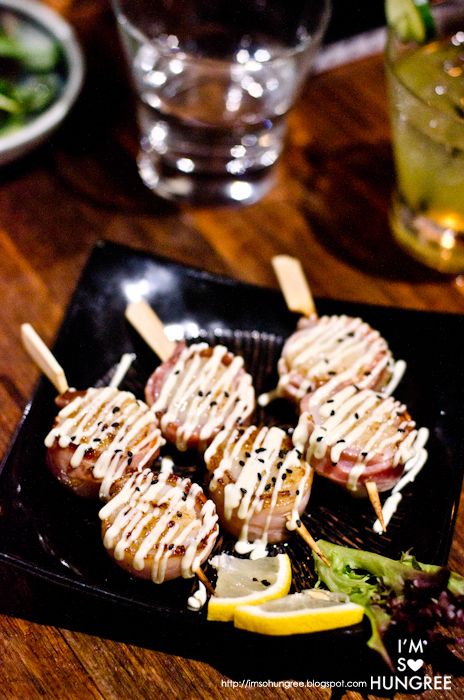 And although we had a good number of grilled goodies we just had to order the grilled Hotate as well, large juicy scallops wrapped with bacon and wasabi mayo. I mean really. Bacon. Scallops. Grilled. Fragrant. Kewpie mayo. What more could you want? Bacon makes everything better, especially juicy perfectly cooked scallops!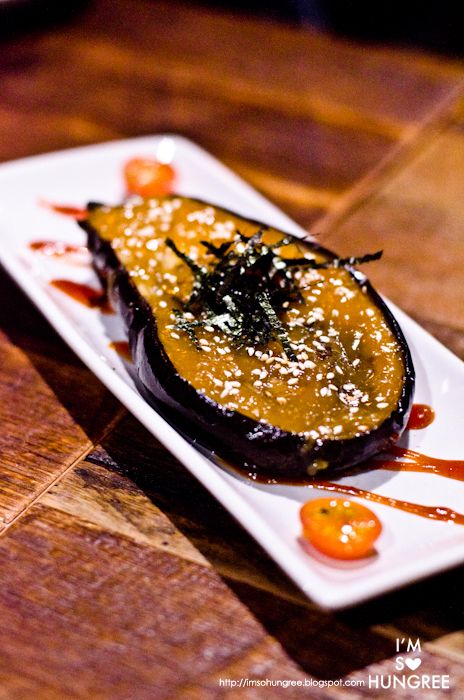 In an attempt to be 'healthy' we ordered an extra 'vegetable' in the form of the nasu dengaku, something we all apparently had a soft spot for! It was rich, smooth and with a good strong miso flavour.
With all the savouries that is! Bring on dessert!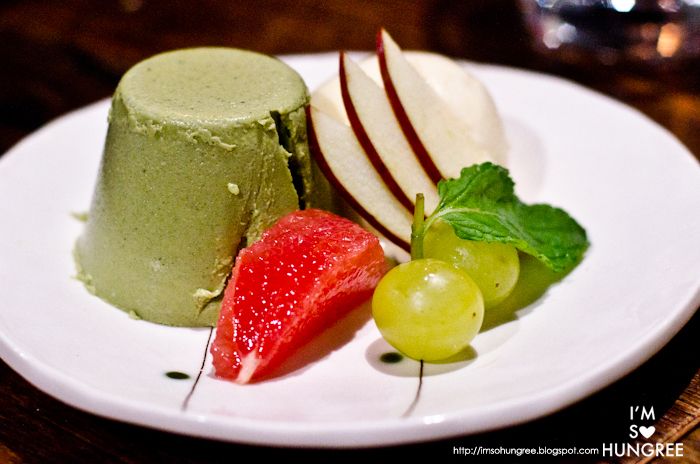 Whilst the Matcha pannacotta was very enjoyable, with a slightly denser consistency, which always seems to work well with green tea in my opinion, the dessert moriawase was an absolute treat!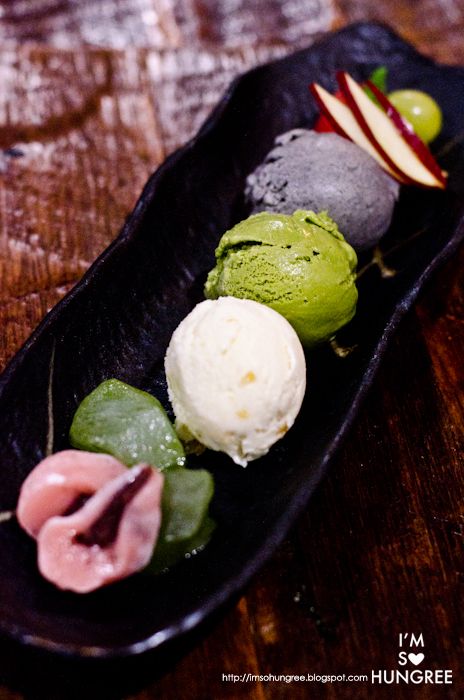 With a scoop of Matcha ice-cream, black sesame ice-cream, yuzu sorbet and some mochi, it made for a light but rather tasty sharing platter between the five of us. Although the matcha and black sesame both had lovely strong and intense flavours, I think the yuzu sorbet really caught us all off guard with how enjoyable it was!
I think it was Adrian who had the first bite and exclaimed that it tasted like lemon cheesecake. With the rest of us all a bit bamboozled by this, we all naturally stuck our spoons into it after and confirmed his initial reactions. Tangy, with a bit of creaminess to it, it was surprisingly my favourite flavour of the night I think!
Pabu proved to be the perfect spot for the bunch of us to have a very relaxed and enjoyable meal…at a surprisingly affordable price. For everything we ate, and a cocktail each, we only dished out about $40 per person (and yes, we checked the bill, everything was on it!). The waitstaff were also very friendly and quite open with making suggestions on their favourite dishes and having a little bit of a laugh with us when they walked out and saw us all wielding our almighty cameras.
For a casual, tasty and easy going meal, with surely something to suit everyone, I don't think you can go too wrong with Pabu!
As I've said before, I don't think there are many more occasions more joyous than when food bloggers gather. After all, you have laughter, food, full bellies and excellent pictures to remember your meal with. Good times all around no?