Disclaimer: I was invited to have a complimentary meal at Ayatana
Whilst it's always nice to check out the newest and coolest spots on the Melbourne restaurant radar, it can be easy to forget that there are plenty of other restaurants, serving quality food, that slip under that radar and go unnoticed. Ayatana seems to be in this space, being well rated on Urbanspoon but yet it's a spot that just doesn't come to mind straight away if you ask me to think of modern Thai cuisine (double Chin anyone?).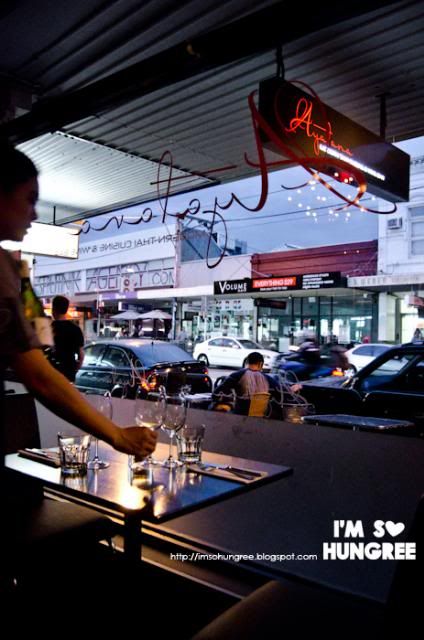 So I was pleased to be reminded to check out Ayatana (as it had been on my wishlist) when Brad and I were invited to have a meal with them. Located on Chapel Street, on the Windsor side of town, Ayatana is an intimate little restaurant. The decor is kept simple, mostly black and white, with pictures of Thailand, hung around the walls for punches of colour and a reminder of where the inspiration for the food comes from.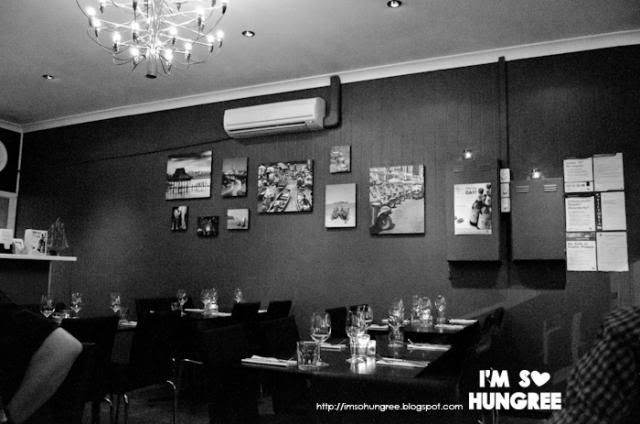 We were greeted by the owner Tony and the incredibly friendly waitresses, who were nothing but helpful, with great big smiles, the whole night.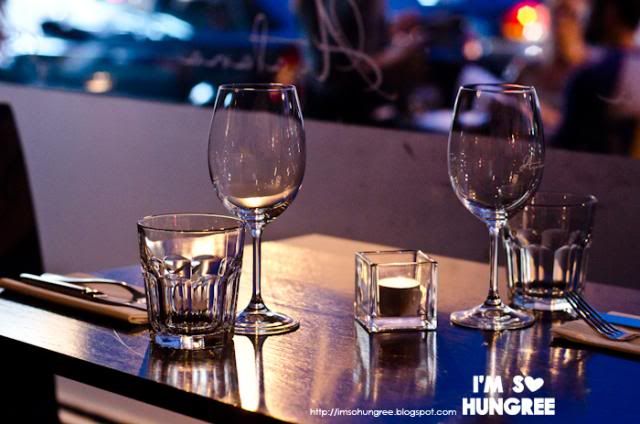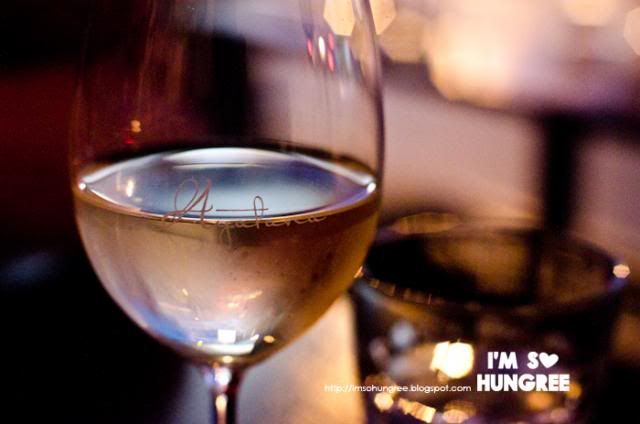 I was fairly impressed with their wine menu, which had some quality (but affordable) Australian and New Zealand wines on it. I chose a glass of the Over the Shoulder pinot gris, from Oakridge, a winery I am fairly fond of.
The menu is large and diverse, starters, entrees, mains, veggies, desserts…where was one to look first?! The menu read distinctly of Thai flavours, but dressed up with some twists and turns. If you're after the typical pad thai, this is not the place for you, but if you want something a little bit different? Ayatana might just fit the bill.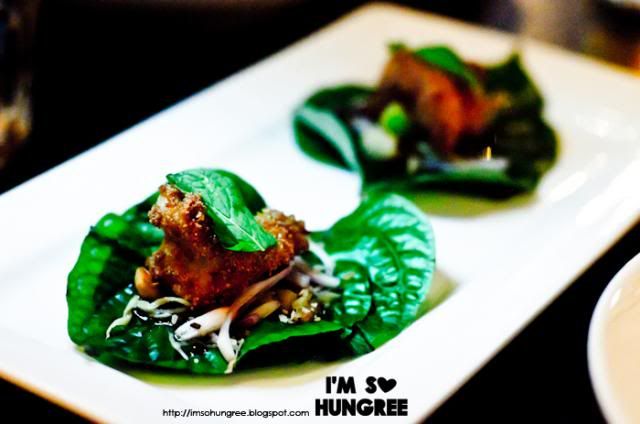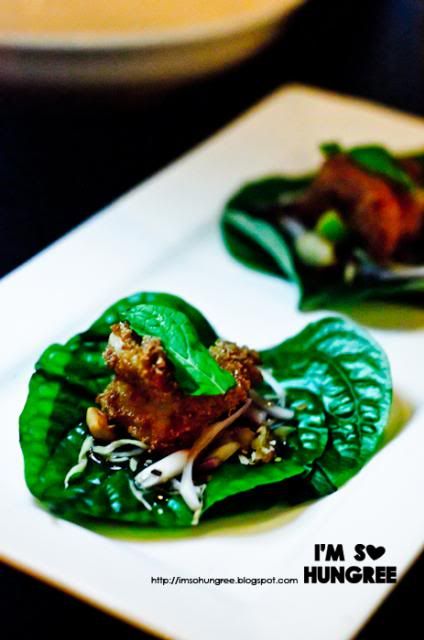 To start we had betel leaves with crispy prawn, peanuts, ginger, mint, lime, roasted coconut, redonion, caramelised tamarind sauce. The problem I've had with other betel leaf dishes, is that by the time a bit of dressing is added, it gets to be a bit of a saucy mess. However at Ayatana, it was a much neater affair, with just enough sauce so that it was a tidy eat. Great fresh flavours, with a sweetness and a hint of citrus.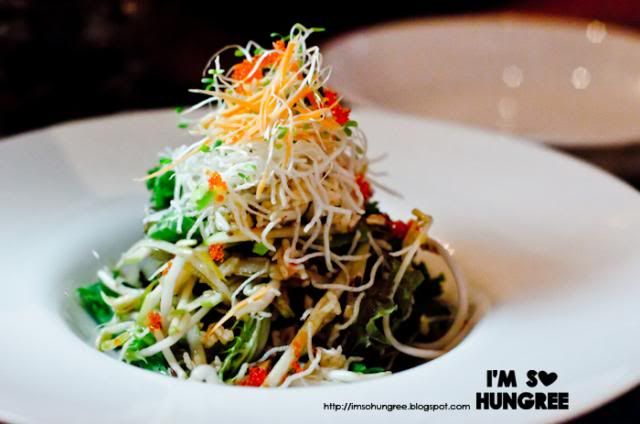 Following that we had a mini mountain of a salad, which was made up of sweet crunchy tamarind rice, crushed cashew nuts, green apple, bean shoot, mint, coriander, red onion, crispy noodles and mixed salad. Oh so different, so tasty, bright and as the name states, it is indeed, incredibly crunchy! I loved the roasted coconut flavour through here too. All in all a very playful dish which I would have easily eaten a lot more of! Easily my favourite dish of the night!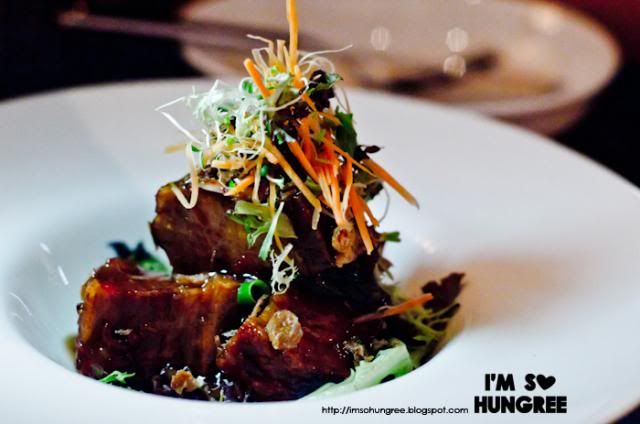 Our second entree was the caramelised crispy pork belly, chilli jam, lime, mint, coriander, red onion and fried shallots. The flavours in this were great, minty and with lots of sweet chilli, however I found the pork belly was probably a little bit hard around the outside for me, which detracted a bit from the dish for me.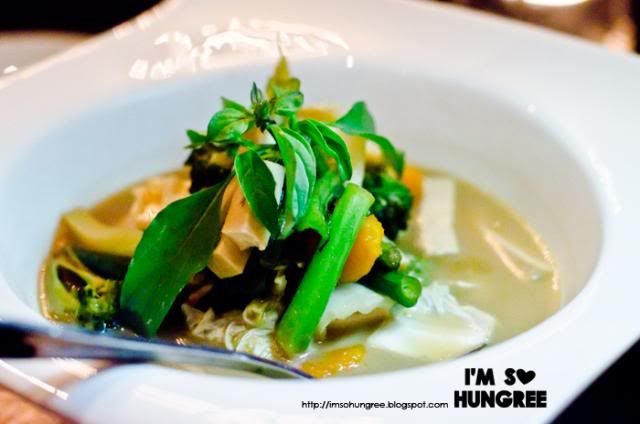 I had to pick at least one 'traditional' Thai dish that I'm fond of, and this was the Thai green curry, except with Japanese pumpkin, tofu, holy basil and vegetables. This was quite a light curry in texture, it didn't have a thick gravy, but was still very nice (and great for drowning rice in). The heat was pleasant and warm in the dish, however I did find it to be quite on the sweet side, and this was due to the Japanese pumpkin that's included. I tend to like my curries a little more savoury, but it was still a very tasty curry.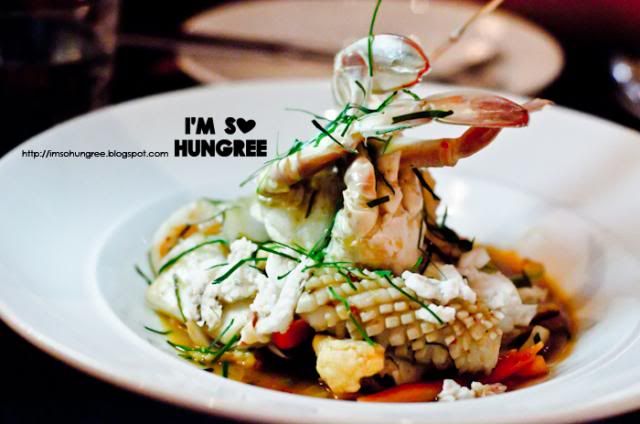 Lastly, we tucked into a whole sand crab, tiger prawns and New Zealand calamari, stir fried with tom yum sauce, mushrooms, cauliflower, onion, vegetables and kaffir lime leaves. Ooh, I loved the tom yum sauce here, could have definitely used a little more! Packed a nice little bit of punch, but also balanced out with a nice bit of citrus as well. Not searing hot for those who can't handle the heat, but just a nice enough amount of chilli to get the senses all warm and tingly. Although an incredibly dressed up dish, the flavours were all incredibly comforting.
It was funny watching the group of 5 caucasian's dining on the table next to Brad and I. As Brad and I passed plates around and shared everything, it was interesting to watch everyone order individual main dishes each, and not have everything in the middle to be shared. Surely people generally know that Asian food is usually designed to be shared? Or maybe these guys just didn't get the memo!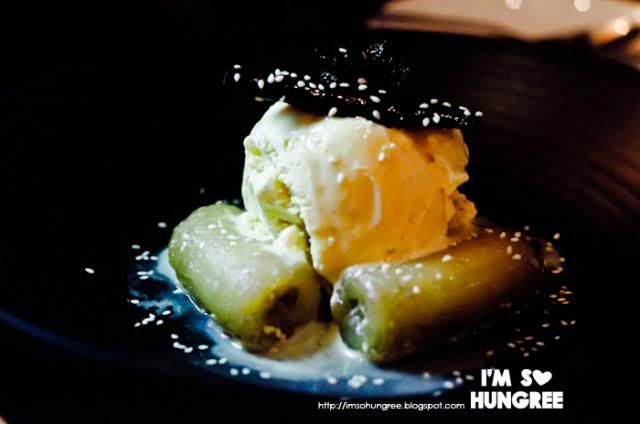 Now, a meal is hardly a meal without dessert. So steamed banana with palm sugar caramel, cinnamon, star anise and vanilla ice cream it was! I was pretty stuffed by the time we ordered dessert, and out of all the other options on the menu, this made for a great choice as it wasn't too heavy. The steamed bananas were a bit different to the typically fried bananas, and they were soft and mushy, perfect with a bit of cold ice-cream wrapped around it. The ice-cream was sensational as well, might I add, from Rickett's Point, dotted with freckles of vanilla bean throughout.
Ayatana is not your run of the mill, cheap and easy takeaway Thai. It is dressed up and creative, but at a pretty reasonable price (from what I saw on the menu). They will challenge some of the typical Thai flavours people may be used to, and are well worth trying if you want something a bit different. Tony and his team are incredibly helpful and caring, and we had a great night overall.