Disclaimer: I was invited to have a complimentary meal at Itali.co with a group of bloggers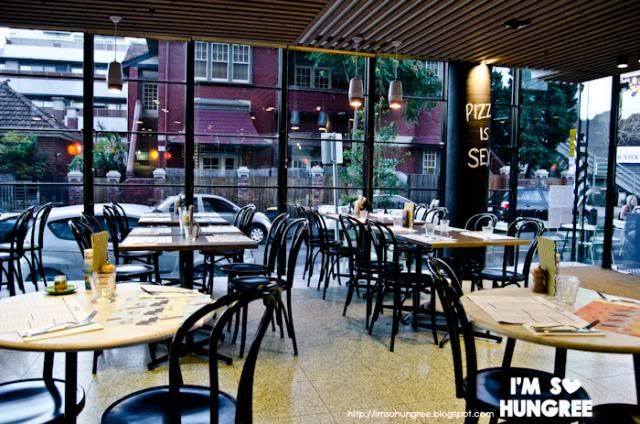 I take it as a good sign when the chef's in an Italian restaurant still have heavily Italian accents, and have to turn to the restaurant owner for help explaining some things in English. You know you have to be getting the real deal.
Which was the case at Itali.co, a new restaurant by Remo Nicoliini (of +39 fame, amongst a portfolio of other Italian eateries) and Lino Maglione in Saint Kilda on Barkly Street (where evening parking is super easy, hoorah!).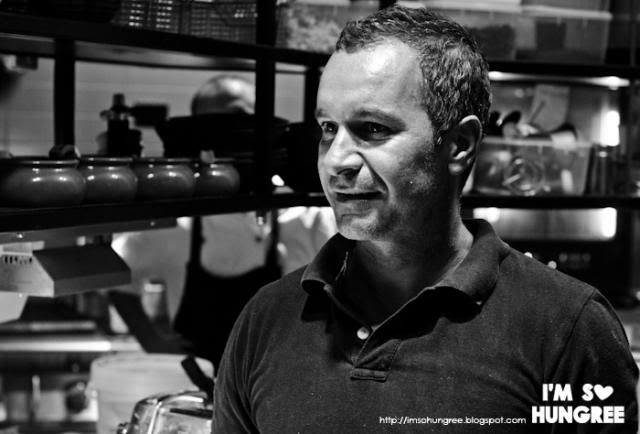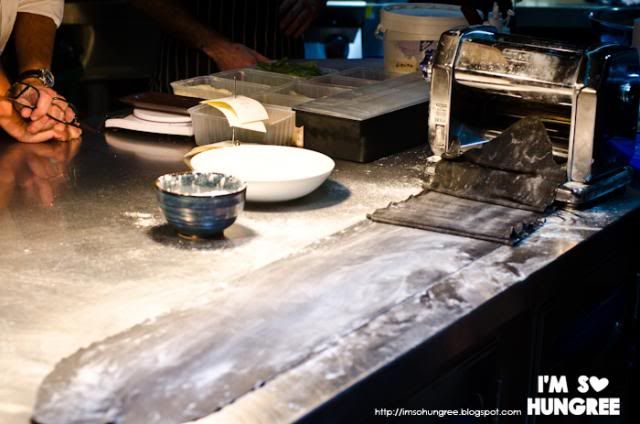 Upon walking in, Caryn and I were directed to the kitchen, where head chef Piero Roldo (previously at Da Noi), was busy making a squid ink tagliolini. He of course, made it look far too easy, and I was absolutely amazed at how thin and consistent he was able to get the pasta.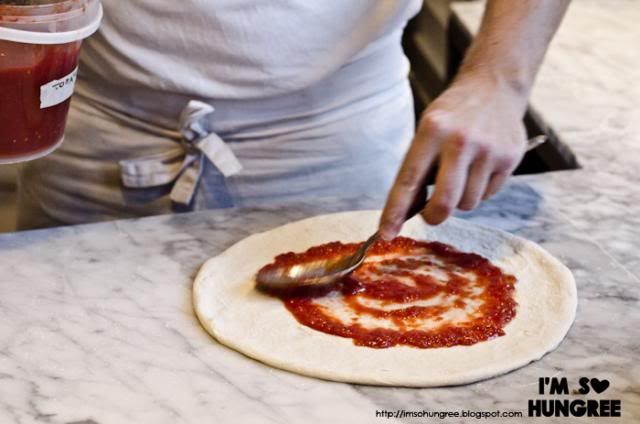 I've been quite spoilt with the pizza making recently, having learnt how to make pizza dough previously, it was interesting to see how another restaurant does it. Co-owner (and pizza maestro, coming from a family of pizza makers from Naples) Lino Maglione showed us how he opened up the pizza dough in about 30 seconds flat.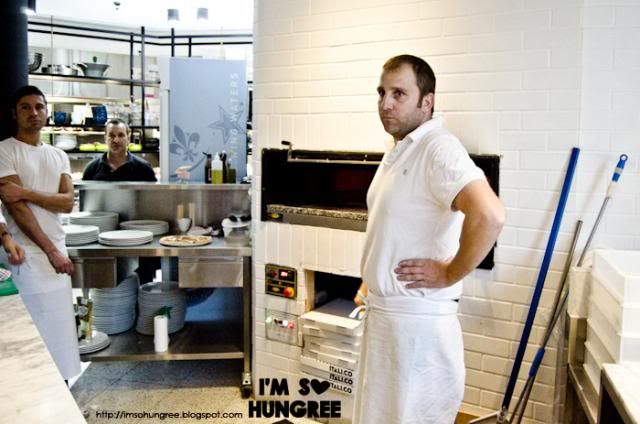 We also got to learn about their pizza oven, which is not just any pizza oven, but a Maranna oven. There are currently only 4 of these ovens in Melbourne, and what makes them so special is that it is a wood fire oven, but also has a gas back up. This allows the chef to just pop the pizza into the oven and leave it for 3 minutes, not needing to check in on it. It rotates around like a microwave, and they can easily fit in 18 pizzas at once!
It weighs in at a slightly hefty price, but watching Lino at work, you can definitely see how useful the investment would be in peak periods.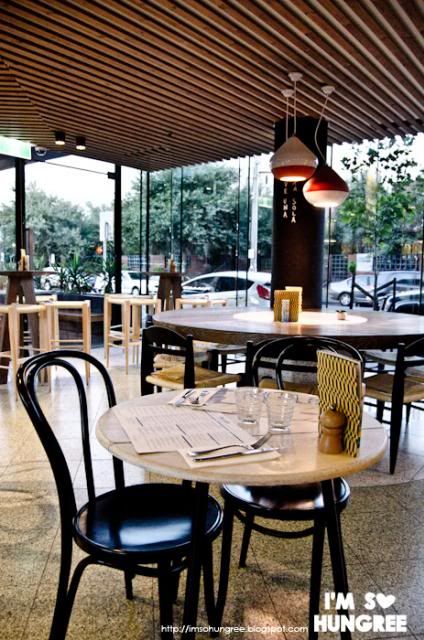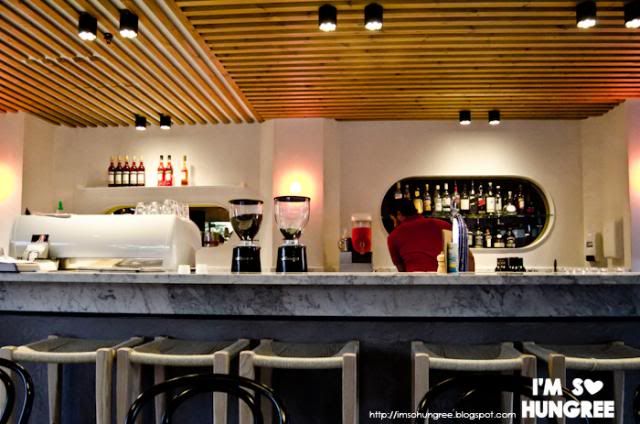 Looking around, I loved how lofty and bright the space was, even in the evening, and was particularly enamoured by a large round stone table, which apparently has a lazy susan in the middle. Too good! More places, especially restaurants that encourage sharing need to get onto what the Chinese have been doing for ages!
Before long though, it was actually time to do this eating thing, which Caryn and I were massively excited about, having made sure we had light lunches so that we could fully enjoy a night of pizza. Little did we know, we would be getting so much more…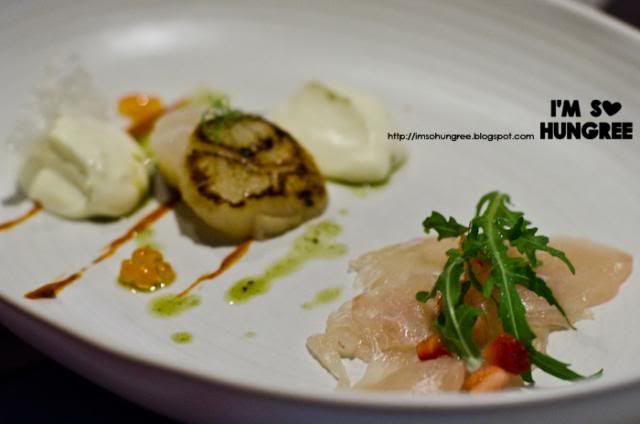 We started with an entree of king fish carpaccio with marinated strawberries and a cauliflower pannacotta with pan fried canadian scallops.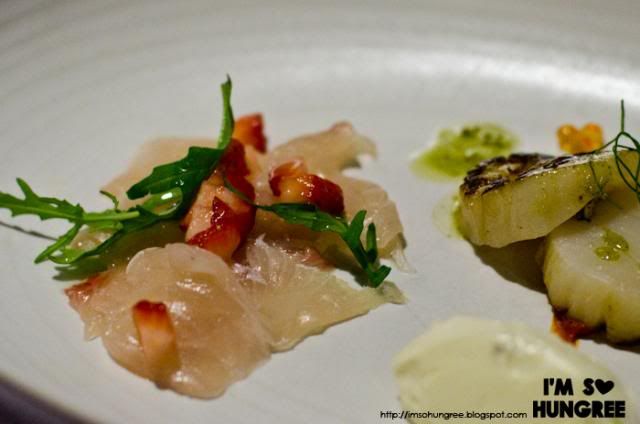 Although the combinations might sound a bit crazy, they're really not and I was quite surprised at how much I loved the sweetness of the strawberries with the king fish. It made for quite a refined, but unexpected combination that was both sweet and bright.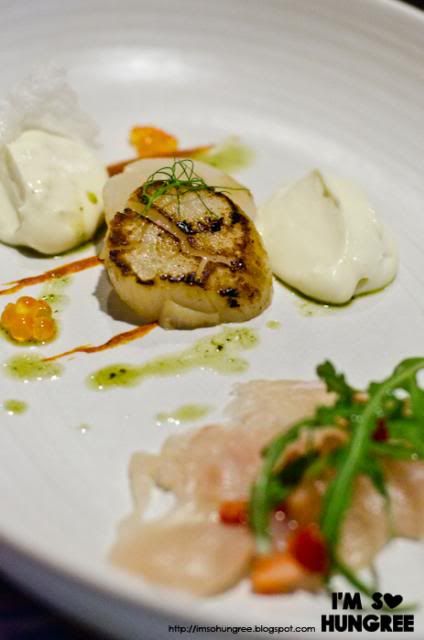 Seriously restaurants have been getting their scallop game on, and these were just so smooth and buttery. I thought the cauliflower 'pannacotta' was more like a creme fraiche or something, but I loved how light and subtle it was, allowing the scallop to shine still.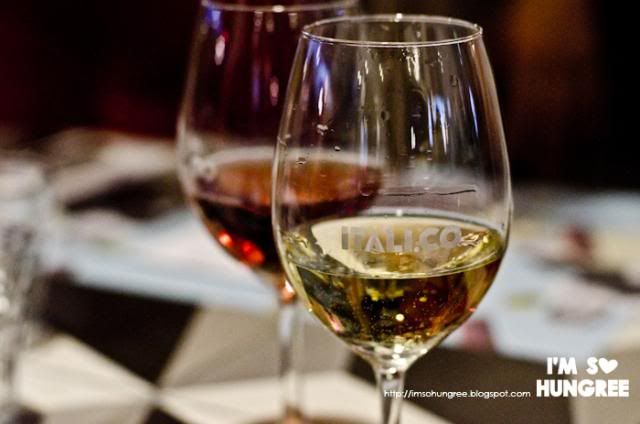 With our meal, we enjoyed some beautifully Italian wine (which I've forgotten the name of), my favourite being a rose that tasted distinctly of strawberries. Just gorgeous!
From the get go, Remo told us to not finish everything and that there was a truckload of food coming.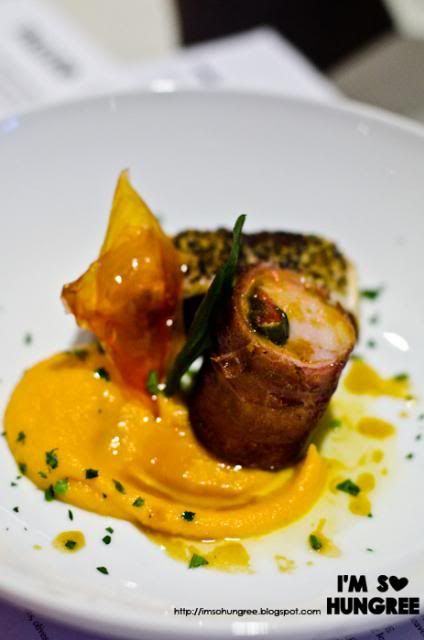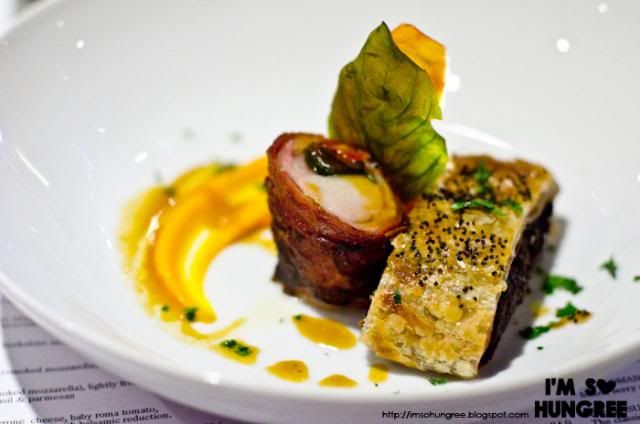 Our next entree was a slow cooked boneless rack of rabbit, filled with sun dried tomatoes and basil served with red cabbage strudel and carrot puree. I loved how elegant the plating was, the carrot puree really giving a nice streak of colour. The rabbit was so tender, and I absolutely loved the sweet red cabbage in the strudel. A hearty, but not overly heavy combination.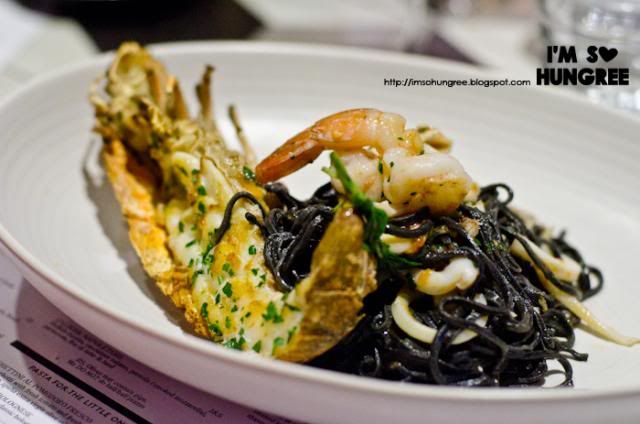 I will admit, the next dish did give us a bit of a fright. The serve of black ink tagliolini (that we saw Piero make), with moreton bay bugs, snapper, calamari, prawns and fresh tomato was…well quite a giant serve. Were all our dishes going to be this big? Nevermind, we must soldier on!
Perfectly cooked, al dente pasta, and a juicy moreton bay bug that just had all of us sucking the meat out of the shell ravenously. Was I sad that I left some of it, for the sake of eating more later? Yes, yes I was.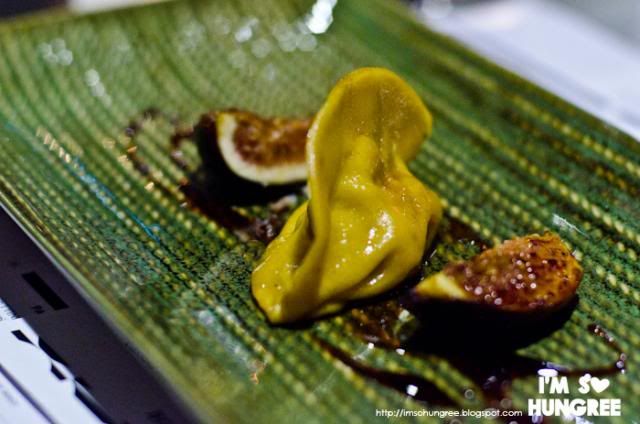 We breathed a sigh of relief though, as the duck ravioli with caramelised figs and a touch of Marsala, was just an individual piece. Phew! We were all a little bemused that it looked like a Chinese dumpling, and the flavours did hint towards a bit of a fusion going on. Absolutely stuffed with duck, it was very tasty and I loved the heavy marsala with the duck, beautiful pairing!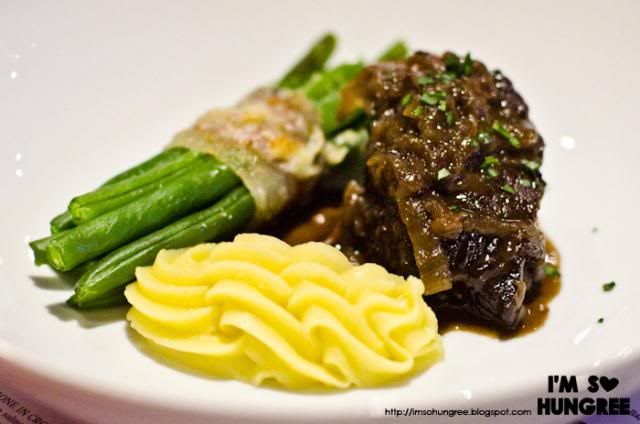 Slow cooked beef cheek with red wine reduction, potato puree and green beans went down a treat. I was incredibly appreciative of the fresh and crunchy beans, which offset the richness of the beef cheek, as it fell apart upon touch. And oh my gosh. That potato puree? Divinity. So, so, so incredibly smooth. I could not get over it! We all certainly agreed that we wanted more!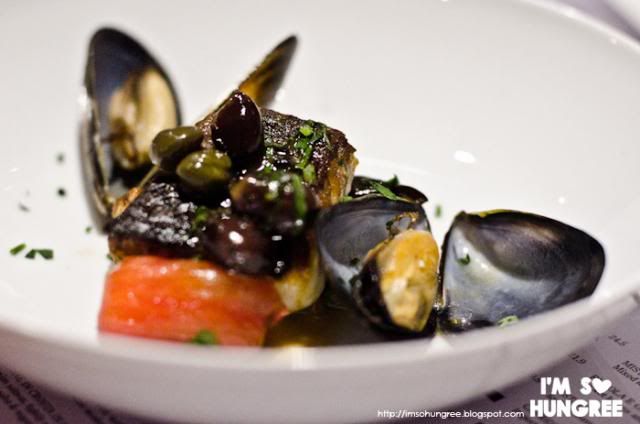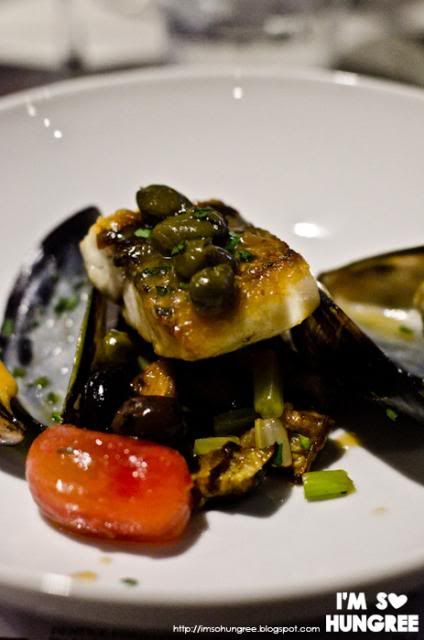 But then the pan fried barramundi showed up with eggplant caponata and mussels, and a small army of olives. Really rustic flavours here, I'm not usually the biggest fan of barramundi, but I really did enjoy how they cooked it and the flavours going on. Hard to go wrong with olives now, really though.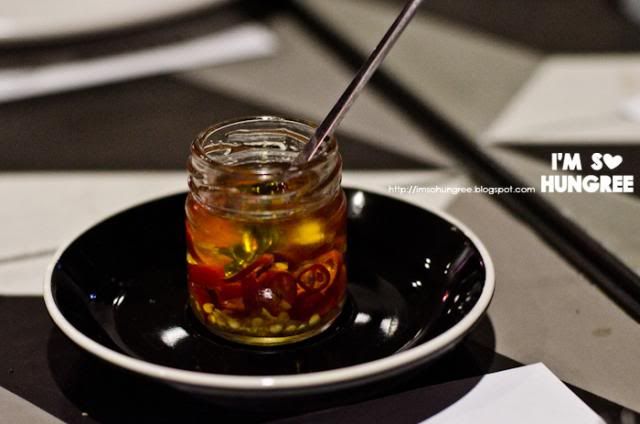 Now I forgot to mention earlier, but if you see this on your table at Itali.co, you need it on just about everything. It's kind of like an Italian chilli oil and boy, does it pack some serious punch. Like, serious punch. You just need a couple of drops on most things to feel this gorgeous warmth, swelling at the back of the throat.
As Caryn and I were sitting across from Remo, talking about his travels in Italy, cultural wedding practices in different countries, we all soon found ourselves scouring the pizza menu and Remo let Caryn and I choose which pizzas we tried that evening.
So we got ambitious and ordered four.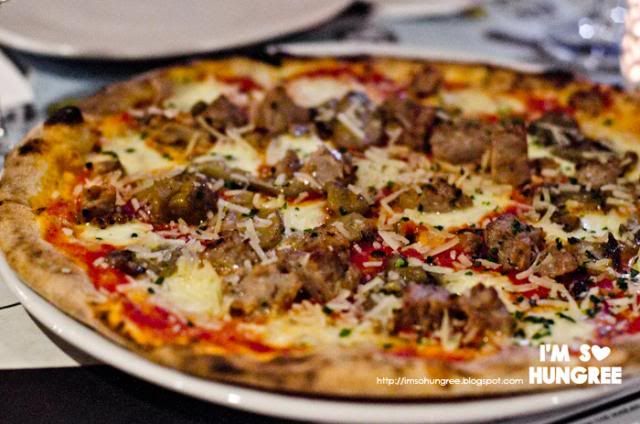 We naturally had to order the award winning Bunga Bunga pizza, which Remo had been talking about all night, fresh mozzarella, berkshire sausage, smoked scamorza, friarielli and fresh chilli. Loads of yum here, big rounded flavours, and well, there's Italian sausage on here. How are you going to go wrong?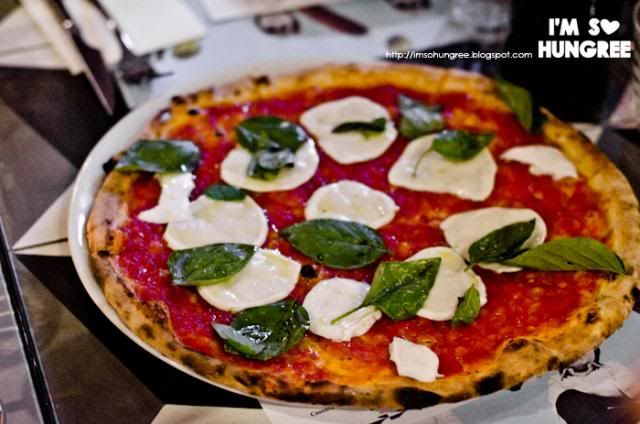 We also had to order something a little more basic, to have a fair comparison and the Giulia, with tomato, imported DOP buffalo mozzarella and fresh basil seemed to fit what we wanted. Overall, all the pizza bases were gorgeous, thin, with a great semolina crunch, I particularly loved how generous they were with the basil on the Giulia.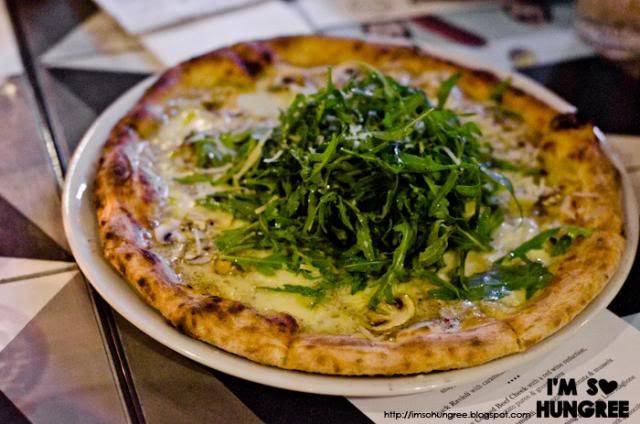 Tartufata, with white truffle cream, fresh mozzarella, mushroom and parmesan, also came with a mountain of rocket! Delightfully fragrant with an unmistakeable aroma of truffle, it went beautifully with a heavy smattering of parmesan which just stretched, ala Lady and the Tramp style, when munched on. Yum?!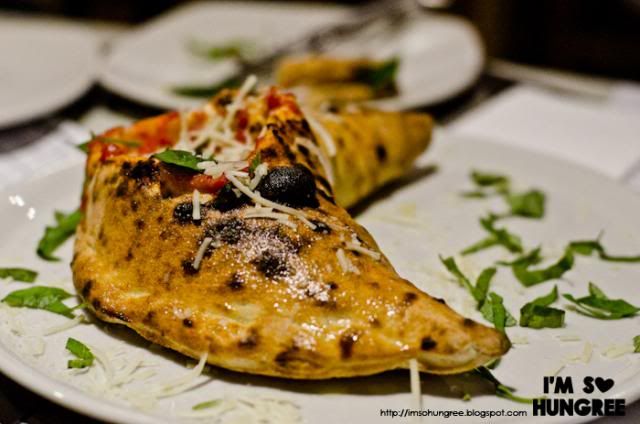 Last on the pizza front, the calzone napoletano. A calzone is essentially a folded pizza and this one was stuffed with buffalo ricotta, cacciatore salame, provoke (smoked mozzarella), parmesan, fresh mozzarella and basil.
Yeah we thought we were good, but then this came out and we all died. I found the crust on this a bit thicker, but it worked well with the ratio of ingredients on the inside, as it was totally packed out!
Are you full just from reading this?
Well we were, but we weren't done yet.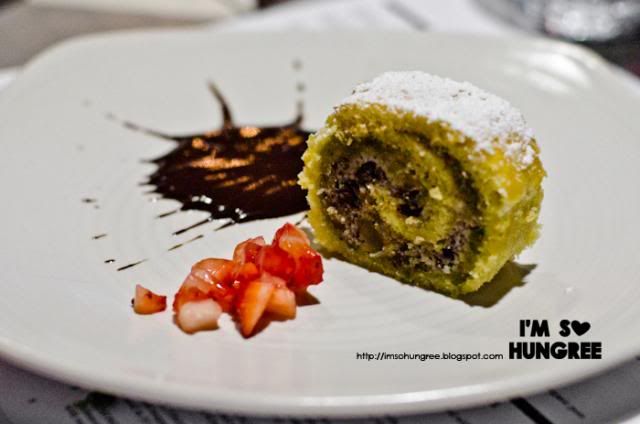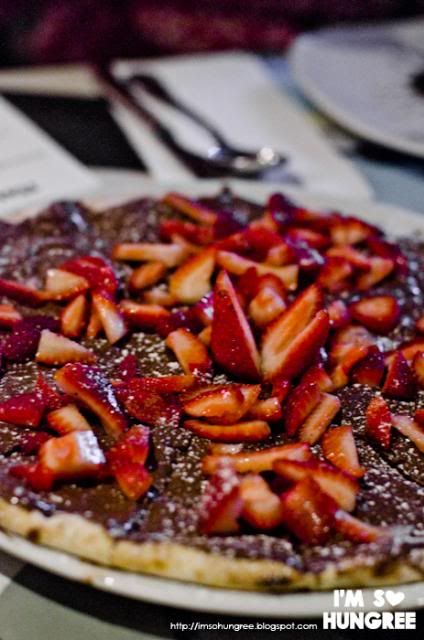 Switching on the second stomach reserved for dessert (surely it must exist?), we tucked in to a cassata (typical Sicilian sweet) with Giorgio's ricotta, served with chocolate fondue and a sweet nutella pizza, with a smorgasbord of strawberries.
Yeah we died. Although the nutella pizza was a bit on the heavier side, the cassata was actually quite light, with an interesting crumbly texture. I loved the nuttiness of it, laced with some fruits which aren't too sweet or overwhelming. Something different, and quite recommended!
By the end of the night, Caryn and I were glad we had both opted for dresses that stretched, as we were definitely full to the brim with completely delicious food.
It was great to see the chefs at work in the kitchen, emphasising on how food-centric the restaurant was and how much they cared about the product they put out to the customer. I really enjoyed being able to eat with Remo, chat with Lino and get to know more about their heritage and the long standing background they had in restaurants and with food.
All in all, Itali.co looks like it would make for a great venue for just about any occasion, with a diverse but well thought out range of menu options, there's something for the family, the couple on a date, or a group of friends.