I'm a bit of a nomad. Born in Hong Kong, but Malaysian, but living in Australia (with 6 months in Poland and Canada somewhere in there too). As such, I've never really had a culture that I associate with the most. I tend to say I do resonate with Australian culture the most, since I spent most of my schooling life here, which is probably pretty accurate.
However, after visiting Malaysia a couple of times last year, whilst I think the place could do with a bit of work (which is a whole different story), I've discovered an empty spot in my being, which is now being filled with pride. Pride that I am a Malaysian and of course, an inexplicable love for the food.
Having said that though, I don't tend to go out for the food much, because it's kind of expensive here and I have the absolute luxury of my parents being able to make darned Malaysian food. I suppose as well, I don't like the 'kopitiam' themed places here, because it doesn't feel authentic and there are so many of them at the moment, all same same lah.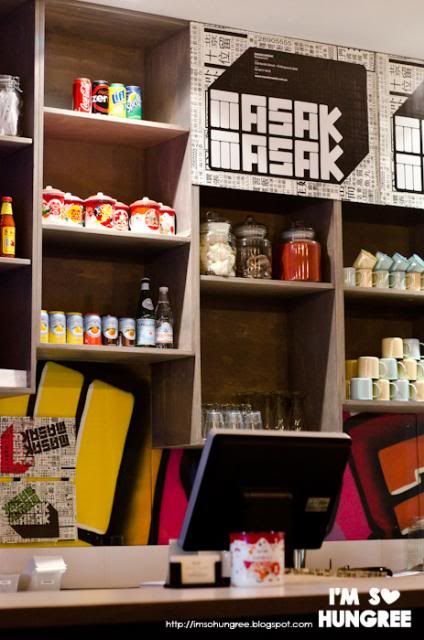 When I heard of Masak Masak, first from my good friends at Luxbite (where I also met Travis, the chef/owner, briefly), I thought it sounded quite interesting and when I heard the doors had opened on Smith Street, I happily bounded over with Brad one evening (or he drove. Same same, lah).
I personally love that this place is open on Smith Street, to add a little something different to the hipster-esque area.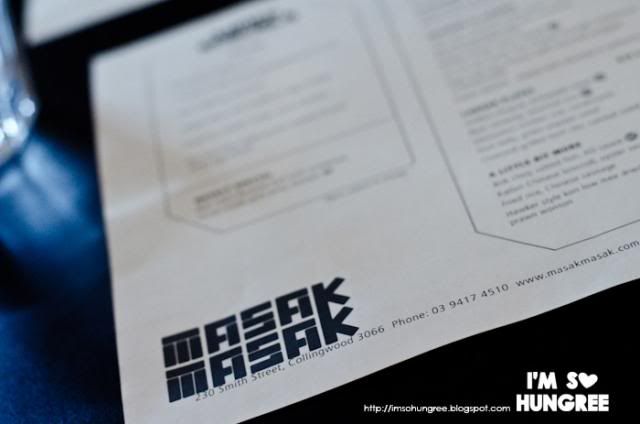 Masak in Malaysian actually means 'cook', keeping it fairly straight forward hey? Although the food is very distinctly Malaysian, the environment is fresh and playful, which is accompanied with a couple of modern twists slipped onto the menu.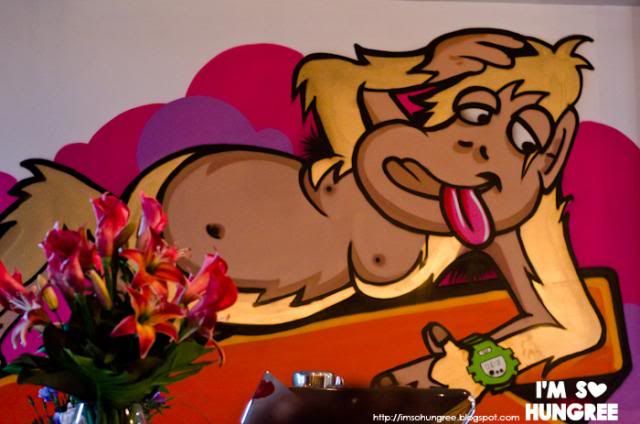 Walking in, Masak Masak feels modern and new, with some funky and very brightly coloured graffiti on one wall, and plenty of pops of colour throughout the place. There is certainly a bit of personality to the spot, which I love!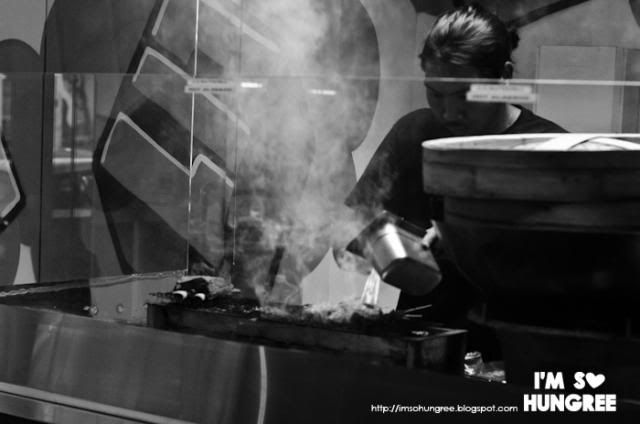 The first thing you see upon entering, is the charcoal grill and the bamboo steamer. On the grill the satays, and a variety of other dishes are finished off, to get that real old school char flavour to it. It's exciting watch the smoke dance up when the meat gets put down…you just know something delicious is coming out of that soon!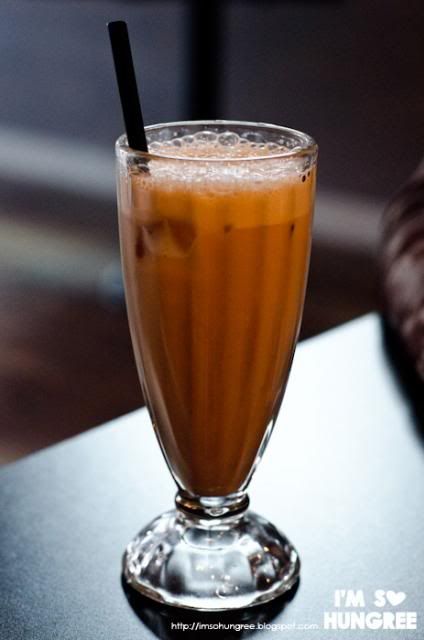 Teh tarik! I don't normally drink this in the evening, as I fear I may never go to sleep, but couldn't resist, as it had been a while since I last had one! I found this one to be good, wouldn't have minded the tea flavour to be a bit stronger, but pretty good overall otherwise.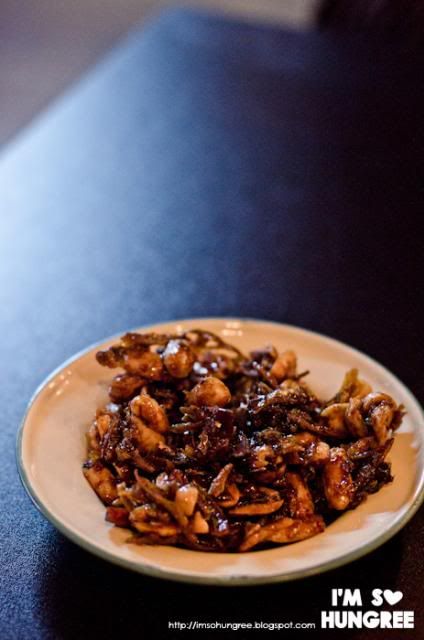 Travis, the chef, was kind enough to give us a complimentary serve of the anchovies, peanut, chillies and kicap manis. Oh man, let me tell you, I adore this stuff. Sticky, but soft, but crunchy, sweet and hot, I could eat bags of this. And then I would be fat. But my mouth would be eternally partying. I felt that this could have used a little more chilli throughout, I didn't get the heat really until the end, but on a whole I really liked it. I only felt that it might be a bit pricey at $5 a serve, but I haven't seen anywhere else offer this yet.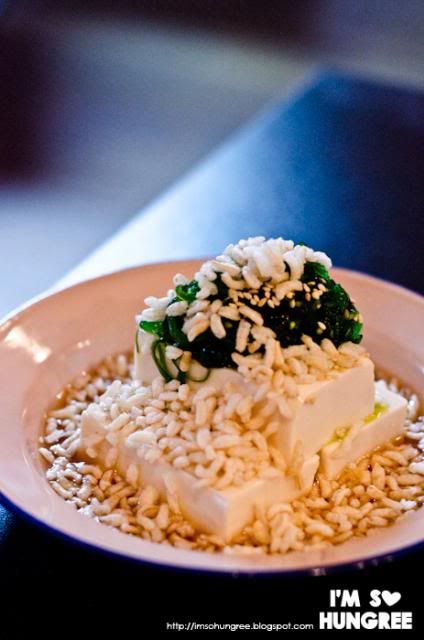 To offset the meat we were planning to have, Brad and I made sure we had a couple of healthier options to balance ourselves out. So out came the silky tofu with wakame salad and brown rice puff. This was actually served cold which made it really refreshing. I loved the brown rice puffs for a bit of crunch against the silky tofu, but you have to eat it relatively quickly or it can got a little soggy.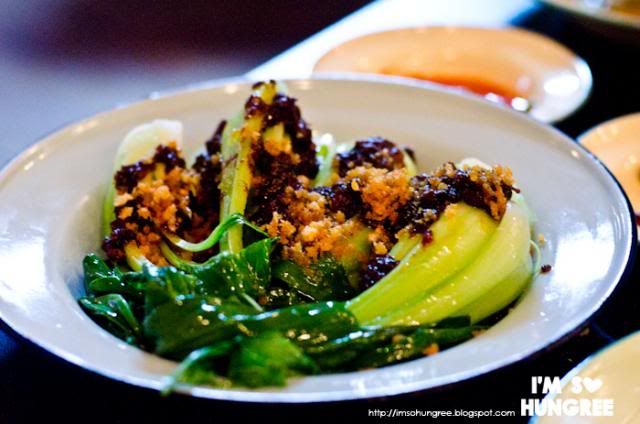 The bok choy with salted fish and XO sauce was crunchy and generally pretty tasty. Although these were a little inelegant to eat, since they are whole, and we had no knives, so Brad and I attempted to stuff these whole in our mouths.
Not such a sexy look. Guess it's fortunate that it wasn't a first date or something!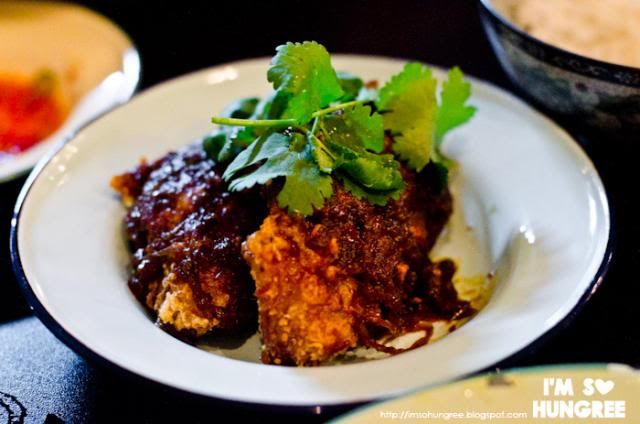 Brad and I were also given a complimentary serve of the buffalo wings with onion sambal to try, as the waitress said it was one of their signature dishes, and said the chef didn't want us to miss out on it. Why not then?
Phwoar. These were naughty. And delicious. Finger-licking delicious. You must eat these with your fingers, to get the fullness of that delicious and crumbly batter, succulent chicken and sambal. Oh man the sambal was good.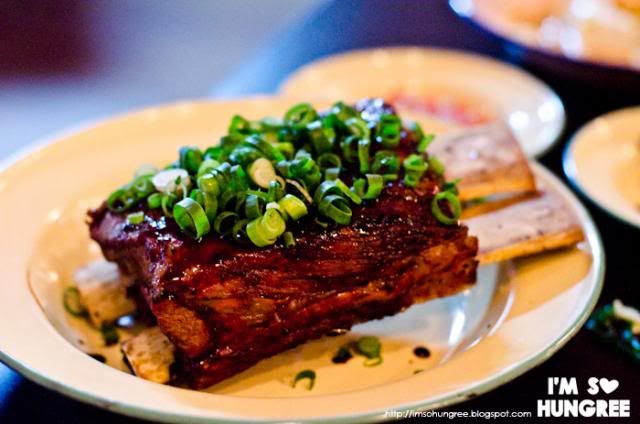 The piece de resistance of the night for me though, was the charcoal grilled beef ribs with sambal oelek. Oh goodness. All the happy times! We had two pieces, and on both pieces, you could just pull out the bone from the meat, completely clean. The meat was so gorgeously tender, and although the sambal was an interesting condiment, it worked really, really well. This is a slightly different sambal to the one on the wings, more like the chilli you get with hainan chicken. Must have dish in my books!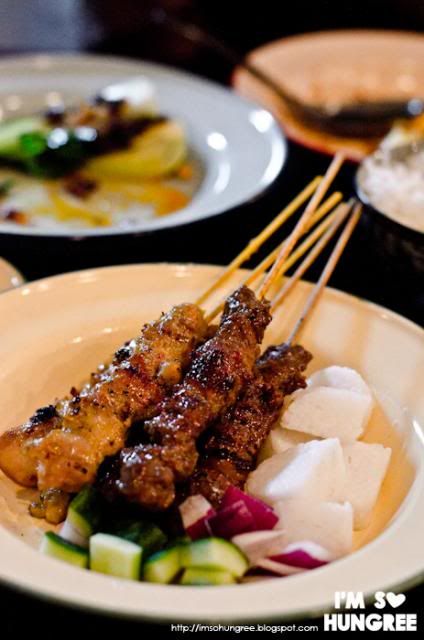 Last, but of course not least, the satay chicken and beef with condiments. One thing I totally loved about these, is that they were served with the little rice cubes, which is very typical in Malaysia, and something I haven't really seen here in Melbourne yet.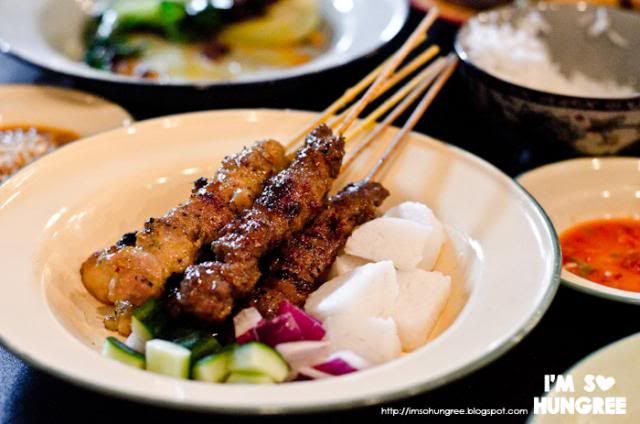 Naturally, having been thoroughly grilled over charcoals, both the chicken and the beef had a lovely charred and smoky flavour to them. I personally thought the beef could use a little more seasoning, it was nice and beefy, but missing a bit of the spices for me. However, Brad like the beef more than the chicken satays, where I was the opposite. Maybe I just liked the overall juiciness of the chicken satays more?
Regardless, this is just me nitpicking and honestly, I really enjoyed our meal at Masak Masak. Brad did notice though that there wasn't any beer available, and I'm not sure if they are just waiting for their license, or they don't plan on offering alcohol. I think it would make a huge difference (especially in the Collingwood area) to at least have a few beers on the menu, a Tiger wouldn't have gone wrong here.
Again though, me nitpicking. Gah. Travis is doing a great job here and I wouldn't be surprised to see more Malaysians come by to check out the food and have a little taste of home. Their lunch offerings at $10 a pop seem like an absolute steal and I'm a bit bummed the Hainanese chicken isn't offered on the dinner menu…but I guess that means I just have to come in at lunch!