So just a little warning guys. Lots of pictures. But what else is new really?
Having spent our first day in Hobart exploring the city and checking out the area, we determined that day two would be spent checking out the infamous Mona, Museum of Old and New Art, and seeing if it was as crazy as people had been saying.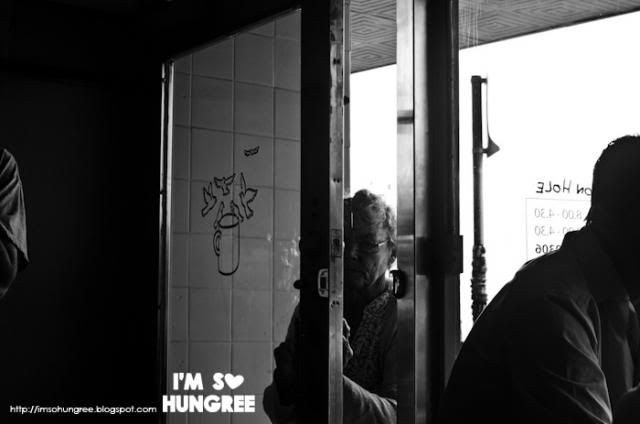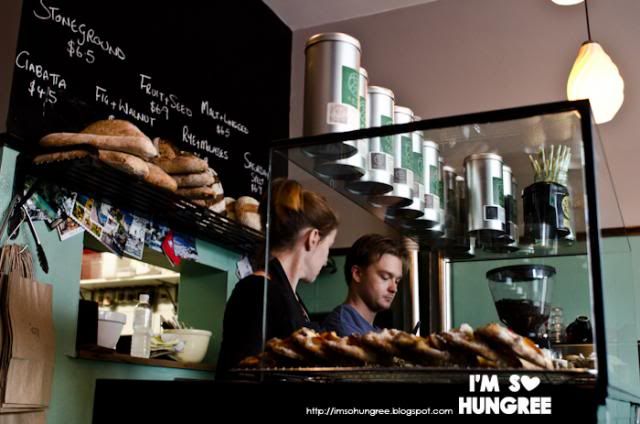 We made our way up some rather steep hills, in oddly humid weather, where we eventually stumbled (in a slightly 'glowing' panting mess) upon Pigeon Hole, a wee little cafe that I've been reading a fair bit about in Hobart.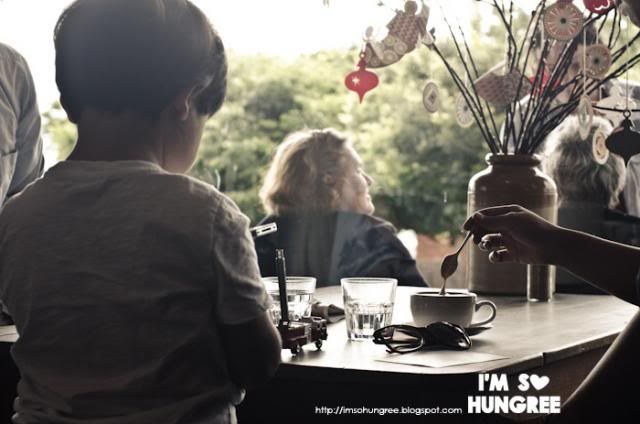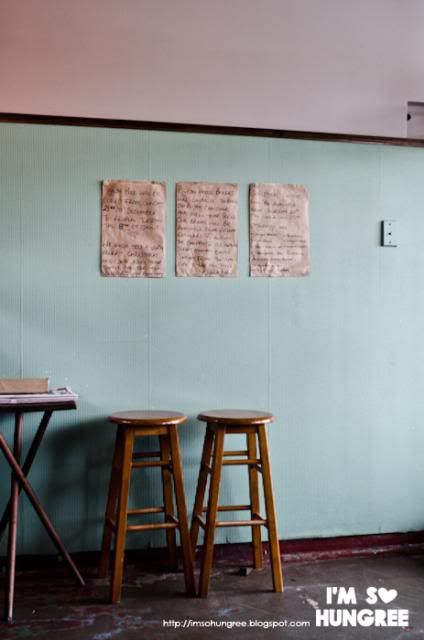 Softly lit, the space at Pigeon Hole is cosy and intimate, with a couple of seats in the foyer, a couple more hidden down a small hallway to another seating area. I loved the cool teal blue walls, it's just a soothing colour to look at, and fortunately Brad and I were immediately able to be seated and quietly sunk happily onto our stools.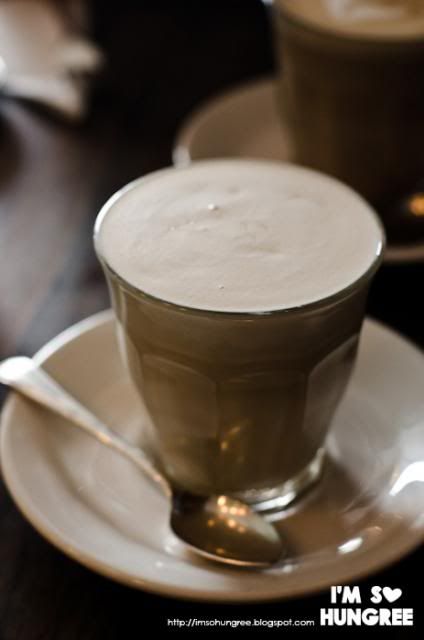 I was suitably impressed by our drinks, Brad's latte had a beautiful colour to it and my chai was smooth and sweet. Definitely wasn't missing out on my chai latte hit's here in Hobart!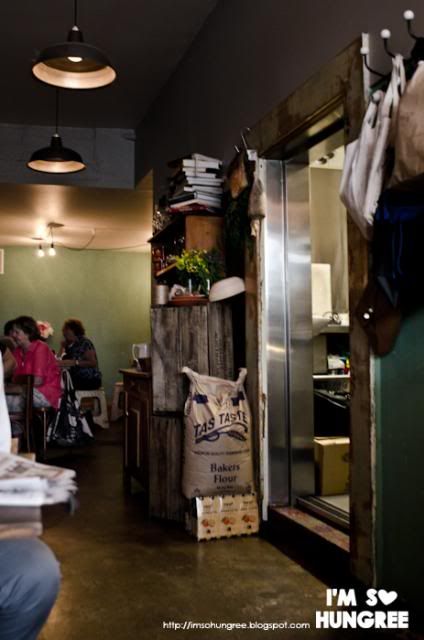 The menu is scrawled onto a blackboard daily and is short and sweet, with simple and honest sounding options.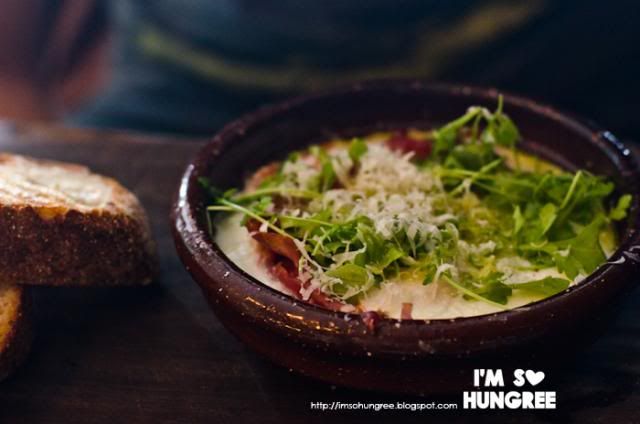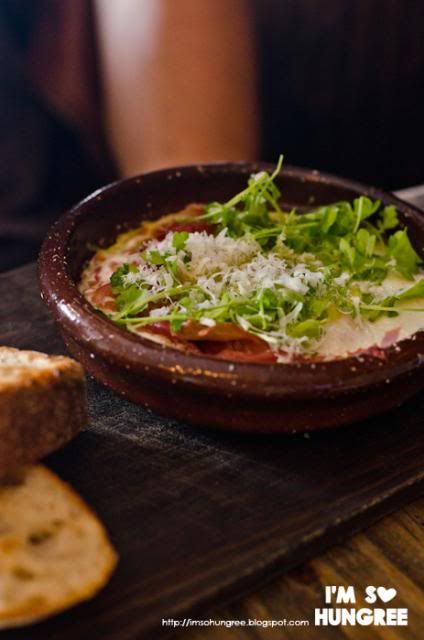 Brad went with the eggs en cocotte (essentially baked eggs really) with jamon, soused onion, mizuna and Grana. It was a modest serving, for Brad anyway, but certainly enough for breakfast, and all good as it was very tasty. With a healthy smattering of grated cheese, what really was not to like?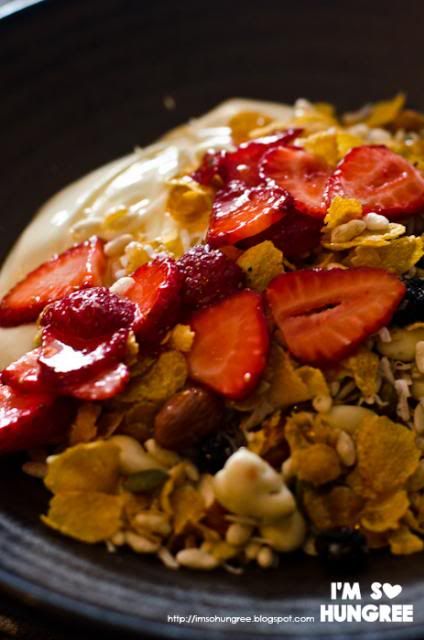 With most of the breakfast options being bread based (Croque Monsieur's, panini's etc), I decided to go with a lighter breakfast option and got the natural yoghurt with gluten free crunch, strawberries and agave. Ah, the strawberries were so sweet! I absolutely loved swirling my spoon through all the ingredients to mix it up, the gluten free crunch definitely lived up to expectations in the 'crunch' department, being a rather healthy looking mix of cornflakes, almonds, sunflower seeds and much more. It was nice to have something a little different to the typical museli or granola.
Down the hill we strolled afterwards, back to our hotel, and to our car, which we drove to Mona.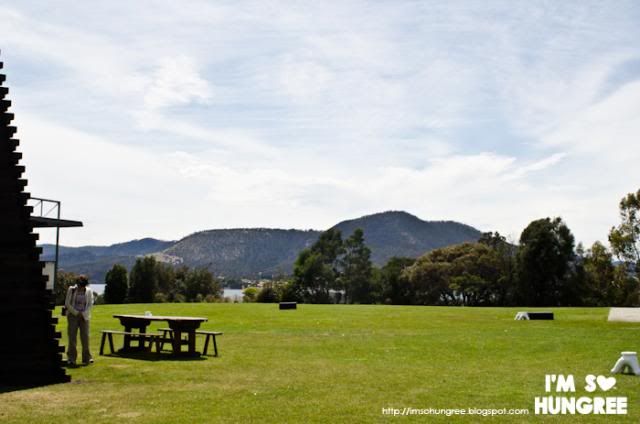 Now if you haven't heard about Mona, it's a privately funded museum, with an eclectic mix of antiques and contemporary art. It's essentially the playground of David Walsh, a professional gambler with a penchant for art.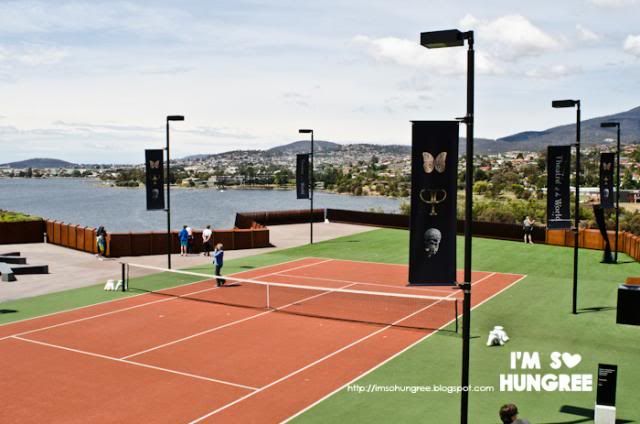 It's located on the Berriedale peninsula, which is just a short drive out from Hobart. If you're not renting a car, you can take a ferry or a bus from Hobart at the Brooke Street ferry terminal, but it is $20 per person return, which kind of adds up in my opinion.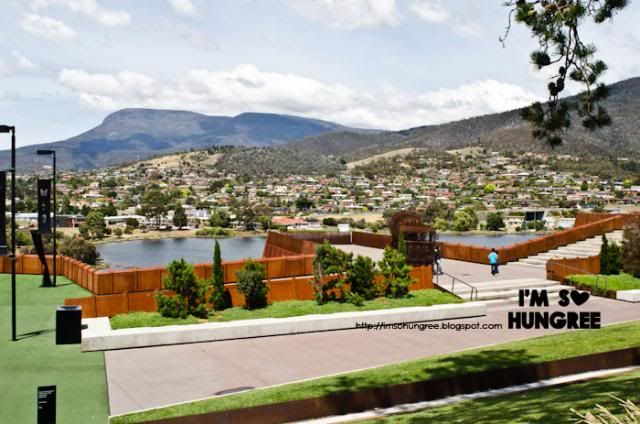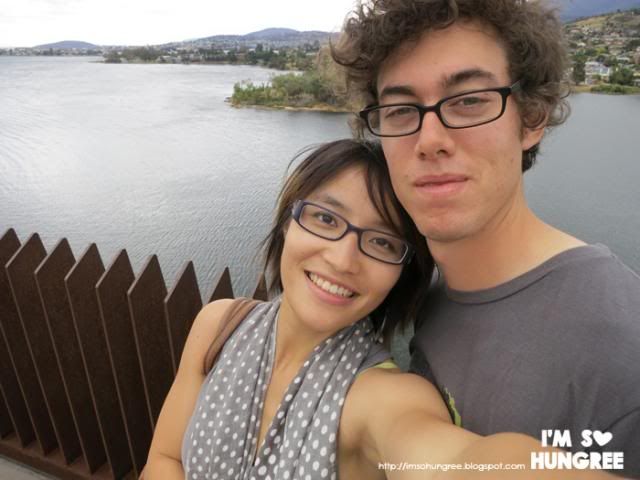 The location of the museum is just spectacular, walking out from the carpark, up to the crest, the view out and over the water is just so gorgeous.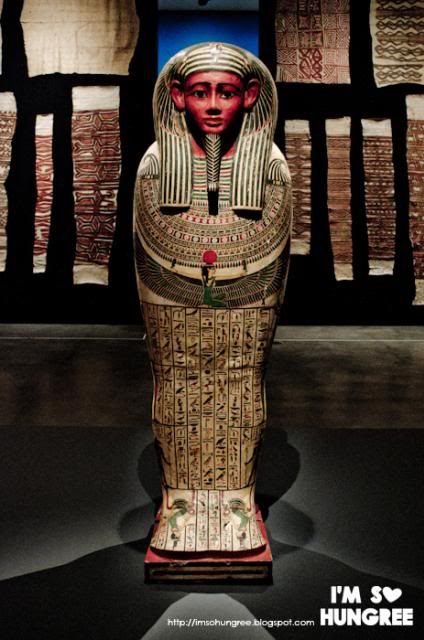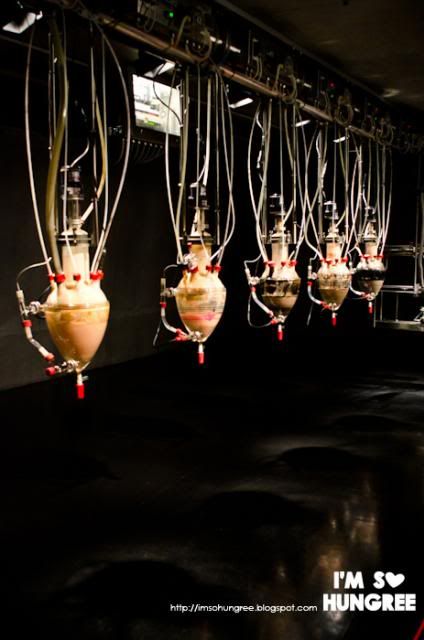 From ancient Egyptian relics, to the infamous poo machine (you'll know when you get to it, because it does start smelling quite a bit), there really is a little bit of everything in here. Some things I completely loved, and some I hated with a passion because I personally didn't feel it really counted as art (I mean, rotting food on a table guys? Please....)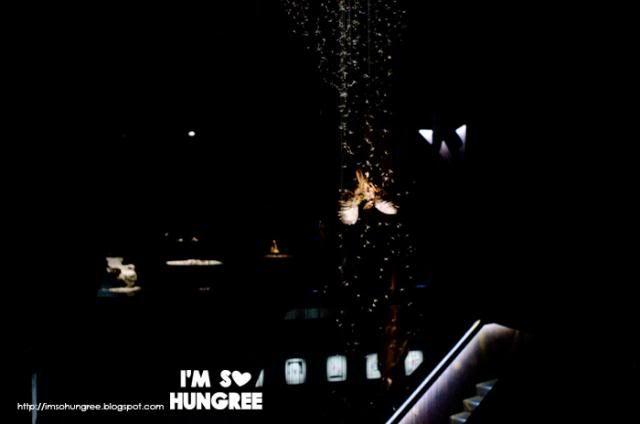 I won't give away too much about the rest of the museum, but I do recommend checking it out, even if you only have a minute interest in art and culture. It easily filled up half of our day with no problem, we ooh-ed at some things, ew-ed at others and left scratching our heads and debating over what really constitutes as art. It was refreshing to not look through a perfectly curated retrospective or themed gallery, and just see works that caught the eye of an art collector. It's a different approach.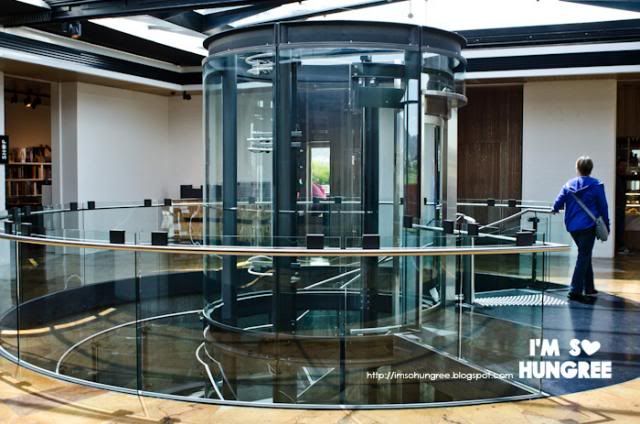 What I did really enjoy though, was the overall presentation and architecture of the museum. You actually have to descend down into the ground to get to the museum, starting from the third floor and working your way back up. Brad and I didn't get to take the awesome super villain cylindrical glass elevator down as it was being used already, but I made sure we took it to get back up. I felt like I was in a Bond movie. I got my cackle and plotting on during the ride. Tehehe.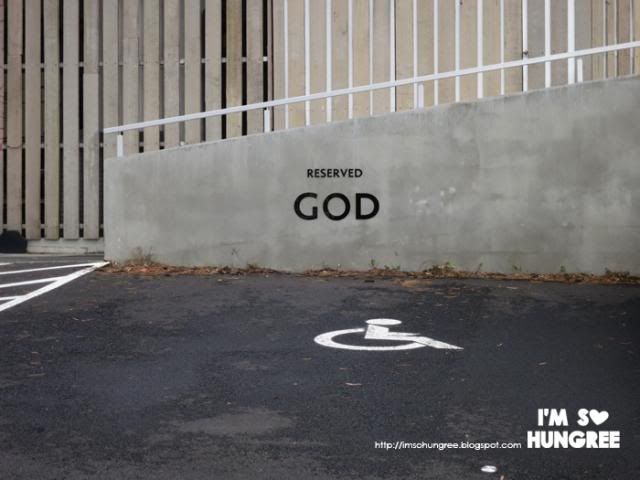 Even God pops around every now and again!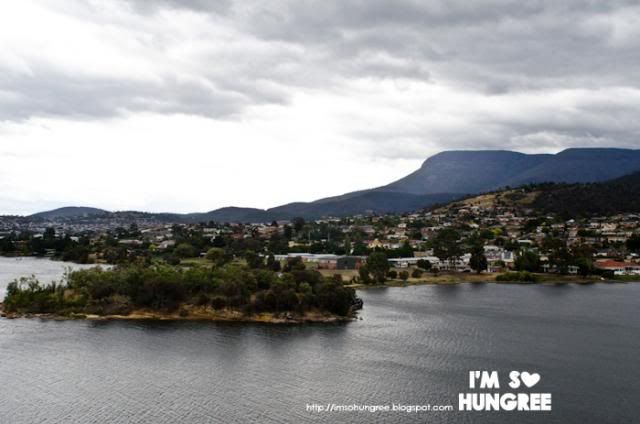 By the time we wrapped up at 2 or 3pm, although it was tempting to stick around and sip on some wine from the winery, we decided to go back into Hobart to find a cheap eat instead. We ended up in a floating fish and chip shop, next to the floating fish store we bought oysters from the day before, and got a massive seafood platter, and a half dozen oysters. Around $35 between the two of us for oysters, calamari, prawns, fish and chips (even if it was all mostly deep fried)? Gold.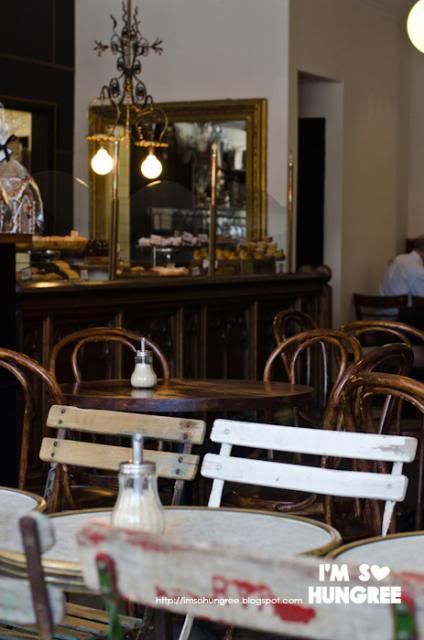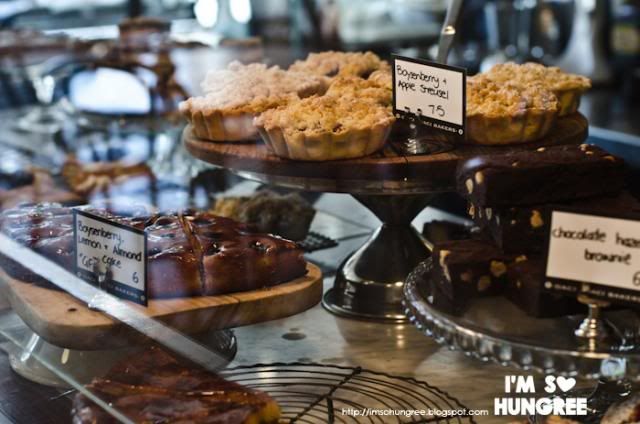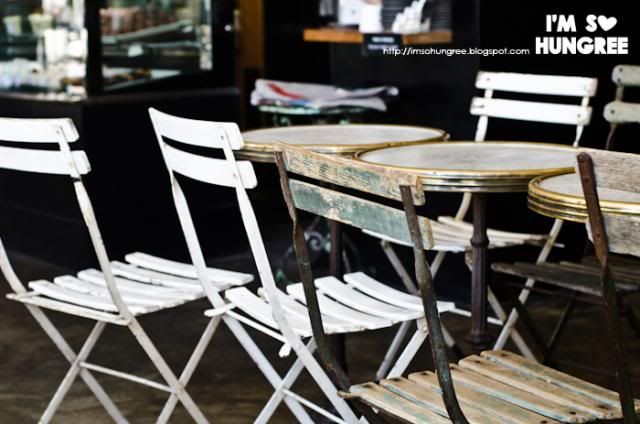 We then popped into Daci Daci Bakery, that I had spied the day before. I adored the rather old school Victorian feel to the interior, with beautiful wooden counters, laden with all sorts of tarts, cakes and other sweet goodies.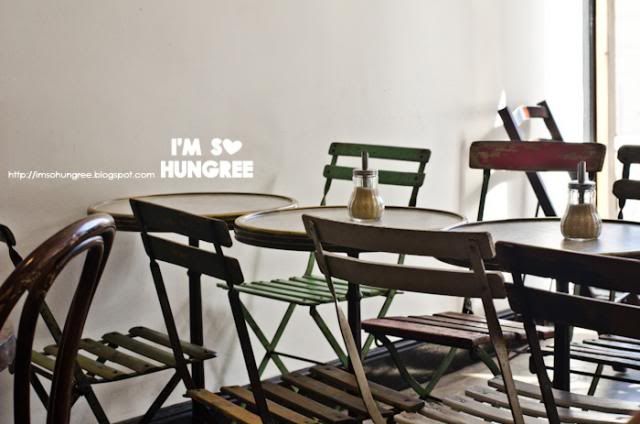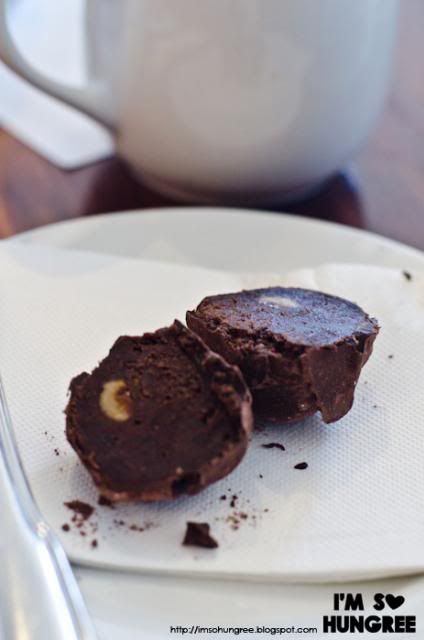 I happily settled down with a cup of tea and brownie ball, which was dense, chocolatey and moist. Mmhmm. Brad watched on, since he's not really a sweets guy. So he's weird and stuff.
Later that evening, after a nap in our hotel, and a little wander around the shops nearby (well that was just me, Brad watched the cricket), we made our way to Garagistes for a late dinner.
I was quivering in excitement with each step as we walked to the restaurant. The minute I knew that Brad and I were going to Hobart, I had informed (or maybe I dictated...) that we were definitely visiting Garagistes, come hell or high water and been eagerly reading the menu prior to our visit and drooling over how delicious everything sounded. So yes. I was excited…and crossing my fingers that we wouldn't have to wait too long (no booking policy here).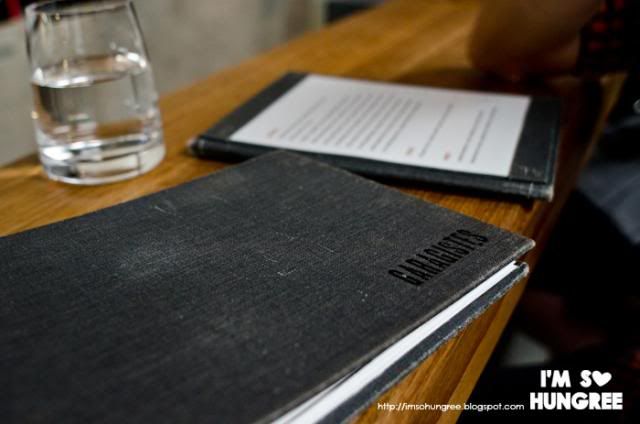 Rocking up at about 8 or so on a Wednesday night, we had no problem acquiring a seat at the bar upon arrival. I've always enjoyed getting bar seats, as it gives you a better insight as to what's happening in the kitchen, and to get sneak peeks of dishes before they go out and decide if you want to order the same dish yourself!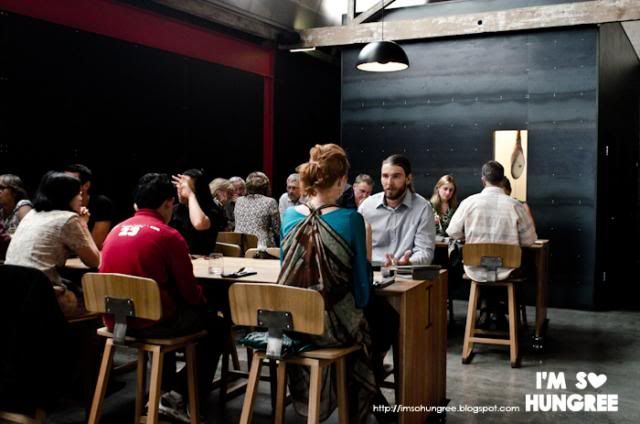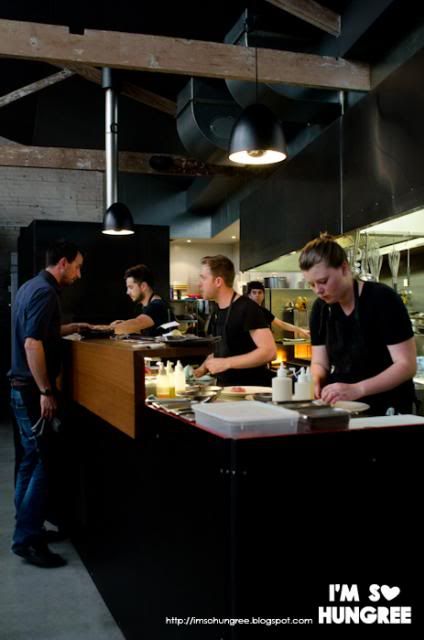 Garagistes is spacious, with rather dark and minimal decorations. There is a simple elegance, with the concrete floors contrasting with the light wood communal tables and chairs. The set up is simple, but effective.
On our visit, Garagistes was still offering an ala carte menu, but it seems that they have changed in more recent times to offer a 3 or 5 course menu instead.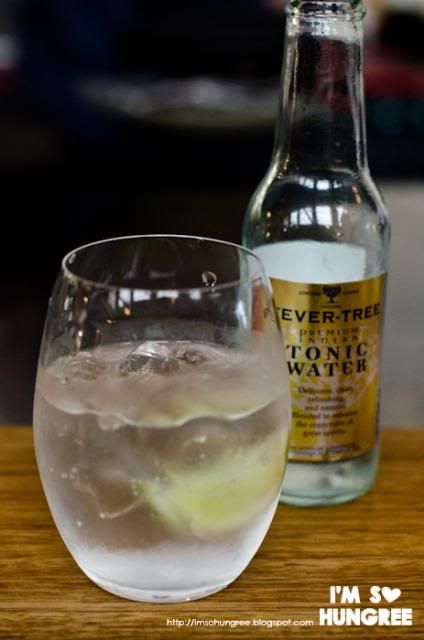 Ah, yes, gin and tonic. It's all good here.
We started our night with the poached spanner crab, lacy lady peas, lovage oil, sea lettuce and shaved combu. Oh, isn't she just so pretty? It just looked like a beautiful shiny green garden, with sprouts of purple flowers here and there.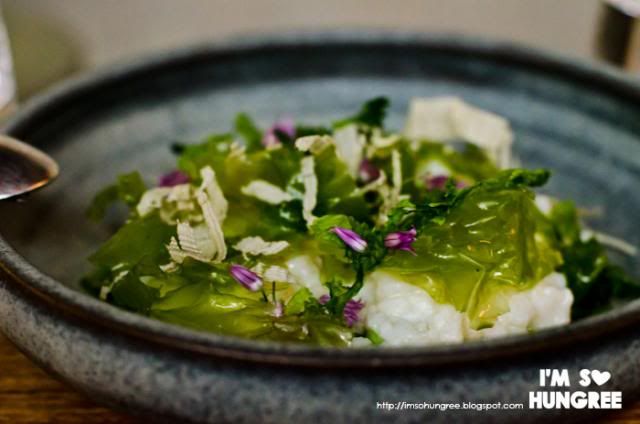 Although it was the second-last savoury on the menu, it was interesting that we were served it first. It proved to be a fair move though, since the dish was light and quite clean in flavours. I was surprised that the peas had a bit of crunch to them, but really enjoyed the contrast to the soft, sweet crab and the slippery sea lettuce. The flavours on a whole were subtle, but very elegant.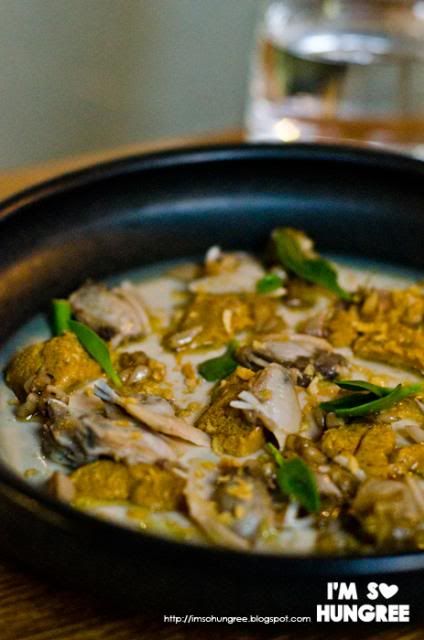 So you all know that eel and uni are like, two of my favourite proteins in Japanese cuisine right? This meant I probably looked a bit crazy, as I drooled from the mouth and ordered the chilled smoked eel chawan mushi with venerupis clams, uni and new season garlic. Oh man.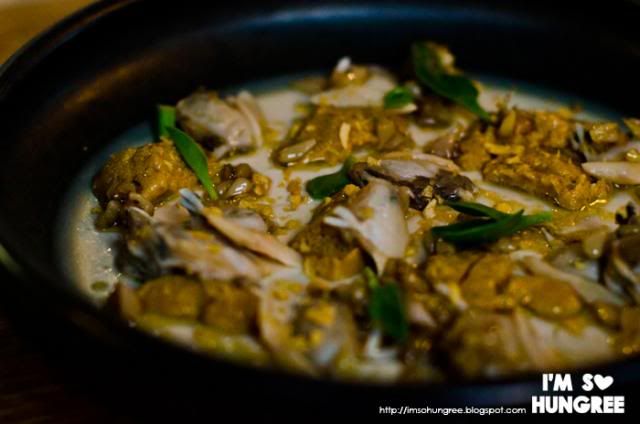 Whilst I found the eel flavour to be very subtle (and wouldn't have minded it a little more pronounced), I did love the cool and smooth texture, which was just perfect with the uni that just melted in your mouth. Flecks of toasted garlic gave a crunchy bit of contrast, in texture and flavour.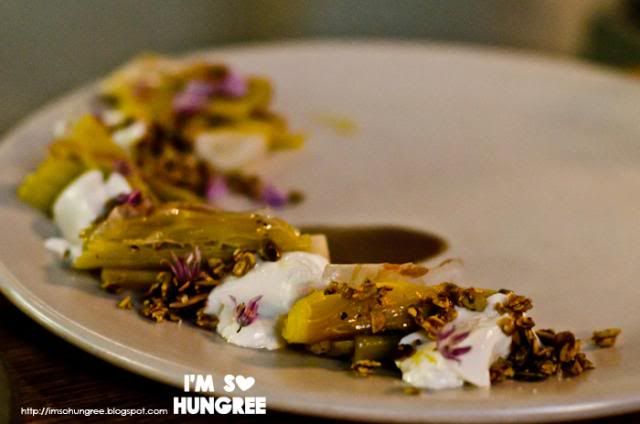 I always like to try and get a vegetable offering when we eat out, and at Garagistes it was the char-grilled leek with fresh curd, Garagistes' pancetta, toasted pepitas and chive flowers. Oh, I adored the mustardy flavour of the leeks, and the curds were lovely and smooth. However, although this dish was pleasant and enjoyable, it probably was not the most memorable of the night for me.
We finally got around to dessert, and it was a hard call between two, equally delicious sounding options. In hindsight we really should have just gotten both, but I ended up choosing the strawberries and cream with buckwheat crisp and shaved frozen sable.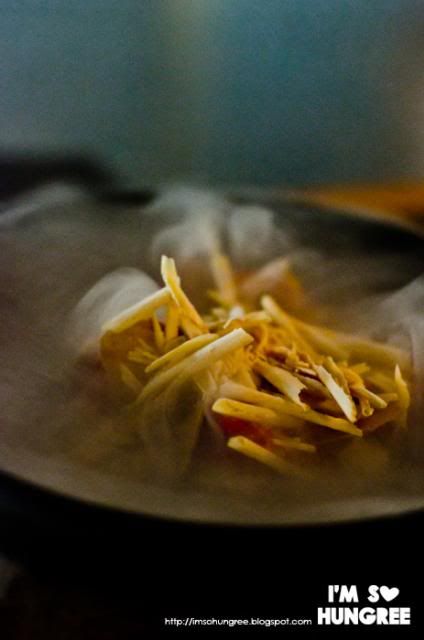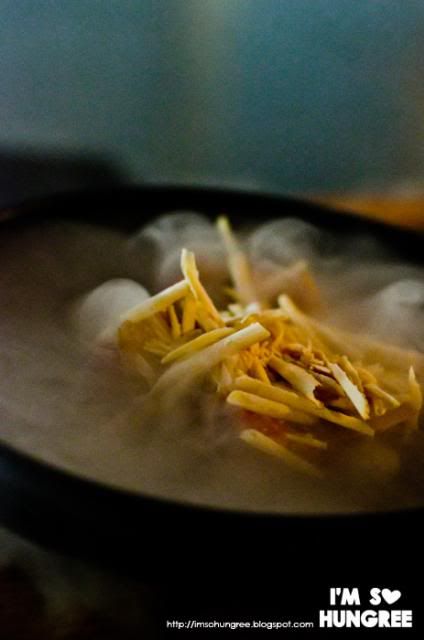 Swathed in smoke as it arrived, I was positively mystified, and lost in the magic, as this was put in front of us. There's just something so romantic about this sort of presentation, and I could feel my heart swell in anticipation for what would be revealed when the mist all cleared.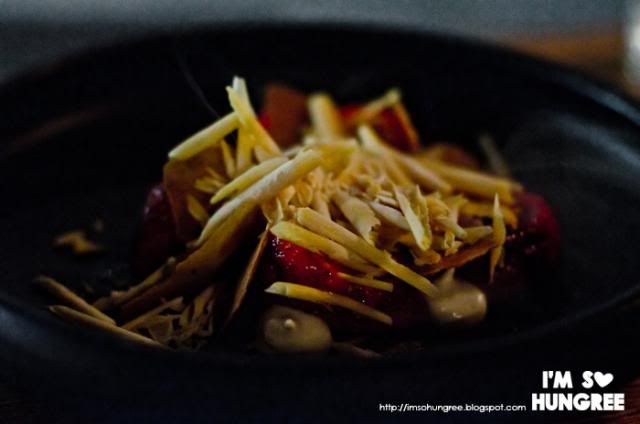 I was surprised at first bite, the warm strawberries catching me off guard with their softness and sweetness. I positively died over the frozen sable, which is what I think provided a caramel flavour which I went mad for. Although presented in a fancy manner, this dessert struck the heart with homely, familiar flavours.
I very much enjoyed our meal at Garagistes, although it may not have been the absolute top meal of 2012 for me (I did eat pretty well last year y'know), it's certainly up there due to the creativity and uniqueness of the food. Service throughout the night was very professional and efficient, although a little bit cool at times, but that seems to be the norm with the new trendy restaurants at the moment.
For those who are food fanatics, or looking to expand their food horizons, I definitely recommend popping by Garagistes, as I'm pretty sure not many of you are going to be making this sort of food at home!
With that, our last full day in Hobart finished, which meant I had to make sure I picked somewhere great for breakfast the next day…stay tuned for the last Tasmania post!