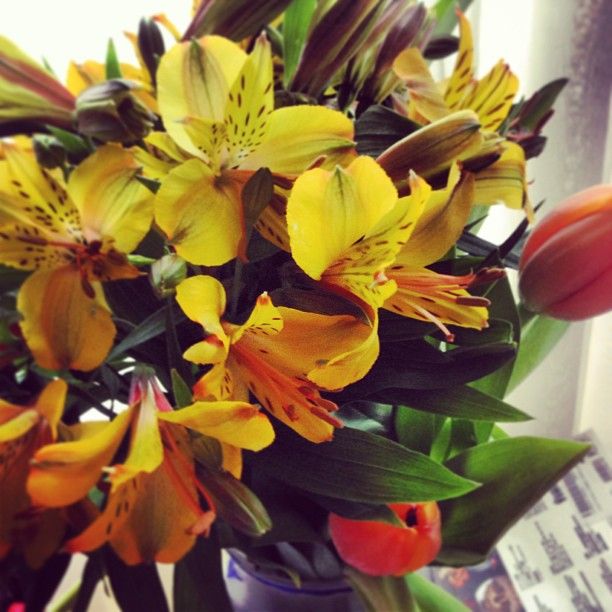 If you follow me on Twitter, Instagram or Facebook, you may have noticed that Brad and I celebrated our third anniversary last weekend (surely I'm allowed one day a year to be that annoying relationship person). Somehow, despite being a neurotic little princess, I've managed to find someone who's been willing (I swear I didn't drug him) to stick around.
At first, when people were congratulating on Instagram and Facebook, I commented to Brad how it felt kind of weird. It's not like I just completed a marathon run or anything, we just hit another year together. But he reminded me, in all his logical goodness, that a relationship is work, and because there is effort in it, it may as well be congratulated when a milestone is reached.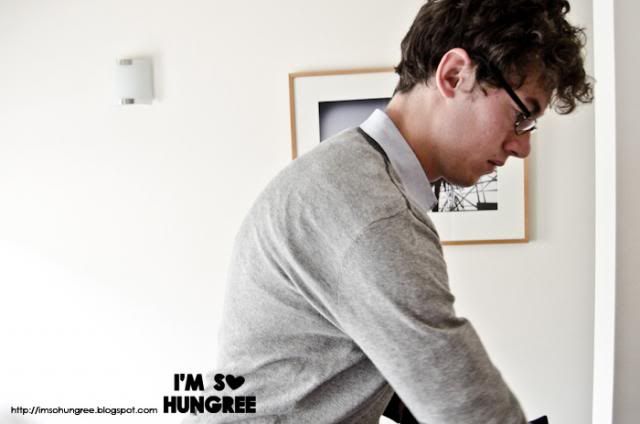 It's kind of crazy to think another full year has gone by. That we've done our first overseas trip together, had another Christmas together, gotten to know more of each other's extended family and just continue to grow as individuals and a couple. 2012 was a pretty rad year for the both of us.
I'm honestly just so lucky. Although we have our ups and downs (mostly because I find something to get stressed out over), for the most part, we co-exist very peacefully. It helps that he's super easy going and I am quite willing to plan and arrange things. I mean, once I confirmed I was going to America with him, I pretty much booked the whole trip myself. All I had to consult with him was budget! And of course run to him to freak out every time prices started going up!
On our previous anniversary's, we've always done a little stay-cation in Melbourne, and this one was no different. Except that we agreed on no presents this year, since we had America to save up for!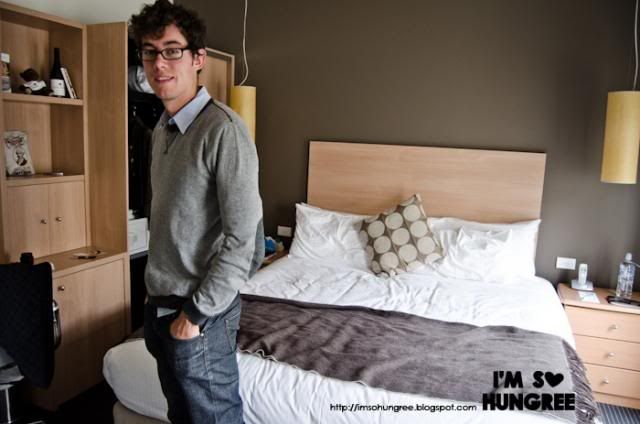 I booked us a night at Urban Hotel in St Kilda, since it's not an area we usually spend a lot of time in, where I have plenty of places to tick off to visit. Our room was basic, but fairly spacious and very clean, couldn't ask for too much more!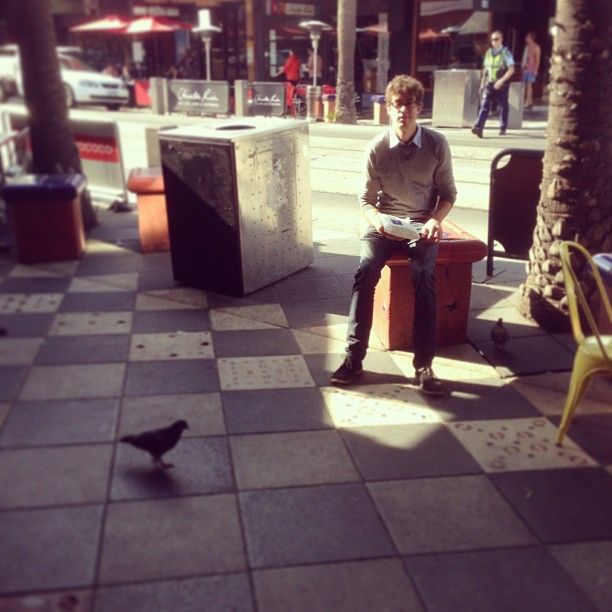 We then strolled down to Acland Street, had a lazy burger lunch and stocked up on sweets and goodies, before strolling back along the Esplanade breathing in a bit of ocean air on the gorgeous afternoon that it was.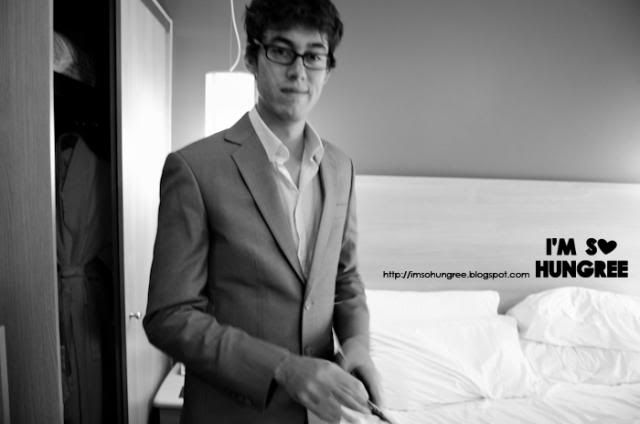 We then dolled up, pretty dress for me, suit for Brad and headed out to Circa's Yakitori Pop-up Bar launch (which I was invited to).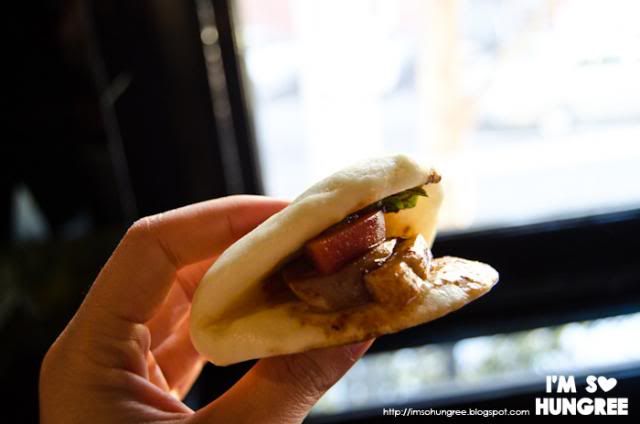 Last time I took Brad to a launch, he felt a little out of place as he hadn't really prepped a nice shirt to wear, but this time, I think he felt a bit more comfortable, as we nibbled on unique yakitori sticks (wallaby anyone?) and soft and fluffy bao's. I was loving the sticky pork belly bao in particular, although I thought the wallaby could have used a little more seasoning.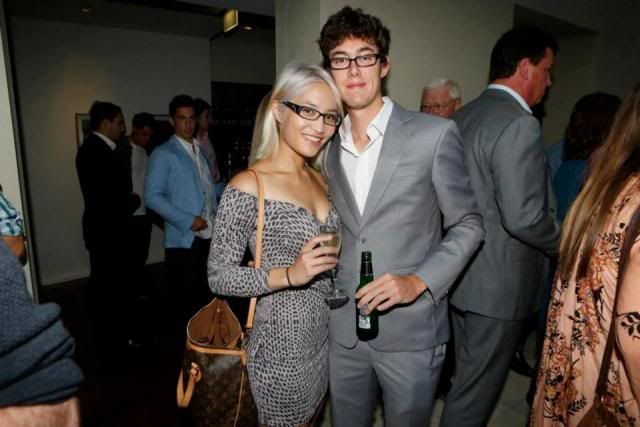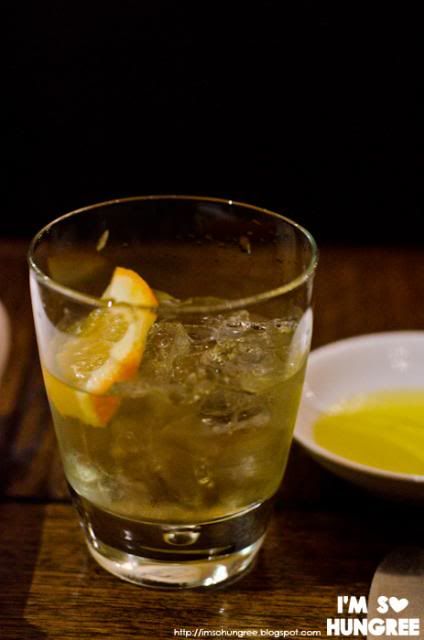 We drank, we ate and socialised. The bar area was lovely, although we were lacking a little bit of seating area. Standing in heels for an hour is tiring you know!
Eventually, we made our way to Sapore for our dinner booking. I had been once before, but many, many years before Brad and I started dating.
I loved the soft lines throughout the restaurant, it reminded me mildly of some of Gaudi's forms and shapes, and the overall warmth, with a couple of feature colour walls.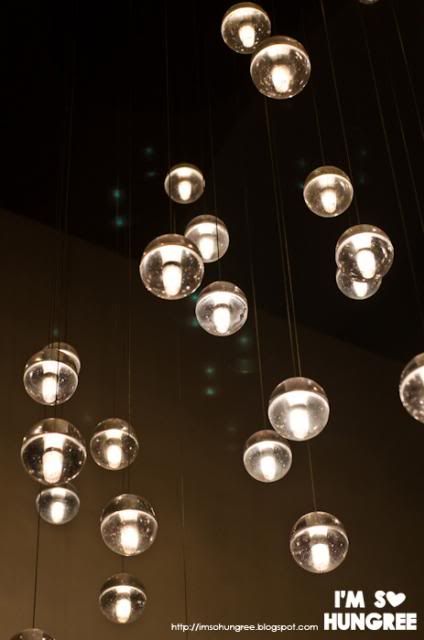 We were seated at the only table where we could actually sit next to each other, which was just lovely, as I got to quietly slip my fingers between his as we talked and squeeze his hand (when we weren't eating anyway). Service was professional, but so friendly and personable. I couldn't help eavesdropping on the waiter's lightly teasing the table of ladies' next to us, and everyone having a laugh together. There was a great atmosphere to the place.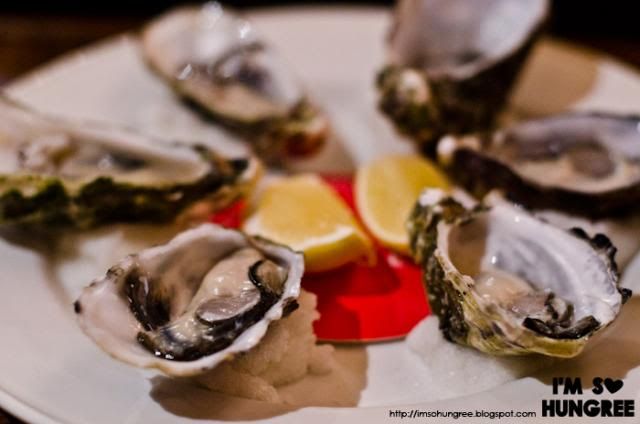 I normally don't do oysters when I go out to a restaurant. I find it hard to justify the cost, as you can buy them so reasonably at the market in comparison. On this particular night though, I was mad hot keen on them and so we ordered half a dozen to share as our entree.
Although small, these were cool and just so sweet. I normally tend to vacuum oysters down way too fast for my own good, but these I really savoured and took my time to eat.
It's funny how reaching another year in our relationship brings out a serious side in both of us that's not usually present. It's kind of scary this whole growing up thing! But it was all good, and there's comfort in knowing that we're still both on the same wavelength.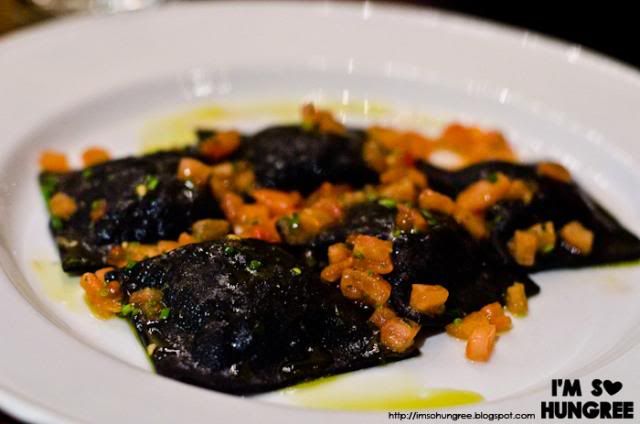 Brad ordered the squid ink ravioli with prawn, lemon and sauce vierge. Check out that colour! I absolutely adore squid ink pasta, but had never seen it in a ravioli before. We both loved this, there was a nice springiness to each ravioli, the prawn retaining a bit of firmness and not being cooked to mush, with the pasta slightly al dente as well. There was a lot of lemon, giving this a really refreshing citrus kick, making it actually quite a light pasta dish.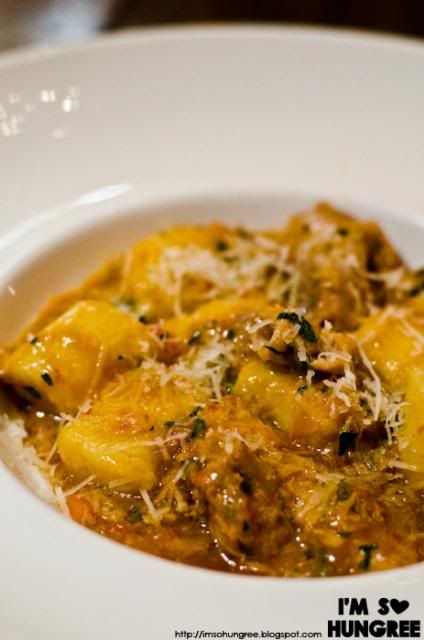 I on the other hand, despite complaining of fullness, could not resist the sound of the house made potato gnocchi with braised rabbit and truffle butter. Truffle butter folks. You should never, ever, ever say no to truffle butter. Surely that's a crime or something?
The unmistakably beautiful smell of truffle flooded my olfactory systems. I could have just been satisfied with that. But fortunately I wasn't, as I would have otherwise missed the beautiful pillowy and fluffy gnocchi, in a hearty and rustic serving of braised rabbit that was oh so tender. For a rich smelling and sounding dish, I was sort of surprised at the lightness, as the gnocchi didn't feel weighty in my stomach. I think the only gnocchi that I can think that would rival this one would the gnocchi my friend at the European a while back.
After our meals, even though I had told Brad a thousand times that I was full, when I was asked if I wanted to have a look at the dessert menu, the answer was naturally yes.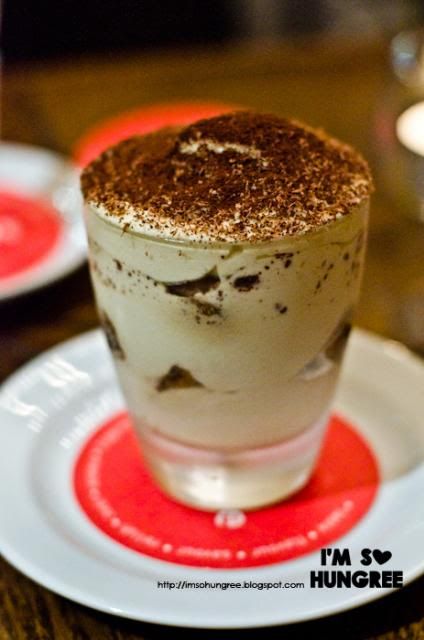 And then we ended up with a serve of tiramisu, the Lucchesi's family recipe apparently. I'm no master of tiramisu, but this was light, not too heavy on the coffee and easy to eat. I have this theory that light cream desserts and ice-cream don't actually fill you up because it just slips between the cracks of the mains in your tummy. Brad says I'm silly.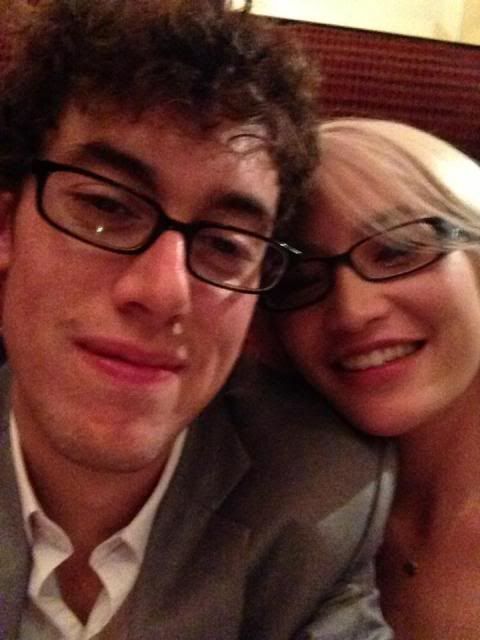 I loved our meal at Sapore, it was the perfect atmosphere of classy, but laid back that made for a gorgeous meal together.
After dinner, we strolled back to the hotel and curled up in the super comfy beds and watched a bit of Craig Ferguson (who we're hoping to catch in LA) before drifting peacefully off to sleep.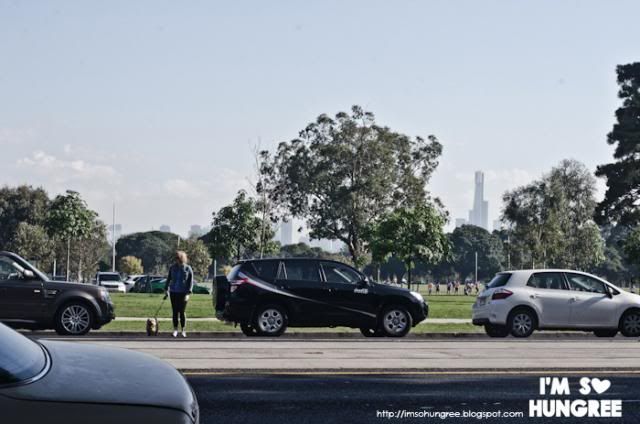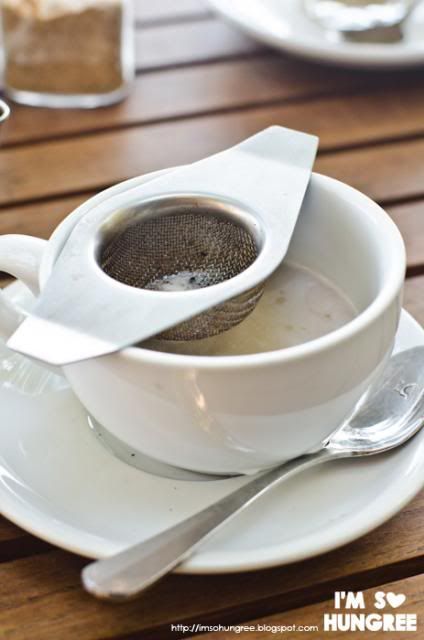 The next morning, brunch was at Fitzrovia, where we saw cute boys training for footy across the road and a white dog with a pink mohawk.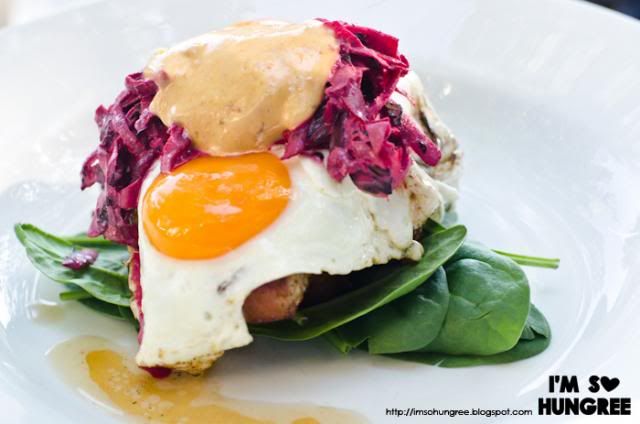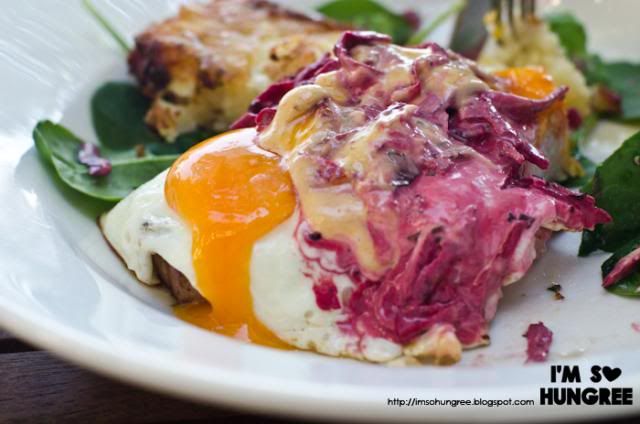 And ate delicious food too I guess. Brad's thick cut bacon with gruyere potato cake, fried eggs, chipotle, baby spinach and beetroot relish was just a delight to look at. I love the pink punchiness of beetroot. The thick cut bacon was a serious serve and even Brad struggled through it, but it was one of those things you just kept wanting to eat even after you were full because it was so darned delicious.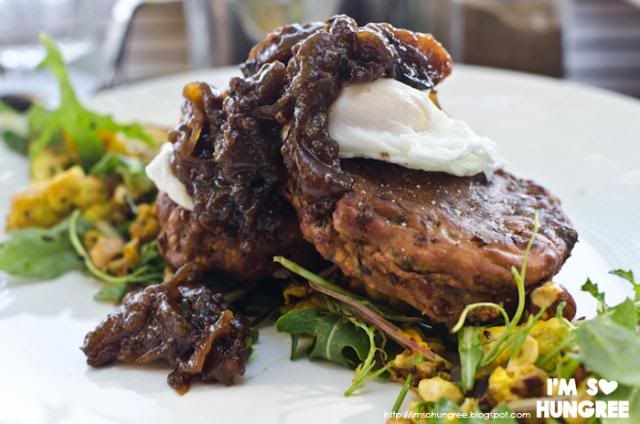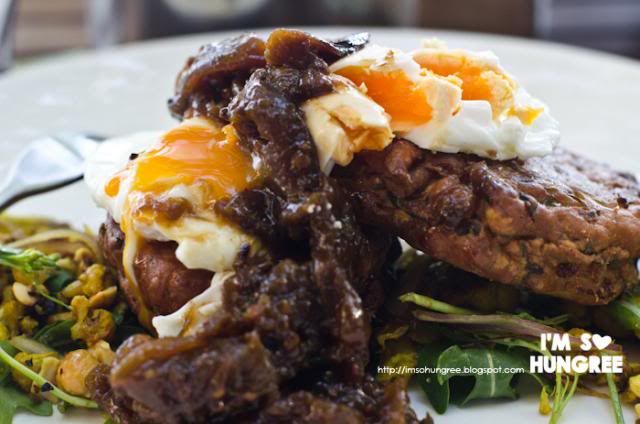 My zucchini and haloumi fritters with poached eggs, spiced cauliflower, hazelnuts and a green tomato relish, was a nice twist to the usual corn fritters, although sadly one of my eggs was overcooked. I very much enjoyed my dish as well, although I struggled with the size of this too!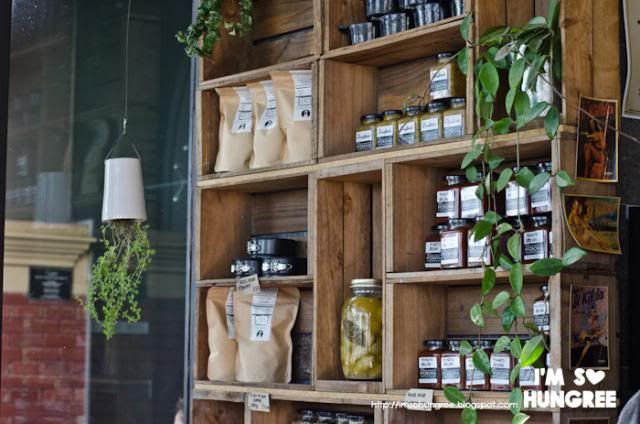 And with that, we made our way home, to then sit in front of computers together and plan out things to do on our trip to America. We're crossing fingers for a couple of late night show tickets, and discovered that in San Francisco you can get anatomically correct penis cookies. I'm excited. I'm also completely immature. Don't judge.
Basically though, it's going to be another crazy year, probably crazier than last year and I am absolutely beaming that it will be with this guy, who I love and adore dearly. I'm not sure if you guys would know the Ashley you do today without him. He came in at a pretty pivotal time in my life and I'm not ever going to be the same. Thank god for that.