Why doesn't Calombaris like us food bloggers? Really, for the most part we're pretty friendly people and I don't think we enjoy belittling restaurants (or at least most of us?) and are quite handy in spreading the word about if we like something.
But that's okay, because that was back in 2009 I guess and he can't stop us checking out his places anyway. Nyeh!
It can be so easy for some restaurants to fly under the radar, not because they're not good, just because the Melbourne restaurant market is so saturated and I guess, being in the blogger circle, it's easy to get caught up in the excitement of restaurants that tend to be 'hyped up'.
Which is a shame, because there are still so many great restaurants that maybe don't get as much air time as they could.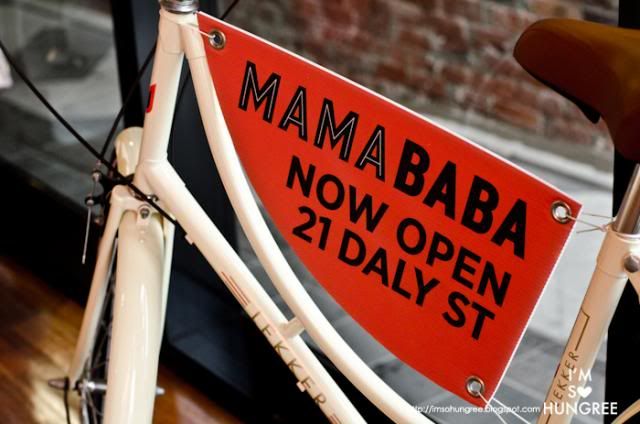 Take Mama Baba, one of Calombaris's joints. It's one of those restaurants that have been on my lists as the menu does look pretty tasty, but I've tended to give it the 'I'll check it out later' as I haven't heard a lot about it.
But this changed when Adrian and myself got to try some of their tortellini at the Taste of Tennis event. One bite and we were convinced we needed to check this place out. And invite Wince along. Of course!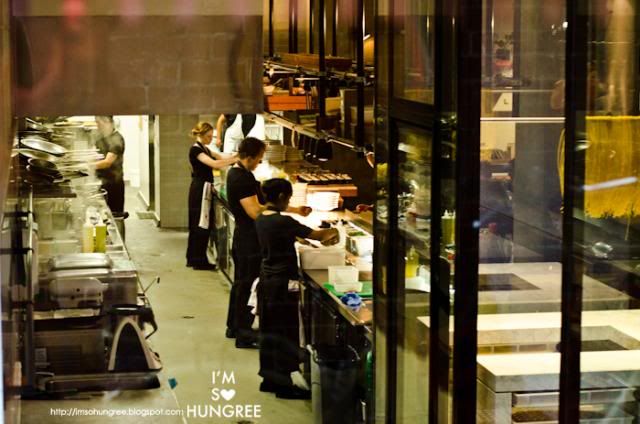 Mama Baba is a cute concept, the menu and it's flavours are inspired by Calombaris parents, his Greek Mama and his Italian Baba. As such, you have a varied menu, although still with a distinct personality and vision. The food here is all heart, all love, all home. And freshly made pastas.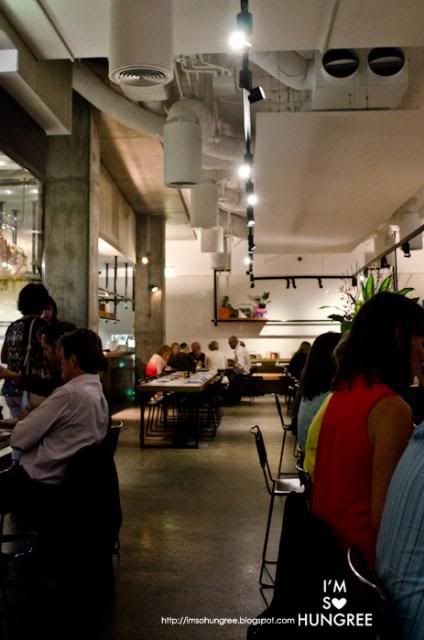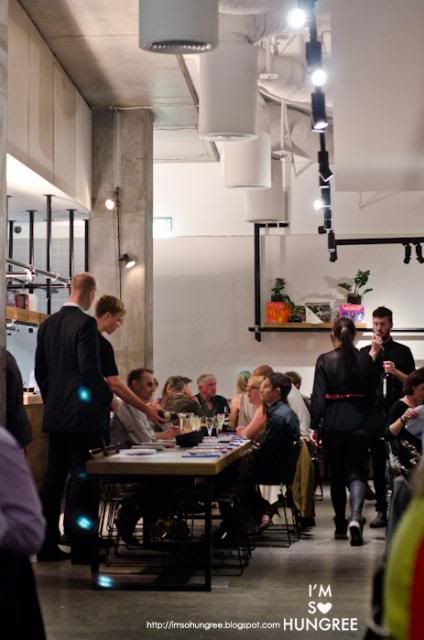 Located in a slightly awkward spot to get to, down the road from The Olsen, it's actually a very cool space. Below street level, it feels like a large warehouse, with loads of seating space. Utilitarian decorative details (pipes as bookshelves?) are offset with fun and quirky prints with warm colours, striped cloth napkins and warm wood tables.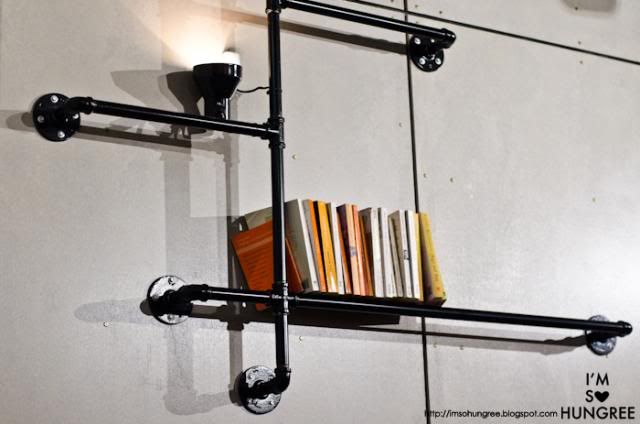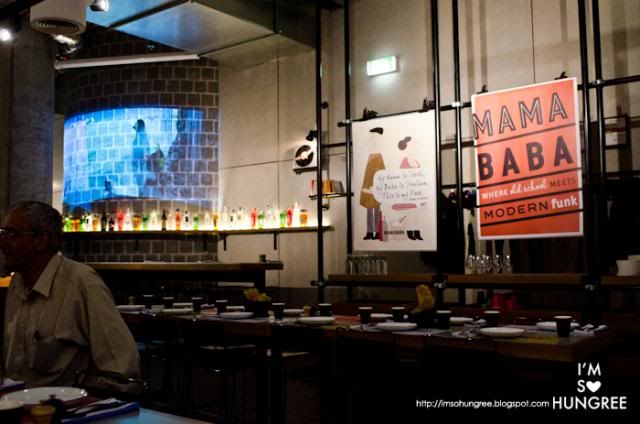 Although much of the room was concrete, the high ceilings seemed to do the job of abolishing a fair bit of the noise, fortunately!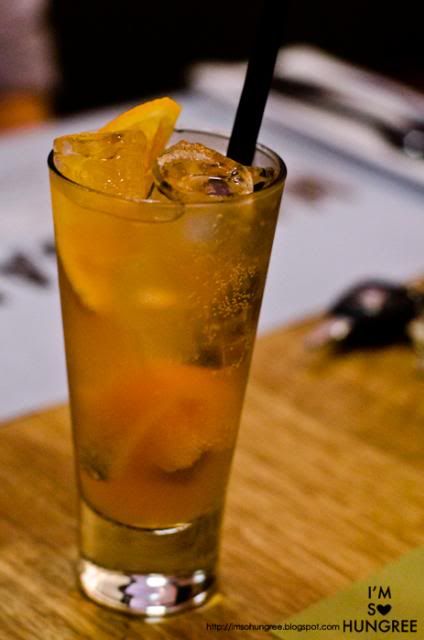 To start, although it was pouring rain out, we all decided we'd have a summery cocktail. For me, it was the House Pompelmo that spoke to me, with gin, Aperol and pompelmo, which is grapefruit. Oh. Dangerous. Light, spritzy, summery. I could have downed it in 10 minutes, but I was driving. So had to make it last the night. Sigh!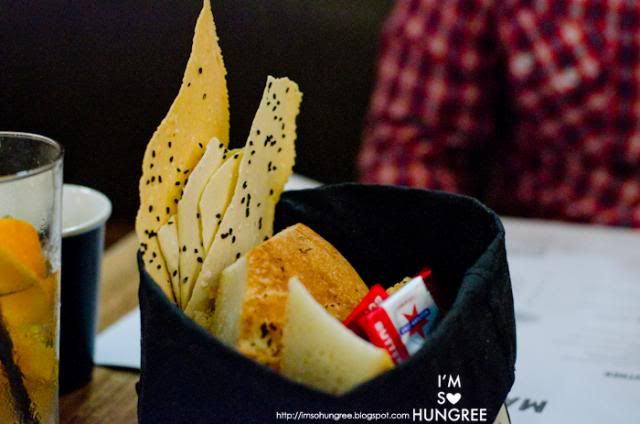 As we were enthusiastically chatting about trashy reality shows (we discovered we all have a secret love for them!), the bread bag arrived, with lavosh and a few varieties of bread…and little packs of Western Star butter. I guess if you endorse a butter brand, it's got to trail all the way back into your restaurants too hey?
Fortunately it was the only endorsement we saw that night and although the bread came out cold, the rest of the food was an absolute treat that night!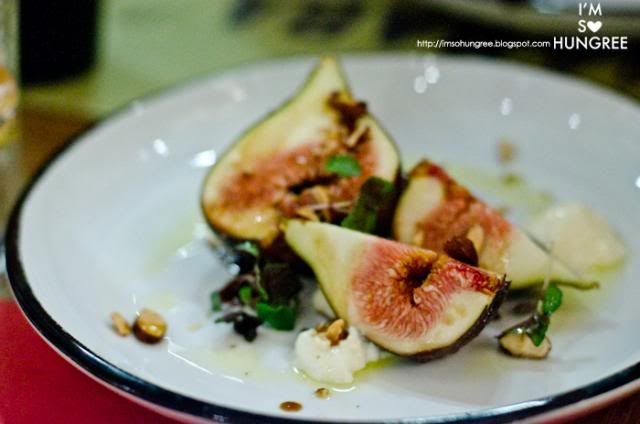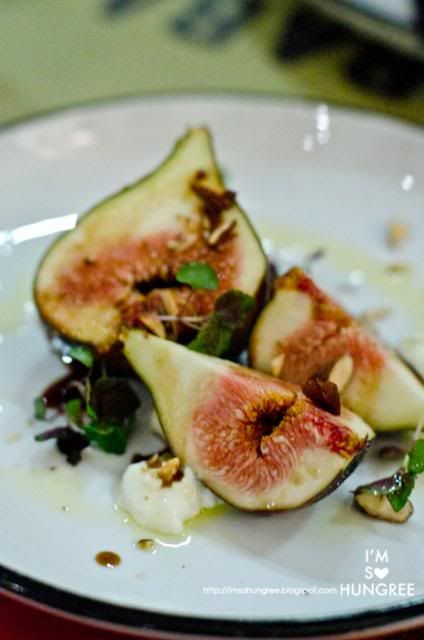 Adrian and I just picked this dish because we both love figs, but what I hadn't really realised was that when we ate at Mama Baba, it had just hit fig season. So the figs, served with burrata, vincotta and smoked almonds, were just giant, colourful and so sweet! There's really nothing better than having figs served in a fairly minimal way, as they are just such a stellar product all their own.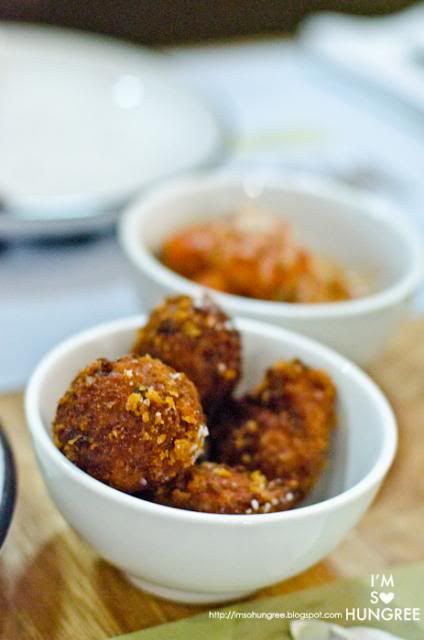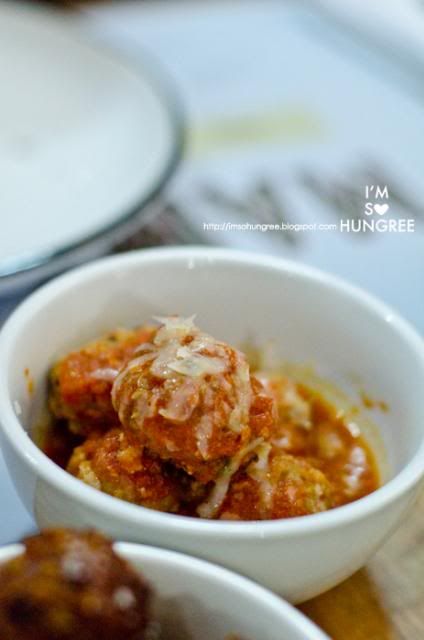 The moussaka arancini and polpette followed. The moussaka arancini, with lamb, eggplant and mashed potato was almost a perfect blend of Greek and Italian…I mean, it just makes so much sense! Small, but golden, with a crunchy exterior and a piping hot interior, these were just a treat. The polpette, pork and veal meatballs with tomato and parmesan were, slightly on the flipside, wholly rustic and homely. Just a perfect warming delight as the winds howled passed outside.
Then our plates were whisked away and it was time for the main event. Bring on the pasta kiddos!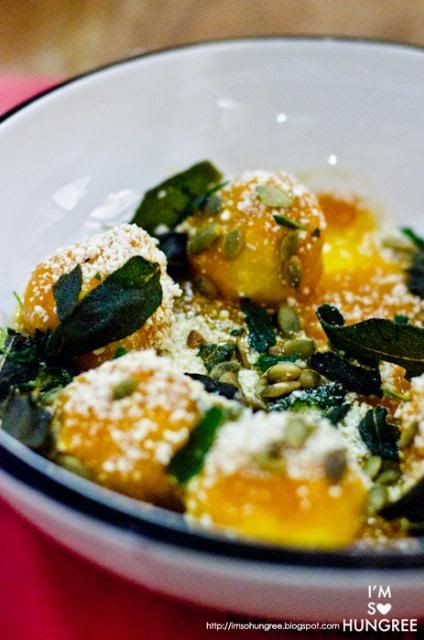 For me, I ordered from the 'Mama' menu, the Gnudi, which is a the of gnocchi made from ricotta cheese with a bit of flour, pumpkin, sage, honey and mitzethra. Oh my gosh, this was almost like dessert! The honey and pumpkin were definitely the starring flavours here, rolling their sweetness around the creamy gnudi dumplings…it was almost too much! Fortunately I am a sweet tooth, so I quite enjoyed this, but if you were looking for a heartier main? This probably wouldn't be it, definitely not everyone's cup of tea! I did like the texture of the gnudi, it wasn't too mushy and there was a lightness to it, despite looking quite heavy. Loved the crispy sage leaves for a little bit of texture in there.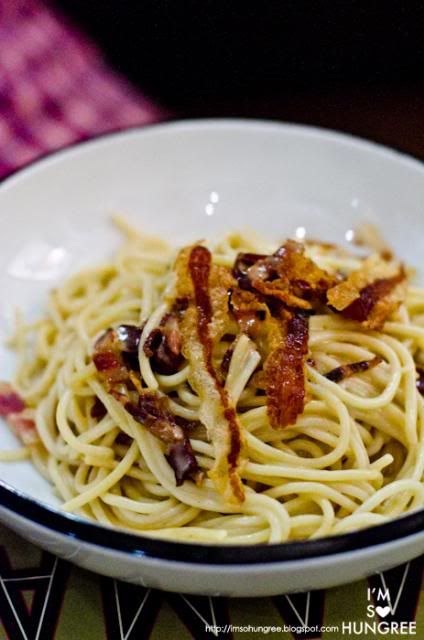 Chris kept it old school and went with the spaghetti carbonara. Classic. Says on the menu. Serves what they say. Garnished simply with a bit of porky goodness on top, I snuck a bite and found it just delightfully rich without being creamy or heavy. So velvety and so good.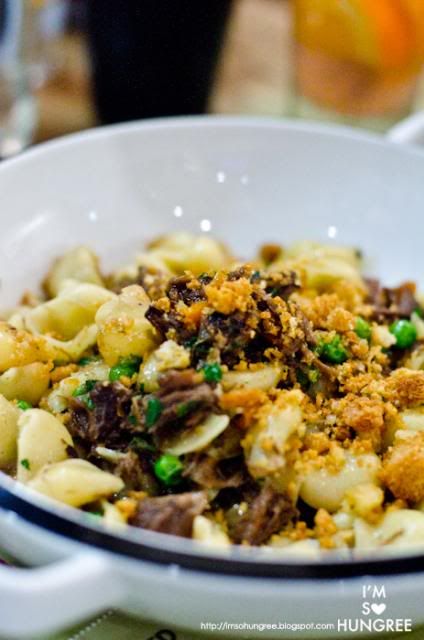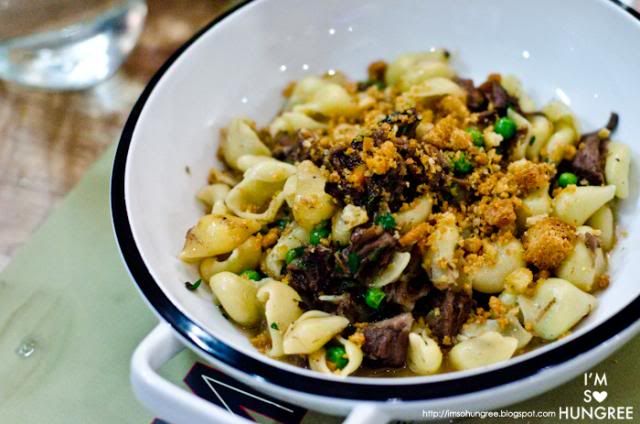 So it's normally food blogger sin to have two of the same dish at the table, but Wince and Adrian couldn't help but both order the orecchiette with braised wage, peas, lemon and pangrattato. When placed in front of the boys, I couldn't help but have slight food envy, as the aroma wafted over and tingled the senses. It smelt amazing. And tasted amazing as well. The meat so tender and rich, falling apart, but balanced out by the fresh peas and a hint of citrus. Gorgeous. Kind of wanted to switch. Should have. Damn it hindsight!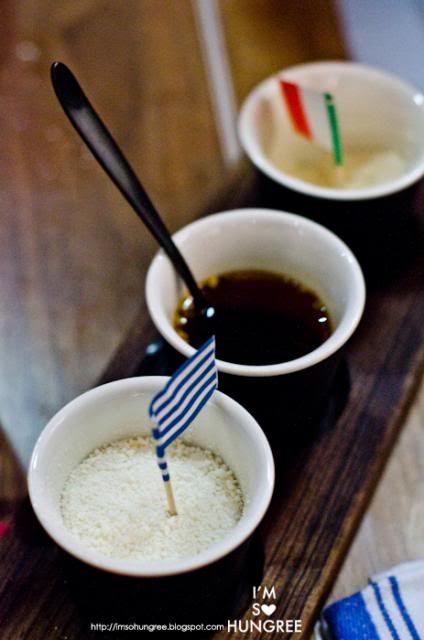 I seriously love eating out with these guys, the four of us don't really seem to have much of a concept of using an 'inside' voice when together, with many loud and boisterous bursts of laughter often had. Sorry neighbouring diners. We love you. Really.
Before long, the very important business of dessert happened. And like, it's real serious with us. With three dessert sub menus, sweets from the trolley, sweets from our kitchen and ice-cream and gelato, it took us a while. I don't think we've all ever been so perplexed over which ice-cream flavours to order!
But we ended up with a milk and milo and a crunchy peanut butter and salt. The milk and milo was subtle, easy, but I would have easily preferred a richer chocolate ice-cream any day. The crunchy peanut butter and salt was the bees knees though. Rich and salty, this is exactly what we all wanted. Needed. Exactly.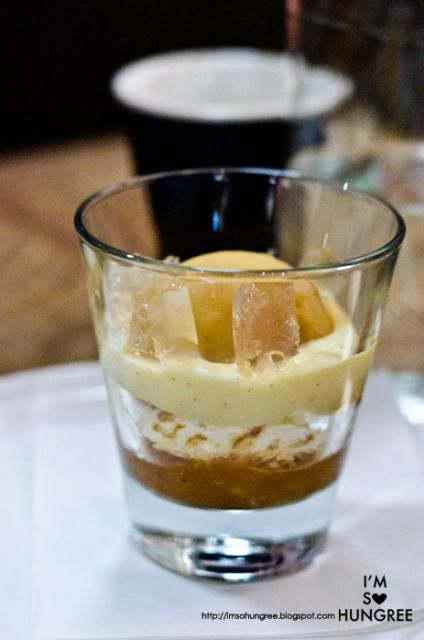 From the trolley we ordered a peach trifle…which kind of underwhelmed us all. I don't normally come across a dessert I don't like, but this just was not my cup of tea. It was kind of warm, which I think threw us off, and just not as enticing as I thought it would be. This was the only dessert left unfinished, between a bunch of people who love their sweets. Think it says enough.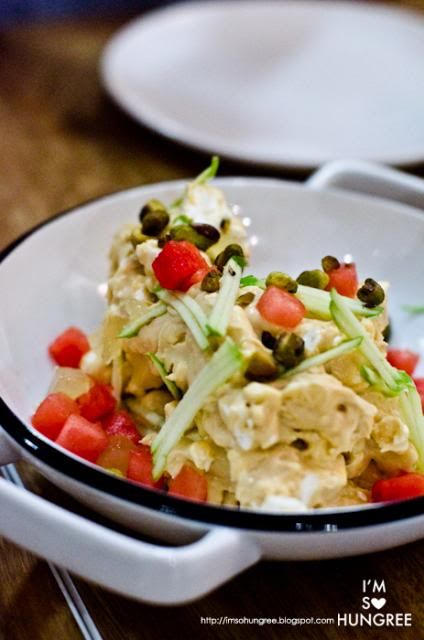 Fortunately though, our last dessert was an absolute home run. We initially approached The Italian Mess cautiously. I mean, there's some watermelon (I think) and pear , healthy lashing of marscapone, meringue, pistachios…girl, she was a mess. But totally delicious as all the components just worked together to create an incredibly playful dessert with truckloads of texture, smooth, crunchy, crispy and flavour. It wasn't too sweet either, making it feel not so naughty at the end of a rather filling night. Loved it. You will too.
The four of us had an amazing evening, although we did have to battle the elements to get to our dinner, it was all worth it at the end. Company that never has trouble moving from one topic to another, ab-inducing (one can dream) laughter and food that was hearty and homely, with a couple of unexpected and slightly different twists. I like what's happening here and I want more of it.